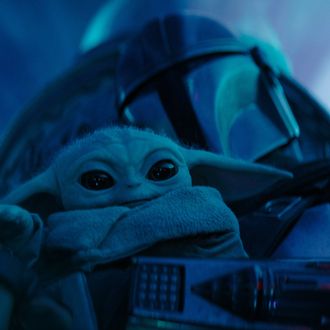 Oh yeah, and Mando has a new ship.
Photo: Lucasfilm Ltd.
The Book of Boba Fett was meant to give the bounty hunter tossed into the sarlacc pit in Return of the Jedi his due, with Fett and assassin Fennec Shand heading back to Tatooine to establish themselves as crime lords. But showrunner Jon Favreau seemed to realize he'd already given his best bounty-driven storylines to The Mandalorian's Din Djarin, so much so that he went on to hand the back half of Boba Fett to space daddy himself. Fett calls in a favor to Mando to help with his turf war, and episode five quite literally morphs into a full-throttle episode of The Mandalorian, with Mando dealing with the fallout of receiving the Darksaber weapon and setting out to find Grogu after giving him to Luke Skywalker at the end of season two. Surely, this was all supposed to be juicy fodder for season three of The Mandalorian, but nope!
So, yeah, unfortunately, if you did not watch The Book of Boba Fett but are an avid watcher and enjoyer of The Mandalorian, you will be a bit lost when you see Grogu and Mando back together at the start of today's season-three premiere. But fortunately Favreau and Mandalorian co-showrunner Dave Filoni seemed to realize they should personally bring you up to speed, which brings us to this hilarious gem of a clip from the Star Wars Twitter account that explains The Book of Boba Fett's purpose in a 40-second beat-by-beat clip. Greef Karga says it best: "I'm confused."