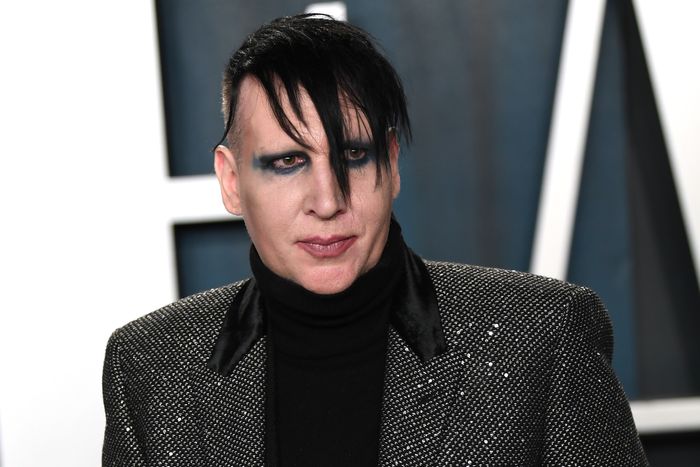 Brian Warner.
Photo: Karwai Tang/Getty Images
Brian Warner — better known as Marilyn Manson, which is also the name of the rock band he fronts — has always been associated with a certain level of divisiveness. During the '90s, protesters decried Marilyn Manson's music and performances as offensive, obscene, satanic, degrading toward women, and promoting violence and abuse; fans and supporters argued that the shock value was actually in service of thought-provoking social commentary. Warner has faced multiple allegations of violence and abuse across decades of his unconventional and controversial career. But a significant turning point came in February 2021, when actress Evan Rachel Wood publicly accused Warner of sexual assault and abuse during their relationship. More than a dozen women leveled similar allegations of dehumanizing and nonconsensual experiences against him, prompting increased scrutiny over the musician's past.
Warner has consistently denied sexually assaulting or abusing anyone, claiming that his "intimate relationships have always been entirely consensual with like-minded partners." A source close to Warner also responded to allegations from accusers Ashley Walters and Esmé Bianco by stating that both women continued to attend Warner's concerts and parties for years after they were allegedly abused. Things shifted in March 2022, when Warner went on the offensive and filed a defamation suit claiming that Wood had been involved in a conspiracy against Warner. "This detailed complaint has been filed to stop a campaign of malicious and unjustified attacks on Brian Warner," Warner's attorney, Howard King, said in a statement to Vulture. On February 23, former accuser Ashley Smithline retracted her 2021 allegations in a testimony submitted as part of Warner's defamation suit. Smithline claims Wood and others had "manipulated" and pressured her into coming forward, which Wood denies. A judge has since ruled that Smithline's new declaration will not be admitted as evidence, and a hearing to consider Wood's request to dismiss Warner's suit has been set for April 11.
Throughout Warner's tumultuous career, there have been not only allegations of sexual assault or abuse but also claims of misbehavior and harassment from former bandmates, venue staff, and journalists. Here's a detailed timeline of Warner's rise to rock stardom and the troubling allegations that led Rolling Stone to claim he is a "monster hiding in plain sight."
This following timeline contains descriptions of sexual assault. 
A Troubled Early Life — Bullying, Abuse, and Rock Music
1970–80s: Brian Hugh Warner, born January 5, 1969, grows up in Ohio as the only child of Hugh, a Vietnam vet and furniture salesman, and Barbara, a nurse. At 8, Warner is allegedly molested by "the kid next door," he tells Purr in 1995. He will later allege that he "experienced many different types of sexual abuse from all different directions" while growing up. Warner and his mother have a strained relationship — in his co-written 1998 autobiography, The Long Hard Road Out of Hell, he describes throwing a glass perfume bottle at her face and scarring her because he thought she had cheated on his father. He also alleges that he later "hit her, spit on her and tried to choke her."
Warner starts to become "obsessed" with the idea of "the end of the world and the Antichrist" while attending Heritage Christian School, he writes in his autobiography. He tells Rolling Stone the school's warning of satanic messages hiding in band lyrics from Led Zeppelin, Black Sabbath, and Kiss made him pursue a career in music.
Warner is kicked out of school after putting his "grandfather's dildo in the Bible teacher's desk," he later claims. He transfers to a public school, where he is allegedly bullied. After high school, Warner becomes a music journalist in Florida at a magazine called 25th Parallel. "I dropped out of Broward Community College after two weeks of studying journalism because I really wanted to be near music," he tells the Miami Herald in 2008. "After interviewing a lot of important people at the time, I felt like the answers I was given weren't enough and I had to make what I wanted."
1989: Warner, now 20, starts a band called Marilyn Manson & the Spooky Kids with guitarist Scott Putesky. Warner's stage name, Marilyn Manson, combines the names of actress Marilyn Monroe with cult leader and convicted murderer Charles Manson. In Warner's autobiography, he describes the pseudonym as an "apt symbol for modern-day America," adding that everyone "has a light and a dark side, and neither can exist without the other."
Lawsuits Line the Road to Fame
Early 1990s: The band builds a fan base for their shocking performances. "You didn't know if they were gonna have naked, underage girls underneath the keyboards or if [Warner] was gonna strip and somebody was gonna give him a blowjob on-stage," rock writer Sandy Torres recalls to the Broward–Palm Beach New Times in 2004. According to Warner's autobiography and several news outlets, early shows feature elements such as a nude woman tied to a cross, a child in a cage, shredded Bibles, a Nazi flag, and bloody animal body parts.
Warner's autobiography includes several unsettling anecdotes involving women during these early years. He writes that he and a friend were attracted to an uninterested mall employee, so they called her from a pay phone and allegedly threatened to rape her and crush her underneath her car. Warner also alleges in the book that he and Trent Reznor of Nine Inch Nails once got a woman intoxicated and penetrated her with their fingers, with Warner claiming he lit her pubic hair on fire. In February 2022, Reznor denied his involvement in the alleged assault, calling the passage a "complete fabrication" that he has been "infuriated and offended" by since it was published.
December 1990: Per a New Times report, rock manager John Tovar hears of Marilyn Manson & the Spooky Kids' growing popularity. He attends a packed show alongside 300 fans, who arrive in costumes and makeup mimicking the band's aesthetics. Within weeks, Tovar is managing the band.
1993: The band, whose name is now shortened to Marilyn Manson, is the first act to sign with Reznor's Nothing Records label, distributed by Interscope.
July 1994: Marilyn Manson's major-label debut, Portrait of American Family, is released July 19. The album includes a track about child molestation. In an interview the following year, Warner alleges that his songs about child sexual abuse are misinterpreted and are a way to "deal with the things that happened to me as a child."
December 1994: Marilyn Manson begins their first headlining tour in Florida. Warner is arrested for indecent exposure after the first show on December 27 and is released after spending a night in jail. He later explains that police thought he was masturbating onstage with a dildo but claims he was in fact wearing underwear with a "design feature that looked penislike."
1995: When asked to share stories about groupies in a Purr interview, Warner says that "the best and most exciting stories on the road are better left a secret because of the statute of limitations." He adds that he has to respect the "innocence and ignorance" of fans who get caught up in the moment and claims that "anybody that gets into any exploitation is not someone who doesn't WANT to get taken advantage of." Elsewhere in the interview, Warner states, "I've grown accustomed to getting sexual excitement out of a girls' screaming. There's something about a terrified girl that I find exciting."
Warner reportedly lived in New Orleans while recording projects released in 1995 and 1996. He claims in his autobiography that he once smoked human bones that he took from a graveyard in the city, though it's not clear when the alleged grave robbing took place.
September 1995: Warner allegedly invites a 16-year-old girl onto his tour bus after a show and sexually assaults her while a bandmate watches, according to a lawsuit filed in January 2023.
October 1996: Antichrist Superstar, the band's second studio album, debuts on the Billboard "200" at No. 3.
November 1997: The U.S. Senate holds a hearing on "music violence." The father of a 15-year-old Marilyn Manson fan who reportedly died by suicide while listening to Antichrist Superstar testifies that the band's music "caused him to kill himself."
January 1998: Per MTV, former member Putesky sues Warner and the rest of the band, claiming he was never paid thousands of dollars in "royalties, publishing rights, and performance fees." A settlement is reached in October. The New Times reports in 2004 that Putesky's "trump card" during mediation was his allegation that Warner once pointed a gun at him for hiding a cassette tape.
February 1998: Spin magazine editor Craig Marks files harassment and assault charges against Warner, accusing him of threatening his life after inviting him backstage at a New York show. The legal complaint alleges that Warner's bodyguards grabbed Marks "by the neck" and threw him against the wall. Marks claims that Warner said, "That's what you get when you disrespect me." Warner later countersues for defamation, and the case is eventually settled out of court. In 2016, Warner appears to reference the incident to Alternative Press Magazine, saying, "Once I got arrested for putting a gun in the mouth of the editor of Spin."
February 1999: Warner gets engaged to Rose McGowan, per ABC News, after about one and a half years of dating. The engagement ends in January 2001.
April 1999: Initial reports of the Columbine High School massacre falsely describe the school shooters as Marilyn Manson fans. Warner cancels the final five dates of his band's ongoing tour out of respect for those killed. In a statement obtained by the New York Times, he criticizes coverage of the tragedy. "The media has unfairly scapegoated the music industry and so-called Goth kids and has speculated, with no basis in truth, that artists like myself are in some way to blame," he says.
October 2000: Warner allegedly grabs security guard David M. Diaz's head and proceeds "to gyrate his hips" against it during a concert in Minnesota. Diaz claims he asked Warner to stop and felt humiliated, and he later files a $75,000 lawsuit against Warner for battery and emotional distress the following year. Per MTV, a jury finds Warner not liable in September 2003.
April 2001: Actress Jennifer Syme attends a party at Warner's house and dies in a car accident later that night. In April 2002, her mother files a wrongful-death lawsuit, accusing Warner of giving Syme cocaine and encouraging her to drive while inebriated. "Words cannot express the pain that I feel over the loss of Jennifer Syme's life," Warner says in a statement. "After Jennifer was sent home safely with a designated driver, she later got behind the wheel of her own car for reasons known only to her. Her death is sad and tragic." Paper reports that the case is later settled out of court. The lawsuit is officially dismissed in May 2003.
July 2001: Warner allegedly gyrates against another security guard's neck at a show. Per MTV, Warner pleads no contest to two misdemeanor charges of disorderly conduct and assault and battery over the incident. He is ordered to pay Joshua Keasler a $4,000 fine. Keasler later sues Warner for sexual assault and intentional infliction of emotional distress. He and Warner eventually reach a private settlement with the East Valley, Arizona, Tribune reporting that the lawsuit is dismissed in January 2004.
High-Profile Relationships and Allegations of Abuse
November 2005: Warner marries model and burlesque dancer Dita Von Teese on November 28, per court documents obtained by Today. According to People, the pair began dating in January 2001.
December 2006: Von Teese files for divorce, citing irreconcilable differences. Rumors swirl that infidelity was a factor, and Von Teese eventually tells the Sunday Telegraph that Warner had an "inappropriate relationship" with another woman during the marriage. Warner later claims she couldn't put up with his "rock star" lifestyle.
January 2007: Warner, now 38, begins publicly dating 19-year-old actress Evan Rachel Wood, per Women's Health magazine. Wood later tells Elle that she met Warner at a party and became "movie buddies" with him before they started a "healthy and loving" relationship.
April 2007: Wood is featured in the music video for the Marilyn Manson single "Heart-Shaped Glasses (When the Heart Guides the Hand)." Warner reveals in an Energy interview that he wrote the song after he saw Wood wear "Lolita glasses" and told her he would break her glasses if she broke his heart. "I meant it in an almost violent way but also in a romantic way," he says.
Wood later alleges in the 2022 documentary Phoenix Rising that she was "essentially raped on-camera" during the shoot. According to Wood, this was "just the beginning of the violence that would escalate over the course of the relationship." Warner's attorney later responds in a statement claiming Wood was "not only fully coherent and engaged during the three-day shoot but also heavily involved in weeks of pre-production planning and days of post-production editing of the final cut."
August 2007: Former band keyboardist Stephen Gregory Bier Jr. (stage name Madonna Wayne Gacy) alleges Warner used the band's earnings for personal purchases including Nazi artifacts, a $150,000 engagement ring for Von Teese, human skeletons, and drugs. The complaint also claims Warner tried to force members out of the band, alleging he once set a drummer's kit on fire while he was still playing. Warner denies the allegations in the $20 million suit, which is eventually settled in December 2009. According to the Toronto Star, it's decided Bier will receive $380,000, paid by Warner's insurance company and Bier's former business managers rather than Warner himself.
November 2008: Wood confirms to People she and Warner have broken up to focus on work. She denies a rumor they split on bad terms, stating, "The person that said such horrible things about Manson being 'controlling' and 'emotionally abusive' is certainly no source 'close' to me."
June 2009: Warner tells Spin that, after their breakup, he called Wood 158 times in a single day, cutting himself with a razor blade each time to demonstrate his pain. "I have fantasies every day about smashing her skull in with a sledgehammer," he adds. In 2020, Warner's team releases a statement claiming these comments "obviously" represent "a theatrical rock star interview promoting a new record, and not a factual account. The fact that Evan and Manson got engaged six months after this interview would indicate that no one took this story literally."
November 2009: Marilyn Manson releases a music video for "Running to the Edge of the World," in which he appears to beat a woman. By the end of the video, her bloodied body is lying in a bathtub. Several media outlets note the actress looks like Wood.
January 2010: Wood and Warner reconcile. Today reports that she accepted his marriage proposal onstage in Paris.
May 2010: Warner allegedly pins photographer Ashley Walters down, tries to kiss her, and places her hand in his underwear after a photo shoot at his house, according to a 2021 lawsuit. Warner "vehemently denied any accusations of assault," a spokesperson tells the Cut in response to the suit, which is later dismissed because of the statute of limitations.
June 2010: Warner allegedly asks Walters to be his personal assistant, offering her double her current salary and various artistic opportunities. She alleges in her dismissed lawsuit she was sometimes expected to work 48 hours straight and was constantly afraid of his violent outbursts and threats. She later claims to the Cut that he once sent her a photo of Game of Thrones actress Esmé Bianco's cut-up back with the email subject, "See what happens?"
Summer 2010: Model Ashley Morgan Smithline (real name Ashley Lindsay Morgan) is allegedly approached by Warner to work on a film. Later, she alleges to People she was raped, whipped, and cut by Warner at his apartment. She initially claims the abuse continued during a relationship that lasted about two years. In February 2023, she recants her allegations, claiming she made "false accusations of abuse" against him. Warner has denied the allegations.
August 2010: Wood and Warner call off their engagement.
September 2010: Warner allegedly pushes Walters, his assistant, "onto the lap of an actor" at an awards show and brags that the actor can "have" her, according to a since-dismissed lawsuit filed in 2021.
March 2011: Wood gets an abortion after becoming pregnant with Warner's child, according to Phoenix Rising. In the documentary, she describes Warner allegedly telling her to make him dinner right after the abortion. She also alleges Warner refused to use condoms during the relationship. Warner's team denies all allegations of assault and abuse in response to the documentary.
May 2011: Warner allegedly rapes Bianco after she moves to L.A. to star in a never-released film with him, according to her 2021 lawsuit. The suit, now settled, also accuses him of multiple occasions of sexual battery that year, including nonconsensual spanking, biting, cutting, and whipping. Warner has denied the allegations, calling them "provably false."
Summer 2011: Warner allegedly begins to worry that Walters is trying to sabotage his career, according to Walters's 2021 lawsuit. After he fires her, he allegedly trashes her name to industry colleagues, hacks her Facebook, and threatens her.
May 2012: The last episode of the medical drama House airs on Fox. Charlyne Yi, who played Dr. Chi Park, later alleges in 2018 that Warner harassed "just about every woman" on set when he visited as a fan.
December 2014: A video containing footage of a staged sexual assault of Lana Del Rey leaks online. Warner claims to NME that someone spliced in clips of him in order to make it appear as if it were part of a Marilyn Manson video, though he acknowledges the footage of Del Rey was shot by his friend, director Eli Roth. "I don't think either of us were ever intending for that to be seen, it was more of a camera test," he says. "I'm a person that would beat somebody's ass if they raped somebody that I know."
November 2016: In a Rolling Stone interview, Wood alleges she has been raped, including by an unnamed former significant other. She broadly refers to having experienced "physical, psychological, sexual" abuse.
October 2017: Jessicka Addams of Jack Off Jill accuses her ex, Jeordie White (also known as Marilyn Manson bassist Twiggy Ramirez), of raping her in the '90s. Warner responds with a statement claiming he "knew nothing about these allegations until very recently" and is "saddened by Jessicka's obvious distress." He removes White from the band.
November 2017: In an "act of theater," Warner points a fake rifle at the audience of a show in San Bernardino, California, hours after a mass shooting in Sutherland Springs, Texas.
February 2018: Wood speaks in support of the proposed Sexual Assault Survivors' Bill of Rights Act. Wood again alleges she was raped by an unnamed significant other during a relationship. "It started slow but escalated over time, including threats against my life, severe gas-lighting and brainwashing," and "waking up to the man that claimed to love me raping what he believed to be my unconscious body," she says. She also testifies she has since been diagnosed with long-term PTSD and has struggled with "depression, addiction, agoraphobia, and night terrors."
May 2018: As the Me Too movement continues to grow, an unnamed woman reportedly files a police report against Warner for unspecified sex crimes dating back to 2011.
August 2018: The L.A. district attorney declines to pursue a sexual-assault case against Warner tied to the police report, citing an expired statute of limitations and "absence of corroboration," per The Hollywood Reporter. Warner's attorney categorically denies all claims made in the police report, including an allegation the unnamed accuser was held captive by Warner for 48 hours in 2011.
March 2019: Bianco comes forward as a domestic-violence survivor with a graphic Instagram post. She does not name her abuser, but the caption mentions a former boyfriend.
April 2019: Wood testifies in front of the California State Senate's Public Safety Committee in support of the Phoenix Act. The legislation would extend the statute of limitations in California in specific circumstances of domestic violence, including when multiple accusers come forward against the same person or when new evidence is discovered.
Per Nylon, Wood alleges that she met her unnamed abuser when she was a teen. She describes "enduring constant, daily abuse, and, on occasion, rape." She recalls her abuser allegedly threatening others with force, legal action, and illegally collected blackmail. Three months later, Bianco testifies in support of the Phoenix Act. She similarly mentions an unnamed abuser who allegedly groomed her and committed nonconsensual acts of physical violence "disguised as intimacy," which left her with PTSD.
August 2019: Warner allegedly spits and blows snot on a videographer during a concert in New Hampshire. According to TMZ, an arrest warrant for two counts of misdemeanor simple assault related to the incident is issued in October 2019. Authorities claim he evades them for nearly two years, though Warner's legal team later denies this.
October 2019: The Phoenix Act is signed into law.
October 2020: Warner reveals in Interview magazine he was secretly married during the COVID-19 pandemic. His wife is Lindsay Usich, whom he has been romantically linked to as early as 2012.
November 2020: Warner hangs up on a Metal Hammer interviewer who asks him about Wood's testimonies of domestic violence and sexual assault. A spokesperson for Warner later says in a statement that it would be "inappropriate" for him to comment on her "personal testimony."
December 2020: Wood files a police report on December 19 after allegedly learning of a threat to release underage photos taken of her to "ruin my career" and "shut me up," according to an Instagram Story she posts in February 2021. Per The Hollywood Reporter, she claims in the Story that Warner's wife was behind the threat. A friend of Warner's claims that the photos in question are of a 19-year-old Wood and that Warner has nothing to do with any distribution of them.
Legal Battles with Evan Rachel Wood Go Public
February 1, 2021: Evan Rachel Wood publicly names Warner as her alleged abuser in a since-deleted Instagram post. "I am done living in fear of retaliation, slander, or blackmail," she says. "I am here to expose this dangerous man and call out the many industries that have enabled him, before he ruins any more lives. I stand with the many victims who will no longer be silent."
Per Vanity Fair, four others — Walters, Smithline, Sarah McNeilly, and another woman using a pseudonym — come forward with similar allegations against Warner, accusing him of love-bombing that led to various forms of physical, psychological, and sexual abuse. Some allege they witnessed him inflicting abuse on others. According to a 2021 Rolling Stone report, several of these accusers met in October 2020 to share their alleged experiences of abuse by Warner.
Rose McGowan expresses support for the accusers. "When he was with me, he was not like that, but that has no bearing on whether he was like that with others before or after," she says. "It takes time to come forward," she adds, saying she's "proud of these women and anybody who stands against an abuser."
Warner is quickly dropped by Loma Vista, CAA, and various scheduled TV-show appearances. "Obviously, my art and my life have long been magnets for controversy, but these recent claims about me are horrible distortions of reality," he says on Instagram. "My intimate relationships have always been entirely consensual with like-minded partners. Regardless of how — and why — others are now choosing to misinterpret the past, that is the truth."
February 3, 2021: Von Teese states in a since-deleted Instagram post that she has been "processing" the news about her ex-husband. "Please know that the details made public do not match my personal experience during our 7 years together as a couple," she writes, per Us Weekly. "Had they, I would not have married him in December 2005." She adds that abuse has "no place" in any relationship, encourages healing for abuse survivors, and says this will be her "sole statement on this matter."
Guitarist Wes Borland, who was part of Marilyn Manson between August 2008 and May 2009, reportedly claims on Twitch that the allegations against Warner are true. "I was there when he was with Evan Rachel Wood. I was at his house," he says, per Metal Hammer. "It's not fucking cool, and that's all I'm gonna say about it."
February 4, 2021: Phoebe Bridgers expresses her support for Manson's accusers. She says she visited his house with friends when she was a teenager. "He referred to a room in his house as the 'r*pe room', I thought it was just his horrible frat boy sense of humor," she tweeted. "I stopped being a fan." She also alleges Manson's label, management, and band are just "pretending to be shocked and horrified" but have long been aware of his behavior.
February 6, 2021: In an Instagram post, Wood claims Warner called her "jew in a derogatory manner," drew swastikas when he was angry with her, and repeatedly used the N-word.
Wolf Alice's Ellie Rowsell tweets her support for Wood and Warner's other accusers. She also alleges Warner filmed "up my skirt with a gopro" when they met backstage at a festival a few years ago.
February 10, 2021: Bianco publicly names Warner as her alleged abuser in a lengthy interview with the Cut, joining more than a dozen women who have come forward with abuse allegations against him. She expands on her 2019 testimony and describes incidents of violence, threats, extremely controlling behavior, and humiliation. According to Bianco, Warner's abuse began after she came to L.A. to be in his unreleased 2009 music video for "I Want to Kill You Like They Do in the Movies." Bianco claims she ended their relationship in May 2011 after he allegedly chased her with an axe. Walters corroborates the story to the Cut, claiming she saw Warner threatening Bianco with the blade.
February 19, 2021: The Los Angeles County Sheriff's Department confirms to Vulture it is investigating Warner in relation to domestic-violence incidents that allegedly occurred between 2009 and 2011 in West Hollywood.
March 2021: In a declaration filed as part of a custody battle with her ex Jamie Bell, Wood alleges she "recently learned" Warner was involved in "human trafficking and the sexual exploitation of minors on a large scale." According to a copy obtained by the Daily Mail, she alleges Warner threatened to "f**k" her then-8-year-old son. Wood says she has since heightened security at her L.A. home and moved to Tennessee with her son because of Warner's alleged "network of fanatics," referring to his fans. An attorney for Warner declines to comment.
April 30, 2021: Bianco files a lawsuit against Warner for sexual assault and sexual battery. The suit accuses him of a rape "in or around May 2011" and claims he "committed sexual acts" when she was unconscious or unable to consent. The complaint further alleges he cut her with a Nazi knife during sex and posted pictures of the wounds without her consent, among other claims of violence and degradation. It also claims the alleged false pretenses of bringing her to L.A. for work qualify as a violation of human-trafficking laws. Manson's attorney responds by calling Bianco's claims "provably false" and claiming her lawsuit was filed only after Manson refused to give in to "outrageous financial demands based on conduct that simply never occurred."
May 5, 2021: Fifteen women have now accused Warner of abuse, People reports. Smithline details new allegations in a People cover story. According to Smithline, her nose was broken during one encounter with Warner and she still has scars from his alleged abuse. A spokesperson for Warner denies her claims, stating her relationship with Warner "didn't last one week." People, however, reports Smithline provided the outlet with emails and messages allegedly from Warner spanning more than two years.
May 18, 2021: Walters, one of his initial accusers, files a lawsuit against him. The Los Angeles filing reportedly cites sexual assault, battery, and harassment. In response to the suit, a spokesperson for Warner "vehemently" denies "any accusations of assault."
May 25, 2021: New Hampshire police issue an active arrest warrant over the 2019 incident with the videographer.
May 28, 2021: An anonymous ex sues Warner, accusing him of raping and threatening to kill her in 2011. Her lawsuit claims she repressed her memories until multiple accusers came forward with allegations against Warner. The "Jane Doe" accuser also alleges he showed her a video of him allegedly abusing a "seemingly young teenage fan" in 1996. Doe claims she was afraid the girl in the video had been murdered. An unnamed source claims to TMZ the video was "a scripted short film meant to be used for a future project that was never officially released."
June 29, 2021: Smithline becomes the fourth woman to take legal action against Warner, the Cut reports. Her lawsuit includes multiple allegations of sexual assault as well as details previously mentioned in her People cover story such as the swastika knife and her alleged imprisonment in "the bad girls' room."
July 2, 2021: Per TMZ, Warner turns himself over to authorities in New Hampshire. He is booked and released on bail.
July 28, 2021: Warner's attorneys file documents claiming Bianco is part of a conspiracy "cynically and dishonestly seeking to monetize and exploit the Me Too movement," Billboard reports. Warner's team alleges she and other accusers plotted their testimony to conflate Warner's stage persona with his private actions.
August 20, 2021: The videographer whom Warner allegedly spit and blew snot on reportedly files a civil lawsuit over the 2019 incident, alleging assault, battery, and intentional infliction of emotional distress. The following month, Warner pleads not guilty to criminal-assault charges for the incident.
September 15, 2021: Per Pitchfork, the May 2021 lawsuit from a Jane Doe accuser who alleged that Warner raped and threatened to kill her is dismissed because of the statute of limitations. She is given 20 days to amend her filing and refiles the suit on September 23 with more details, alleging Warner threatened to "bash her head in" if she ever reported him. The amended suit argues she should qualify for a "delayed discovery" rule because she initially repressed her memories of the alleged 2011 rape.
November 14, 2021: Rolling Stone publishes a lengthy report on Warner, referring to him as "the monster hiding in plain sight." Based on court documents and more than 55 interviews, the piece includes multiple allegations of sexual, physical, and psychological abuse throughout the rocker's lengthy career. The piece includes descriptions of the so-called bad girls' room as well as claims Warner liked to use the N-word and frequently joked about rape, allegedly telling a 2009 crowd, "When you laugh after you fuck her, it is not rape."
November 30, 2021: Warner's home is searched by detectives with the Los Angeles County Sheriff's Department, who reportedly seize hard drives for review.
January 26, 2022: Per Rolling Stone, Warner's lawyers argue in court that Walters's lawsuit should be dismissed on statute-of-limitations grounds. Walters's attorneys claim threats, violence, intimidation, and other coercive acts "deterred her" from filing the lawsuit, which Warner's team denies. Walters argued in prior filings that she did not "discover" her injury until other Warner accusers invited her to their support group in fall 2020. A judge declines to issue a decision until later.
March 2, 2022: Wood and Illma Gore, her "on-again, off-again romantic partner," are sued for defamation by Warner. The complaint accuses Gore of being a "grifter" who saw an opportunity to benefit from "an organized attack on Warner" spearheaded by Wood. It also claims the pair "secretly recruited, coordinated, and pressured prospective accusers" to come forward with false allegations. The suit alleges the pair impersonated an FBI agent to make it look like Warner was undergoing federal criminal investigation, which Warner's attorney claims was used to sway potential accusers and "dupe HBO into distributing a one-sided 'documentary.'" The director of the documentary tells Newsweek that the film is "completely legally sound." According to the suit, Wood and Gore allegedly provided prospective accusers with checklists and scripts and made "knowingly false statements" that the accusers publicly repeated.
March 11, 2022: Walters files an amended version of her sexual-abuse-and-battery lawsuit. Rolling Stone reports that this version emphasizes that her allegations came from repressed memories and alleges that, after her initial filing, Warner's team threatened her with "retaliatory legal action" if she appeared in Phoenix Rising. A source close to Warner says the reason for the potential legal action was a confidentiality agreement Walters allegedly violated.
March 14, 2022: Wood appears on The View and addresses Warner's defamation lawsuit against her, claiming that she is "not scared" and that his legal action is "clearly timed" to the release of her documentary. "This is why people don't want to come forward," she says. "This was expected."
March 15, 2022: The first episode of Phoenix Rising airs on HBO.
April 2022: Smithline's lawyer, Jay Ellwanger, expresses concern about his client after she requests to discharge him over text message. He believes his client may not be the one writing the texts, which are later provided in court by Warner's team. "it may not sound like me, because i've put up with all of this for too long," she allegedly texts back.
May 25, 2022: Walters's lawsuit is dismissed because the statute of limitations has passed, according to Billboard. The case is dismissed with prejudice.
September 20, 2022: The Los Angeles Times reports the L.A. County Sheriff's Department has concluded its 19-month investigation into Warner and sent the findings to the DA's office. The findings will be evaluated to determine if criminal charges will be filed.
December 5, 2022: Per "Page Six," a judge approves Ellwanger's request to be removed from Smithline's case. Her lawsuit is dismissed a month later, on January 4, 2023, after she fails to find a replacement for Ellwanger.
January 24, 2023: Bianco settles her sexual-assault lawsuit against Manson out of court. Her lawyer, also Ellwanger, tells Rolling Stone that Bianco "agreed to resolve her claims against Brian Warner and Marilyn Manson Records, Inc. in order to move on with her life and career."
January 30, 2023: An anonymous woman files a lawsuit in New York accusing Warner of sexual abuse, sexual battery, sexual assault, and molestation. She alleges she was sexually assaulted by Warner on a tour bus when she was a minor. According to the lawsuit, Warner allegedly groomed her, took her on tour, and sexually assaulted her multiple other times during the '90s. The suit also names Interscope and Nothing Records as defendants, alleging they were not only aware of but "aided and abetted such behavior." King, Warner's attorney, denies the allegations, claiming that Warner "does not know this individual and has no recollection of ever having met her" and calling the lawsuit a "shakedown."
February 16, 2023: Per NBC Los Angeles, a judge dismisses the assault-and-battery lawsuit over the 2019 videographer incident. The civil suit is dismissed without prejudice.
February 21, 2023: The New Hampshire Union Leader reports that a judge sets an August 7 trial date over the criminal charges in the videographer incident. A final pretrial hearing will take place July 20.
February 23, 2023: "Page Six" reports that Smithline claims she was "manipulated" to spread false accusations of abuse against Warner in. According to the Cut, she made the retraction of her allegations in a signed testimony filed as part of Warner's defamation suit against Wood and Gore. At group meetings with the alleged victims, Smithline claims that, after she said she hadn't experienced violence or nonconsensual sex acts, Wood told her "just because she could not remember" did not necessarily mean nothing happened. Smithline alleges she became convinced she had been abused and was pressured into publicly coming forward. She also claims Gore drafted and posted the Instagram statement of her initial allegations against Warner. According to Smithline, Bianco's lawyer, Ellwanger, offered to represent her and filed a complaint on her behalf without running it by her. "As we have always said, the coordinated campaign of #MeToo lies against Brian Warner is going to go down as one of the greatest hoaxes of all time," King says in a statement responding to Smithline's declaration. "Vulnerable women were manipulated by unscrupulous individuals seeking to build their own brands and pursue their own vendettas. This sworn testimony proves it."
Ellwanger tells the Cut in an email that "the specific allegations regarding my representation of Ms. Smithline are categorically and verifiably false." Wood also denies Smithline's allegations. "Evan never pressured or manipulated Ashley," her spokesperson says. "It was Ashley who first contacted Evan about the abuse she had suffered. It's unfortunate that the harassment and threats Ashley received after filing her federal lawsuit appear to have pressured her to change her testimony."
February 27, 2023: In a legal filing obtained by "Page Six," Wood again denies that she and her inner circle contacted Smithline with the intent to coerce her. Wood provides screenshots of Instagram DMs that allegedly show Smithline repeatedly expressing concern over backlash from Warner's "loud" fandom. According to Rolling Stone, Wood also submits a 2022 voice-mail from Smithline in which she tells a friend that she thinks Warner's attorney might want her to "turn on the other girls and say it was all a ruse."
Warner's attorney, King, tells Law & Crime he believes the voice-mail is not "authentic." In a statement to Vulture, he says he never discussed Smithline's claims against Warner until after she reached out to him and terminated her counsel. "Evan's full of shit. That's my comment," Smithline tells Rolling Stone. "She's saying anything she can to discredit me."
February 28, 2023: A judge denies the application to admit Smithline's new declaration, meaning it won't be used as evidence in the trial. According to Billboard, a hearing to consider Wood's request to dismiss Warner's countersuit is now set for April 11.