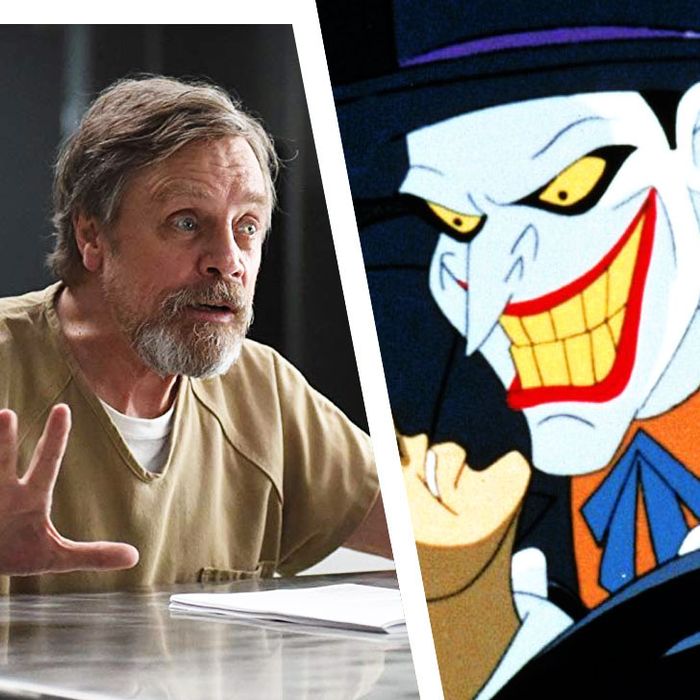 These are not the Luke Skywalkers you seek.
Photo: Vulture, Sony Pictures Classics, Warner Bros. and Entertainment Film Distributors
Mark Hamill's journey to becoming a geek god only started with Luke Skywalker in the Star Wars films, but he's done much more than just Jedi work. The actor's enjoyed a long (338 IMDb credits and counting!) and varied and at times odd career path, one that's featured plenty of voice-over work — including as the killer doll Chucky in the new Child's Play movie.
Looking over the past few decades of Hamill's work beyond Star Wars, one can't help but notice not only how talented he is at his craft — he's one of the industry's best voice-over artists — but also how game he is to try different things. So, perhaps, his role as Chucky has been a long time coming. In honor of that, we've compiled a guide to some of the actor's most interesting non–Luke Skywalker roles, which range from the goofy gem Corvette Summer to Wing Commander to Brigsby Bear and beyond.
Ken, Corvette Summer (1978)
A summer after the release of Star Wars, Mark Hamill played a beach blond car-loving virgin named Ken in Corvette Summer, his first major lead film role. It's a chintzy but lovable comedy, where Hamill's Ken pursues the stolen Corvette of his dreams to Las Vegas, with the help of a "hooker in training" played by Annie Potts. Definitely a doozy of a lead vehicle for Hamill, who lets his hair grow long and eyes bulge out in one of his most neurotic roles ever, but his star power helps make it feel like a screwball comedy between a boy and his car.
Pvt. Griff, The Big Red One (1980)
One of Hamill's best performances happened because of director Sam Fuller, who mixed the star in with a group of other young men facing death in the World War II saga The Big Red One. Hamill plays Pvt. Griff, who starts off the movie unable to pull the trigger, and is then referred to in the voice-over as a coward. But the innocence that Hamill brings to the screen makes for an all-the-more-effective third act, where after many passages of Hamill's curious silence (opposite the stoic Lee Marvin and other soldiers), he snaps — shooting one German soldier over and over, with the rhythm of a bell tolling throughout a war-torn landscape. The role predates a similar turn of conscience in Star Wars: Episode VI — Return of the Jedi, but shows how the corruption of the goodness that Hamill often brings to the screen can be all the more disturbing. Pvt. Griff would later be recognized with another one of Hamill's voice-acting roles, acting as the narrator for the 2005 video game Call of Duty 2: Big Red One.
Muska, Castle in the Sky (1986)
One of Hamill's most famous film voice-over roles was for Hayao Miyazaki's Castle in the Sky, adding his voice talents to a Disney-sanctioned late-'90s dub that was made to the first movie by the beloved Studio Ghibli. Joining a voice cast featuring the likes of James Van Der Beek, Mandy Patinkin, Cloris Leachman, and Andy Dick, Hamill voices the slick Muska, who seeks world domination. And it wasn't the only time that Hamill worked to provide English dialogue for a Miyazaki project, as he also contributed to a 2005 dub for the 1984 Ghibli film Nausicaä of the Valley of the Wind.
Tasker, Slipstream (1989)
In 1989, Hamill reunited with Star Wars producer Gary Kurtz for the Tron director Steven Lisberger's hodgepodge sci-fi adventure Slipstream. In a very '80s image of dystopia, Hamill is a bounty hunter named Tasker. The role is full of hard-boiled dialogue befitting the story's Western environs, with plenty of scenes acting opposite a high-strung Bill Paxton. It's one of Hamill's rare onscreen villainous roles, replete with slicked-back blond hair and a diabolical long leather jacket — which makes it all the more cool when Hamill rolls out dialogue like, "Every time a piece of human trash is put under a rock pile, the world's a better place."
Peter Froehlich, Fall of the Eagles (1989)
Jesús Franco's WWII drama
Fall of the Eagles has Mark Hamill in ways you may never have seen before: Playing a Nazi! Having sex! Getting married and visibly dying on camera at the same time! Such is par for the course in this love-triangle drama from the exploitation director, a striking film that co-stars Christopher Lee, Alexandra Ehrlich, and Ramon Estevez (brother of Emilio). Want to see Hamill don glasses and a wobbly German accent? This is your movie
Christopher Blair, Wing Commander III: Heart of the Tiger & Wing Commander IV: The Price of Freedom (1994 & 1996)
Hamill lent his star presence to the video games Wing Commander III and Wing Commander IV, undoubtedly connecting the sci-fi space-combat games to their Star Wars influence. In perhaps his most famous contribution to video games, Hamill starred as Christopher Blair in the games' live-action sequences that came in between play time, leading to the tagline "Don't watch the game … play the movie." Hamill's work is so distinct to the Wing Commander universe that he's reunited with creator Chris Roberts for the crowdfunded, not-yet-released spiritual successor Squadron 42, which will have him sharing the screen with John Rhys-Davies, in a motion-capture cast that includes Gary Oldman, Gillian Anderson, Ben Mendelsohn, Andy Serkis, and Jack Huston.
The Joker, Various Animated Batman Titles (1992–2016)
Among the long history of actors who have played perhaps Batman's most-beloved archnemesis, Hamill has become the most distinct voice for the character since the feature animated film, Batman: Mask of the Phantasm. He's colored the animated world of Gotham with this character in other versions, including Batman: The Animated Series, the R-rated Batman: The Killing Joke, and various Batman games. Hamill makes the role his own with each aggressive howl of laughter, emitted between some slithery line-reading and grandiose self-amusement, matching the larger-than-life depiction of the enigmatic villain.
More Villains!
Hamill has an incredible range when it comes to his various villains, playing a diverse roster of baddies that include Fire Lord Ozai (Avatar: The Last Airbender), Hobgoblin (Spider-Man: The Animated Series), Gargoyle (The Incredible Hulk TV series), Megatronus (Transformers: Power of the Primes), and even Buzz Buzzard (The Woody Woodpecker Show) — along with plenty of other characters we don't have time to mention here. He's become a reliable go-to for franchises in need of a great nemesis (or at least the voice of one).
Don Swan, Comic Book: The Movie (2004)
In 2004, Hamill made his debut as a director with the affectionate mockumentary Comic Book: The Movie, casting himself as the lead in a universe he knows all too well: comic conventions. Hamill plays Don Swan, an expert on the character Commander Courage; a studio wants to do a big-budget adaptation to get his blessing, and for him to make a documentary about the process — but all of it is just to get Don out of the way. Comic Book: The Movie is a free-flowing affair as Hamill's naïve yet lovable geek has interviews with the likes of Stan Lee and Kevin Smith. It was surely inspired by Hamill's experience himself as a comic-book creator, having created the five-issue The Black Pearl in 1996. Comic Book: The Movie makes clear that while Hamill might be a god in the convention scene, he's a geek just like us, too.
Ted, Brigsby Bear (2017)
Among the many things underrated about this little film, co-written by and starring Saturday Night Live cast member Kyle Mooney, is the opportunity it gave Hamill to show off his many different talents within a single heartfelt story. He doesn't just voice multiple characters (the heroic bear Brigsby; the evil Sunsnatcher) that are part of the kids' show at the plot's center, but he also turns on his onscreen sweetness as the father to Mooney's traumatized man-child James. The grace that Hamill has in this role captures his potential for tragedy and innocence perfectly, all leading to an emotional climax in which he does some voice-acting in front of our eyes — making this an ultimate character in Hamill's filmography.
Talus, Knightfall (2019)
This past March, Hamill joined the History Channel's medieval series Knightfall, complete with a long beard (glued over his own for another role, wink, wink) and a scarred mug, for the show's second season. In one of his more transformative roles, Hamill plays a veteran of the Crusades with a throaty British accent, called upon to instruct the central figure Landry (Tom Cullen) and other young knights in the ways of God and battle. Though he's shorter than Cullen, Hamill easily holds his own and creates a presence that is itself mythical.
Mark Hamill As … Mark Hamill (Various)
One of Hamill's most popular roles across mediums has been, well, himself — an extension of his equal mythology and accessibility. Perhaps most famously, he played himself as the villain Cocknocker in the movie made during Jay and Silent Bob Strike Back ("Hey kids! It's Mark Hamill!" popping up onscreen), but also appeared as himself on the NBC sitcom Just Shoot Me! (opposite a gobsmacked David Spade) and on CBS's The Big Bang Theory, where he married Sheldon and Amy as a surprise officiant. Meanwhile, on cameo-loving The Simpsons, he performed Guys and Dolls (as Luke Skywalker, against his wishes), and Homer tells him that his performance was "luminous, magnetic … incandescent."
Chucky, Child's Play (2019)
And now we have one of Hamill's most high-profile voice-over roles yet, in which he gives new life to Chucky the killer doll for the remake of the 1988 horror classic Child's Play. It's an update that feels designed for Hamill: This version of Chucky starts out blue-eyed and innocent like a child, unlike the spitting rage and misogyny that defined the doll in Brad Dourif's original take. But Hamill uses a soft, high voice (sounding similar to his take on Brigsby Bear) to make each loving catchphrase from Chucky to his owner Andy feel creepy enough, and that's before you get to see his Chucky use a lawn mower as a murder weapon. On top of all that, you can also hear the actor sing "The Buddi Song," sounding both like a friend expressing love and withholding a disturbing secret. Classic Hamill.