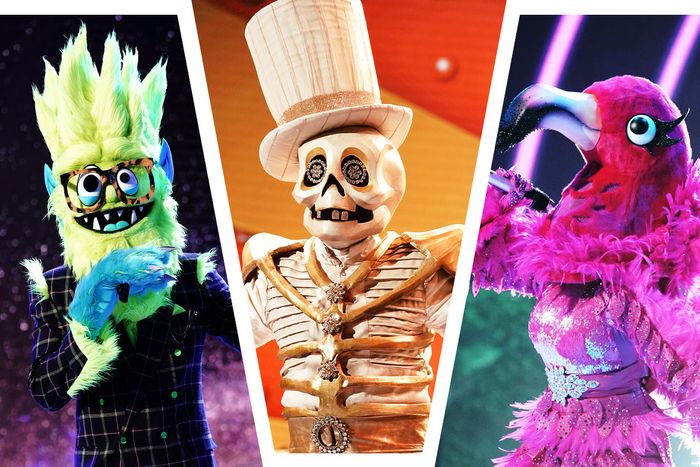 Thingamajig, Skeleton, and Flamingo. But who are they,
really
?
Photo: Fox
The Masked Singer has returned! Everyone's favorite bizarre reality-TV singing competition is back with its iconic lineup of C-list panelists (sorry, Ken Jeong!) and D-list talent. The debut season saw everyone from Ricki Lake to Joey Fatone to eventual winner T-Pain as whimsical, pseudo-psychedelic characters singing and hinting their way to ultimate reveal. It was extremely shameless and fun, and now Fox is hoping it'll be just as shameless and fun all over again.
Who knows, maybe with The Masked Singer's popularity, we'll see a celebrity "upgrade" from last year's masked singers.
I certainly hope not!
I'm back to use my best judgement (and the help of thousands of skimmed YouTube and Twitter comments) to take a stab at who could possibly be under the colorful masks. Unlike our panelists — who still throw out implausible guesses like Lady Gaga and Adele repeatedly — I'll take into consideration a few more crucial clues other than the ones given to us in these tricky packages. For example, who are the most likely type of celebrities to appear on a show like The Masked Singer? Have these people already sung elsewhere, perhaps harboring dreams of starting and/or kick-starting a music career? How about the height differential between our singer and host Nick Cannon (who is six feet tall, says Google)? It's not as simple as, "This sounds like Billy Joel, could it be him?" so please — please — Jenny McCarthy, leave this to an expert.
Who is the Egg on The Masked Singer?
Here's what we know about the Egg: His clue video has imagery of a swan, a sketch of a ball gown, a skateboard and, of course, the Egg — who says he is "unapologetically himself." He also says, "You might figure that coming to The Masked Singer is a bit of a leap for me," and starts a clue with, "After years of being on top of the pyramid …" Could it be any more obvious what this guy does for a living?
Why it's definitely Johnny Weir: Well, for one thing, he was unmasked in episode one — so if you watched all the way through, you already know that the Egg turned out to be three-time U.S. national champion figure-skater and Olympic commentator Johnny Weir. (Yes, the skateboard imagery in his clue video was a rude pun.) Did I think it was Adam Rippon for a hot minute? Yes, but then I realized that Johnny Weir has appeared on such fine reality-TV programming as The Rachel Zoe Project, Say Yes to the Dress, and Rachael vs. Guy: Celebrity Cook-Off. He's written an autobiography, started a fashion line (hence the ball-gown sketch), and, most important, he released a pop song called "Dirty Love" (which "shot to No. 1 on the Japanese Amazon sales charts shortly after its worldwide," wrote Fireworks Sports Marketing, the firm that represents Weir). The Egg sang Lady Gaga's "Just Dance"; Johnny Weir once skated to "Poker Face" in 2010 and "Bad Romance" in 2011.
Why it might not be Johnny Weir: It is.
Who is the Ice Cream on The Masked Singer?
Here's what we know about the Ice Cream: His clue video is heavy on cash-throwing and the interiors of a glitzy mansion, but why would someone so seemingly accomplished go on The Masked Singer? Great question. "I got over a billion reasons to be proud of my hard work and determination," Ice Cream says, adding: "I am used to performing in front of millions of people, being here is a game changer because I'm behind a different kind of mask." The he does a karate chop, before faux-DJing in front of suits wearing emoji masks. Are you thinking what I'm thinking?
Why it's definitely Tyler "Ninja" Blevin: Aside from the fact that he was unmasked in episode one, Ice Cream was clearly of the YouTube realm — something that Jenny McCarthy guessed during his clue video. She wasn't too far off: Ninja is mainly a streamer, meaning millions of kids watch him play video games like Fortnite on platforms like Twitch. This has made him rich, but not quite known outside the realm of teens and their parents. His Masked Singer background dancers did his famous "PonPon Dance," and that DJ thing probably refers to a co-headlining gig he once did with an actual masked DJ, Marshmello, in Vegas.
Why it might not be Ninja: It is.
Who is the Panda on The Masked Singer?
Here's what we know about the Panda: Well, the Panda's identity was revealed in the season's second episode, but before that, her clues included: a bell to represent the beginning (and end) of a boxing match, a note that she was undefeated in her boxing career, a bee, and a hint at a famous family. (Her father was boxer Muhammad Ali.) Another giveaway? Leila's been on Dancing With the Stars (she came in third place), Celebrity Wife Swap, The New Celebrity Apprentice and Chopped: All Stars. And now she's been on The Masked Singer. That's quite the collection.
Why it's definitely Laila Ali: "Float like a butterfly, sting like a bee." Duh!
Why it might not be Laila Ali: It is.
Who is the Eagle on The Masked Singer?
Here's what we know about the Eagle: The clue video takes place in a classroom — complete with AV-club vintage TV, radio, and, naturally, an apple. The "studious" and "intelligent" Eagle has soared to great heights "as the face of [his] field," he says. He's sick of listening to other peoples' stories and he's ready to write his own. ("Definitely maybe someone who interviews people," says Jenny McCarthy, smartly. "What about about a Jimmy Fallon?" answers Robin Thicke, dumbly.)
Why it's definitely Dr. Drew: Does his rendition of the National Anthem not convince you?
Why it might not be Dr. Drew: It is.
Who is the Skeleton on The Masked Singer?
Here's what we know about the Skeleton: "I've been around the block a few times, but I'm far from dead," he starts off his clue video, which has quite the Vegas feel. Okay, so we know he's old. Moving on, he says he's played "second fiddle" and "always provided support" to what we assume is a leading man. He holds up three keys and opens the door to two suits playing fiddles, before saying "tonight's going to be a wild and crazy party" (Oh?) and opening the door again to two dudes in Christmas sweaters. And he ends with yet another Saturday Night Live reference: "Party on, dudes."
Why it's definitely Paul Shaffer: This one isn't easy. There are a few conflicting clues. We definitely know we're dealing with an older guy, and they're really trying to trick us with all these SNL references. "Wild and Crazy Guys" was a sketch with Steve Martin and Dan Aykroyd; "Party on, dudes" could refer to Dana Carvey in Wayne's World. So here's why it's Shaffer: He led the Saturday Night Live house band for five years, and his main instrument of choice is the keyboard. Plus, he "played second fiddle" to David Letterman as the leader of his talk-show band for many years, and often hosts a "swinging showcase" at Caesars Palace in Las Vegas. Here he is performing.
Why it might not be Paul Shaffer: It is.
Who is the Penguin on The Masked Singer?
Here's what we know about the Penguin: First of all, she's short. Like really short. The Penguin stares into a vanity covered in photos of Queen Rania of Jordan (no, seriously) and says: "I've been told I'm not pretty enough, not funny enough, not smart enough." She points to a "Hit List," which lists: "Classroom bully, Comedy club owner, Hollywood casting director, Exes, The press, and Myself." Pretty specific! "I don't need a permission slip from anybody to be who I am," she says, before leading a group of protesters holding signs. One says: "I am not your secretary." Another: "GIVEMTHEBIRD."
Why it's definitely Sherri Shepherd: The stand-up slash actress slash former co-host of The View definitely fits the bill (haha). For one, she's five-foot-one and worked as a legal secretary before breaking into showbiz (thus the "I am not your secretary" protest sign). And the "permission slip" line has to refer to her book, Permission Slips: Every Woman's Guide to Giving Herself a Break, right? I can't imagine it referring to literally anything else. Shepherd's had issues with ex-husbands (she has two) and when she was fired from The View in 2014 — weirdly, alongside Masked Singer judge Jenny McCarthy. She competed on season 14 of Dancing With the Stars, and even the Alien from last season's Masked Singer (a.k.a. La Toya Jackson) agrees:
Why it might not be Sherri Shepherd: It is.
Who is the Black Widow on The Masked Singer?
Here's what we know about the Black Widow: Her clue video reveals images of a peach, the sign for Sagittarius, and a crown. "After years of living in the public eye," she mentions , surrounded by spider things and vintage TVs. There's a director's clapboard with the name "Queen Bee" and then she says, "You're in my house, welcome to my empire."
Why it's definitely Raven-Simoné: Before you ask why isn't she the Raven, have you even been paying attention?! The Raven was Ricki Lake on last season's Masked Singer! (And now Ricki is moving on to the U.K.'s Celebrity X-Factor, which you know I'm all over.) The peach is the symbol of Atlanta, Georgia, where Raven was born; her birthday is December 10, which makes her a Sag; the crown could refer to her appearance in The Princess Diaries 2: Royal Engagement, but don't quote me on that. The old TVs could refer to her childhood on The Cosby Show? No references to her iconic role on Zenon: Girl of the 21st Century, but she did do a guest stint on Empire ("Welcome to my empire") and let's not forget 2017's That's So Raven sequel, Raven's Home. It got renewed for a second season.
Finally, the weirdest thing of all is that Raven-Simoné is a former Cheetah Girl … just like Adrienne Bailon. That would mean there are two Cheetah Girls on this season's The Masked Singer. Is this excessive? Yes. Would I put it past them? Absolutely not. The more, the merrier.
Why it might not be Raven-Simoné: It is.
Who is the Ladybug on The Masked Singer?
Here's what we know about the Ladybug: Her clue video shows her spinning a big wheel as different images fly by: a ham, a pumpkin, a judge's gavel, a dog, a skull, a bridge, a scorpion, a baseball bat, and a police car. That's a lot. She "was born into the limelight," she says, and "after a lifetime of drama," she's "here to perform on [her] own terms, without fear of being judged." The Ladybug has a very strong southern accent, but it's so strong it sounds practically fake, so let's just say our Ladybug might not be the best actress.
Why it's definitely Kelly Osbourne: I wasn't convinced at first, but as I was writing this out, I believe it has to be. She was born into a famous family with plenty of drama and she's definitely has experienced her fair share of judgy media coverage. (Plus, she herself was once a "judge" on E!'s Fashion Police.) As far as the wheel imagery goes, here's my best take. The ham refers to this clip from The Osbournes where Ozzy and fam throw a ham into their neighbor's backyard; the pumpkin, the skull, and the baseball bat call back to Kelly's dad, Ozzy, and his famously Halloween-y vibe (remember the iconic bat-eating incident?); the judge's gavel refers to Kelly's own run-ins with the law; the dog refers to the slew of animals the Osbournes always had in their house; the scorpion refers to Kelly being a Scorpio; and the bridge, well, that one I have no idea. Maybe it's the Tower Bridge because she's British? For even more convincing evidence, consider her solo music career. Remember "Papa Don't Preach"? "Shut Up"? Add a little age on to that voice, and you'll pretty much have the Ladybug's performance.
Why it might not be Kelly Osbourne: It is.
Who is the Flower on The Masked Singer?
Here's what we know about the Flower: She cooks! She crafts! She has a clothing line! There's a gay flag in her kitchen! "I blossom in every field I plant myself in and I'm here to branch out yet again," she says. There's also a diploma on her wall, a star on her fridge. She does everything to the nines, she claims — and ends her clue video by saying, "This legend is ready to be a vision of love."
Why it's definitely Patti LaBelle: If you don't immediately hear the Godmother of Soul, Miss Patti LaBelle, well, get your ears checked. I could honestly listen to this woman sing the alphabet (and I have). Clue-wise: She bakes, she designs clothes, and she received an honorary doctorate from Temple University in 2010. She's also certainly a gay icon — she heavily promoted AIDS awareness in the '80s and even to this day. When the Flower says, "This legend is ready to be a vision of love," she's likely referring to her goddaughter Mariah Carey's song of the same name. While the judges are guessing, there's also a moment when she grabs the hand of Nick Cannon, a.k.a. Mariah's ex. It's very sweet. These judges are blessed to even be in her presence, let alone have her sing for them.
Why it might not be Patti LaBelle: It is. She is by far the most accomplished performer The Masked Singer has ever had, so please explain how she didn't win this whole thing…
Who is the Butterfly on The Masked Singer?
Here's what we know about the Butterfly: Her clue video is all about growth, change, and metamorphosis. "After achieving success in many stages of life," she says, while posing for a photographer against a backdrop. She also says that she "found [herself] terrified in the one place [she] used to call home," and then we see a photo of London's Big Ben in her Butterfly eye. "I'm here to take you to church," she finishes as the suits perform a baptism and a giant cross appears.
Why it's definitely Michelle Williams: Before you ask, not that one. The other one. Michelle Williams of Destiny's Child fame. The "many stages of life" refer to her time in the pop group, but also her time onstage, performing in a national tour of Grease. And if the London thing is throwing you for a loop, Williams also played Roxie Hart in the West End's Chicago (as the first black actress to do so!), and so she spent quite a bit of time living in London. Williams is also super-religious, releasing Christian music like 2014's "Say Yes" (which topped the U.S. gospel charts) and co-starring in a short-lived reality show with her ex-fiancé, a preacher named Chad Johnson. She was also on the U.K.'s dance reality-competition show, Strictly Come Dancing, so she's no stranger to this type of thing. The Butterfly also chose to sing "Bang Bang," a song by "supergroup" Ariana Grande, Jessie J, and Nicki Minaj. Is that nod to her own time in a three-person pop group? Maybe.
Why it might not be Michelle Williams: The London reference is a little vague, although with a voice that familiar, Masked Singer producers might be trying to be a little sneaky.
Odds: Very high. And "Say Yes" is a total banger.
Who is the Thingamajig on The Masked Singer?
Here's what we know about the Thingamajig: His clue video gave a lot away, if you ask me. Literally in one line he says he carries "a magic case" and follows it with "keep up the pace" — if you know your sports, those are two names of basketball teams. "I'm more than fashion shoots and dreams," he says, holding up a sneaker. Then he peers down at a cupcake with the number four on top.
Why it's definitely Victor Oladipo: Even a sports-adverse person like myself will notice the usage of "pace," a.k.a. the Indiana Pacers, a.k.a. Oladipo's basketball team. He previously played for the Magic. His jersey number is four, and he was born on May 4 (which is why some fans call him "Chewbacca," because May 4 is also known as Star Wars Day. May the Fourth Be With You — you get it.) Even more convincing, a bunch of YouTube commenters noticed that Thingamajig even has a feather sticking out of his right leg pant, which is the same side on which Oladipo tore his ACL in January. This all before we even mention that Oladipo has an adorable YouTube channel, on which he sings.
Why it might not be Victor Oladipo: I don't know much about sports, but it just is.
Odds: Very high. As soon as this guy opened his mouth, it felt like the entirety of Twitter knew exactly who he was.
Who is the Tree on The Masked Singer?
Here's what we know about the Tree: "I love getting dolled up," says the Tree, who appears to be a Christmas tree and implies that she only gets used once a year. She's seasonal! Or something. There's a Public Storage locker with the number 30 on it, and she mentions she's been "in exile" before talking about baking and cooking and saying she wants to "jazz up" her career. Is she a singing chef? A Lifetime Christmas movie star? Mrs. Claus?
Why it's definitely Ana Gasteyer: The biggest hint is that it sounds exactly like her. Clues aside, it's kind of undeniable. Plus, Ana is currently plugging her brand new Christmas album, Sugar & Booze, and she previously released a jazz album called I'm Hip. Plus, the baking bit could reference her beloved role as Margaret Jo McCullin on The Delicious Dish and its "Schweddy balls" Christmas episode.
Why it might not be Ana Gasteyer: Maybe with the overload of SNL clues for the Skeleton, they Masked Singer producers decided to make the Tree's a big more tricky, even though Gasteyer was also on the show. There's definitely misdirection here — they want you to think Rachael Ray, Martha Stewart, or maybe even Paula Deen, if we're talking "exile." But none of them sing. And let's be real, Stewart would never do this stupid show.
Odds: Medium to high. There's no better promo for your upcoming Christmas record than being revealed on The Masked Singer. I hope this works for her!
Who is the Rottweiler on The Masked Singer?
Here's what we know about the Rottweiler: Our clue video is set in a beauty salon, immediately referencing football … but he holds up a championship ring that reads "Fantasy Champion" and wears a chain that says "Friday Night Lights." Weird. He then says that he "rose to fame overnight," while we see a bunch of blue roses. A vinyl plays that says "Live" on it. During the sneak peek episode, Rottweiler said: "I'm a total perfectionist, and I'm going to work my tail off to earn your puppy love."
Why it's definitely Chris Daughtry: Once I brushed up on my Chris Daughtry (sorry, Chris!), I realized that it was most likely him. Like Gasteyer and the Tree, the Rottweiler just sounds like him — he has a pretty distinctive voice — and that's a big giveaway. Plus, as a YouTube commenter and Chris Daughtry fan notes, he has a blue rose tattoo and played football in high school. The "Fantasy Champion" ring refers to his big football dreams never realized. The hair salon setting is a jokes about Chris's bald head and early hair loss, and the "hungry competitor" is of course a reference to American Idol, on which he "rose to fame overnight." The biggest giveaway here is when he says, "It's not over." That happens to also be the title of Chris Daughtry's second single.
Why it might not be Chris Daughtry: The football stuff seems purposefully misleading? People are suggesting it's Scott Porter from Friday Night Lights, or Robbie Williams.
Odds: High. And here's a fun fact: Recently, Build-a-Bear made a special bear in honor of Chris Daughtry's wife coming out as bisexual on Chris's new album (and in the pages of People.)
Who is the Flamingo on The Masked Singer?
Here's what we know about the Flamingo: "What's up everyone, welcome to my ZooTube channel," starts the Flamingo's clue video. There's a crucifix, a copy of Little Women, a mention of beauty how-to videos, and she's shown carted around in a cage as she mentions being "trapped in a career."
Why it's definitely Adrienne Bailon: So many people clocked Adrienne from the short preview The Masked Singer posted on their YouTube channel that The Real — the daytime talk show on which she is a panelist — was overwhelmed with social media mentions asking if she was in fact under that mask. They even talked about it on the show this week — to which Bailon denied the allegations, pointing first to the fact that the show tapes at night and she needs to be up at 4 a.m. for The Real, and then to the size of the Flamingo's boobs (which, she claimed, are much better than her's.) To counter those excuses: The Masked Singer was likely taped weeks if not months ago and haven't you seen how many jobs Ryan Seacrest has? If you want to get more than one gig in Hollywood, you can definitely figure out how to do it. And the boob thing? Uh, I don't see much of a difference.
And that's all before we get into the clues: Adrienne has a YouTube channel ("All Things Adrienne") on which she does things that people do on YouTube: talk to the camera, give beauty tutorials (much like the Flamingo's clue reference) and reveal that she dips her tuna salad sandwiches into fruit punch. (That's not mentioned on The Masked Singer, but it's disgusting and true.) Adrienne is married to a gospel singer (thus the crucifix) and she was in two beloved girl groups, the Disney-born Cheetah Girls and 3LW. Wow! LW … "Little Women" … Lindsey Weber (yes, that is my name). Is this all a coincidence? I don't think so!
Why it might not be Adrienne Bailon: Because it could be an actual bonafide YouTube person — not a celeb who's gotten into YouTubing. That possibility is throwing a lot of people off, but didn't the show just kick off young streamer Ninja? With these clues, the only other option would be Jeffree Star — who had a MySpace music career and would totally be on The Masked Singer, but the voice does not even come close to matching up.
Odds: High. Here's another instance where the Flamingo's voice was a dead giveaway to those now-retired Cheetah Girl fans.
Who is the Leopard on The Masked Singer?
Here's what we know about the Leopard: Beyond his British accent (which could be a red herring) and a regal air, the Leopard's clues also include newspapers with headlines that read: THE RUNWAY, OUT OF HITS AND OUT OF TIME, CRAZY GAME. "All anyone wants to talk about is the celebrity aspect," he bemoans as Robin Thicke takes his head out of his own ass and says, "Ah, a scandal." The Leopard has hits, he claims. and says he's "a heavy-hitter." No one can catch him.
Why it's definitely Seal: He's got the clout — four Grammys, an MTV VMA, and 20 million records sold worldwide all account for the "top" that he's referring to (and also the has-been theme of his presentation). He's British and had a very dramatic split with his ex-wife Heidi Klum, which accounts for the part about scandals. And for these headlines: "THE RUNWAY" could be Heidi's modeling career, while "CRAZY GAME" could be a nod to Seal's great song called "Crazy." It wouldn't be his first reality-TV competition either: He was a guest judge on America's Got Talent and a coach on The Voice Australia.
Why it might not be Seal: A lot of Twitter is guessing RuPaul, but I think the Leopard's regal nature is throwing them off. Have they heard the 100,000 songs RuPaul has put out into the world? Weirdly, Ru's singing voice is less theatrical and our dear Leopard's purrs and growls don't completely cover his natural rasp. Todrick Hall, sure, but he doesn't have hits. Billy Porter is too busy for this shit right now (and, honestly, his voice is better.) When Jenny suggested Jamie Foxx, I almost choked. Please stop.
Odds: Medium. RuPaul doesn't need The Masked Singer to kick-start his music career — he has his own successful platform thank you very much. Plus, Ru's drag is actually known for being simple, so the leopard's vibe would be almost too over-the-top. And as soon as I heard people suggesting Seal, it made perfect sense. This would be a fun jump-start for him.
Who is the Fox on The Masked Singer?
Here's what we know about the Fox: His strengths include being "quick-witted," and he's giving off major steampunk vibes. (But that's probably not a clue.) His clue video is full of references (and a lot of superheroes), but maybe the most telling is when he says, "From Doogie to Doubtfire, I've laughed with them all." He also does his best work at night and has "dabbled in many different genres." (Have you noticed that this is the No. 1 thing that people say on Masked Singer?)
Why it's definitely Wayne Brady: Honestly, I've been waiting for Brady to show up on this show. And I wasn't alone in recognizing his voice the minute he opened his Fox mouth. This is clearly Wayne Brady — anyone who watched hours of Brady on Whose Line Is It Anyway? (quick-witted!) knows this. You know, the show where he "laughed with them all," including Robin Williams (Doubtfire!). He also played Neil Patrick Harris's brother on How I Met Your Mother (Doogie!), and voiced Micron in Batman Beyond. Thus, the superhero stuff.
Why it might not be Wayne Brady: Come on, he's the kind of guy who would love this show. Other reasonable guesses: Leslie Odom Jr. and Taye Diggs. One completely unreasonable one: Jeremy Renner.
Odds: Very high.