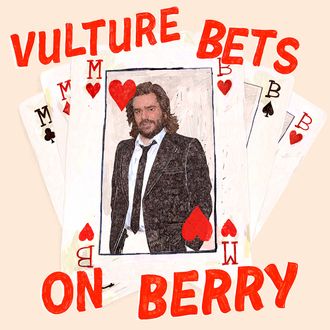 Hello, dealer? Yes, please, put it all on Berry.
Illustration: by Carolyn Figel
These are hard times, and when things get really dark, we at Vulture like to double down on the things that are still capable of bringing us happiness. That's why we're running this recurring column, which serves as half-celebration and half-brainstorm for someone we're consistently delighted to see show up on our screens: beloved British performer of stage and screen, Matt Berry. He's best known for shows like Toast of London, The IT Crowd, and What We Do in the Shadows, but we're confident that a performance by Matt Berry would spruce up all sorts of film and TV stories, big and small. 
So a few times a month, we'll be using this space to propose new, occasionally out-of-the-box opportunities or roles for Mr. Berry. We are confident that should he ever find this column, he will find it both confusing and mortifying.
If anything, this remorseless turd of a year has taught us that at any moment, even the smallest joys — sitting in a movie theater, eating indoors, coming up with excuses to miss someone's birthday party — can be ripped away from us as quickly as a sneeze. That's why this column is so important. It's a vision of the bright future I believe we are hurtling toward, one in which we get to build a new culture from the ashes of the old for a post-vaccine Earth. And I think that future should also include Matt Berry doing a new film version of The Phantom of the Opera where he plays most of the parts.
Before we get into this, know that The Phantom of the Opera is deeply important to me. Some kids went to the circus; I was taken to see Phantom whenever the touring company came within 400 miles of Omaha, Nebraska, to see if this time the chandelier would actually fall and crush us to death. But even I, an ardent fan of both the original cast recording and supporter of Gerard Butler generally, can admit it's ready for a reboot. It's not culturally significant if it doesn't have a reboot.
And while Matt Berry may be Santa Claus, it is no question that he is the Phantom of the Opera. Think about it: The Phantom is a cloistered musical genius who lives in a lair beneath an opera house playing the organ all day, popping out every so often to demand money, do a murder, or kidnap a young singer. Meanwhile, Berry is a composer, he's fiercely private, he's faced off with Michael Ball, he can wear the absolute hell out of a cape, and he named his last album Phantom Birds in what was clearly a Freudian slip. In case you're someone who has trouble visualizing things, here's a music video for the song "One by One" off his 2016 album The Small Hours, in which he forlornly plays an organ:
Berry's Phantom status is clear, but he's also the best choice for almost every other male role in the show, all of whom fit the kind of boisterous Englishmen Berry's played many times: romantic lead and the opera house's patron Raoul, theater owners Firmin and André, and obviously the gruff stagehand Joseph Buquet. Obviously. But I think it's also important we give Berry a real challenge, so he should also play the Phantom's protégé and obsession: Christine Daaé.
Personally, I've always found Christine too cloying. From when she's first asked to sing and has all that Oh, me? I learned to sing from a ghost in my room because I don't know better energy to the moment she and Raoul hook up in "All I Ask of You," it's nothing but eye rolls from me. But instead, picture Matt Berry in full makeup, corset, and cape belting out "Wishing You Were Somehow Here Again" at his father's tomb, and then being attacked by himself as the Phantom, only to be saved by Raoul, who is also him. Do you have chills? I do. Yes, this is the version of Phantom where Matt Berry fights himself in a hoop skirt, because this is the only version brave enough to assert that all these characters — the theater owners, Christine, and the Phantom — are separate but connected elements of the audience's collective psyche: our superego, ego, and id, respectively.
Now, despite what you may assume, I am not insane. But, you may be thinking, Aren't there a lot of other characters in Phantom? Like, a whole ballet? And, yes, that's why this should not be a one-man show. It should, in fact, be a two-man show. Ballet mistress Madame Giry, rival diva Carlotta, ballerina Meg, and the opera's male soloist Piangi should be set aside for Susan Wokoma, Berry's Year of the Rabbit co-star and one of the few performers with the range and presence to hold her own alongside this much Berry. I just want to see Wokoma explain to Berry that an opera ghost commands a salary of 20,000 francs per month in 1905. Also, the big Act Two opening masquerade song, "Masquerade," would sound weird being sung by only one person.
On that note, I also think Berry should rework all the music. Yes, it's one of Andrew Lloyd Webber's best works, but that's why these new arrangements would be so exciting: a chance to hear something great for the first time all over again. Berry loves synths, so he could maintain that grandiose '80s vibe while adding some of his folksier rock elements. As you already know from our last column, in 2004 Berry wrote an entire rock opera inspired by Jesus Christ Superstar, an album he considers so important, he even interviewed Lloyd Webber and Tim Rice about it personally in a 2010 episode of BBC's The Culture Show. Berry could easily take what he learned from that experience to inject a cooler, more rock-and-roll vibe into Phantom, potentially attracting a whole new audience to a tale that's both universal and timeless. After all, this is the story of someone trying to build a career while maintaining a relationship, but being both aided and thwarted by a powerful, unseen force we could just as soon call "trauma." Who better to reimagine and fully own this telling than a man caught between music, comedy, and his own growing celebrity, who can also play "Music of the Night" on an acoustic guitar?
Those of you reading this have almost survived the Worst Year, and you should be proud of that. But if you take anything from what we've all been through, let it be the freedom of knowing that our world is nothing but what we all get up every day and agree to do together. That can and should include Matt Berry's The Phantom of the Opera, assuming Andrew Lloyd Webber signs off on this.