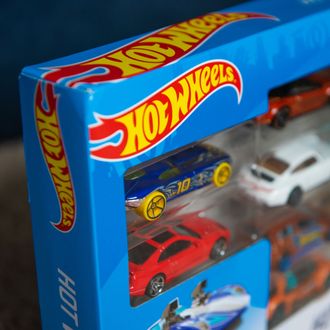 It's literally impossible to be a tiny car.
Photo: Tiffany Hagler-Geard/Bloomberg via Getty Images
This has been a banner year for kitschy, unexpected movies about dancing murderous dolls, blitzed bears (also murderous), and self-aware, flat-footed dolls. In its first weekend in theaters, Greta Gerwig's Barbie made $155 million, which means Mattel executives are ready for more movies about millennials playing games sadly while feeling bad about capitalism. A recent New Yorker piece alerted the public to the very real possibility that the next few years of movies will be covert #spon-con ads for Mattel with the impending adaptations of Barney, Polly Pocket, Uno, and more — up to a total of 45 projects as of right now. Below, a list of everything Mattel is cooking up in its corporate dreamhouse mojo dojo casa house.
Barney
If America's favorite purple dinosaur isn't safe from corporate burnout and midlife crises, who is? Both Deadline and The New Yorker report that Daniel Kaluuya will produce the film and star as Barney. But he's not going to be the Barney that kids know, love, and are slightly scared of. He's going to be different. He's going to be dejected, "surrealistic," and maybe even have a cartilage piercing. Mattel obtained the rights in a recent acquisition from HIT Entertainment. And now Kaluuya and Mattel will be making a movie about Barney (no friends) that is comparable to films made by A24, Charlie Kaufman, and Spike Jonze. It's allegedly set to focus on the plight of a 30-something and, though it's not R-rated, the intended audience is not children. As of right now, it's set for release in 2024.
Polly Pocket
When you think of Polly Pocket, what comes to mind (other than chewing on the dresses)? If you said "female friendships," you'd be right. Lily Collins, who is starring in the movie, told Variety that the film is centered on a tale as old as time: the friendship between a girl and a "pocket-size" woman. Kind of like Life-Size but directed by Lena Dunham, it seems.
Major Matt Mason
As if we haven't seen enough of everyone's favorite duo, Tom Hanks and a spaceman, Mattel brings back the beloved pair in a movie about Major Matt Mason. Hanks will star as the toy, and the screenplay, written by Akiva Goldsman, might be dark, according to Mattel exec Kevin McKeon.
Bob the Builder
Can we adapt it? Yes, we can. Marcy Kelly, Mattel's "de-facto screenwriter," according to The New Yorker, has written a script for a Bob the Builder movie, among other projects the Mean Girls: Senior Year writer is working on for the toy empire.
Uno
As if Beyoncé playing the anger-inducing card game wasn't enough promo, Kelly is reportedly working on a script about the "cross-cultural" card game as well. The idea was pitched by McKeon to Kelly as a heist movie, but the first draft of the script she turned in was "'fuck'-heavy" and set in the hip-hop scene of Atlanta. She later turned in a more PG-13 script (yawn). There were rumors of Lil Yachty being in line for starring in the film, but the script has since been set aside.
Hot Wheels
J.J. Abrams (Gracie Abrams's dad) is teaming up with Mattel and Warner Bros. to bring an "emotional and grounded and gritty" depiction of the toy-car brand to life. His words. It's allegedly a film with not just toy cars but "real emotion and real stakes to it," according to the head of Mattel Films, Robbie Brenner. There's no release date yet, but the film has been in development since 2022.
Magic 8 Ball
Apparently, Cocaine Bear writer Jimmy Warden's name is on a Magic 8 Ball somewhere. Will this adaptation be gory? Signs point to yes. Will it be R-rated? Reply hazy. Try again. Warden turned in a horror-comedy pitch to Brenner, who says the movie will walk the line of R-rated but ultimately stay true to the sanctity of the brand.
Thomas & Friends
Can you imagine a lethargic 30-year-old Thomas hitting the big screen? I think I can … In 2020, it was announced that Marc Forster would direct and co-produce a live-action and animated movie about the beloved blue train.
American Girl Dolls
The American Girl dolls are no strangers to film. There are 13 movies about some of the most famous girlies, including one starring gutsy musician Olivia Rodrigo. But now Mattel wants to make at least one more. And no — it wasn't because of that SNL skit. If anything, it was the American Girl Doll: Imperial Wives Collection that put the company up to it. The movie will be produced by Mattel and MGM, and McKeon says that the studios have gotten a myriad of pitches, including one that was pitched as "Booksmart meets Bill & Ted." The world deserves to see Kit Kittredge lose the side part and get a nose ring.
Bass Fishin'
This is the darkest timeline. Mattel execs say they've received a sports-drama script featuring the digital Bass Fishin' rod at the center of a cheating scandal that sets the competitive-fishing world aflame. No formal plans have been announced, per The New Yorker, but let's be real — it's only a matter of time, right?
Rock 'Em Sock 'Em Robots
With the end of the Creed series in sight, it's time for a new fighter to step up to the red-carpeted plate: the Rock 'Em Sock 'Em Robots. Vin Diesel is set to star and produce, because of course he is. The film will reportedly be about a father and son who meet a fighting robot, according to Deadline. Ryan Engle is writing the screenplay, and, while there are no further updates about development, Diesel is apparently "very excited" about the project. So are we, Vin. So are we.
He-Man and She-Ra
After spending $30 million on a movie, the best thing that could happen is Netflix rejecting it, right? A Masters of the Universe movie, directed by Aaron and Adam Nee (of The Lost City) and starring Kyle Allen (of The In Between) as He-Man, was set for Netflix but is currently looking for a new buyer.
Boglins
The vibe is simple: It's a campy Gremlins meets spooky Halloweentown meets millennial existentialist Lady Bird. Get it? Mattel's working on perfecting the "tonal comps" before finding a writer to bring the Boglins' untold story to life, per The New Yorker.
Matchbox Cars
If Mattel had a Letterboxd account, it would absolutely give Mission: Impossible — Dead Reckoning five stars. It has teamed up with Skydance Media to tell the story of Matchbox cars. Per The New Yorker, Don Granger, a Skydance exec, got together with five writers and storyboarded the toy cars to hell. Brenner says they've found their villain. Will it be toy-size potholes? Only time will tell.