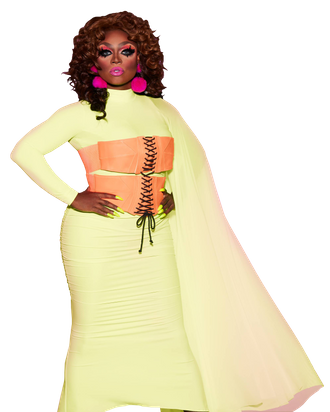 Mayhem Miller's arc on RuPaul's Drag Race All Stars season five nearly mirrored her arc on Drag Race season ten. She came to both shows with something to prove: Her season ten run came after nine years of unsuccessfully auditioning for Drag Race, and her return on All Stars came after an early departure from her first season. She got high marks for her craftiness and personality in design challenges (winning season ten's "Drag on a Dime" and the winning room for AS5's hotel-design challenge), but finished out both times in the bottom half of the competition, during an improv challenge.
But look past all those parallels and you'll see that Mayhem Miller changed between Drag Race ten and AS5, entering All Stars as a more confident, funny, and present queen than before. As the season introduced the twist that all queens could vote to eliminate someone, she wasn't afraid to play the game, placing a vote for front-runner Shea Couleé and calling out Miz Cracker for "shenanigans, foolery, and some tricks and shows" after throwing Ongina under the bus in episode two. After she left the competition last week — at the hands of both her best friend, lip-sync assassin Morgan McMichaels, and her enemy, Miz Cracker — Vulture caught up with Mayhem to talk about the double-fisted elimination, how she's changed between seasons, and why AS5 is like Big Brother.
Last episode hit us with the surprise of a possible double elimination. What was going through your mind when Ru said that Miz Cracker and Morgan both won the lip sync and there was the possibility of two people going home?
I was like, Wait a minute, what? I was like, How many twists and turns are we gonna have this season?
What was it like for you to see Morgan, who you said is your best friend in the drag community, back as the lip-sync assassin?
Any time I get to see my bestie is great. Especially when you're sequestered, it's during the competition, you're cut off from the world. Me and Morgan have been best friends for 20 years. I speak to her on a daily basis. So it was good to see my best friend, and to see her on the stage of All Stars was amazing because, I mean, she's a great entertainer. So, I was ready to watch her do her thing.
What was that conversation between you like after she had to send you home?
Our conversation in studio or our conversation once we got home? 'Cause those are two different conversations! [Laughs.] No, my best friend is my biggest supporter, and of course she would've wanted me to continue in the competition, but she also knows me as a person and was just there to support me. That's all you can do is show love and support, no matter what.
When you were talking before the elimination, Miz Cracker was saying she wan't going to let anything from the competition get in the way and just wanted to make a fair judgment. What do you make of that given the result?
She did as I asked. She respected my wishes and she was honest about her explanation. You know, I asked my castmates to let me go, and they respected that.
Can you explain more what made you say that to them?
I couldn't bring myself to campaign against my scene partner [India Ferrah], because I strongly believe that we did a great job. And for me to say, "You know what, I was better than you in this performance" — I would have felt terrible doing that because I believe that in a scene, you are all cohesive, you're one body. And I didn't want to do that. I had to stand up for what I believe in and say, "I won't make that decision to campaign against her."
This time around, the competition definitely felt much more close with the improv challenges. What did it feel like to come back to an improv challenge and do something that you were pretty proud of?
I had fun. The first time around, season ten, I just didn't pop as much as any of the rest of the cast. But I do improv for a living — I've done drag for 20 years now, I host shows nightly, seven nights a week, on a microphone, dealing with an audience and having to banter back and forth. That is improv: thinking on your toes and entertaining people night to night. And I was so grateful to have another opportunity to show what I'm capable of. So to be in the bottom again, yeah it sucks, but all I can do is my best and stand by my work.
It seemed like you kind of took well to the twist this season. You were playing the game a bit with voting for Shea, talking to Cracker after she was talking about Ongina, all of that. How did this twist make the competition for you?
I'm a huge fan of Big Brother. And in my head and my heart, I have always wanted to be on Big Brother, and this season just reminded me of that. You have to have a social game to advance in the competition because it's a democracy and everyone's voting, so you want to be on good terms with people so that you don't get voted off. My strategy, of course, was to just be cool with everyone, but also remind myself that I have to do what I have to do to advance in the season.
On this week's episode, you opened up about an experience that you had with the police while you were in drag. And of course, policing is something that a lot of people are talking about right now. How does that experience make you think about these conversations that are happening?
It's one of those rare moments when art meets reality. And my story from back then is still important in today's time. We're going through this whole cultural change, and my experience with law enforcement has been positive and been negative over the years, but we're in this climate right now where it's not so good. So I just hope that people look at my experience and the experience of others, and just be mindful and aware and continue to educate themselves and hope that things get better.
On season ten, it felt like you got cut off a little early, so it was good to see you back on the show. What do you hope that everyone got from Mayhem this time around that you didn't get to show before?
As a viewer, me seeing myself on season ten versus season five of All Stars, I definitely see a difference. I see myself being more visual, more present, more vocal. When I left ten, what I wanted, if I ever got the next opportunity to come back, was to share more of myself with the audience, so that I was no longer someone that was overlooked and actually seen as a talented presence in the room. Hopefully this time around, people got to see a little bit more of May. I think that happened this time.