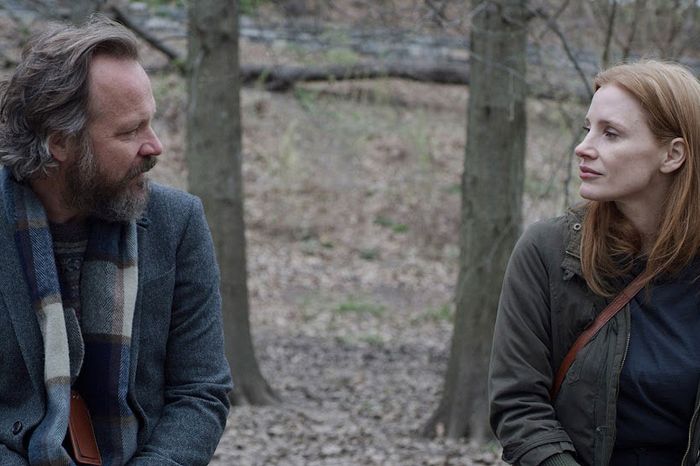 Not a lot of Michel Franco's somber drama makes sense, but it's a movie clearly meant to be carried by its leads.
Photo: High Frequency
The waning days of a film festival aren't generally regarded as a time for great discoveries or major premieres. Much of the press has left, and those that remain have become a bit more cavalier about attending screenings; many of them are out shopping for delicate souvenirs and resilient cheeses to take home. At this year's Venice, when star power was already notoriously hard to come by owing to the ongoing SAG-WGA strike, you could be forgiven for assuming that the party was pretty much over.
But then, here comes Memory, starring Jessica Chastain and Peter Sarsgaard, one of the few films at this year's festival allowed to have its stars attend its premiere. Appropriately so, too, because it's almost entirely their show. Mexican director Michel Franco's somber drama about the ghosts of the past has a lot on its mind, and not all of it makes sense. But its two leads are so good together, so weirdly right together, that everything slips away and you just watch them.
Perhaps this is all by design. Memory is such a lean work that Chastain and Sarsgaard are allowed to dominate much of the screen, even just physically. She plays Sylvia, a single mother 13 years sober who works at an adult daycare center while raising her teenage daughter, Anna (Brooke Timber). We sense her protectiveness early on with the swiftness and thoroughness she shows in locking her apartment door whenever she steps inside, with the way she watches Anna from across the street during recess at school. When someone comes to repair her fridge, Sylvia notes that she had specifically requested a woman. Chastain makes Sylvia's simmering anxiety palpable, though in decidedly unshowy fashion. Something clearly broke in her a long time ago, and we sense that she's spent a lot of time trying to hold it all together and move on.
One night, while attending her high school reunion, Sylvia is silently confronted by a man, Saul Shapiro (Sarsgaard). He says nothing, just sits next to her and stares. She says nothing back, just leaves. He follows her to the subway, then to her apartment. He stands outside her building, and in the morning she finds him curled up among the tires of the auto shop downstairs, shivering and incoherent. She takes his wallet and calls a number. It turns out that Saul suffers from dementia, often forgetting where he is and wandering away from the home in which he lives with his brother (Josh Charles). But Sylvia remembers Saul. In fact, she claims that he was a close friend of the boy who raped her when she was 12. What's more, she claims that Saul also raped her once. "Do you remember what you used to make me do?" she asks him angrily the next time they meet, "or do you only remember when it's convenient?" He stares at her blankly. He doesn't remember a thing.
Here's where the movie gets interestingly thorny, at least briefly. Sylvia's sister Olivia (Merritt Wever) informs her that she is, in fact, wrong about Saul – that he started school the year she left and that he couldn't have done the things she claims he did. This coincides with Saul's family asking if Sylvia might be willing to help care for him during the day. She agrees, and before we know it, she and this man whom she briefly thought was a monster are suddenly spending a lot of time together. Is it something about his blankness, his gentle acceptance that attracts her? Sylvia's daughter is getting to that age when she's starting to rebel against her clearly overprotective mom's edicts. And now here's this grown man who will do anything she says, and who clearly loves just being there with her, largely because there's nothing else he can do.
Franco's script is so spare that we have relatively little to latch onto – almost as if the film is itself in the process of forgetting certain details. Sylvia's accusation of Saul is barely discussed once it's all cleared up, which seems odd for this woman to whom the past feels so resilient, so eternally corrosive. In fact, the movie turns out not to be about their common history at all, but rather their very odd, increasingly loving present.
Luckily, we have these two actors, who when together feel like a chemical reaction come to life. Her tension is transformed by his pleasant pliancy, and vice-versa. Sylvia is burdened by a swirl of memories — most of which we get only hints of — confronted by a man who can't remember increasingly vast stretches of his life. As their relationship grows in tenderness, we pull for them, even as we sense that something horrifying might be around the corner.
The film is on less firm ground when it actually tries to untangle Sylvia's past. The inevitable revelations about what happened to her are fairly predictable, though no less harrowing for being so. It does feel at times like Franco wants to resolve these elements quickly and get on with the rest of his movie. There's a climactic scene in which Sylvia confronts her family that's riveting in the moment because it's so well-acted, but its impact dissolves the second you start to think further about it. Even so, this is clearly a film that's meant to be carried by its leads. And as a showcase for these stars, Memory works superbly.