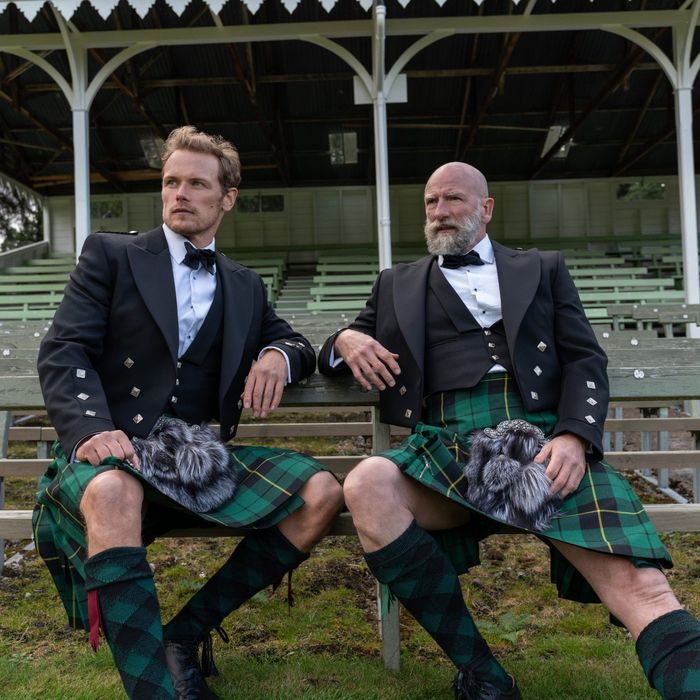 As promised, men in kilts.
Photo: Courtesy of Starz
Outlander fans rejoiced when season six finally went into production in early February, but since it's unlikely we'll see new episodes of the time-hopping series before the second half of 2021, Men in Kilts: A Roadtrip With Sam and Graham is tasked with quenching our extended Droughtlander thirst. So it isn't any wonder that almost everything about Men in Kilts caters to the fervent Outlander base, from the show's recognizable hosts, Sam Heughan and Graham McTavish — both native Scots — to the strategically placed clips from the hit Starz drama.
Although it's not a period piece like Outlander or Bridgerton, the modern-day Men in Kilts still falls into the escapist-TV category. As a travel show shot pre-COVID (with some additional footage filmed during summer 2020) — i.e., a time when two blokes could attend a raucous dance party maskless, share each other's shellfish platter, and drive the length of Scotland confined to a camper van without risking their health — Men in Kilts can't help but give off echoes of a bygone era.
That, and it's just fun to watch two cheeky actors goofing around on a road trip through one of the most beautiful countries in the world. Especially when they wear kilts, which happens quite often.
In the span of eight episodes, Men in Kilts provides a lighthearted education in Scottish history and culture. Sure, there are the predictable lessons about haggis being the country's national dish and Scotland being the birthplace of modern golf, but whether or not you're an Outlander devotee, chances are you'll walk away from this series with a greater appreciation for the birthplace of Jamie Fraser and Dougal MacKenzie. Here now are some of the best things we've learned from watching all eight episodes of Men in Kilts.
Episode 1, "Food and Drink"
Heughan and McTavish visit Edinburgh and Pittenweem to learn about Scotland's seafood-rich cuisine and the Isle of Islay for a crash course in whiskey.
Fun facts:
1) The village of Pittenweem contains some rock-and-roll history.
The jumping-off point for Heughan and McTavish's fishing-boat work experience is the birthplace of Rolling Stones founding member Ian Stewart. Stewart was kicked out of the band in 1963 by manager Andrew Loog Oldham, who felt six members were too many.
2) Sam and Graham are rather squeamish.
Their Outlander characters may be fearless warriors, but Heughan and McTavish can't even bear to witness fresh — read: live — crustaceans being prepared for dinner.
3) A turban pairs quite nicely with a kilt.
Interestingly enough, neither Heughan nor McTavish dons a kilt in "Food and Drink," but Scottish Sikh chef Tony Singh, who whips up a delectable-looking lobster-and-langoustine meal for the hosts, makes a proud sartorial statement in their seaside-cooking segment.
4) Graham apparently thinks Sam is Jamie Fraser.
To prove McTavish's theory that Heughan is "prone to overindulgence," Men in Kilts treats fans to a supercut of Heughan's Outlander character imbibing a variety of alcoholic beverages.
5) Malted barley makes for a strangely enjoyable ball-pit-type encounter.
While learning about whiskey-making at the Laphroaig distillery on the Isle of Islay, Heughan and McTavish bail on their peat-shoveling duties, preferring instead to belly flop into the malted-barley supply.
Episode 2, "Scottish Sport"
The boys compete at various Scottish sports (rugby, golf, hammer throwing, etc.). The stakes: The loser must skinny-dip in the North Atlantic.
Fun facts:
1) Sam's well-documented gym time has paid off. 
Heughan lifts the 100 kg Puderac stone while wearing a kilt! Whereas McTavish, who is also no stranger to going shirtless on Outlander, couldn't do it. Though it's worth mentioning that even though Heughan loses the hammer-throwing contest at Braemar, his arms tell a different story.
2) You can surf off the coast of Scotland! 
Heughan and McTavish show off their best wave work at the start of the episode.
3) Sam will honor a bet, even if it might give him hypothermia. 
The only bet Heughan fans have ever wished the actor to lose culminated in his taking a naked plunge — no modesty pouch here; the actor is plainly seen holding his genitals against the bitter cold — off the Isle of Lewis in the Outer Hebrides on a very windy, rainy day.
4) Kilts are a must for athletic success.
Both Men in Kilts hosts dress the part when receiving a hammer-throwing lesson at the site of the Highland Games. But note that during the stone-lifting segment, the winner, Heughan, is wearing a kilt. McTavish, who loses, is not. It's science.
5) Graham is killing it with his newsboy-cap-and-scarf lewks.
Heughan is regularly spotted wearing newsboy caps in Men in Kilts as well, but there's something about McTavish's jaunty-scarf game that gives him the edge when it comes to the lads' travel chic.
Episode 3, "Song and Dance"
Our intrepid hosts visit Doune Castle (which doubled for Castle Leoch on Outlander, and Winterfell on Game of Thrones) and Borthwick Castle to learn more about Scotland's music and dancing customs.
Fun facts:
1) Bagpipe music not only is great for wartime morale, it can also keep you from getting shot. 
At Doune Castle, Heughan and McTavish meet with Iain MacGillivray, Scotland's youngest-ever clan leader. He tells the guys a remarkable story about a Second World War bagpiper, Bill Millin, who played during the D-Day invasion of Normandy. Apparently, Millin avoided getting shot because the Germans thought he was insane (whatever works!). The 1962 film The Longest Day incorporated Millin's story.
2) Sword dancing was invented to help soldiers get fit for battle. 
Not, as Outlander fans may think, as a way for Murtagh Fitzgibbons Fraser (Duncan Lacroix) to draw attention to himself when searching for his captured godson, Jamie, in season one.
3) Sam and Graham's formal kiltwear does little to hide the sad truth: Young children are more adept at Highland dancing than they are.
During an adorably hilarious lesson with Highland dancer Cerys Jones, the boys are taught a sword dance "that 4-, 5-, and 6-year-olds compete with." While Heughan is actually not bad — which we can chalk up to his experience doing the Highland Fling in Outlander's fifth season — we'll let McTavish offer his own self-review: "There's the Highland Fling, and there's the Highland Fiasco."
4) To Graham's credit, his hips do not lie.
This isn't exactly news to Outlander enthusiasts — this 2015 clip speaks volumes to McTavish's dancing skills. But later in the episode, while attending a traditional Scottish ceilidh — think of the Gatherings featured on Outlander — at Borthwick Castle, McTavish and his hips are given their rightful time to shine.
5) Sam and Graham do a mean Fred Flintstone and Barney Rubble, among others.
There's road-trip banter, and then there's road-trip banter with professional actors. This means we're treated to some pretty funny Flintstones impressions, plus a few bars of the iconic theme song. We also get a taste of "Lil' Red," a character of McTavish's own creation who appears to hail from the American South. A sample "Lil' Red" observation: "In Scotchland …there's a lot of skirts."
Bonus Episode 3 Easter Egg: During the cold open, Heughan and McTavish sing a tune that Outlander fans will instantly identify as the series' main title theme. But if you listen closely to these "Skye Boat Song" lyrics, you'll notice they're slightly different than the ones rewritten for Outlander. Turns out Heughan and McTavish are warbling the original version of the song, which was about one of the few real-life historical figures to rub shoulders with Jamie and Claire Fraser: Bonnie Prince Charlie.
Episode 4, "Witchcraft & Superstition"
The boys put their fear thresholds to the test with visits to creeptastic locales Greyfriars Kirkyard and Wormiston House. Then they head to the Outer Hebrides to check out a stone circle before stopping by a Beltane festival.
Fun facts:
Sam is not kidding when he says "[Scotland's] barrier between the world of the living and the world of the dead is especially thin."
Greyfriars Kirkyard is a popular tourist location in Edinburgh, particularly for its haunted history. After being locked in a tomb known as the Black Mausoleum — where reports of visitors suffering from mysterious burns, scratches, and bruises are not uncommon — Heughan and McTavish emerge visibly spooked.
Claire Fraser and Geillis Duncan really lucked out during their Outlander witch trial. 
Not only did they both avoid being burned at the stake, but neither had to wear the embarrassing iron headgear McTavish bravely models while inside the Wormiston House jail cell.
The famed Outlander standing stones at Craigh na Dun are actually located in the Outer Hebrides.
Kind of. The stones used on the series are made of Styrofoam, which allows for easy transport to and from multiple locations. But according to Heughan, the Callanish Standing Stones on the Isle of Lewis served as the model for Outlander's production team. Sadly, you can't time-travel through these stones, as Heughan is disappointed to discover.
Sam and Graham's kilt-and-pagan-headdress combos would put them right at home at Burning Man. 
Whenever, you know, Burning Man starts up again. While attending a Beltane celebration — a Celtic fire festival (no, not that kind) held to welcome the coming of summer — Heughan and McTavish are encouraged to let their freak flags fly. And boy, do they deliver: In front of a massive bonfire, the lads unleash primal screams and funky dance moves. Plus, Heughan, by shedding his shirt and drenching himself in bottled water, fulfills the fantasies of millions of pandemic-exhausted viewers.
If you ever wondered how Sam and Graham would play a Jamie-Claire scene, look no further than this Men in Kilts episode.
In a mid-credits scene filmed at the Callanish Standing Stones, Heughan and McTavish "reenact" the Outlander season-two-finale moment when Claire, pregnant with Jamie's child, unwittingly returns to the 1940s. Hot take: McTavish's Jamie is too Dougal-y, and Heughan's Claire is too whiny.
Episode 5, "Culture and Tradition"
Heughan and McTavish return to Edinburgh to get outfitted at the oldest tailor in Scotland, Stewart Christie, before submitting themselves to a rigorous Gaelic lesson. Afterward, it's on to the Isle of Skye to try their hand at sheep herding.
Fun facts:
"Men in Tweed" would've worked just as well as a show title.
Eat your heart out, Lord Grantham. There is no question that Heughan and McTavish's kilt game has been on point up until now. But one glimpse of them modeling their three-piece tweed suits while visiting the 300-year-old haberdashery Stewart Christie and it's very easy to forgive the guys for not wearing kilts at all in this episode.
Sam and Graham are not native Gaelic speakers. 
Their respective 18th-century characters may be, but Heughan and McTavish had to learn their Gaelic dialogue phonetically for Outlander. During their Men in Kilts lesson, the lads learn that only one percent of the modern Scottish population can speak Gaelic because the language was forbidden for several centuries.
Midges are really attracted to Sam Heughan.
The tiny insects come out in full force this episode, swarming Heughan during the Gaelic segment and making it rather difficult for him to carry out his hosting duties. At one point, he is forced to place a beekeeper's net over his face. Apparently, he never got the midges memo from his Spy Who Dumped Me co-star Kate McKinnon.
Sam can even make haggis sound sexy.
The oft-skewered Scottish dish gets a kindly boost thanks to Heughan's smoldering recitation of the Robert Burns poem "Address to a Haggis."
There are more sheep than people in Scotland.
And you don't have to take only Heughan's word for it. Despite a record high (human) population of 5.46 million in 2019, there were 6.73 million sheep counted in a June 2020 agricultural census.
Bonus Episode-Five Easter Egg: Heughan spilled some behind-the-scenes tea on this episode's sheep guest stars during a Kelly Clarkson Show digital exclusive. Turns out the animals weren't in much of a cooperative mood for the sheep-herding segment …
Episode 6, "Scotland by Air, Land, and Sea"
The Scottish Highlands takes center stage as Heughan and McTavish explore Loch Ness, then head back to Skye to immerse themselves in the island's stunning locales. They wrap things up with a rappelling adventure down the aptly named Kilt Rock. 
Fun facts:
There's no stopping Outlander family reunions on Men in Kilts.
Even if two-thirds of their characters were killed off three seasons ago. During a respite at Loch Ness, our hosts take a leisurely rowboat ride with their former co-star Gary Lewis. Like McTavish's Dougal MacKenzie, Lewis's character, Colum MacKenzie, dies at the end of Outlander's second season.
The Scottish islands have some punch-line-worthy names.
To pass the time on a ferry ride, Heughan and McTavish poke fun at the unfortunately named Isle of Muck. It's a very real place that is not, as McTavish jokes, "just up the road from Earwax."
Freezing-cold water is the great equalizer. 
Especially when it comes to two brawny gents like Heughan and McTavish. Upon jumping into the magnificent, albeit ice-cold, Fairy Pools on the Isle of Skye, their howls of pain don't let up until we reach the next segment.
Helmet cameras can be adorable when worn properly.
As part of the climactic segment filmed at Kilt Rock (the only kilt that makes an appearance in this episode, BTW), Heughan and McTavish strapped on a pair of cute helmet cams to help them capture not just extra rappelling footage but their couple-worthy bickering as well.
Graham has a genuine fear of heights.
Not everyone is an adrenaline junkie like Heughan — who stops just short of squealing "Whee!" while rappelling down Kilt Rock — so watching the clearly frightened McTavish conquer his phobia is pretty darn heartwarming. Upon successful completion, the camera pans across the area to show the Men in Kilts crew applauding McTavish's bravery.
Episode 7, "Clans and Tartans"
Heughan and McTavish stick around the Highlands this episode to learn about the centuries-old feuds between Scottish clans. They also visit a tartan textile mill and a couple of castles near and dear to their hearts.
Fun facts:
Clans remain a large part of Scottish identity.
Even though they were in effect destroyed 275 years ago after the Battle of Culloden, a very well-trodden event on Outlander. At the ruins of Trumpan Church on Skye, the site of a 1578 massacre involving the MacDonalds and the Macleods, Heughan and McTavish speak with representatives from both clans. Nearly 450 years after the attack, there is still distinguishable tension between the clans' descendants. Later, the Men in Kilts hosts have a similarly awkward exchange with the leaders of Clan MacLaren and Clan MacGregor. Afterward, the actors express their bewilderment at the barely veiled animosity that exists so many centuries later.
Outlander isn't the only thing keeping Scotland's old-timey traditions alive. 
Remember in season one when Claire helped some local ladies waulk (shrink and soften) wool by beating a hot-piss-slathered cloth while singing lively folk songs? The Badenoch Waulking Group, whom Heughan and McTavish meet at the Prickly Thistle tartan mill, treat the actors to a jolly reenactment of that particular scene — sans the urine.
Sam would do well in a Dukes of Hazzard reboot.
(Just as long as the car undergoes a redesign, obviously.) When boarding the seaplane that will take him and McTavish to Castle Sween — the ancestral family seat of Clan MacTavish — Heughan doesn't even bother with the lower door. He just slides in through the plane's window à la Bo and Luke Duke.
Traveling in style should always mean kilt paired with a leather jacket.
McTavish may have meant "seaplane" when he talked about first-class travel to Castle Sween, but I personally can't get enough of this particular sartorial combo.
Playing a character with a rich family history has its perks. 
By his own admission, Heughan doesn't know much about his personal family tree. But since Scotland is rife with history about his onscreen alter ego's clan, the Outlander star openly embraces the "I am Jamie Fraser" angle this episode (much to McTavish's annoyance). The actors meet with a Clan Fraser representative at the family's ancestral home, Beaufort Castle, where Heughan may or may not have gotten just a little territorial.
Episode 8, "Culloden: Scotland's Most Infamous Battle"
Heughan and McTavish's Men in Kilts journey concludes with an episode dedicated to the Battle of Culloden, the 60-minute skirmish in April 1746 that irrevocably changed Scotland. The actors meet with historians and Outlander combat experts before paying their respects at Culloden Moor.
Fun facts:
The Battle of Culloden marked the destruction of Highland culture.
In case you didn't start Men in Kilts as a card-carrying member of the Outlander fan club, this episode provides a solid lesson in this particular moment in Scottish history: Following the defeat of the Jacobites (a.k.a. Highlanders fighting for Prince Charles Edward Stuart, a.k.a. Bonnie Prince Charlie), the British Army outlawed tartans, bagpipes, and Gaelic.
Dougal MacKenzie's shirtless "rage fits" before battle in Outlander season two weren't just for added drama. 
During a fireside chat with historian Alistair Moffat, Heughan and McTavish learn that Highland warriors really did use primal techniques to psych themselves up for battle. Because the Jacobite soldiers used little more than swords and shields, it was imperative that they prepare themselves mentally before getting right into the faces of their enemy.
A total of FIVE James Frasers fought in the Battle of Culloden.
However, as confirmed by historian Catriona McIntosh, not one of them was James Alexander Malcolm MacKenzie Fraser, much to Heughan's chagrin.
When employing the Highland charge, it is highly recommended that one wear a kilt and a flowy white shirt.
Heughan and McTavish demonstrate this Jacobite Army shock tactic during their Culloden visit, dressed in loose-fitting, 18th-century-esque shirts and dark, roomy kilts, accessorizing with period-correct swords, dirks, and shields. Technically, they're reenacting the bloody battle scene from Outlander's season-three premiere, but it's totally okay if you mistook it for a GQ photo shoot.
Sam Heughan is not above turning Men in Kilts into a commercial for his new whiskey venture.
While decompressing at a bar after their sobering visit to the Culloden battlefield, Heughan wastes no time pouring himself and McTavish a well-earned dram — straight from a bottle of the Sassenach, his very own whiskey line.
Bonus season-finale observation: There is something truly endearing about watching Heughan and McTavish profess their unadulterated love for their homeland. It's a pure, wholesome outlook that's been missing from much of the world's existence over the past year. Don't be surprised if Men in Kilts inspires a number of copycat travel series — and, with hope, a second season.