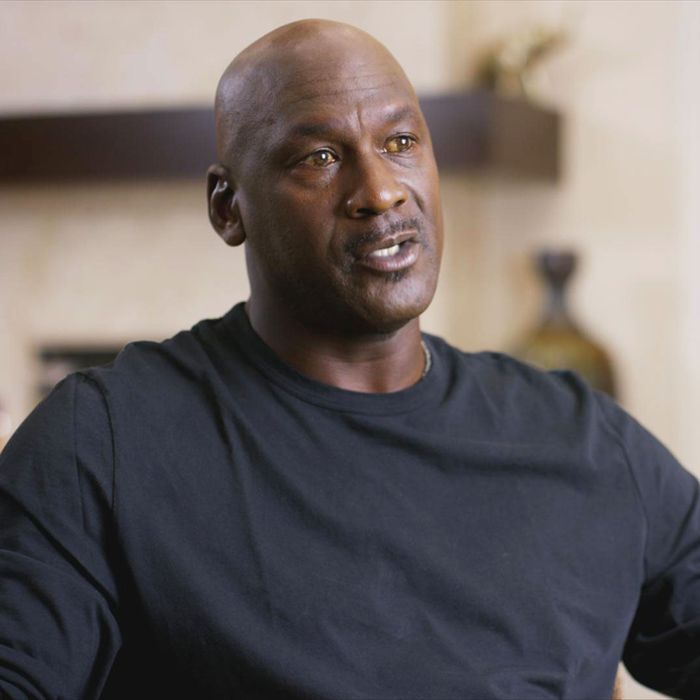 Is this man mad at you?
Photo: ESPN
Michael Jordan does not forget. He turned his enshrinement speech for the Basketball Hall of Fame into a tirade against past foes. He had a falling-out with 20-year-pal Charles Barkley just because Barkley once criticized how Jordan ran the Charlotte Hornets. (Charlotte has won just three playoff games in Jordan's time as owner.) He remembers slights real and imagined like a message-board poster or a journalist.
The footage that became The Last Dance was filmed on the condition that it would not be released "unless it was the right time for the NBA and for Michael Jordan for this thing to come out," as producer Andy Thompson told Vulture last month. Jordan had editorial control over the documentary; his confidants and the league provided notes to director Jason Hehir. Jordan also had final say on episodes. The documentary is his story.
Jordan brought his tone to The Last Dance. David J. Roth, here at Vulture, described Jordan as a "peevish and ungenerous storyteller whose perspective on life is that of a vengeful godhead." Jordan's various grudges were key parts of several episodes. Here, a timeline of all his grudges in the series, both real and imagined.
1986: Jerry Reinsdorf and Jerry Krause (Episode II)
Provocation: After Jordan broke his foot in his second season, Bulls management kept Jordan on a minutes restriction when he returned to the lineup. They feared he could end his career if he got hurt again; Jordan thought the team was looking to tank to get a better draft pick for the future. "If you had a terrible headache," Reinsdorf said, "and I gave you a bottle of pills, and nine of the pills would cure you and one of the pills would kill you, would you take a pill?"
Jordan response: "Depends on how fucking bad the headache is."
Result: The Bulls made the playoffs anyway. Though the Bulls were swept by the Celtics in the first round, Jordan scored 63 in Game 2 — still a playoff record.
1987: Reggie Miller (Episode IX)
Provocation: After a good first half against Jordan's Bulls, Miller said to Jordan: "You're Michael Jordan? The guy that walks on water?"
Jordan response: "Don't ever talk trash to Black Jesus."
Result: Miller says Jordan dominated the second half. Miller had 20 off the bench to Jordan's 37. The Pacers, however, won the game by a point.
1991: Isiah Thomas and the Detroit Pistons (Episode IV)
Provocation: After the Bulls eliminated the Pistons in the Eastern Conference Finals, the Pistons walked off the court without shaking hands. "During the time, that's not how [the torch] was passed," Thomas said, saying other teams had refused to shake the Pistons' hands in earlier seasons.
Jordan response: "I know it's all bullshit. Whatever he says now, you know it wasn't his true actions then."
Result: Thomas was not selected for the 1992 Barcelona Olympic Dream Team (Episode V). "The Dream Team, based on the environment and camaraderie that happened on that team, it was the best harmony. Would Isiah have made a different feeling on that team? Yes." (Jordan said he didn't keep Thomas off the team: "If you want to attribute that to me, be my guest. But it wasn't me.")
1992: Toni Kukoč (Episode V)
Provocation: Kukoč had been drafted by the Bulls in the 1990 NBA Draft. General manager Jerry Krause frequently praised him, though he had not yet joined the team.
Jordan response: "The way he was introduced to me and Scottie, I didn't appreciate it, and it drove my energy."
Result: Jordan and the Dream Team held Kukoč to just four points in 34 minutes in a 103-70 victory over Croatia in the 1992 Olympics.
1992: Harvey Schiller (Episode V)
Provocation: Jordan, a Nike pitchman, was instructed by Harvey Schiller — the executive director of the United States Olympic Committee — to wear a Reebok-branded tracksuit for the Olympic gold-medal ceremony.
Jordan response: "Harvey Schiller, what a dick … the guy who said if we don't wear our uniforms, we can't accept our gold medal and all that stuff … they in for a big fucking surprise."
Result: Jordan draped a flag over his shoulder, covering the Reebok logo, during the medal ceremony.
1993: LaBradford Smith (Episode VIII)
Provocation: LaBradford Smith, a rookie for the Washington Bullets, scored 37 points against the Bulls (Chicago still won). The story goes that he put his arm around Jordan after the game and said, "Nice game, Mike." The teams played again the next night.
Jordan response: "In the first half, I'm gonna have what this kid had in the game."
Result: Jordan scored 36 in the first half of the next game against the Bullets. Later, it turns out Smith never said "Nice game, Mike." Jordan made it all up.
Provocation: Bulls GM Jerry Krause liked Dan Majerle as a player.
Jordan response: "I knew that Jerry Krause loved Dan Majerle. And just because Krause liked him was enough for me. You think he's a great defensive player? Okay, fine. I'm gonna show you that he's not."
Result: The Bulls beat the Suns in the 1993 NBA Finals, with Jordan averaging 41 points a game.
1994: Sports Illustrated (Episode VII)
Provocation: The magazine wrote a negative cover story on Michael Jordan's baseball career, with the headline "Bag it, Michael! Jordan and the White Sox Are Embarrassing Baseball."
Jordan response: "I wasn't interviewed for that. They came out to critique me without understanding what my passion was at the time."
Result: Jordan never spoke to anyone from SI again.
1994: Bryon Russell (Episode IX)
Provocation: Jordan met Russell during his first retirement from the NBA, when he stopped by a Utah Jazz practice to say hello to Karl Malone and John Stockton. Jordan says Russell approached him and said, "Why'd you quit? You know I could guard your ass. You had to quit."
Jordan response: "I said, 'Karl, you need to talk to this dude, man' … From that point on, he's been on my list."
Result: Jordan's Bulls beat Russell's Jazz in back-to-back NBA Finals in 1997 and 1998. Jordan hit his famous "last shot" against Russell to close out the '98 Finals.
Provocation: Nick Anderson stole the ball from Jordan in the closing seconds in Game 1 of the Eastern Conference Semifinals, leading to a game-winning dunk by Horace Grant. After the game, Anderson said, "45 is not 23."
Jordan response: "I just felt like 45 wasn't natural. I wanted to go back to the feeling I had with 23."
Result: "When we met them in the next game," Grant said, "MJ just went off." Jordan scored 38 points in a 104-94 Bulls win.
Provocation: Before the 1996 NBA Finals, Jordan says Seattle SuperSonics coach George Karl did not speak with him in a restaurant.
Jordan response: "He walked right past me. And I look at Ahmad [Rashād] and say, 'Really. Oh, that's how you're going to play it.' I said, 'It's a crock of shit.' We went to Carolina, we know Dean Smith, I've seen him in the summer, we play golf … that's all I needed."
Result: The Bulls beat the Sonics in six games in the Finals.
1997: A Pizza (Episode IX)
Provocation: Before Game 5 of the 1997 NBA Finals, Jordan ordered a pizza in Utah. In The Last Dance, trainer Tim Grover and driver/best friend George Koehler say five delivery guys showed up, insinuating they did something to the pizza. Jordan got sick.
Jordan response: "I ate the pizza — all by myself. Nobody else eats the pizza. I wake up at about 2:30, throwing up left and right."
Result: In what is often erroneously called the "Flu Game", Jordan scored 38 points — including a three-pointer to give the Bulls the lead for good with 25 seconds left. The Bulls closed out the NBA title in Game 6. The pizza was never heard from again.
Provocation: Armstrong, Jordan's former teammate on the Bulls, scored ten points to help the Charlotte Hornets beat Chicago in Game 2 of the Eastern Conference Semifinals. He screamed at the Chicago bench after his jumper with 18 seconds left clinched the game for Charlotte.
Jordan response: "I feel like B.J. should know better. If you're going to high five and talk trash, now I have a bone to pick with you. I'm supposed to kill this guy. I'm supposed to dominate this guy. And from that point, I did."
Result: The Bulls won the next three games to win the series.