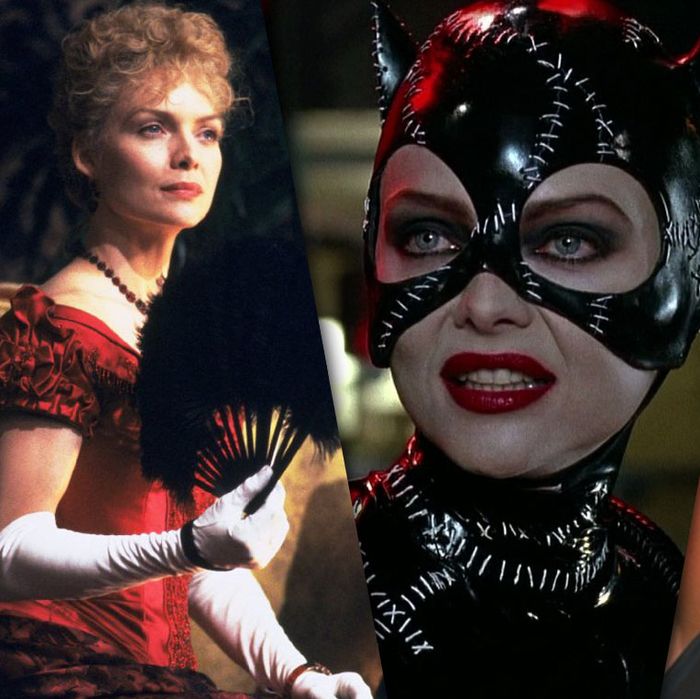 Photo: Columbia Pictures/Warner Bros./Universal Pictures
Michelle Pfeiffer is an actress of such depth, breadth, and tenacity, she obliterates the argument that an untrained actor has less capability than her trained counterparts. Yes, she may lack the classic Hollywood pedigree of Anjelica Huston or the supreme training of Meryl Streep, but of her generation, she's the actress with the most fascinating thematic through line. Pfeiffer won early acclaim when her career first hit its stride in the '80s, followed by a string of hits in the '90s and early '00s. Though she hasn't been much of a presence in recent years, that's thankfully set to change with a trio of releases: Darren Aronofsky's Mother!, a new adaptation of Murder on the Orient Express, and the HBO film Wizard of Lies, in which she plays Ruth Madoff opposite Robert De Niro. With such a long, distinguished career, it's difficult to choose the best of the best, but here are ten performances that demonstrate why film needs Michelle Pfeiffer now more than ever.
Scarface (1983)
Some stars have auspicious debuts — think Lauren Bacall in To Have and Have Not — but that was not the case for Pfeiffer. By the early '80s, she had starred in a few movies without much acclaim, the most high-profile being the cynical cash grab Grease 2. It wasn't until her fifth film, Brian De Palma's Scarface, that she garnered a role that synthesized her great talents. Scarface chokes with so much machismo it would be easy for Elvira Hancock, the mob moll played by Pfeiffer, to become lost among the other beautiful accoutrements of wealth and power owned by the men she orbits. Yet with Pfeiffer's chilly presence, Elvira became more than just an object of obsession for Al Pacino's Tony Montana. Pfeiffer played her as the photo negative of a trophy girlfriend, a woman hyperaware of her beauty. This tension runs through Pfeiffer's career, and it elevated the role of Elvira into a star-making turn. Available to stream on Netflix and DIRECTV.
Married to the Mob (1988)
1988 was a defining year in Pfeiffer's career, thanks in part to her performance as Angela de Marco, the widow of a Mafia enforcer, in Jonathan Demme's Married to the Mob. The film is hilarious, sometimes even downright farcical in its approach to mob life. That could easily lead an actress to play Angela too broad, especially as she's so eager to discard her old life. Pfeiffer has great comedic moments here, particularly in the climax when licks her lips before throwing an intense punch. But despite her big hair, accent, and haphazard walk, it's the quiet longing in Angela's eyes that linger most. It's a hilarious performance anchored by pathos that transforms the film into something genuinely moving. Available to rent on iTunes, Amazon Video, Google Play, and Vudu.
Chéri (2009)
This costume-drama adaptation united Pfeiffer with her Dangerous Liaisons director Stephen Frears. While that performance would seem more apt to highlight since it marks Pfeiffer's first Academy Award nomination, it's her work in Chéri as Lea, an aging courtesan involved in a tumultuous relationship with a younger man (Rupert Friend), that hits hardest for me. Lea allows Pfeiffer the opportunity to play with themes she has an uncanny knack for imbuing with complex emotional landscapes: the currency of being a beautiful woman, coupled with the terror and erotic thrill that can come when your unexpected desires are met. It's a poignant performance in which Pfeiffer's eyes often seem at the verge of tears, as she mourns the diminishing youth and beauty that has come to define Lea. Available to rent on iTunes, Amazon Video, Google Play, and Vudu.
Stardust (2007)
Pfeiffer is an exceedingly versatile actress, but she's never more fun than when playing women who shirk societal mores to get what they desire. The conniving witch Lamia in Stardust is one of my favorites, if only for the intensity in her quest to attain eternal youth. She's the kind of villain who's so enchanting, you actually want to see her to kill Claire Danes's fallen star and Charlie Cox's hero. Who cares about true love and goodness when you can watch Pfeiffer play a witch with glorious panache and a sly smile on her face? It isn't only the sheer thrill of watching Pfeiffer transform from a decrepit old woman to a youthful beauty (and back again) that earns Stardust a spot on the list. It's the surprising grace notes she adds to her performance, like the way Lamia's walk seems the embodiment of a frightening howl. Available to stream on Amazon Video.
The Age of Innocence (1993)
I consider this film to be Martin Scorsese's most emotionally realized and haunting work because of Pfeiffer's turn as the Countess Ellen Olenska, a social pariah cast aside by her impending divorce, who must navigate the complex social mores of New York's upper class during the Gilded Age. The lush beauty of The Age of Innocence is to be expected, given the film's pedigree. But the tenderness and fire and fierceness with which Pfeiffer plays Ellen elevate the film from a gorgeous, visual feast to a work of cutting emotional violence. Available to rent on iTunes, Amazon Video, Google Play, and Vudu.
The Fabulous Baker Boys (1989)
In that silken red dress, Michelle Pfeiffer is a vision writhing atop Jeff Bridges's piano. Yes, it's a sexy and alluring moment. But thanks to Pfeiffer's performance, it's elevated to that small pantheon of definitive bombshell moments that strike with the force of a chemical reaction. Think Rita Hayworth in Gilda or Marilyn Monroe in Some Like It Hot. As Susie Diamond, a prostitute turned lounge singer, she's tough yet vulnerable, alluring yet never overwrought. It's a provocative performance that thrives on the liminal space between who a woman pretends to be and who she really is. Available to stream on Xfinity.
What Lies Beneath (2000)
This Robert Zemeckis thriller makes the cut for one remarkable scene, in which Pfeiffer communicates a well of terror with nary a line and little physical movement. The film never quite lives up to what Pfeiffer communicates so evocatively, using her eyes and clenched jaw to cue us into the abject terror experienced by Claire Spencer, the wife of an acclaimed scientist played by Harrison Ford. Nevertheless, this scene is a master class in telling entire stories with very little. Available to rent on Amazon Video, Google Play, and Vudu.
The Witches of Eastwick (1987)
Spritely. Effervescent. Innocent. Not the words you'd use to describe the other performances highlighted on this list, but these descriptors fit Pfeiffer in The Witches of Eastwick well. Part of the charm to this role is how Pfeiffer plays off the more steely Cher and the prim turned passionate Susan Sarandon. The George Miller–directed fantasy film highlights Pfeiffer's skill at turning roles that could be overshadowed by her showier co-stars into delicate masterworks of yearning. Available to stream on DIRECTV.
White Oleander (2002)
Pfeiffer has a proven her versatility as an actress many times over, but it's her gallery of madwomen that I find myself most captivated with. Ingrid Magnussen, the photographer and single mother in White Oleander whose flagrant selfishness mars her relationship with her only child, may be the crowning jewel in Pfeiffer's pantheon. Pfeiffer admitted in interviews that she was "baffled" by the character, to the point of not fully understanding her. But she doesn't give herself enough credit for bringing to life such a hard-edged woman. There are untold depths beyond that brittle exterior: The way she moves, speaks, and sets her jaw embodies the contradictions that define Ingrid. It's work like this that makes Pfeiffer a modern echo of the tough, complicated, at times beautifully unlikable women Barbara Stanwyck became a legend for playing. Available to rent on iTunes, Amazon Video, Google Play, and Vudu.
Batman Returns (1992)
When it comes to Hollywood stars, we all have certain performances that ignite our passions so deeply we carry them with us ever after. For me, that is undoubtedly Pfeiffer's embodiment of one of my favorite major comic-book characters, Selina Kyle, a.k.a. Catwoman. In Tim Burton's gothic extravaganza Batman Returns, Catwoman synthesizes two modes Pfeiffer excels at: the hesitant woman defined by quiet longing, and the unhinged madwoman. After Selina's near-death experience at the beginning of the film, she transforms into the latex-clad femme fatale Catwoman. Pfeiffer mines the role for its horror, tragedy, and feminist thrills with aplomb. It's touches like these that make Pfeiffer a wholly unique actress, unlike any other blonde bombshell in Hollywood history. Available to stream on HBO GO and DIRECTV.