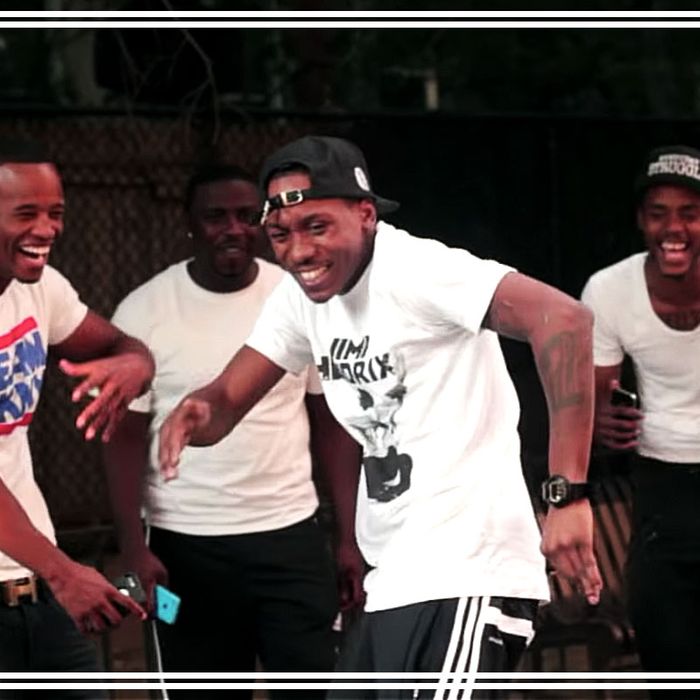 Photo-Illustration: Vulture and Born2WinProductions/YouTube
New York changed during the summer of 2014, when the budding career of an animated, magnetic 20-year-old by the name of Bobby Shmurda took flight. "Hot Nigga," a defining song of the 2010s, turned the East Flatbush, Brooklyn, rapper into a global star. It all began, technically, more than two minutes into the song's video — specifically, at the 2:17–2:22 mark — when he tosses his grey fitted New York Knicks hat in the air, turns his back to the camera, and, surrounded by a crowd of his GS9 crew, begins twisting his back and arms with an effortless swagger. The hat never comes back down to Earth. Thanks to a well-clipped Vine, six seconds of the Shmoney Dance became music's next viral dance craze, the first since Baauer's "Harlem Shake" took off as a meme the year before. The moves were so versatile that people mashed it up to everything from classic R&B like SWV and Total to boy bands like the Backstreet Boys. As the number of parody videos increased on YouTube and Vine, so did Shmurda's popularity. He was bringing a raw energy that had been lacking in New York hip-hop at the time.
With respect to Atlanta, Chicago, and the Bay Area as other important hubs of dance innovation, New York brings a creative energy unlike any other city — and each of the boroughs has a unique style. Harlem gave us the Harlem Shake (long before Baauer), the Chicken Noodle Soup, and the Aunt Jackie. In the Bronx, breaking was the dominant style before the evolutions of the modern era, when the Terror Squad told us it was cool to "Lean Back." Queens gave us the gift that is the Yayo Dance. These are dances that make up the fabric of New York hip-hop. Brooklyn was due.
Shmurda's momentum, however, was cut short after a highly publicized arrest at midtown Manhattan's Quad Studios at the end of 2014, just days before he made his national television debut on Jimmy Kimmel Live! By then, another local rapper — this one from Bed-Stuy — already had a hit and viral dance waiting in the wings to continue what "Hot Nigga" started: 2 Milly and his Stack Paper crew's "Milly Rock." Over the span of two summers, two rappers from Brooklyn were responsible for dances that were created in their neighborhoods, elevated by their charisma, and which caught on well outside the borough. "Milly Rock" showed early signs it could become a worthy successor to "Hot Nigga." In the video for the song, which has over 20 million views, 2 Milly (short for Too Militant), then 27, describes how to "Milly Rock on every block," breaking down the moves lyric by lyric: "First arms up, then left and right / That MJ get out my sight." He has Milly Rocked on the Gates block (Gates and Stuyvesant, to be specific), he raps, and Patchen Avenue, too.
According to 2 Milly, he'd been doing the dance — a variation of a regular two-step — before it even had a name. "We used to go to Coney Island every Sunday like five, six deep," he told XXL in 2016. "You know, they play that silly rock music and I used to do [the dance]. There used to be 60 people standing around just recording. So I'm like, 'If these people just wanna do that, imagine what these 70,000 people in the crowds want to do?'" 2 Milly recalled doing the dance during Spike Lee's June 2014 block party celebrating the 25th anniversary of Do the Right Thing; he'd grown up around Stuyvesant Avenue and Quincy Street, where the movie was filmed. With a little liquid courage (Bombay and orange juice, he says), he stands on top of the car and hits the Milly Rock to Stackpaper Records artist Halfabilli's "Trouble." "Everybody is standing there, recording," he told XXL. "The next day they're like, 'Yo, you're famous on Facebook.' I'm like, 'Huh?' They started sending me the vids in my DMs on Instagram. Like, 'Look, look, look! You famous!' Everybody throwing you up. So I'm like, 'Word? This might be global right here.'"
Off a hunch, 2 Milly searched YouTube for instrumentals and found one by JudoBeatz — a beat tailored to the streets, with its piano-driven production and thumping bass — that could be heard bumping from any car stereo. He wanted to create a song for radio, using less curse words and more repetitive phrases — "I Milly Rock on any block" is the signature line. His lyrics were true to his daily life, written about wearing Polo tees and Polo socks, Milly Rocking for four days with his face hot from sweltering New York summers, and posting his videos on Instagram to make the "Explore" page. "I would make a bunch of songs but never think about radio spins. So I sat back like, 'The dance is going to hold the motherf—n' song down,'" he told Vice in 2015. Strategic or not, the videos for Halfabilli's "Trouble" and 2 Milly's "Milly Rock" were released just weeks apart, on August 18 and on August 31, in 2014. In "Trouble," you can see 2 Milly with his friends doing the Milly Rock in the background. The creation of "Milly Rock," stemmed from that appearance, properly giving their dance a name to further establish Stackpaper's momentum. 2 Milly was taking off.
There's no exact science to getting a dance to spread quickly. The Milly Rock was popularized among friends before word of mouth pushed it further. When short videos of these dances reach social media, they take on lives of their own, amplified and interpreted by each influencer, choreographer, or blogger who decides to share them with their followers. Then, New York City kids take over a dance — and take it back: If you lived here, you've likely seen someone hit the Milly Rock on the train during your commute, whether or not you recognized it. There's no predicting exactly when a hashtag like #MillyRock will start to heat up with new posts, motivating thousands upon thousands to use the tag to caption their dance videos. But that's exactly what happened to 2 Milly. He became a slow-burning sensation and people really started to pay attention in 2015. The Milly Rock was the dance craze everyone wanted to do.
By the time Peter Rosenberg, a radio personality for Hot 97's Ebro in the Morning, found "Milly Rock," it'd already been buzzing online. "I did not hear it early," Rosenberg says, noting that he liked what he heard on the first listen. "It was already becoming a thing. But one of the interesting things about that record is that it's a dance song disguised as a hardcore hip-hop record." Parental advisories didn't matter at this point. From 2015 on, celebrities and sports figures got their Milly Rocks off for touchdown celebrations and turning up; 2 Milly praised everyone "getting sturdy," meaning they'd perfected his moves. He started to give nicknames to famous people who successfully did the Milly Rock — Rihanna was one of the earliest adopters, with her "RiRi Rock," when one of her friends captured a video of her doing it by the pool. Travis Scott introduced 2 Milly and his crew as the "realest motherf—s from New York City," stating he was a fan and wanted to bring them out at Summer Jam 2015. It was the same year that other artists started cropping up with dance movements of their own across the country, with the Whip / Nae Nae, the Dab, and Hit the Quan.
2 Milly's hit song was officially released in August 2015, via Toronto subsidiary eOne, and peaked at No. 50 on Billboard's Hot R&B/Hip-Hop Songs in February 2016. It got the remix treatment, as notable names like Fabolous, Maino, Fat Trel, Rick Ross, A$AP Ferg, and Lil Wayne each did their own takes. Lil Mama paid homage to the dance in her "Sausage" video. A year after the video originally debuted, the song felt like it was becoming bigger than 2 Milly — and a difficult act to follow. Still, he owned his creativity and expanded to different sounds, making tracks outside the realm of "Milly Rock" (see: "Sleepin" with PnB Rock, and "Life of a Hustler").
By 2017, Playboi Carti came along and turned 2 Milly into a household name. When the Atlanta rapper released his breakthrough single, "Magnolia," his opening lyrics declared, "In New York I Milly Rock," once again boosting 2 Milly's hometown status when its video showed people hitting the Milly Rock around the city. Of note, internet sensation Roy Purdy parodied the "Magnolia" video, showing Purdy with a goofy smirk doing the dance in Times Square and Union Square while pulling off skateboard tricks. (There's even a cameo by Russell Horning, a.k.a. "Backpack Kid," adding to the obscenity; Purdy ends the clip by skating away with a fidget spinner.) To date, the Milly Rock is no longer centralized to Bed-Stuy; it is part of pop culture and the hip-hop dance lexicon. And, as it typically goes when things that started in one specific culture are uprooted from it and spread around the world, 2 Milly's has been battling to regain credit for its creation.
In 2018, Fortnite created a dance "emote" for purchase called the "Swipe It" whose moves were unmistakably similar the Milly Rock. 2 Milly criticized Epic Games for not asking his permission or providing him any compensation; he later filed a lawsuit against them for copyright infringement. But under the Supreme Court's ruling, 2 Milly had to copyright the dance and have it approved by the U.S. Copyright Office before he could file. 2 Milly attempted to register Milly Rock twice (the U.S. Copyright Office allows people to register choreography, which they categorize as the composition and arrangement of a series of movements, but not of a specific dance move) and was denied both times. He was eventually forced to drop the lawsuit. Chance the Rapper pointed out the unfairness: "Fortnite should put the actual rap songs behind the dances that make so much money as Emotes," he tweeted. "Black creatives created and popularized these dances but never monetized them. Imagine the money people are spending on these Emotes being shared with the artists that made them."
Years later, even if a monetary win wasn't in his favor, 2 Milly's success in taking his dance to the mainstream remains impressive. These days, TikTok dance challenges are a standard way of spreading a new single across multiple platforms — and are often utilized to increase streams. 2 Milly got hot independently before Shiggy's #InMyFeelingsChallenge, before Megan Thee Stallion's "Savage" dance, before the Renegade dance, and long before Drake's "Toosie Slide" existed. When you've got Ayesha Curry Milly Rocking (though, admittedly, it's not the … sturdiest example), the reach is inarguable. "Milly Rock is around forever," Rosenberg says. "In many ways, the dance is much bigger than the song, but either way, it lives on for a long, long time."