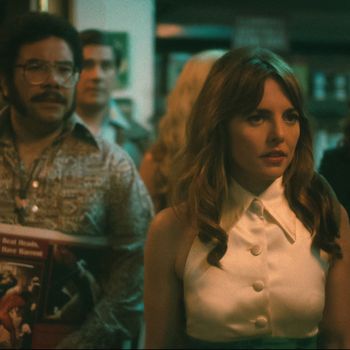 Photo: Starz/Minx B) 2023 Starz Entertainment, LLC
Are we at the end of Minx? The onetime Max show that Starz saved wrapped its second season this week, and with the strike stretching into oblivion and mentions of Minx not tearing up my X/Twitter timeline, I don't really know what to expect from our Valley vixens.
It certainly doesn't seem like the Minx writers thought it was the end, even considering that this episode was filmed just as the cast and crew got word that Max was getting off the Minx train. Instead, the season-two finale, "Woman of the Hour," sets up a third-season power struggle over control of the magazine and over the very definition of feminism itself. Do women, as Constance thinks, have to fight one battle at a time to win some ground against men? Or is Joyce right in thinking that we should make the world we want to live in, and if some people or advertisers aren't cool with it, they can get stuffed?
The show wants us to believe it's the latter, which is the correct answer, even if Elizabeth Perkins's Constance is a true delight. She's also ruthless, which we learn in the episode's opening. Set in Crete in 1953, it features Constance siccing her dogs on her right-hand-man, Archie, who she discovers has been sabotaging her efforts at the shipping company. He tried to poison her, it seems, since the board seemingly believed she was too kindhearted for business. She tells him (and, by default, the board) that she's anything but kindhearted.
That's fairly obvious foreshadowing for what's to come, which is a master class in how a billionaire might swoop in and seem cool and progressive before inevitably crushing anything fun or cool about whatever scenario they've inserted themselves into. There's a reason Constance is so rich, and it's not because she just married into it. She's always looking out for a deal, no matter who she has to trick along the way.
In this case, it seems she tricked almost everyone until she didn't, a fact we come to learn throughout Minx's international launch party. She makes Joyce nix Richie's eye-opening and heartbreaking bathhouse cover, which is not just sexy but is also important journalism. She also asks Joyce to kill Bella LaRouche's lesbian-awakening tale, telling Joyce and Tina that it's "not for women like us." (Yuck.) Constance even has the tenacity to send Tina to the printers, Doug style, which makes Tina quickly realize that neither her ex nor her current boss will ever see her the way she truly deserves.
It's really only Doug who doesn't see through Constance, and that's only because she blinds him with a new title. Sure, she dissolved Bottom Dollar without him noticing, but she also created PRG, or Papadopoulos Rinetti Global, a company he'll be president of. He's so blinded by her respect that he's immediately onboard, strutting around like the cock of the walk. The way Constance woos him is pretty cunning and sly. It makes you wonder if Doug read what he signed, because while there's clearly something appealing to him about being in charge of Joyce, Tina, and a bunch of other international gals, he jumped onboard (and into Constance's bed) with an expediency that was really staggering considering he's seemed to be at least a step ahead all series long.
What really matters, in the end, is that (most of) the gang is together again, doing the right thing by stopping the presses and putting out an important issue of Minx that's interesting and thought-provoking — and that will absolutely alienate most of the close-minded advertisers that they've accrued. That's okay with Joyce, who wants Minx to be more of a Bust than a Cosmo, anyway, even if she has a sweet new condo to pay the mortgage on. She's heading into the battle with integrity and spirit, and she's got her friends (and family!) by her side.
Reflections of Desire
• Please, God, don't let Bambi join the Peoples Temple. Beyond that, don't let her bring Lenny and the kids into it. I know it's a "funny" story line and everything. Still, Bambi's smarter than that, and, honestly, getting involved in all that noise would be scarier than interesting, especially if kids are involved.
• On the other hand, if Bambi and Lenny wanted to get together while Doreen and Shelly are off gallivanting in Italy, that's something I could get behind. That's the love they both deserve. And, as it turns out, Bambi seems to be independently rich, so that's something!
• Also, I would love it if Richie didn't end up doing food commercials for General Mills. I'm sure the money's appealing and all of that, and maybe if he's fired from Minx proper, he won't have to worry about any sort of exclusivity, but blech. He should be showing at MoMA or something, not doing work that goes on the back of cereal boxes.
• All of the mock Minx international covers were really creepy, with all the dudes putting their hands around the women's necks in a way that's supposed to be "sexy," but also, ew? I blame Winifred.
• This one's for all the L.A. locals: Where the hell is Constance's house if it's on a mountain, the printer's in Sun Valley, and Lenny has to rescue Bambi and Richie in "unincorporated Monrovia"? It seems like it's supposed to be somewhere on the ocean, but the map doesn't work. Would "unincorporated Calabasas" have been so bad?
• Shout-out to the Minx production team for finding somewhere they could shoot with a working '70s-era printing press.
• That's the end of this season's Minx recaps — and maybe all Minx recaps? We'll see what happens with the show. There really aren't a whole lot of renewals happening at the moment with the strike (We haven't even gotten an announcement about season three of The Bear, which is a huge hit …). Either way, I loved writing these recaps, and I love Minx, so I hope only good things happen to everyone involved with the show, no matter what that ends up being.