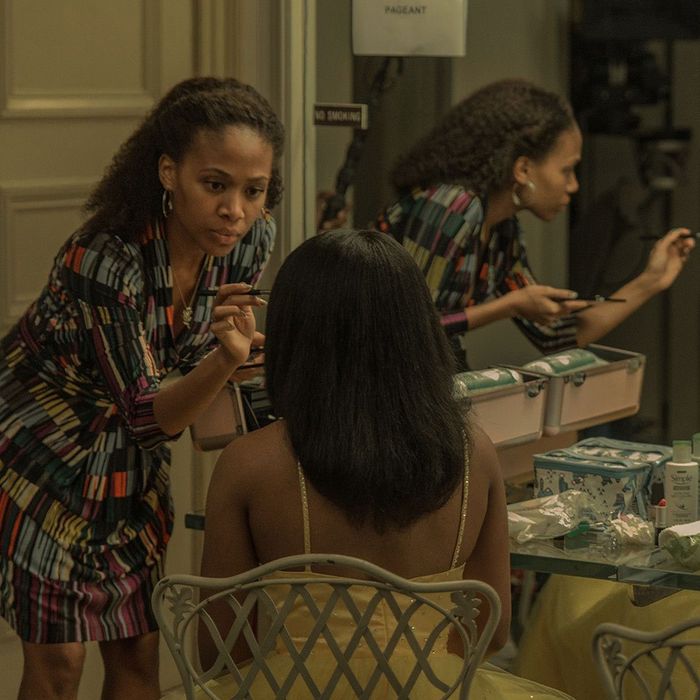 The film, an emotionally realized mother-daughter story, is a testament to Nicole Beharie's potent prowess as an actress.
Photo: Courtesy of the Sundance Institute
Deep in Miss Juneteenth, the feature debut of writer/director Channing Godfrey Peoples, is a brief moment defined by both quietude and bramble, centered on its protagonist, Turquoise Jones (a tremendous Nicole Beharie). It comes after the two very different men who want a place in her life romantically — Bacon (Akron Watson), her boss at the mortuary where she works part time, and Ronnie (Kendrick Sampson), the father of her teenage daughter, Kai (Alexis Chikaeze), who has a habit of disappointing her — nearly brawl. She's simply sitting on the porch steps of her home, her red dress glowing in the amber light, her Miss Juneteenth crown glinting atop her head, a cigarette in hand. There's no dialogue in this brief moment. Instead, Beharie shows us what we need to know. In the dip of her hand and the constitution of her face, we understand what's on Turquoise's mind — the hardships of being a single mother, the desperate yearning to give her daughter a different path than the one she's had to walk, and the neediness of reaching toward something more in life. Miss Juneteenth is full of moments such as this, which rely on the deftness of Peoples's direction and Beharie's performance to craft a simple yet beguiling portrait of Black life in Ft. Worth, Texas.
Miss Juneteenth is a film defined by its gentle beauty and simplicity as it charts the life of Turquoise Jones, who's navigating the choppy waters of motherhood, being poor, and pouring her own dreams into her daughter, Kai, who is reluctant at best about participating in the Miss Juneteenth pageant that Turquoise herself won as a teenager. The stakes in some ways may seem low. Will Kai win the pageant? Will the relationship between Kai and Turquoise break under the strain of the complications between them? Will Turquoise choose love with the men before her or a different track entirely? But Peoples treats her characters with a sincerity that gives them heft. The film itself struck me for the depth of feeling it engenders, the beauty of Black life it swims in, and its specificity. This is what I yearn to see on the screen as a critic and viewer: evocative portraits of Black life that shirk expectations in favor of simple beauty and psychologically rich characterization.
Juneteenth is a holiday with regional specificity. It marks the event two and a half years after the Emancipation Proclamation when slaves in Texas learned they were actually free. What raises Miss Juneteenth from charming to revelatory is its ability to craft stories of Black Texas life bristling with delayed wants and fraught class dynamics as Turquoise experiences what it means to be barely scraping by while trying to provide a different future for her child. (At one point, on Kai's 15th birthday, their electricity is cut off.)  Miss Juneteenth isn't trying to make grand proclamations about what it means to be Black in America today. The film is too smart for such grandstanding. Instead, it revels in watching Black folks just be. Whether they're juggling love lives, dealing with heart attacks, riding horses down the street for a parade, dancing with their loved ones, or mired in heartbreak, there is a striking love put into every image, every word said, every emotion felt. Peoples allows her characters the space to be human, make mistakes, disappoint themselves and others in their search for joy. Turquoise's romantic life is tangled in history and wanting, from which beauty and intelligence still can't protect her. Her dynamic with Ronnie leads to some of the most tender scenes in the film, where you can feel the need that smolders inside both of them. (I admit part of the reason these scenes work so well is that Kendrick Sampson is a great foil, his voice all honey and whiskey, his eyes glinting with desire. It's a marvel to watch an actor understand that the female lead should be our focus and his eyes must reflect what the audience needs to understand about her.) But what has caused me to fall in love with the film above all else narratively is the mother-daughter relationship crafted between Kai and Turquoise.
At the heart of Miss Juneteenth is a complication I have dealt with in my own life: what happens when a single mother so fiercely pours her dreams into her daughter that she doesn't see her daughter's own desires clearly at all. Such a storyline could lead down a dark path, where the relationship fractures irreparably. But Miss Juneteenth is more interested in reaffirming the beauty of mutual care and recognition above all else. Alexis Chikaeze, who proves to have a knack for quietly communicating longing and impulse, and Nicole Beharie create a memorable dynamic as daughter and mother, respectively. There is tenderness and kindness between them even when their relationship grows difficult the deeper into preparation for the pageant they get. Mirroring their relationship is the dynamic Turquoise has with her own mother, Charlotte (Lori Hayes), a fiercely religious woman who struggles to hide her alcoholism. In one scene, after Turquoise finds her mother at her second job at Wayman's, a lounge and BBQ joint, she brings her back home, wipes her face with a wet cloth, takes off her wig, and gently aids her. In this brief scene we can see the totality of their connection and how Turquoise has had to step into the role of the parent for her own mother. Questions glitter around such scenes, bringing to the forefront the film's concerns about the love between mothers and daughters, what we inherit, and what binds us to our ancestry.
What anchors the film, undoubtedly, is Nicole Beharie. Over the last few years, Beharie has turned out memorable performances in films like 42 and television like the Black Mirror episode "Striking Vipers." Miss Juneteenth is a testament to the depth of her skill. Through the hints in Peoples' writing and the ways in which Beharie acts it out, we're able to get a clear-eyed understanding of who Turquoise once was, and who she is today. Her physicality is steady, slow, measured. Her voice is softly Southern in its disposition. Her gaze is weighted by a history that shines in her every movement and word. There's a sense when Turquoise's mind flutters to the past that something went awry for her, that this is not quite the life she wants to lead. And Peoples doesn't give her a happily ever after, but something more honest and true, offering the character a new path to walk down with her daughter at her side and the potential for the kind of life she deserves to live. In doing so, Miss Juneteenth becomes not only a celebration of a specific swath of Black life but a tremendous portrait of what it means to live, fully and unapologetically. It's a rich performance that should cement Beharie as an actress not only worth watching but worth getting far more meaty, leading roles than she has already.