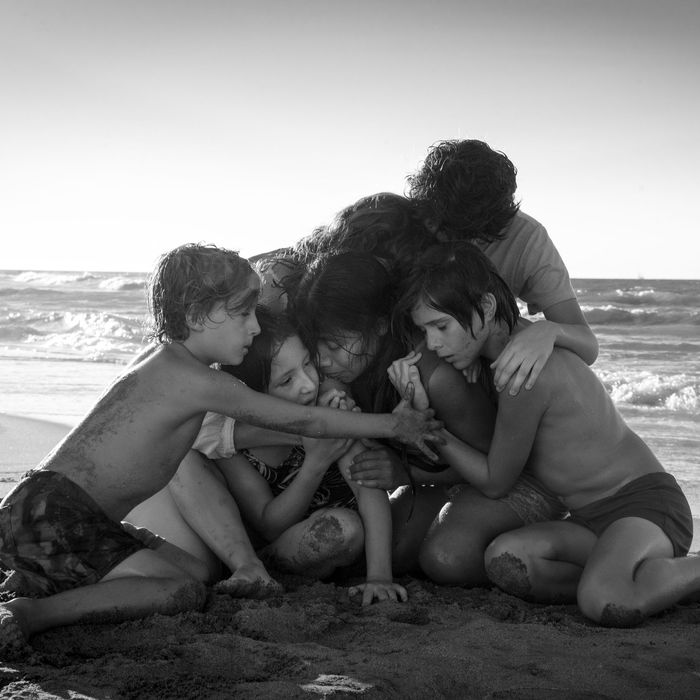 Photo: Courtesy of Netflix
David Fincher's Mank, a story about how studios would rather repeat themselves than risk bold ideas, is also a testament to the dedication required to bring a modern black-and-white film to the screen. These movies often come from a personal place (Fincher chose the format working from a script by his late father, Jack), but they also require a director to fight for their vision, as black-and-white films are famously hard to raise money for — even Mank couldn't get made for decades. It's fascinating when directors like Fincher eschew color in the middle of their acclaimed careers and go for something a little classic, a little daring, and possibly a little anti-commercial. But even if a project might later earn some prestige (Oscar voters tend to love modern black-and-white movies), it usually takes an established talent, a David Fincher type with contacts at Netflix, to have a shot at making it to the awards circuit.
There's a whole other list to be made of directors who made the bold move of embracing black and white in their debuts, including Spike Lee, Christopher Nolan, Ana Lily Amirpour, and Marjane Satrapi. But we're not looking at origins here. Instead, we're exploring the reasons why an already established filmmaker who regularly uses color read a script and thought, I must shoot this in black and white. And to emphasize how this specific artistic choice has recurred throughout modern filmmaking, we're limiting this list to movies that go back to the '90s; consider Martin Scorsese's 1980 black-and-white boxing classic, Raging Bull, which embraced monochrome in part to get the boxing gloves right, an excellent forebear of this newer wave. Though expressed with wildly different voices, black and white creates a new, unified statement. The directors below made the choice to recall the way movies used to look with an emotional immediacy that forces contemporary viewers to see all the shades of gray.
Schindler's List (1993)
Steven Spielberg won his first Best Director Oscar for his only black-and-white film and the movie he is proudest of, an unflinching three-hour epic about the German businessman Oskar Schindler (Liam Neeson) who helped save hundreds of Jewish lives during the Holocaust. Spielberg has stated in interviews that the black-and-white footage echoed the images from the documentaries made about the genocide. It makes his story all the more powerful, with its moving glimpses of individuals we would only know from black-and-white photographs. Collaborating with cinematographer Janusz Kamiński (who also received an Oscar for his work on Schindler's List), Spielberg contrasts light and shadow in staggering ways, and he immerses us in those images with a micro and macro visual storytelling. The black-and-white coloring creates a particularly brutal dynamic, with beams of holy white daylight cracking through the air of constant violence, while dark black blood pools on the streets of Jewish ghettos.
Yet even Steven Freaking Spielberg had a hard time getting the movie made in black and white. One of the original plans was to have it released in color on VHS, to play more friendly to the (at the time booming) rental markets. But thankfully, that idea was axed, as it would have also dampened the effect of the famous little girl in the red coat — a moment of awakened humanity for Schindler — that stands out in Spielberg's otherwise hauntingly colorless world. (Available on Showtime.)
Ed Wood (1994)
Tim Burton's filmography certainly has never been wary of the shadows, but he has only embraced black and white once, in his loving depiction of a Hollywood legend largely considered to be one of the worst directors in filmmaking history. With 1994's Ed Wood, the Beetlejuice and Edward Scissorhands director shared his appreciation for the man behind historically bad films like Glen or Glenda and Plan 9 From Outer Space, re-creating their famous flubs and terrible acting, with Johnny Depp as the dreamer who persists through failure. The biopic is filled with love for 1950s Hollywood B-movies. In fact, Burton knew that Ed Wood had to be in black and white when he realized that he'd never seen a picture of Bela Lugosi (played in the movie by Martin Landau) in color. That decision made it especially hard for Ed Wood to find financing (it was dropped by Columbia until Touchstone decided to pick it up), but Burton was quoted as insisting, "These are black-and-white people." In telling this story in monochrome, Burton not only creates a showbiz story of his own grade, but he extends an affection to Ed Wood by putting him in overly stagy scenes that look like they came from one of Wood's movies. Burton's tender aesthetic frames Wood not just as someone who wrote and directed Hollywood stories, but one who was living his own. (Available to rent on Amazon.)
The Man Who Wasn't There (2001)
Since their directorial debut, Blood Simple, the Coen brothers have made several modern noir films, but always with their own distinct visual style. They never leaned into the classic aesthetics of movies like Double Indemnity or The Postman Always Rings Twice until this 2001 black-and-white gem, which reunited them with master cinematographer Roger Deakins. In telling a period piece reportedly inspired by a poster they saw on the set of The Hudsucker Proxy, the Coens weave a tale about a laconic barber (Billy Bob Thornton) stumbling, as Coen characters do, into a bizarre plot of unstoppable dominoes. Given the Coens' history of wordy characters, black and white is a subversive, perfect choice to convey the POV of Thornton's monotone and taciturn barber, the story's bizarre turns (adultery! Murder! Aliens!) disrupting a world he would prefer to be as colorless as himself. Scenes that follow inside barbershops, jail cells, and courtrooms get an incredible depth and sense of atmosphere with Deakins's stark blacks and whites. It's one of many meticulous Coen brothers movies you want to roam around in, and that's thanks to their unique decision to cut out the color. (Though, if you dare, because it was shot on color-negative film, there's a far less lustrous but non-black-and-white version out there.) (Available on Peacock.)
Good Night, and Good Luck. (2005)
Journalism major George Clooney had made a name for himself as an actor (Batman & Robin) and a director (Confessions of a Dangerous Mind) when he started focusing on his passion project: a movie about 1950s broadcaster Edward R. Murrow going up against Senator Joseph McCarthy during America's Red Scare. But as Clooney tells it, distributors were afraid to invest in black and white, and what eventually became a sharp and mighty monochrome political thriller proved to be "shockingly hard to sell." Clooney would have it no other way, saying that "I only know Murrow and McCarthy in black and white … you have to film things in the way that you remember them." Like with a lot of modern projects of this prestige and dedication to monochrome, the lustrous black-and-white photography earned an Oscar nomination for cinematographer Robert Elswit, whose sense of detail and light helped establish the story's sense of atmosphere: all that smoke, all that sweat, all that patriotism in the face of an invasive government. Mixed with the movie's minimal usage of music (aside from songs by Clooney's aunt Rosemary), Clooney's use of black and white in Good Night, and Good Luck. makes it a time capsule that comes with an alarm. (Available to rent on Amazon.)
The Notorious Bettie Page (2005)
When American Psycho and I Shot Andy Warhol director Mary Harron set out to tell the story of pinup queen Bettie Page, she knew that it had to be in black and white. Harron worked on the script with co-writer Guinevere Turner (who made her own directorial debut in black and white, Go Fish) for over a decade, researching a story that demanded to be told with the same monochrome as the photos that immortalize Page (played here by Gretchen Mol). A nonjudgmental biopic about a woman who ascended to kink royalty but ultimately found comfort in religion, Harron's film effectively places Mol's vibrant performance in a time of shrouded sexuality — one that Page helped unveil. Like with a lot of directors, the brief implementation of color offers an elevated sense of emotion, as Page's rejuvenating trips to Miami (collaborating with a photographer played by Sarah Paulson) are given a rich Technicolor glow. But along with Harron's depiction of this vital figure in sexuality, with bondage, tall boots, and those iconic bangs, the focus is all on Page's complicated emotional journey as conveyed by Mol. To quote Mank side character Orson Welles: "Every performance looks better in black and white." (Available on Cinemax.)
Angel-A (2005)
After giving us classic sci-fi adventures and assassins, The Fifth Element and Léon: The Professional director Luc Besson went on to create Angel-A, a light-on-its-feet story about a bumbling scam artist (Jamel Debbouze's André) trying not to get killed by his debtors in the City of Lights when he meets a party-ready, ass-kicking angel. (Think of it like Uncut Gems with divine intervention.) Besson knew that black and white was the proper choice for his version of a romantic fairy tale. Part of that has to do with its characters — the angel (Rie Rasmussen) has wings that she can't show, so the film's velvety black and white renders her blonde hair a pure white, creating a contrast to the shorter Debbouze's darker complexion and black hair. Along with such effective visual contrasts, Besson (in his first black-and-white film since his debut, 1983's The Last Battle) uses the aesthetic for a softer depiction of Paris's mysterious romance, showing how beautiful the city can be, even when it's just a backdrop to their emotional conversations on a bridge. In the spirit of referential modern black-and-white movies, Angel-A is directly inspired by another parable about angels coming to Earth — Wim Wenders's 1987 Wings of Desire, which partly uses black and white. (Available to rent on Amazon.)
The Good German (2006)
Steven Soderbergh, that rabble-rouser. Sometimes he makes experimental movies that are anti-commercial (Bubble, Schizopolis), and sometimes he throws a big party with a bunch of famous faces and slick delights (the Ocean's trilogy). When he combines those interests, he gets movies like The Good German, a 1940s throwback noir that also tries to futz with the content restrictions of the era. It might look like Casablanca, but it's got real sex, cussing, and blood — the kind of stuff that Michael Curtiz's classics never would have gotten away with. With that interest in re-creating studio fare, Soderbergh goes hard-core into the period aesthetics, using specific lenses from the era and even minimal incandescent lighting that creates heavy shadows and makes the Soderbergh's expressionistic angles (working as his own cinematographer) all the more singular. (Available to rent on Amazon.)
Tetro (2009)
Tetro was an incredibly personal film for legendary director Francis Ford Coppola, even though he distanced himself from the notion that the tale of two estranged brothers in Buenos Aires is autobiographical. It was the first original script of his own (i.e., not an adaptation and without a co-writer) that he directed since The Conversation in 1974 and is a throwback to his black-and-white favorites like Rocco and His Brothers and Elia Kazan's On the Waterfront. Coppola recalls those monochrome classics with his own velvety black and white (with brief color flashbacks), thanks to cinematographer Mihai Malaimare Jr. For a director who has had some famously large production ordeals, his first black-and-white movie since 1983's Rumble Fish had the intimate set of an indie, or of a filmmaker going back to basics. Coppola has called Tetro "the second film of my second career," and his rejuvenation as a writer-director was no doubt inspired by playing with the monochrome palettes of the movies he grew up on. (Available to rent on Amazon.)
The White Ribbon (2009)
Michael Haneke is one of the lesser-known directors on this list but undoubtedly one of the most hard-core. Before his black-and-white period piece The White Ribbon, he mused on violent media images and dangerous repression in provocative films like Caché and Funny Games, pushing his viewers' buttons with slow pacing and Hitchcockian turns. So it was a big step when someone with an already stark sensibility finally decided to go full black and white with cinematographer Christian Berger. The White Ribbon focuses on the parochial nature of an Austrian village before World War I, in which parents lord over their increasingly troublesome children. Like the item of discipline that gives the film its name, the demand for innocence is a strangling force. Berger's cinematography reinforces that oppression, with sudden cuts to wheat fields that become blinding in lived-in black and white.
Across these modern-made black-and-white movies, The White Ribbon is an excellent example of a director's authorship informing a specific approach to an earlier period, and, in this case, it's a lot like Gary Ross's idea of a monochrome America in Pleasantville. Only in Haneke's film, there is no release that comes from a dash of color — or free thought. Instead, the film has an eerie lifelessness, with its young characters trapped in a horrific rigidity. In his own words, writer-director Haneke explains that he shot this film in black and white because "color would give it a false naturalism." (Available to rent on Amazon.)
Frances Ha (2012)
After years of being a household name for indie cinema, Marriage Story director Noah Baumbach made his first black-and-white movie, Frances Ha, in 2002, co-written by and starring Greta Gerwig. Gerwig as Frances is the ebullient center of this tale that captures a 20-something milling about New York malaise, finding direction in a city that can be emboldening as much as it is crushing. True to how modern black-and-white filmmaking works, Baumbach also embraced digital cameras for the first time and shot it in color, only to then convert it to black and white in postproduction (though he claimed that he never watched the shoot's color dailies). Frances Ha is free-spirited and energetic like the French New Wave films by Jean-Luc Godard and François Truffaut that inspired its existence, allowing streetlights and shadowy intimate moments of friendship take precedence. Black and white presents that very certain time of Frances's life as what it only feels like in hindsight: cinematic. (Available on the Criterion Channel.)
Much Ado About Nothing (2012)
The story goes that Joss Whedon was on a contractual break from working on Avengers movies and needed time to recharge. Instead of resting, however, Whedon shot his own take on Shakespeare's Much Ado About Nothing in 12 days, using his home and friends and capturing it all with the palette of black and white. Mixed with Whedon's approach to use modern clothes in a fairly faithful adaptation, it's an effective visual choice that makes you zero in on the Bard's prose, delivered by beloved members of the Whedon-verse like Amy Acker, Alexis Denisof, Nathan Fillion, Clark Gregg, and Riki Lindhome. Stripped bare, Whedon's Much Ado highlights the sense that sometimes Shakespeare can be a spiky, wordy bash. As cinematographer Jay Hunter's handheld camera gives us a first-person invite to the party, Whedon's embrace of black and white shows how the style can be an inspired mix of modern and classic sensibilities. (Available on HBO Max.)
Nebraska (2013)
A two-time Oscar-nominated director who sure loves a good road trip, Alexander Payne has provided viewers with colorful corners of America — think the sandals-ready images of Hawaii in The Descendants or the lush California vineyards in Sideways. But when it came to America's spacious Midwest, depicted with love in his 2013 film, Nebraska, black and white was Payne's choice. "It just seemed like the right thing to do for this film," he said at a press conference when the movie premiered at Cannes. With Payne describing it as "a visual style perhaps as austere as the lives of its people," the film expands that austerity to its locations, using a crisp, digital black and white to create a sense of time that has passed and also an endearing simplicity in the present moment. Will Forte and Bruce Dern are the center of this movie, as a father and son taking a road trip that also functions as a type of final journey for Dern's ailing patriarch. But the shots from cinematographer Phedon Papamichael that pass through these small towns are the true centerpiece. With no offense to Bob Nelson's script, you could easily enjoy this film on mute, as its observations of a quieter America pass by like black-and-white photographs in motion. (Available to rent on Amazon.)
The Whispering Star (2015)
There may be no greater example of the emotional, calming qualities black and white can lend to a filmmaker than the prolific Japanese master Sion Sono's existential and meditative The Whispering Star. Usually, his hyperactive films (Tag, Why Don't You Play in Hell?, the three-hour pervert opus Love Exposure) tend to play like punk-rock operas, replete with Japanese school girls and geysers of blood. But that's not the case with this 2015 film. Set in a version of the future where people mostly whisper and the apocalypse has come and gone, it tells the story of a robot who glides through a home in outer space, delivering packages to people on different planets. Filmed with a buttercream tint of black and white, the film is practically visual ASMR with its inhale, exhale pacing and expanse of space as the robot slowly walks around her ship. Black and white becomes the gorgeous impetus for the project (which mixes in a big dash of color, only briefly) and speaks to how working with such visual limitations can help even the most outrageous directors come back down to earth. (Available on DVD and Blu-ray at Amazon.)
The Party (2018)
Sometimes black and white is the just-right choice for a minimalist script. Say, a 71-minute dinner party that unfolds (mostly) in real time with actors sauntering in and out of rooms, their terse conversations crescendoing to chaos. Orlando and Yes director Sally Potter embraced the pared-down simplicity of monochrome with her excellent 2018 dark comedy, The Party (her only black-and-white film since her debut, The Gold Diggers), capturing her brilliant ensemble in various shadows of cool black and white from cinematographer Aleksei Rodionov. She has such excellent bodies and faces to cast in a suspicious but sleek light: Kristin Scott Thomas, Cillian Murphy, Patricia Clarkson, Emily Mortimer, and Bruno Ganz. They withhold secrets, they almost kill each other, and it becomes a night to remember — or one to forget. Call it traditional, or relatively modern, but black and white gives the playlike script a cinematic style and conveys the urgency of a face-to-face conversation. As Potter has put it herself, "Black and white is much more colorful from an emotional point of view." (Available to stream on Kanopy.)
Roma (2018)
No doubt proving to Netflix that black-and-white movies can have an audience, Alfonso Cuarón's Oscar winner is defined by its affection for the past, which comes through in how Cuarón (working as his own cinematographer) re-creates and shoots memories of his childhood growing up in Mexico. Telling the story of a nanny (Oscar nominee Yalitza Aparicio) who tends to the children of a wealthy family, the film gets an incredible texture from what Cuarón calls "a modern black and white" — a certain gloss that's not just friendly to high-def TVs at home but also gives the epic events that unfold an added sense of liveliness. Instead of going entirely classic like Mank, Roma embraces the crispness of black and white and takes full advantage of its freshness. The filmmaking style inspired Cuarón's meticulousness across its legendary 108-day shoot — clothes even had to be dyed an extra hue darker to get the contrast he desired — but it pays off beautifully, conveying the most personal chapters of his life with a cinematic grandiosity. (Available on Netflix.)