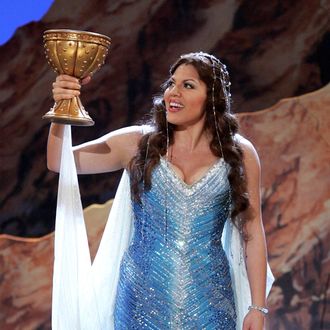 Sara Ramirez, 16 years BC (Before Che)
Photo: Frank Micelotta/Getty/Getty Images
Finding your grail can be a long process. It can begin in 2005 and perhaps finally happen in 2023. That's what everybody will be hoping for when Spamalot, a loose adaptation of Monty Python and the Holy Grail, makes its grand return to Broadway on November 16. The Kennedy Center production of Spamalot is coming to the St. James Theater this fall, with previews beginning on October 31. The last time this show was on the Great White Way, it began a butterfly effect that ultimately resulted in the existence of the iconic, legendary, intolerable but eminently watchable Che Diaz, so we cannot wait to see what delightful horrors will come about this time around. Josh Rhodes, who directed and choreographed the Kennedy Center production, is returning for Broadway.
"I'm thrilled to see Spamalot back on Broadway," Monty Python co-creator Eric Idle, who wrote the book and lyrics to the show and co-wrote the music with John Du Prez, said in a press release. "More than ever, it seems we need a good laugh and it's inspiring to see audiences still embracing this, the most happy of shows I have ever worked on. So put the News Cycle on Rinse Cycle and take a couple of hours to relax with the Lady of the Lake, King Arthur and the Knights Who Say Ni because we're not dead yet!" Cue the horns: The principal cast of Spamalot includes several of those from the Kennedy Center production, including James Monroe Iglehart as King Arthur, Jimmy Smagula as Sir Bedevere, Michael Urie as Sir Robin, Nik Walker as Sir Galahad, and Leslie Rodriguez Kritzer as the Lady of the Lake. Joining the court is Ariana Grande's reported new man, Ethan Slater, as the Historian and Prince Herbert. Sir Lancelot has been cast as SNL's Taran Killam from Halloween to January 7. However, a new — but also old — knight, Alex Brightman, will replace him beginning January 9. Brightman originated the role in the Kennedy Center run before the official revival. Good luck finding that grail.
This post has been updated.