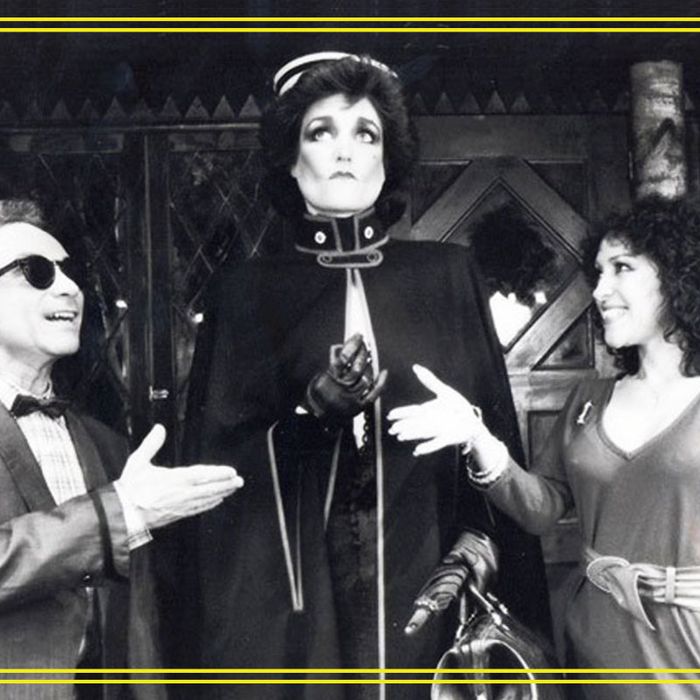 From
Moose Murders.
Photo-Illustration: Vulture and Gerry Goodstein
We should not still be talking about Moose Murders. That's the first thing Ricka Kanter Fisher, the play's associate producer, tells me when I ask about Broadway's most infamous flop. (Well, after she demands to know how I got her number.) Thirty-seven years have passed since it opened and closed at Broadway's Eugene O'Neill Theatre in the span of a single Tuesday night in 1983. This is not a singular badge of honor. Plenty of productions in theater history — as recently as 2008's Glory Days and way more from the decades when mounting a Broadway show did not require Disney-size budgets and carried a much better shot at a return on investment — have also met the same 24-hour doom.
Yet the Moose has come to stand for them all. "It was a long time ago, and I think that there are an infinite number of stories to pursue and research and interview and reminisce about. But I don't have any interest these many years later to talk about this show," Fisher told me as she declined, obviously, to comment on the fate of the Moose.
But we are still talking about Moose Murders. Its story is hard to resist: A young playwright's Broadway debut headlined by an aging Hollywood icon as she tries to return to relevance. A first-time no-name director who cast his wife with top billing. A vanity production backed by Texas oil money. Holland Taylor ex machina in a desperate attempt to save a ship both sinking and aflame. A critic who found himself seated behind a vomit-covered patron brought in off the street to paper the house. And then there's the name itself. Moose Murders. An alliterative and very literal title that all but ensured its place on the wall of shame at Joe Allen's. (In 2019, that theater-district restaurant introduced a cocktail, "The Murdered Moose," on the show's birthday. "A drink so bad you never wanted another," it was made with sambuca and lime juice and garnished with a pearl onion and a cherry. It's disgusting.) Moose Murders had what Springtime for Hitler wanted.
The show's writer, Arthur Bicknell, was riding high in the early 1980s. By the age of 30, he'd penned two Off Broadway productions: Masterpieces, about the lone Brontë brother, and another called My Great Dead Sister. (Bicknell calls them "successes"; New York's critic John Simon referred to the latter as "a flop" and also suggested that anybody who missed out on Moose Murders might go see the Brontë play, then running in a production at Ithaca College, to get a sense of it.)
"I was being courted by all kinds of people. My reviews likened me to Arthur Miller, Eugene O'Neill, Albert Innaurato," Bicknell said recently. "I was feeling my oats, so I just wrote this silly play. Actually, I remember where I wrote it, too. The guy who was going to be producing My Great Dead Sister Off Broadway gave me his office downtown. I felt very cool."
His goal for Moose Murders was to write a play about "people who are being funny and don't know it," he explains. Public-access television was the inspiration. "I'd been writing slice-of-life or historical dramas, but I wanted to do something that was not normal. All the weird characters that were on public access — and that ranged from Midnight Blue to crazy ladies who would sit at a desk with strange things and just talk." He opted to put them into a murder mystery, a popular genre onstage at the time. "I thought it would lend itself to farce, with all these stereotypical melodramatic characters who were being bad but didn't know it."
Bicknell also drew from childhood summers spent at his family's camp on Big Moose Lake in the Adirondacks. "I had grown up in love with the legends of the area and, of course, I'd read An American Tragedy 5,000 times. My father had actually dated — or so he claimed — Grace Brown," Bicknell says, referring to the real-life inspiration for Dreiser's novel. (The implausibility of that anecdote pervades Bicknell's account, both here and in his memoir, Moose Murdered: How I Learned to Stop Worrying and Love My Broadway Bomb. In his retellings — and in others, too — Moose Murders has become the theater's version of the fish caught by your grandfather that, over the decades, has grown to the size of Moby-Dick.)
My Great Dead Sister's director, Norman Rene, declined to take on Moose Murders, but he did hand the script to a college friend, John Roach, who had married a Texan oil heiress named Lillie Robertson. (Her grandfather was the oilman Hugh Roy Cullen, and in 2015 the family's net worth was estimated at $1.5 billion.) And just like that, they had a director. In a neat distillation of how this show was rotten from the start, Roach cast Robertson as one of the leads. He eventually billed her as "and Lillie Robertson" in the play's credits, a distinction certainly not befitting a virtual unknown. Roach "wanted to do something nice" for his wife, Bicknell writes. If there were any discussions of an out-of-town tryout, Bicknell doesn't remember them. "It was all so naïve, really," he said. "Just 'This is golden, and this is funny, and so all you need is money. Let's do as few previews as possible too — what have we got to lose?'"
The story they were working with goes something like this: The wealthy Holloway family — father Sidney, mother Hedda, and children Lauraine, Stinky, and Gay — purchases a great old lodge in the upstate woods. (Stinky, as he makes it very well known, wants to sleep with his mother.) Lauraine's husband, Nelson, and Sidney's caretaker, Nurse Dagmar, are also in tow. When they arrive — on a dark and stormy night, naturally — they find a nightclub-act duo, Snooks Keene and her blind husband, Howie, as well as the lodge's former caretaker, Joe Buffalo Dance, have yet to vacate the premises. (Buffalo has a baffling combination of appropriative face paint and an Irish accent.) Starting with Lauraine, characters are killed one by one, as the remaining cast members try to figure out who is picking them off and why. Ultimately, it turns out to be Hedda, who is in love with her now-dead daughter's husband, who was also pretending to be in love with Nurse Dagmar, who meets her end when Sidney rises from his coma to shoot her and then drops dead. Also, there's a moose that eats people.
Roach, according to Bicknell, loved the script. (He can't say for himself; he died in 2018.) "Everybody I showed the damn script to laughed and laughed and laughed," Bicknell said. "The mistake, of course, is to equate funny with good." With Roach came Fisher, his partner in a company called Force Ten Productions. It was — and ultimately would remain — relatively small. It had produced Paradise Alley, a 1978 film directed by and starring Sylvester Stallone, who was initially supposed to play a heavyweight prizefighter. (The company later settled a $30 million lawsuit claiming that the film was too similar to Rocky. Stallone's role was rewritten as a wrestling manager.) June Gable — a Tony nominee later known for playing Joey's agent, Estelle, on Friends — remembers mishearing when her agent called her up about auditioning for the show. "'Foreskin Productions? Is this a porno?'"
Bicknell hoped to cast Hollywood talent, but having a newbie like Roach as director made this difficult. Anne Meara, Bicknell writes in his memoir, refused him repeatedly. "Every time I brought it to her, she would try to tell me subtly that I was out of my mind," he said. She made a bit out of pretending not to remember John Roach's name whenever Bicknell spoke to her: "One of the ways that she would do it was by saying, 'What is his name again? Who is he again?'" In her final refusal, Bicknell claims, Meara told him to call her when his director was dead.
The team eventually set their sights on Eve Arden, the golden-age film actress known for Mildred Pierce, and the first attempts to cast her also failed. Bicknell and his then-partner Dennis Florzak paid a visit to Arden and her husband, Brooks West, in California. (Florzak would eventually appear in the show as Sidney Holloway, the quadriplegic vegetative patriarch who spends the entirety of the play silently seated in a wheelchair wrapped in full-body bandages.) "I thought we were going to be chatting and having tea and coffee and crumpets, But, no, on the tea tray was the script with a lot of Post-its," Bicknell said. Arden, who made an entrance from her garden with flowers in hand, had changes in mind. "She didn't like the line, 'I have more leather finery upstairs.' She didn't like that implication," Bicknell said. "But she did like the idea of leather pants."
Back in New York, auditions began. "To come to the Minskoff and see your name and your play, and next door have Anthony Newley working on the musical Chaplin and just hobnobbing!" Bicknell said. "The beginning was quite delightful. We were all under the impression that we just might have something here, because we were laughing so much." (Chaplin never opened and lost $4 million in the process.) Holland Taylor read for the Nazi-esque nurse, Dagmar, and didn't get the part.
Mary McTigue, an actress who read lines opposite the auditioners, including Taylor, remembers things a little less romantically. "I didn't have the opportunity to read the play before I was doing the reading," she says. "To speak the truth, I'm not even sure I ever read the play." (In his book, Bicknell says McTigue told him she "adored" the script. "I did my homework?" she says. "Good for me. For all I know, I was just complimenting the author.") June Gable, auditioning for the part of Snooks Keene, failed Vegas lounge singer, dressed for the role in a leopard halter top, pink hot pants, and gold heels. "I was pretty out-there in those days," Gable, who got the role, said. "I was very fearless." Joan Copeland, Arthur Miller's sister, tried out for the lead and refused to read opposite McTigue; when she did audition, Bicknell claims, she bit the casting director in the crotch. Anyway, it was for naught. Eve Arden had come around and agreed to star as Hedda.
The play, at least from early rehearsals, didn't seem doomed. The jokes landed. People laughed. Arden's very first table read, script in hand, was good, and she had star quality. "She had a lot of rules, I'll tell you. We were not to mention anything she'd done prior to Mildred Pierce. You could not mention that she was one of the Ziegfeld Follies girls," Bicknell says. "Her age was absolutely taboo." But the situation deteriorated quickly. Mara Hobel, a child actor fresh off playing Joan Crawford's daughter in Mommie Dearest, remembers that Arden struggled with her lines. (Hobel was cast as Gay Holloway, a never-not-tap-dancing brat who spends the show begging for a martini and is, in the final scene, given a poisoned one by her mother.) "I can't tell you how sweet and how kind and just polite she was," Hobel recalls. "When she entered a room or took the stage, she exuded professionalism. She struggled a little bit with memorization at that stage in her life. You could tell it was just getting a little bit more difficult for her."
Roach's inexperience did not help. "You had all these nutty people doing everything in the world to be funny, and they weren't funny," Bicknell said. "But if you've got ten people being outrageously funny at the same time without being coordinated and choreographed and directed, it's a mess. You don't know where to look." "With the cast of the whole production and the direction being so all over the place and everything, [Arden] really got lost," Gable said. "I knew [it was failing], but I was still clinging to the door — Rose's door [in Titanic] — and the people were sinking all around me," Bicknell said.
"I didn't think, 'Oh, this is going to be the biggest flop on Broadway,'" Kent Shelton, the play's stage-violence coordinator says. "I was a green kid out of acting school. I remember having to specifically work with the kid that had to be punched, the wrapped-up mummy in the wheelchair. I had to teach a guy to fall down the stairs." Hobel remembers accidentally doing so herself during a performance, when her tap-dancing routine went awry. Mary Jane Houdina recalls teaching Hobel tap routines, and she made June Gable's "Jeepers Creepers" lounge duet look as bad as it sounded (deliberately). The only unquestionably good element of the show — virtually everyone is in agreement here — was the Adirondack lodge set, complete with mounted moose heads, constructed by Marjorie Kellogg. She'd signed on after hearing that a friend, Pat Collins, would be doing the lighting. "Broadway was really a freelancer's business. I didn't know anything about the piece at that point," Kellogg says.
Even if everything else had worked, the Eve Arden problem likely would have doomed Moose Murders. "Eve never got any better at her lines. Ever. Ever," Bicknell says. "She was supposedly going home to the Wyndham every night [to run lines] — we even sent an understudy there, and the understudy came back and reported, 'Well, that just doesn't happen.'" Instead, Arden and her husband just drank away the evening, trying to unwind. "They should have sent Ricka," Bicknell says. "Ricka could have gotten that woman to learn her lines, if anybody could."
Gable is more forgiving. "It was very difficult for her," Gable says. "She was quite elderly at that time. It was her last attempt, I think, at relevance." (Gable later wrote a scathing tell-all for Esquire that she says Arden begged her not to publish. "I did have some guilt about that, but I just had to get it out of my system. It was like an exorcism.") During one rehearsal, Bicknell says Arden forgot her own character's last name. "I or the other actors would remember her lines and try the best we could to get her on track," Hobel says, describing it as "hard to watch." As the show hurtled toward its first performance, "I was rationalizing like crazy," Bicknell says. "I had my friends come in [to rehearsals], and my friends of course didn't know what to say to me."
On the night of the first preview, as Arden took the stage, the audience burst into applause. Then the show started. She lost her place. The real water raining down on the set to create a stormy Adirondack feel drowned out the actors' voices. The chase scenes' timing was off. The action was all over the place. "Plus," Bicknell admits, "the plot was impossible. I guess part of me had thought nobody is going to care about the plot as long as they're laughing. Guess again." In the show's final scene, Arden was meant to pour two poisoned cocktails — "To you, Gay dearest. My last remaining child. A very special vodka martini … with a twist!" — and toss her own over her shoulder instead of drinking it. Arden instead paused and slowly poured it out in front of her, in the line of sight of the daughter she was meant to be poisoning, rendering the whole scene incomprehensible.
That was Arden's only performance of Moose Murders. She "withdrew amicably due to artistic differences," the producers' statement said. (The Post went with the headline A STAR IS SHORN.) Previews were put on hold until a replacement could be found. Joan Copeland, the actress who allegedly bit the casting director, had quietly been invited to watch Arden's lone performance, with an eye toward getting her in as a backup. She reportedly snuck out of the theatre at midshow. Elaine Stritch also was on the short list. But Holland Taylor's reputation as a quick study won out.
"I was literally out of money," she says now. "I was signing a tab at Joe Allen's to eat. When that [Moose Murders] came along, it actually bailed me out." She'd just come off a three-month workshop of a play called Breakfast With Les and Bess that was about to start its run. "I don't think they can even run workshops that long anymore, because you're not paid," Taylor says. "I mean, I think I was paid carfare. I think it was $35 a week." Taylor had another gig lined up, so her contract on Moose Murders was written to let her pull out in a hurry just in case the show was an unexpected success. "The play was going to open and close very quickly, which everyone knew," Taylor says. "I did it knowing that I was going into Breakfast With Les and Bess right afterward. So I knew that would make me sane again."
Taylor's arrival temporarily recharged the cast. "She's just a powerhouse. She just took that role with two hands and dove right in," Hobel says. "I just remember rehearsals resuming very rapidly at that point. She was more professional, to the point, good at getting rehearsals done — not a warm-fuzzy grandma personality but lovely." Taylor was "immediately off book," a relief to the cast. "Even June Gable, who was the biggest cynic in the bunch of us, says, 'I think we might have a shot now,'" Bicknell says. "I remember there was a time when John … was giving Holland a complicated route to get from the fireplace to the other end of the stage, and after he finished all these directions, Holland just looked at him and says, 'John, I can move.' He realized he was still directing for Eve."
"I learned the part, rehearsed it, and went up in one week, which is pretty fast to play the lead in a play," Taylor says. "It was a lot of hard work, and it was very, very nervous-making. There was no question the production was very wrong-handed. It was a great big Broadway production, but there was no real understanding of how to make one really work. So I knew it was on its way out, on a jet." During one preview, after Taylor delivered the final laugh line — which was already "rather mediocre" — the lights failed to black out and the curtain stayed up. "I don't know whether it was the gods conspiring to humiliate us completely, or whether some stagehand had decided to punish us all for our folly," Taylor says. "The rest of the cast started scattering to the wings like rats from a sinking ship. And I put my hands out and screamed at them, 'Get back here.' We all had to line up and face our curtain call with bravery."
Hiring her had solved one problem, but that didn't do anything about the script. "I never could make anything of the play when I did finally read it," Taylor says. "I didn't know what it was, and the production certainly didn't know. Was it trying to be an Adirondacks mystery, a gay comedy, a black comedy?" She did try to correct some of the more concrete issues, like the inaudible actors. "I don't know where I had the temerity, but I remember saying to the director, "You know, it is a convention that you can use sound as an establishing feature but not throughout,'" Taylor recalls. "It's really insane to have speakers producing loud noise behind the set when you're trying to play a comedy. Because you're trying to listen to the audience, and here you have this sound coming from behind you and making that impossible." Bicknell claims in his memoir that Taylor came to the theater one day and said she'd had an idea while she was brushing her teeth: What if a moose appears at the end and eats the whole set and the cast? "I doubt very much that I said that," Taylor says dryly. "That would be a created–by–Arthur Bicknell memory."
Frank Rich, then the theater critic for the New York Times (and now a contributor at New York) remembers that he, out of habit, had tried not to listen to the gossip in advance of seeing Moose Murders. "The only thing I remember knowing about it — that you couldn't avoid — was it was supposed to be a comeback for Eve Arden, who was a beloved actress of my youth," Rich says. He, along with his friend the playwright Wendy Wasserstein, attended a press performance prior to opening night. Unfortunately for Moose Murders, Rich was seated near a man covered in his own vomit. "One thing that I remember, besides the smell, was how empty the house was. Usually with shows where even the management might know they're doomed, they fill it with supporters and they give out free tickets," Rich says. "I didn't know it at the time, but they couldn't even give tickets away by normal means. They were giving them out to whoever — mental patients or homeless people. That's how desperate they were." When the odor became too strong, Rich and Wasserstein moved to the back of the theater. There were plenty of seats there.
For opening night, the theater was flooded with flowers, a lot of which came from Robertson's father. Gable describes it like the winner's circle at a horse race. Bicknell thought they still had a shot. "To me, it went okay. For the first time, I'm sitting in the third row rather than the back. Holland is really good. Everybody is laughing, and we're having a good time. I'm thinking maybe, maybe, maybe, maybe," Bicknell says.
The audience felt otherwise. "I don't think there ever was a show in the history of Broadway where you took a bow to silence," Gable says. After the final line — this time the curtain did fall on cue — the cast and creative team headed to Sardi's to await the reviews. ("If there was a party, I would have blocked that out," Taylor says.) "If your name is Arthur Bicknell or anything like it, change it," Dennis Cunningham, critic for WCBS, said. Frank Rich opted for a mercy killing. "The 10 actors trapped in this enterprise, a minority of them of professional caliber, will not be singled out here. I'm tempted to upbraid the author, director, and producers of Moose Murders,' but surely the American Society for the Prevention of Cruelty to Animals will be after them soon enough." (His pan became so synonymous with the show that an early-aughts production of the play in the Philippines credited Rich rather than Bicknell as the playwright, the Times reports.) There was probably some critic fatigue when it came to the murder-mystery genre, too. Mara Hobel says her mother gently broke the news to her that it was now a good-bye party.
Bicknell claims, absurdly, that the three major critics who reviewed the play had conspired in advance to make sure they all dragged it equally. ("Quite the contrary," Rich says. "It would have been a firing offense at the Times and possibly the Daily News. Maybe not the Post.") The reviews were so bad they actually drew curiosity-seekers, according to Gable. "There were lines around the block for the second night. People were furious that it had closed," she says.
Part of the problem was that the muddled script and amateurish direction didn't convey that this was all supposed to be a send-up. "That was the problem," Gable recalls. Audiences and critics alike "forgot that I was playing a singer who was tone-deaf. They totally forgot everything about my prior career — I'd been nominated for a Tony for playing the Old Lady in Candide — because the show was so outrageously bad. None of this was clear to the audience. The fact that this bizarre script was actually out-there." Any ironic layering vanished: As Bicknell says ruefully, "Right down to the last person who saw it, it came out as, I'm bad and don't know it."
"The bane of drama reviewing is most stuff is in the middle. It's not great or terrible. You remember what's really great and what's really spectacularly bad," Rich says. "You couldn't have Moose Murders today. You can have big flops today, but it would have to be something involving enough substance so that the Shuberts and Jujamcyn would look at it in the first place, because they've got so many suitors for the houses." That is, perhaps, the secret ingredient to the play's infamy. A comedy of errors played out by, to quote Bicknell, "a bunch of horrible upstagers" in a moment in time where enough money and force of will — ten forces of will, in this case — could buy you a shot at Broadway, if only for a night. After the show closed, Taylor says, Eve Arden sent her "a really elegant little note that just said, 'Thanks for taking the heat.'" The fading star had commissioned custom stationery in which Arden's head, with antlers, was mounted on a hunting-trophy plaque.