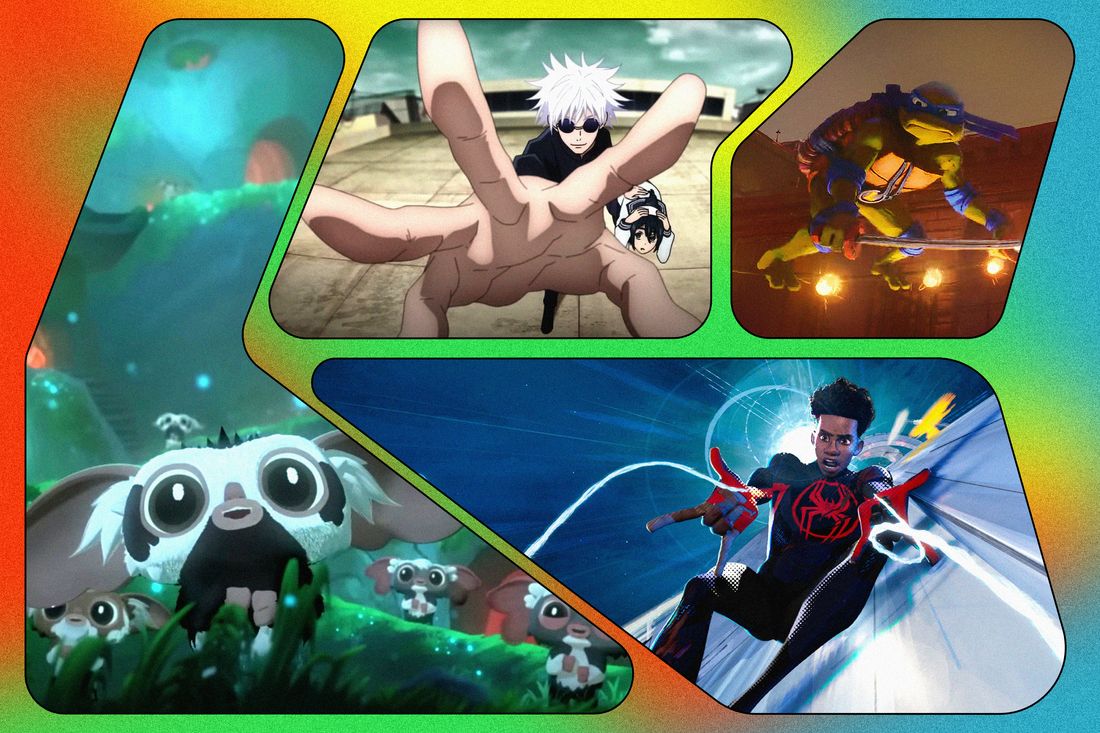 Photo-Illustration: Vulture; Photos: HBO, Paramount Pictures, Sony Pictures Releasing, TOHO Animation,
Several of 2022's best animated films, TV shows, and anime seemed to wait until the end of the year to drop, but that's not necessarily the case in 2023. This summer is packed with a range of highly anticipated drops: a TV revival of Clone High, a Pixar rom-com, more than one dark-fantasy anime series, and the return of the swingiest Spider-Man of all. And that's just a few we have dates for. We're also patiently awaiting U.S. release dates for director Hayao Miyazaki's return to the big screen and the triumphant debut of a film abandoned by Disney and scooped up by Netflix — both of which will premiere internationally this summer. Read up on all the brain-melting animation to come and prepare for a hot one.
May
Clone High (HBO Max/Max, May 23)
Before Phil Lord and Christopher Miller made The LEGO Movie, they made Clone High with Scrubs creator and Ted Lasso producer Bill Lawrence. The cult-classic comedy lasted barely a single season in 2002, but it has been revived for the Max streaming service with its cadre of clones defrosted after 20 years on ice. Clone High felt ahead of its time at the turn of the century, pulling off a tone that Vulture's Jesse David Fox described as "the precision of the Simpsons' best jokes with the shotgun madcappery of contemporary Adult Swim shows like Superjail!" Here's hoping the revival does the same and more.
Gremlins: Secrets of the Mogwai (HBO Max/Max, May 23)
The Gremlins films may be live-action, puppeteered classics, but this new animated series renders the creatures in vibrant, smooth-edged CGI to showcase the origins of Gizmo, the movies' little Mogwai hero. Its art style is vivid, built on painted backgrounds and computer-modeled characters, and the show takes place in 1920s China. We're not sure how Gizmo knows his name is Gizmo in the trailer since he was given that name in the first Gremlins movie and this is supposed to be a prequel. Maybe don't think too hard about it.
June
Spider-Man: Across the Spider-Verse (Theaters, June 2)
Miles Morales returns! The most anticipated animated sequel of the past several years, Spider-Man: Across the Spider-Verse promises to be as visually striking and emotionally heartfelt as the first Spider-Verse film. It will also showcase a lot more Spider-Men — watch the trailer to see them do the meme — including Oscar Isaac as the film's antagonist. We especially look forward to the post-release scene breakdowns from the animators.
Elemental (Theaters, June 16)
For their latest film, Disney and Pixar go back to basics: Moonstruck meets the ancient Greek study of matter. Elemental is a rom-com set in a world inhabited by four cultures — fire, water, earth, and air. The elements can't mix, so of course, the action begins when Ember, a flame, and Wade, a tall glob of water, meet and fall for each other. Conceived and directed by Pixar vet Peter Sohn, the film looks visually breathtaking and full of creative possibilities, from the way Wade creates rainbows to how Ember changes colors when she dances on different minerals.
Black Clover: Sword of the Wizard King (Netflix, June 16)
This anime film is a stand-alone chapter of the long-running Black Clover franchise about a boy who aspires to be the Wizard King of a realm called the Clover Kingdom. It has been two years since the TV show's fourth season ended in the middle of an ongoing arc, which the original manga has since continued. We don't know much about this film beyond what has been shown in the flashy, action-packed trailer: Black Clover's hero, Asta, will have to face down four Wizard Kings of the past in an original story set in the same world. Manga creator Yūki Tabata supervised the film and has said it doesn't touch the manga material (so patient fans shouldn't expect it to pick up any of the existing story), but he did say the film is canonical.
Nimona (Netflix, June 30)
Ruby Gillman, Teenage Kraken (Theaters, June 30)
High school is the time when we figure out who we are, even if who we are happens to be a sea monster. That's Ruby Gilman, Teenage Kraken's story, a coming-of-age tale from DreamWorks Animation about a young girl (voiced by Lana Condor) who's desperate to be cool, or just normal, and learns in a shockingly public way that she's anything but. Ruby is pitted against the popular girl at school — a mermaid, a natural nemesis of the krakens — and has to engage in kaiju-size combat, not only for her journey of self-discovery but to save her community from destruction.
July
Jujutsu Kaisen, season two (Crunchyroll, July 6)
This Troy Quane and Nick Bruno–directed adaptation of Nimona, the acclaimed webcomic by ND Stevenson, has traveled a long road — from years in production at Blue Sky Studios to cancellation after new owner Disney reportedly pushed back on its LGBTQ+ subject matter. Two years later, the film has been revived by Annapurna Pictures with animation by DNEG. Stevenson's story of a shape-shifter who tries to overthrow a repressive entity known as the Institution is finally due to hit Netflix at the end of June, after a world premiere at the French animation festival Annecy earlier that month.
The megapopular Jujutsu Kaisen — an anime known for its dynamic action sequences and grisly monster design — asks, What if high school but for demon-slaying sorcerers? Though season one focused on a class of teen heroes in the present waging war against the demonic Cursed Spirits, season two will turn back time to 2006, adapting a flashback arc of creator Gege Akutami's original manga before returning to current events. We won't spoil it, but the protagonist this time around is fan-favorite sorcerer Gojo, a teenager who grows into a mentor to the show's present-day heroes.
Praise Petey (Freeform, July 21)
If you had to join a cult, you could do worse than to follow Schitt's Creek's delightfully funny Annie Murphy (in her second voice role of the summer, after playing Ruby Gillman's villain). We don't know much yet about Freeform's first original animated series, but John Cho and Christine Baranski will join Murphy in the cast, and the show has an intriguing creative pedigree: It was conceived by former Girls5eva and SNL scribe Anna Drezen, produced by Mike Judge (Beavis and Butt-Head) and Greg Daniels (King of the Hill), and animated by acclaimed studio ShadowMachine (Guillermo del Toro's Pinocchio, BoJack Horseman). Murphy plays Petey, a socialite down on her luck who has to move back home and take over her dad's cult — to "modernize" it.
August
Teenage Mutant Ninja Turtles: Mutant Mayhem (Theaters, August 4)
You would be forgiven for letting all the various TMNT adaptations blend together in your mind over the years, but hopefully, this one will stand out. For one thing, Mutant Mayhem is the first adaptation to have actual teenagers voicing Leo, Donnie, Mikey, and Raph — something writer-producer Seth Rogen was adamant about capturing in the turtles' behavior, speech patterns, and team dynamic. The animation, clearly inspired by Spider-Man: Into the Spider-Verse, looks stunning: It's a gritty, jittery, and nonetheless beautiful, welcoming vision of nighttime New York.
TBD
How Do You Live? (Theaters, summer 2023)
The king returns this summer — at least in Japan. How Do You Live? promises to be legendary anime director Hayao Miyazaki's (latest) swan song, a film he has been working on since before the pandemic. It will debut on July 14 in his home country, and no international dates have been announced yet. Details are sparse, but Studio Ghibli has described it as a "big, fantastical film" inspired by the titular 1937 novel, which Miyazaki grew up reading and which plays some role in the protagonist's life. In the meantime, whet your appetites with one of the many Ghibli films available to stream.