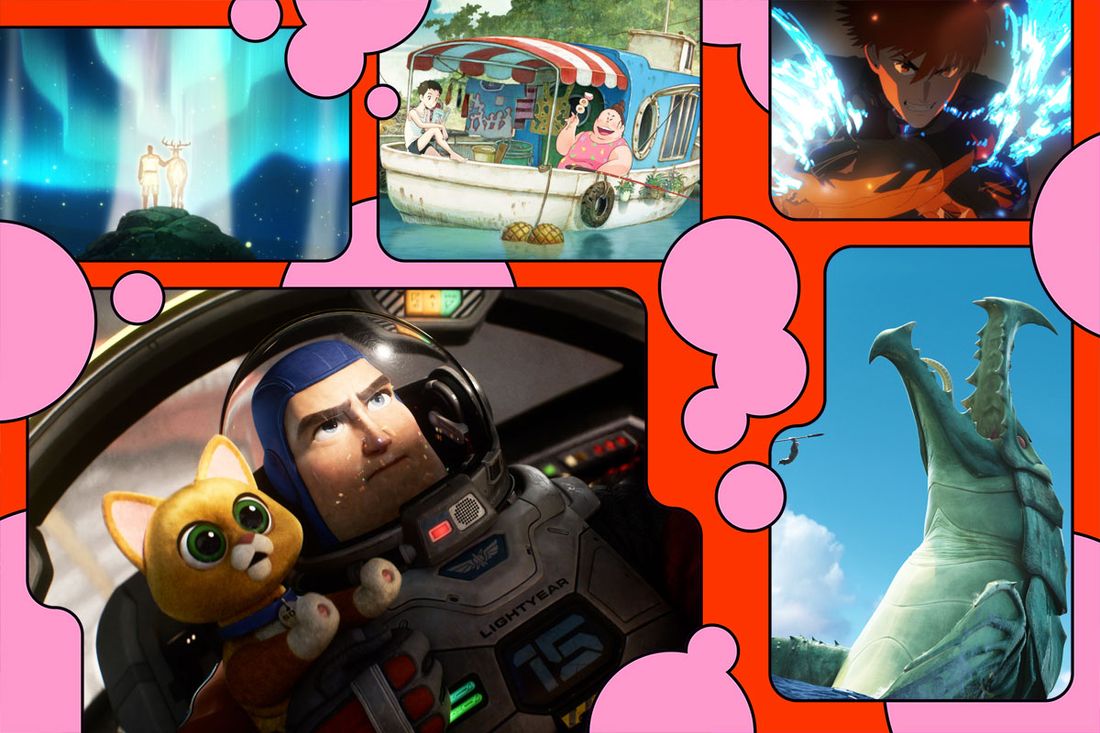 Photo-Illustration: Vulture; Photos by Pixar, GKIDS and Netflix
If 2021's best animated movies and TV series were largely creator-driven spectacles and screwball manipulations of the art form, the most exciting titles of 2022 are crowd-pleasers. Summer brings us the long-awaited film from the Bob's Burgers team, the lushly rendered anime The Deer King from a pair of Studio Ghibli veterans, and the Toy Story spinoff Lightyear. Later in 2022, we can look forward to an adaptation of the acclaimed manga Uzumaki and a stop-motion take on Pinocchio. We also know from experience that whatever this list looks like now, our end-of-year picks will probably take a much different shape — full of out-of-nowhere hits no one could have anticipated. That's probably still the most exciting takeaway of all.
The Bob's Burgers Movie (in theaters, May 27)
After 238 episodes, Bob's Burgers remains as charmingly light on its feet as ever. With two years of COVID-related delays behind us, the animated sitcom's first feature film lands on Memorial Day weekend, the ideal time for burger flipping and snorting at the rude jokes your little sister makes. It's a quadruple-patty version of a Bob's Burgers episode — adding fluid, movie-budget animation and extra touches of character shading to a familiar premise: The Belchers have to survive capitalism and save their restaurant. The series cast members are all back in their respective roles, with creator Loren Bouchard directing alongside Bernard Derriman and writing with Nora Smith. Bouchard also said this in the long buildup to the release: "It has to fill every inch of the screen with the colors and the sounds and the ever so slightly greasy texture of the world of Bob's." Be sure to get nachos before it starts. —Eric Vilas-Boas
South Park: The Streaming Wars (Paramount+, June 1)
They're going down to South Park again, with the third of a planned 14 (yes, 14) streaming "television movie events" set to hit Paramount+ on the first of June. The special's plot is anyone's guess at this point — besides the vague promise of a conflict between the perpetually appalling Cartman and his mother, Liane, plus a title to make the PR department at Netflix nervous. But if you're the kind of person who's still excited about more South Park in this, its 25th year of existence, that's probably a good thing. —J.H.M.
Fortune Favors Lady Nikuko (in theaters, June 3)
Longtime Doraemon director Ayumu Watanabe, who had a modest, charming hit with Komi Can't Communicate on Netflix last year, follows up 2019's Children of the Sea with his latest film, a dramedy about an introspective middle-school girl's relationship with her spitfire mother. It looks to have a bit of a Ghibli shine to it, with light magical realism, nature-touched environs, and at least one blatant Totoro visual nod. GKIDS has swiftly become one of the major purveyors of anime films Stateside, and this is one of two to check out that the company will be bringing to theaters this summer. —J.H.M.
Lightyear (in theaters, June 17)
To infinite repurposing of IP, and beyond! Snark aside, Pixar's long-awaited Toy Story spinoff film charting the origins of astronaut Buzz Lightyear — "the hero who inspired the toy," mind you, not the sentient action figure of the original film series — is sure to be one of the summer's biggest animated blockbusters. After reversing course on some disturbing censorship decisions, Disney is full steam ahead with the film, which seems destined to bring a little bit of that ever-lucrative Marvel feel to the Toy Story Cinematic Universe. —J.H.M.
Spriggan (Netflix, June 18)
Hiroshi Takashige and Ryōji Minagawa's long-running shōnen manga gets the Netflix anime treatment. The vibe is Indiana Jones meets Agents of S.H.I.E.L.D. with a technopunk twist, with secret organizations scrapping over the possession of ancient, out-of-place artifacts. The trailer is basically one big shoot-out. Expect an early-summer adrenaline rush. —J.H.M.
The Sea Beast (Netflix, July 8)
Animation veteran Chris Williams, co-director of Bolt, Big Hero 6, and Moana, jumps ship from Disney and boards the Netflix whaler for The Sea Beast, his first solo directorial outing. It's one of Netflix's biggest animated film titles for the year, an all-ages CG action-adventure following a weathered maritime monster hunter and a surprising young stowaway in their search for the leviathans that haunt uncharted waters. —J.H.M.
The Deer King (in theaters, July 13)
This fantasy epic, the second of two big GKIDS summer releases, brings together two veteran Japanese animators: Masashi Ando, in his directorial debut, and Masayuki Miyaji, back in the director's seat for the first time since 2012. Both are Studio Ghibli veterans, but Ando's CV is particularly impressive. His mentor, the late Yoshifumi Kondō, was once tapped as Isao Takahata's successor, and the younger animator has more than ably carried on Kondō's legacy; Ando has been a key animator, character designer, and/or animation director for practically every great anime director of our time, from Mamoru Oshii and Satoshi Kon to Hideaki Anno and Makoto Shinkai. The Princess Mononoke vibes of the trailer are promising, especially since Ando, avec Kondō, designed the characters for that movie in addition to serving as its chief animation director. —J.H.M.
Yurei Deco (Crunchyroll, July TBA)
Veteran animator Tomohisa Shimoyama, who has worked on big-name anime projects including Masaaki Yuasa's film The Night Is Short, Walk On Girl and the series Devilman Crybaby, joins forces with storied screenwriter Dai Satō, who has penned scripts for some of the biggest anime series of all time, including Cowboy Bebop and Ghost in the Shell: Stand Alone Complex. Not much is known about this forthcoming series, but if a trailer released this spring is any indication, viewers can expect it to be beautiful, all lush color palettes and hyperstylized characters, with a thematic focus on a virtual world that seems to bear some similarities to U, the metaverse setting at the center of Mamoru Hosoda's Belle, one of last year's best animated outings. —J.H.M.
Ladybug & Cat Noir Awakening (in theaters, August 3)
Fans of the French animated series Miraculous: Tales of Ladybug & Cat Noir have reason to rejoice, as the saga of the magical Parisian teen super-duo will continue. Directed by series producer and composer Jeremy Zag, Ladybug & Cat Noir Awakening is billed as a romantic musical comedy, and Zag has described it as an origin story for the universe the heroes inhabit as well as "the end of the fifth season." A couple of things to note: Miraculous has just wrapped its fourth season, and series creator Thomas Astruc apparently isn't involved in the production — which may strike some fans as odd for an origin story. Still, we're eager to see what Zag puts out. —E.V.B.
Luck (Apple TV+, August 5)
The latest film from Skydance Animation is also the big CG-animated blockbuster for Apple TV+ this summer, and it comes to the small screen with appropriately big names in its voice cast — Jane Fonda and Whoopi Goldberg included. Directed by Peggy Holmes, who has helmed a number of Disney's direct-to-video animated films over the past decade and change, the film follows Sam Greenfield, "the unluckiest person in the world," who finds herself transported into another world, the Land of Luck, and must learn from its various magical inhabitants how to get some luck of her own. —J.H.M.
Inu-Oh (in theaters, August 12)
Masaaki Yuasa, arguably the most visually inventive anime director of the 21st century, returns to the silver screen for the first time since 2019's Ride Your Wave with Inu-Oh, a tale of disfigurement, disability, creativity, and camaraderie. Yuasa's first musical, based on a book by Hideo Furukawa, has a ring of Samurai Champloo to it, swapping the Edo period for the early Muromachi period (14th century) and hip-hop for glam rock. The film hit the festival circuit last fall but will be distributed in the U.S. by GKIDS this year. —J.H.M.
Lucy's School (Apple TV+, August 12)
The efforts Apple TV+ has made to reanimate the Peanuts gang got off to a good start last year with The Snoopy Show, which debuts another slate of episodes this August — but that's not the only Charlieverse (everything's a -verse now, get over it) entry on the late-summer menu. A new special starring Lucy van Pelt, due out just a week after the return of Snoopy, seems ready to pick up what that show was putting down, bringing another iconic character from the comics of Charles M. Schulz into the limelight. —J.H.M.
Little Demon (FXX/Hulu, August 25)
And you thought Luck had a star-studded cast: Danny DeVito, Lucy DeVito, and Aubrey Plaza round out the main voice cast for this animated comedy series executive-produced by Rick and Morty co-creator Dan Harmon. The elder DeVito will play, appropriately, his real-world daughter's father, but with a twist. Danny voices the Devil, literally, with Lucy as his Antichrist daughter, Chrissy, and Plaza a bedeviled mother just trying to raise her daughter in Delaware without all hell breaking loose. (There's definitely a hell-raiser joke to make here, but let's quit while we're ahead.) And just in case the main cast isn't enough of a draw, guest stars include the likes of Mel Brooks, Arnold Schwarzenegger, and Rhea Perlman — who is Lucy DeVito's actual mother, in case you didn't know. —J.H.M.
Coming later in 2022
Uzumaki (October)
This four-episode adaptation of Junji Ito's lauded horror manga looks fittingly hypnotic based on the clips released so far. Directed by Hiroshi Nagahama (his anime Mushi-Shi remains a master class in mythic storytelling), it's an unusual co-production by Japanese animation house Production I.G and Adult Swim, and it promises to be the first of several major upcoming international collaborations as Adult Swim strengthens its ties with anime studios. Kicking that off with an animated rendering of a series this eerie and surreal is a flex. —E.V.B.
Kayara (in theaters, December 1)
With sweeping Andean mountainscapes of the Inca Trail and a cuy — an adorable Peruvian guinea pig — featured in the trailer, Kayara already promises to be a visually stunning 3-D CGI coming-of-age story. At its center is a teenage Incan girl training to become the first woman chasqui, one of the ridge-running messengers of the Incan Empire. In the film, directed by César Zelada, Kayara will encounter Spanish conquistadors, fight for her people's survival, and attempt at least one gender swap as she tries to prove her mettle to the haters. It'll be produced by Tunche Films, the maker of Ainbo: Spirit of the Amazon, which also stars a plucky heroine trying to protect her home: the rainforest. —E.V.B.
Pinocchio (Netflix, December)
Yes, Disney is remaking one of the most historically significant works of animation of all time, but who's surprised? More surprising is that there are two new Pinocchio films this year, and the one helmed by Who Framed Roger Rabbit director Robert Zemeckis (to be streamed on Disney+) isn't the fully animated one. That would be Netflix's take on Carlo Collodi's classic tale, a stop-motion endeavor by Guillermo del Toro. Both films have absurd casts, but del Toro's has the advantage of (1) being animated (and therefore intrinsically superior), (2) the involvement of the Jim Henson Company, and (3) Over the Garden Wall creator Patrick McHale's hand in writing the script. —J.H.M.