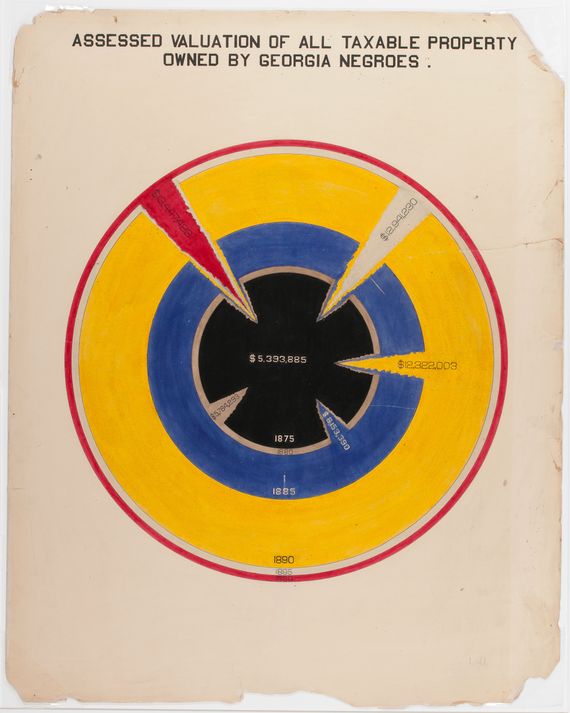 Every season in art is cause for hope. Amidst a culture that often seems torn asunder, art does what it has done since the beginning: It explores consciousness in ways that are clarifying and unexpected — like thunder struggling to be heard through a storm. The hum of this fall is thrilling, with revelations of graphic masterpieces by W.E.B. Du Bois and 19th-century ceramics from South Carolina to the reappearance of the great painters Matthew Ritchie and Beatriz Milhazes. The beloved NY Art Book Fair is back in the belly of the Chelsea beast, while the best photographer of the last 40 years, Wolfgang Tillmans, has a career retrospective at MoMA. Let the doomsayers of our time disperse as we make our ways through these fields of promise, horror, and beauty.
Deconstructing Power: W.E.B. Du Bois at the 1900 World's Fair
Cooper Hewitt (opens December 9)
At the center of this not-to-be-missed show are 20 charts, diagrams, statistical grids, and data visualizations that Du Bois and a handful of assistants made for the 1900 Paris World's Fair's "Exhibit of American Negroes." These works are what we might call infographics today, but back then they remapped the way people saw the Black population in this country. Examining migration patterns, literacy and mortality rates of Black people, urban and rural population growth, the occupations of Blacks and whites, increases in the number of Black students and educators, and "the condition of the descendants of former African slaves," these glyphs allow us to enter the kingdom of systemic American racism, enforced by rope, fire, and legalized barbarism. They are also genuinely beautiful, featuring odd geometries, striated pyramids, and spirals, all prismatically colored. They are made on poster board from the turn of the last century — in graphite, gouache, ink, watercolor, and letterset — and so are incredibly fragile. This is one of the first times they've been exhibited outside the Library of Congress, where they resurfaced through scholarly projects in recent decades.
This show reveals that Du Bois, the first Black person to receive a Ph.D. at Harvard and a co-founder of the NAACP, was not only a great American writer and historian but also a visionary artist. His images, completed when he was just 32, are among the very first works of modern abstract art made in the U.S., preceding by years the forays of Georgia O'Keeffe, Arthur Dove, John Marin, Manierre Dawson, and others. In the way that Hilma af Klint's abstract images — made in Sweden around the same time — chart higher powers, Du Bois's work charts power here on Earth. It deserves to be on permanent view.
Hear Me Now: The Black Potters of Old Edgefield, South Carolina
Metropolitan Museum of Art (opens September 9)
Of the many neglected art histories finally being told by institutions and galleries, the work of Black potters in the 19th-century American South is among the most deserving. Witness visionary genius of form and material, imagination expressed in clay.
Matthew Ritchie
James Cohan (opens September 10)
With his biomorphic paintings on canvas, his molecular structures, and his use of real and extrapolated beings, as well as a brand-new monumental sculpture and filmic installation, Ritchie continues his amazing world-building on the outer banks of art.
Wolfgang Tillmans: To look without fear
MoMA (opens September 12)
This will be the largest retrospective of the brilliant German-born photographer. Starting in the late 1980s, this wizard has seemed to reinvent portraiture, landscape, still life, cameraless abstraction, and much else. Tillmans may be the most important photographer of the late 20th century. He is certainly one of the most dear.
Beatriz Milhazes: Mistura Sagrada
Pace (opens September 16)
The overflowing, jungle-colored paintings of this artist give the eye fits of euphoria. Setting aside doctrinaire ideas of abstraction, Milhazes instead finds inspiration in the Brazilian Antropofagia movement. Bodies turn into organic forms and landscapes blend with bodies, until the whole thing becomes voluptuous and seductive.
Morris Hirshfield Rediscovered
American Folk Art Museum (opens September 23)
Hirshfield, an immigrant from Poland who worked as a tailor, didn't take up painting until he was 65. He is the Henri Rousseau of American "outsider" art, a self-taught optical shaman. When Hirshfield garnered a MoMA retrospective in 1943, it was a factor in the demotion of the museum's legendary director, Alfred Barr. Almost 80 years on, Hirshfield's wild figurations — cats that look like dragons, women who resemble floating saints — glow with inner life.
NY Art Book Fair
548 W. 22nd St (October 13–16)
Hear ye, hear ye: All hail the return of Printed Matter's blast-and-a-half event to its original location, the former Dia building in the heart of Chelsea. If you love books and the people who make them, the fair is a carnival and a celebration of this wonderful culture. Bring your tote bag.
Theaster Gates: Young Lords and Their Traces
New Museum (opens November 10)
The New Museum is a gift that keeps giving. On the heels of its smash-hit Robert Colescott exhibition comes the first American museum show for the Chicago-based artist Gates, whose huge tar-covered paintings, crudely shaped ceramics, big architectural constructions, and singing performances evoke the idea of homespun community labor. The processes he uses feel ancient, overlooked, and based in ritual, summoning the ghosts of slavery.
Laurie Simmons: Color Pictures/Deep Photos
56 Henry (opens November 10)
I have known Simmons for over 40 years and have always loved her gorgeously constructed color photographs of dolls, dollhouses, mannequins, her kids, their friends, and much else. This little-seen work from 2007 to 2009 features women who conjure depths of love and moodiness, inner sinners and saints.
Jimmy DeSana: Submission
Brooklyn Museum (opens November 11)
Starting in the 1980s, an entire generation of artists was taken from us too early by AIDS — including DeSana, who died as a result of the disease in 1990 at age 40. By then, he'd already fashioned a mature oeuvre of eerily colored, surreal photographs of bodies with odd geometric appendages. They were like creatures from Bruegel: wrapped like mummies, misshapen and Cronenbergian. Any history of photography of the late 20th century should include this artist.