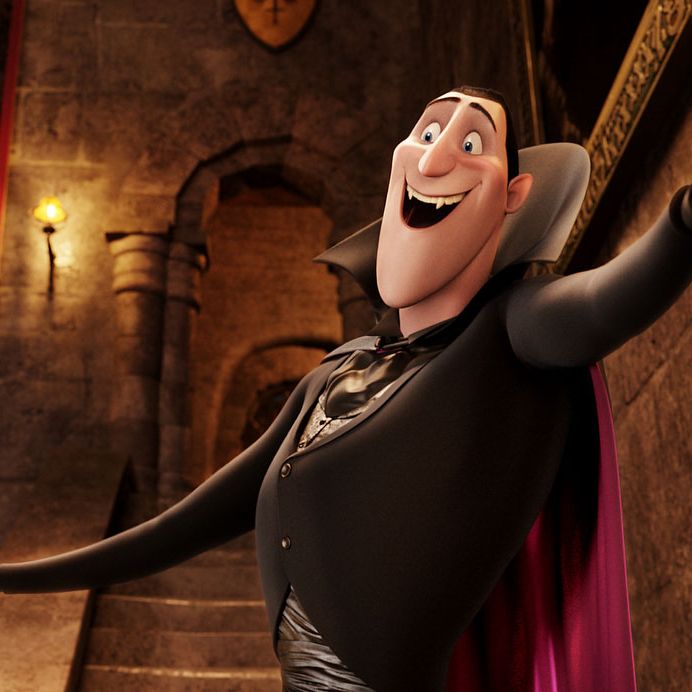 Photo: Courtesy of Sony Pictures Animation
The pleasantly disposable animated flick Hotel Transylvania, which gathers all the monsters in the world under one roof, is better than it should be, if not quite as good as it could be. Directed by the Russian animator Genndy Tartakovsky, who has a bit of a following thanks to TV shows like Samurai Jack and Star Wars: The Clone Wars, the slight, simple tale has sharp, speedy animation that keeps its mostly uninspired plot moving along. But it's also got enough belly-laughs to keep us entertained — even if they are basically the same joke repeated ad infinitum.
The film imagines Dracula (voiced by Adam Sandler, whose vampire voice has a faint echo of his Opera Man character from his SNL days) as an overprotective single dad, eager to give his young daughter Mavis (voiced by Selena Gomez) a proper upbringing away from the world of wicked and intolerant humans. (When he reads her a spooky bedtime book, it's about people, not monsters.) In between teaching her the basics of being a monster — she has to put on a helmet for her first attempt at becoming a bat — he builds Hotel Transylvania, a magnificent castle situated inside a vast, spacious resort where all the monsters in creation can come to relax without having to worry about pitchforks and bonfires and angry mobs. (The hotel is worked by a staff of zombies, witches in maid costumes, and mouthy shrunken heads.)
The idea though is not just to please his fellow monsters, but to shelter Mavis. When, on her 118th birthday (ha ha), she asks to see the world, Drac reluctantly lets his newly independent daughter go as far as a nearby town — which turns out to be a Potemkin village he's built himself, filling it with zombies dressed as humans to scare her off and make her determined to stay home. It works for now, but we know it can't last: Sure enough, into the hotel waltzes Jonathan (Andy Samberg), a daft, adventurous, and annoying young backpacker who's been everywhere and who instantly charms the daydreaming Mavis with his tales of the world. Knowing that the presence of a human will drive the other monsters away in fear (they're terrified of us, you see), Drac tries to get Jonathan to pose as Frankenstein's cousin, Jonathan Stein. It's to the film's credit that Jonathan, despite being something of a romantic lead, is essentially a doofus, oblivious to the world around him half the time and almost always on the verge of doing exactly the wrong thing. (He also says things like, "That cape thing is killing it!" to Drac when they first meet.)
The what's-down-is-up humor and premise here will remind you occasionally of Monsters, Inc., but without the endless invention and spiraling wit that the visionaries over at Pixar brought to that film. No, it's all strictly one-note stuff. But it's a funny note, and the film has a grand old time giving us the same type of gag over and over again. The Hydra's heads quarrel with one another. The Invisible Man tries to play charades and all anyone can see are his glasses. The Fly keeps nonchalantly vomiting. Lounging in the hotel sauna, the Blob takes little pieces of itself and tosses them on the coals to make steam. The most edgy thing here occurs during a climactic hearse chase, when a werewolf clears a road full of sheep by eating all of them — much to the horror of his fellow monster passengers. Hey, I laughed.