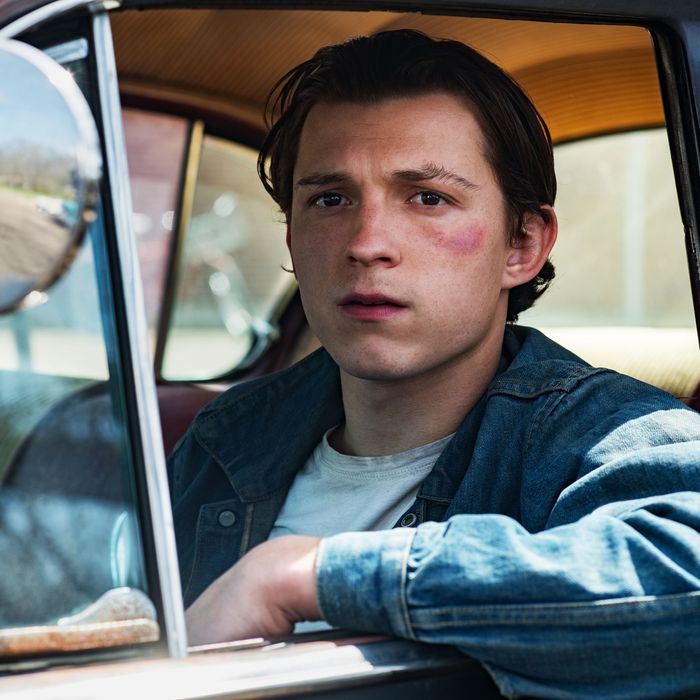 Choose Your Own Adventure
, but for generational trauma.
Photo: Glen Wilson/Netflix
Emphasis on all, I guess. Antonio Campos's The Devil All the Time, adapted from the novel by Donald Ray Pollock, is such a relentless and ornate syllabus of cruelty and misery that you might find yourself wondering if it's partly a game: Choose Your Own Adventure, but for generational trauma.
Consider: It starts off with Willard Russell (Bill Skarsgård) on the Japanese front in WWII, coming upon the nightmarish sight of an American officer who's been scalped and crucified on the battlefield. Before Willard returns home to West Virginia, he stops off at a diner in small-town Ohio (carrying with him the pistol with which, he claims with a smirk, Hitler took his own life) and meets two lovely young waitresses: Charlotte (Haley Bennett) and Sandy (Riley Keough). He falls for Charlotte, whom he will one day marry. Sandy makes eyes at him, but then the waitresses switch spots and Sandy winds up running into Carl Henderson (Jason Clarke), whom she will marry; together, they will drive through the countryside picking up strangers, forcing them to have sex with Sandy on-camera and then murdering them. Meanwhile, Willard and Charlotte start a family, she gets terminal cancer, and he, in a religious daze, sacrifices the family dog in an effort to convince God to spare her. She dies anyway, and then he takes his own life, and their already troubled son, Arvin (played as a young adult by Tom Holland), is sent to live with his grandparents, who have also taken in Lenora Laferty (soon to be played by Eliza Scanlen), whose own parents went missing after her crazed preacher father, Roy (Harry Melling), convinced that God and a spider bite had given him the power of resurrection, stabbed his wife, Helen (Mia Wasikowska), in the neck and then, uh, failed to bring her back to life. (What happened to Roy after that? Well, he ran into Carl and Sandy.)
Got all that? This is, what, the first third of this 138-minute film? The litany of awfulness is surely not entirely pointless or even really a miscalculation. Evil is a poison that seeps into everyone's lives here to varying degrees, be it through pious zeal or perversion or (in the case of Robert Pattinson's dandyish Reverend Preston Teagardin, who shows up just in time to send things spiraling in even more unfortunate directions) both. Nobody is spared from the endless vortex of brutality and lunacy, and, of course, neither is the audience.
And yet we feel nothing. For all the depravity on display, there's a coolness to Campos's direction and a dutiful quality to his storytelling, perhaps because he's got so much plot to gallop through and so many characters to torture. But he knows his way around actors, and the performances almost get us there. The cast is largely foreign — Brits and Swedes and Aussies doing accents — but there's a delicacy to their portrayals of these lost, corrupted, backwoods souls, from Skarsgård's emotionally wounded veteran to Clarke's psychologically gnarled serial killer. The best of the bunch is Holland (the closest thing the film has to a protagonist), who lets innocence and rage dance on the volatile young Arvin's face in equal measure — eyes watchful, mouth pursed — which makes some sense, as he is the one character with a chance to break the cycle of violence, even as he also seems well poised to perpetuate it. (Campos has always been a masterful director of actors: His marvelous first feature, Afterschool, introduced us to a young Ezra Miller; his second, Simon Killer, featured two stunning lead turns from future filmmakers Brady Corbet and Mati Diop.)
So the problem with The Devil All the Time isn't a lack of competence or even really vision. Perhaps it might have breathed had we been given the chance to lose ourselves a little in this world and its rituals, instead of rushing through it. Snippets of narration, read by author Pollock himself (who is actually from the evocatively named town of Knockemstiff, Ohio, where much of the film takes place), attempt to give the proceedings the quality of a mournful and baroque yarn, but they're not enough, and the picture never really coheres as a tale; it feels more like a checklist. Might the sadism have been mitigated — or made, well, interesting — if there was more to this universe? Some sense of atmosphere, or grace, or joy? Southern Gothic promises immersion and dreamy indulgence, but The Devil All the Time is an antiseptic slog, too streamlined to make us care and too literal-minded to pull us in. We never really get to know any of these characters aside from their villainy and/or victimhood. They're paper fish in a cardboard barrel.