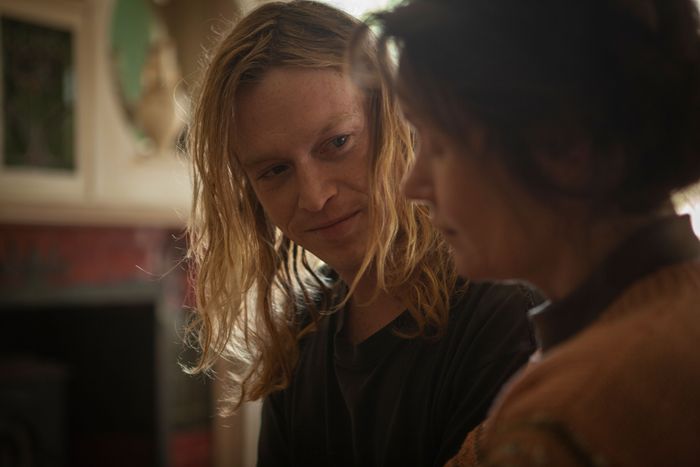 Photo: Courtesy of IFC Films
Violence is its own form of language, and filmmaker Justin Kurzel has been speaking, interrogating, and analyzing it for the past decade: in his 2011 breakout Snowtown, through the otherworldly beauty of his 2015 Macbeth adaptation, and with 2019's toxic-masculinity-subverting True History of the Kelly Gang. Kurzel's films are, with the exclusion of Assassin's Creed, visually gorgeous and emotionally discontent explorations of the myth of masculinity and how it becomes a slow-spreading poison. His films refuse easy answers. What turns men toward brutality is a question with endless explanations, and Nitram, Kurzel's latest (which opened in theaters on March 30 and is now available for streaming on AMC+), might be the purest, most unsettling embodiment of his curiosity yet.
This portrait of Australian mass shooter Martin Bryant never uses his name, instead calling its main character "Nitram" and "the lone gunman." But every major story beat in Nitram is pulled from reporting about Bryant's life, and narrativized here with sparsity and starkness. That restraint shows in the lead performance from Caleb Landry Jones, who won the 2021 Cannes Best Actor prize for his multilayered representation of Bryant's awkwardness and anger. It shows in Shaun Grant's script, which abstains from making any grand "X and Y led to Z" simplifications about what drove Bryant to kill 35 people in Port Arthur, Tasmania, on April 28, 1996. And it shows in Kurzel's direction, which makes Nitram's loneliness and oddness plain in compositions that place him deep in the frame, surrounded by crashing waves on the beach, outdated finery in a decrepit mansion, and packed rows of rifles in a gun store's backroom. (Cinematographer Germain McMicking used similar techniques in the second season of Top of the Lake and the third season of True Detective, both of which also positioned their main characters as individuals nearly lost in the yawning maw of a society indifferent to their pain.)
When Kurzel does penetrate the unkempt veil of Jones's hair and closes in on his face, it's to capture how the actor sprints from one emotion to another, alluding to the impetuousness and spontaneity at play within Nitram. In the film's most agonizing scene, Nitram's impish grin contrasts with a blank gaze as he straddles and viciously beats his father (Anthony LaPaglia), punching him over and over; a minute or so later, he tenderly kisses his father's cheek and solemnly tells his mother (Judy Davis), "That's what you're supposed to do. That's what you do." The cost of violence as a solution is a throughline in Kurzel's work, and Jones — whose filmography is sprinkled with projects that demonstrate his aptitude for either menace or ineptitude, from Get Out to Three Billboards Outside Ebbing, Missouri — is visceral and feral in his interpretation of it. You can't look away from him, but looking for too long doesn't feel quite right, either.
Part true crime, part character study, Nitram starts off with real news footage of Bryant as a child in a hospital burn unit, recovering from wounds sustained while playing with fireworks; he matter-of-factly tells the reporter that he has no plans to change. (The inclusion of that clip is the closest Kurzel comes to offering psychiatric pathology.) A dozen or so years later in suburban Australia, Nitram is in fact still playing with fireworks in his backyard and near schools, and engaging in off-center activities and behaviors that unnerve his mother. But whatever she objects to, his father shrugs off ("He's not doing any harm" is a particularly foreboding line), and that uneven treatment has helped make Nitram rash and willful.
He knows he's different from everyone else, but can't quite grasp why, and his sense of self is complicated further once he meets Helen (Essie Davis), an eccentric heiress who initially hires Nitram to mow her lawn and eventually grows so close to him that she buys him a car and gives him her father's old clothes. Nitram's parents can't quite figure out their relationship, and their friction with Helen allows Judy Davis and Essie Davis an exemplary scene at Nitram's birthday lunch, where his mother immediately curdles the celebratory air with her interrogation of Helen. Her exhausted and accusatory line delivery of "Which is he, a husband or a son?" is the opening volley, and Helen's hard stare and set jaw lobs right back.
But is it fair to blame Helen for embracing Nitram, and for trying to demonstrate to him that he is worthy of compassion and even love? Do we blame his parents, who probably thought they were doing the best they could for their son? Grant's script is fluid and nonspecific when it comes to the passage of time — weeks, if not years, pass from scene to scene — but the film's steady, slow-burn pacing conveys how Nitram's impact on his family and friends grew to outsized, overbearing proportions. In Jones's increasingly physical performance, he lunges, he slams doors, he screams. His emotions are either absent or unchecked, and the film pays attention both to how he ostracizes others (a shot of his mother lying quietly on a couch in their living room, hiding from her son) and how he's underserved by those who should care for him (a doctor who hustles Nitram out of his office after suggesting that maybe he doesn't need antidepressants after all). At what point does a person become who they are, and set out on a course of action that perhaps no one else could stop?
By the time Nitram reaches its expected ending, Kurzel is keeping our perspective at a remove. He holds his camera steady outside of Nitram's car or through the window of a cafe, letting the action move away from it. That level of distance is a relief, but also a parting challenge from Kurzel. We have the privilege of looking away, but what Nitram asks us to do is remember.