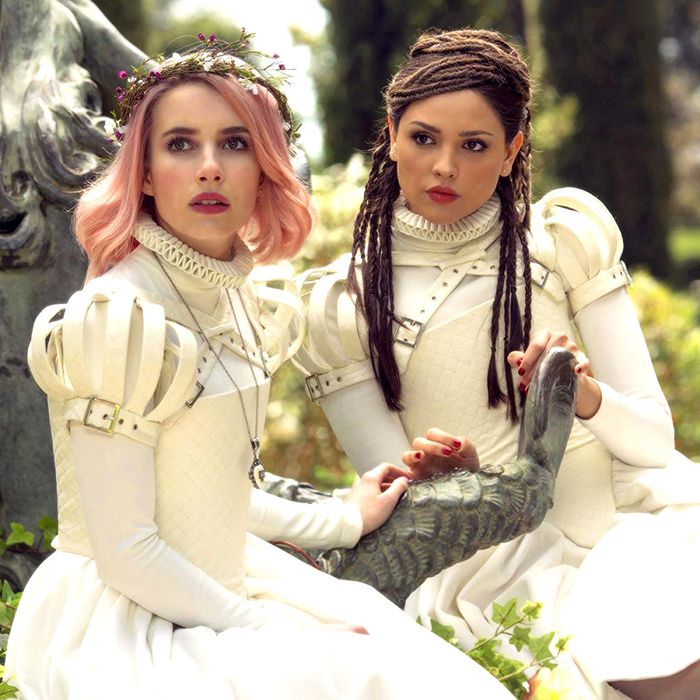 Emma Roberts and Eiza González in
Paradise Hills.
Photo: Samuel Goldwyn Films
Paradise Hills is a dystopian princess fantasy about an island institute where unruly rich girls are sent to be transformed into pliant young women. It's not as fun as it sounds, but it sure looks fantastic. I'm especially partial to the daytime uniform the residents have to wear around the airy confines, a white-on-white ensemble involving a ruff collar and a corset bodice that transforms into a harness up top, giving way to what look like the skeletal remains of puffed shoulders — Alice in Wonderland by way of Matthew Barney. At night, they change into ruffled nightgowns with sheer cuffed sleeves and get fed dollhouse-portioned dinners before retiring to a row of illuminated canopy beds. For light exercise, they put on diaphanous layers of dance gear in order to be lead in yoga stretches or barre work on flower-adorned equipment. Milla Jovovich oversees the proceedings while lounging in gardens in a series of highly covetable floral and kimono-inspired dresses, a wicked queen as program director of this combination spa retreat/rehab/reform school/possible reprogramming facility.
It's a carefully crafted world of hyperfemininity intended to be as ominously smothering as it is pretty, and if the story that Paradise Hills, the directorial debut of Spanish filmmaker Alice Waddington, told were as sharp as its visuals, it'd have a guaranteed future as a cult classic. Instead, it's a disappointingly half-baked riff on The Stepford Wives whose brand of feminism feels more 1970s than 2010s (Brian DeLeeuw and Colossal director Nacho Vigalondo wrote the script from a story Waddington originated with Sofia Cuenca). Uma (Emma Roberts), the heroine, becomes a patient-prisoner after refusing to marry the man who destroyed her father's company, but whose fortune could maintain her family's status. Her reluctant compatriots were sent away for a variety of other reasons — Chloe (Danielle Macdonald) has no desire to match her siblings' beauty-queen standards, while Yu (Awkwafina) doesn't know how to behave in front of her aunt and uncle's high-class friends. And Amarna (Eiza González) is a pop star whose rumored drinking problem turns out to have been planted in the media by her team when she tried to make music in her own voice, though the crush she develops on Uma suggests there are other ways in which she diverges from the image chosen for her.
The movie's inevitable twist renders most of what happens on the island incidental, including the sequences in which characters are strapped onto carousel horses and forced to watch personalized propaganda videos just because it looks cool. But the film isn't especially invested in exploring its initial premise even before the reveal. What theoretically binds these characters together is their inability to fit into the narrow gender strictures assigned to them as members of the aristocrats in their two-tier near-future society (in which there are "uppers" and "lowers"). But any of the more incendiary implications of this idea are ignored — the women come across instead as recalcitrant teens upset about being made to, say, dye their hair back to its natural color. Uma's distress over her forced marriage is portrayed less as that of someone facing a life sentence with a man she describes as a sociopath, and more that of someone sulking over not being allowed to date the lower she's in love with — Markus (Jeremy Irvine), who soon makes an appearance spouting grand promises of rescue.
You could argue that the juvenile point of view is intentional, that Paradise Hills, which doesn't exactly have aspirations of being hard sci-fi, is meant more than anything to evoke the feelings of adolescence against an outsized backdrop, like a big-screen equivalent to a CW sensibility. But the explanation given for how the island works is one that deliberately, almost perversely pits its characters' struggles against a context of global poverty and the fallout from war, making the film's continuing insistence on the primacy of the individual drama of its main character feel almost parodic. What's a little massive structural inequality in the face of Uma's dad losing the jewelry empire he built? She misses him! She's sad! And in the end, what's important is that women of different races, sexual preferences, body types, and backgrounds can come together in agreement that the most straight, thin, white, and conventionally beautiful of their number is the one who should survive and go on to freedom. Off she goes into the night, sporting the coincidentally trendy rose-gold locks that were absolutely forced onto her against her will — but don't they look great, and perfect for the 'gram?