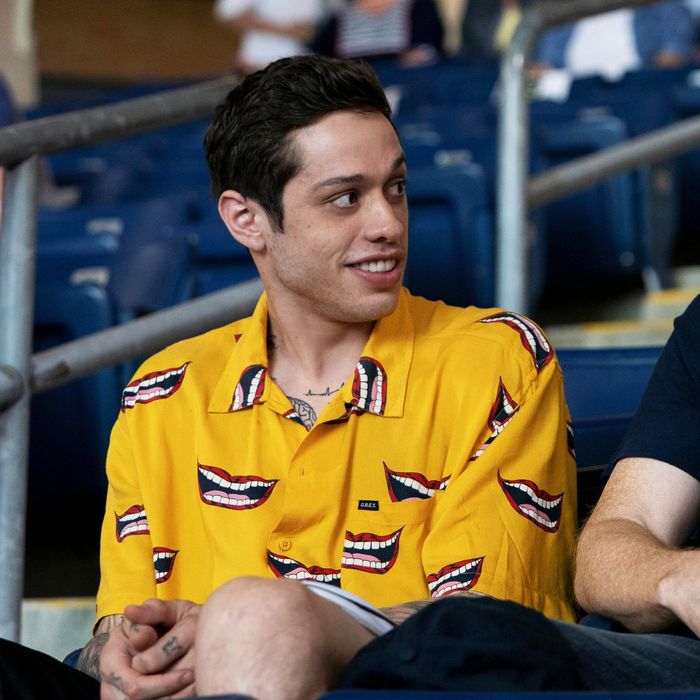 Pete Davidson and Bill Burr in
The King of Staten Island
Photo: YouTube
Try to describe Pete Davidson to someone unfamiliar with his whole deal, and you run up against the issue of what that deal really is. He's a comedian, but his comedy feels, if not secondary, not quite central to the equation. His stand-up is rough and raw and still developing. He's spent six seasons as the break-prone youngest cast member on Saturday Night Live, while being the first to admit that sketches aren't his strong suit. Davidson — lanky, covered in ink, marked by tragedy, open about his depression and borderline personality disorder and use of substances to stabilize — comes across more like a SoundCloud rapper who's neglected to put out any music than a comic, which is part of the fascination. There's a guilelessness about him that's only felt more pronounced as his fame's grown, boosted by a brief but wildly scrutinized romance with Ariana Grande that collapsed into a wreckage of songs, self-referential late-night bits, and a suicide scare. No one can ever be fully prepared for the stresses of modern celebrity, but Davidson seems uniquely unsuited to it, so lacking in armor and impulse control that some of his Weekend Update appearances took on a tightrope-walk uncertainty.
It makes some sense, then, that in trying to get at the essence of its star, The King of Staten Island feels the need to return him to anonymity. The film, which Davidson co-wrote with former SNL writer Dave Sirus and director Judd Apatow, is semi-autobiographical in that its protagonist shares a lot of Davidson's qualities and formative experiences — his childhood in the forgotten borough, the loss of his father at age 7, his fondness for tattoos and pot, and his mental health struggles. But the character, whose name is Scott Carlin, also represents a kind of thought experiment about what Davidson's life would be like if he never stumbled into comedy as a teenager. Scott lives in Staten Island with his mother (as, granted, does Davidson at the moment), spending his aimless days getting high with friends, one of whom he occasionally has sex with. In its efforts to scale this version of Davidson down, the film also changes the details of his firefighter father's death. Unlike the comedian, whose dad died working during the 9/11 attacks, Scott's father died during a local fire. The character's life has been disentangled from the national cataclysm, which doesn't make his unprocessed grief any less debilitating.
Apatow has a nuanced understanding of his collaborator, but doesn't know what to do with him any more than SNL really does. As in the Amy Schumer–led Trainwreck (in which Davidson had a tiny role), the director can't help but inexorably bend what begins as a more chaotic portrayal into the kind of story he loves best — that of arrested development. The King of Staten Island acknowledges Scott's inner turmoil in its opening scene, in which the character turns up the radio while he's driving and then closes his eyes, flirting with death and almost getting in an accident. But after that, his trauma and his mental disorders become more abstract, things that are spoken about rather than put on screen. During a dalliance with his reluctant fuck buddy Kelsey (Bel Powley, who, good as she normally is, feels miscast), he discusses his inability to orgasm due to his meds, and then begs off telling their friends about their non-relationship: "I'm scared of myself and I don't want to, like, scare you or me or like hurt anyone, so I think it'd just be best and really responsible of me if I just backed off." Scott's self-proclaimed fucked-up-ness has become a reason for him to not engage with anything seriously, or even try. And while there's something very real about that, it'd feel more convincing if that fucked-up-ness were explored instead of shunted aside like an excuse.
The development that nudges Scott, an aspiring tattoo artist, toward his delayed coming-of-age involves his mother's love life. He's unknowingly responsible for Margie (Marisa Tomei) having an acerbic meet-cute with Ray (Bill Burr) that blossoms into her first real relationship since the death of her husband 17 years ago. Scott's supportive until he learns that Ray's also a firefighter, a fact that triggers all sorts of repressed emotions that emerge as self-centered protests. But Margie and Ray's matter-of-fact romance is solid — the warm, unfussy chemistry Tomei and Burr share makes their scenes the best part of the movie — and they aren't budging. And so Scott finds himself staying for a stint at Ray's firehouse, where he's hazed and tough-loved back into the world by a group of firefighters led by Papa (Steve Buscemi). Before he gets there, though, there are long stretches involving his sister (Maude Apatow) heading off to college, and his getting tasked with stopping by Ray's ex-wife's (Pamela Adlon) house to walk their kids to school, and the plan his fellow dirtbag buddies (Moises Arias, Ricky Velez, and Lou Wilson) cook up to rob a pharmacy.
Apatow's not afraid of a luxuriant run time, and these storylines all seem like they're meant to express the teeming messiness of life. But there's a slack inconclusiveness to each that makes them instead feel vestigial, especially the swerve into crime, snipped into something almost incoherent. The result is that, while we spend a lot of time in Scott's company, he's tiresomely static for most of it, a childish dick to his mom and sister, unrelentingly hostile to Ray, opportunistic toward Kelsey, and shockingly careless with his only pals. The King of Staten Island shrinks Davidson down a little too much, to the point where his pathos and humor doesn't blend with but actively gets obscured by his immaturity. By the time Scott takes some faltering steps toward responsibility, the movie feels too much like one we've seen before — from Apatow, especially, with his tendency to send his heroes staggering like toddlers toward the long-suffering women in their lives, standing around with their hands on their hips, waiting for them to grow up. It hardly feels like it addresses what's most interesting about Davidson, who's playing a character but still mostly playing himself. What's most interesting about Davidson may just be a sense of promise — the sense that something, eventually, is coming that will fit just right.
*A version of this article appears in the June 22, 2020, issue of New York Magazine. Subscribe Now!