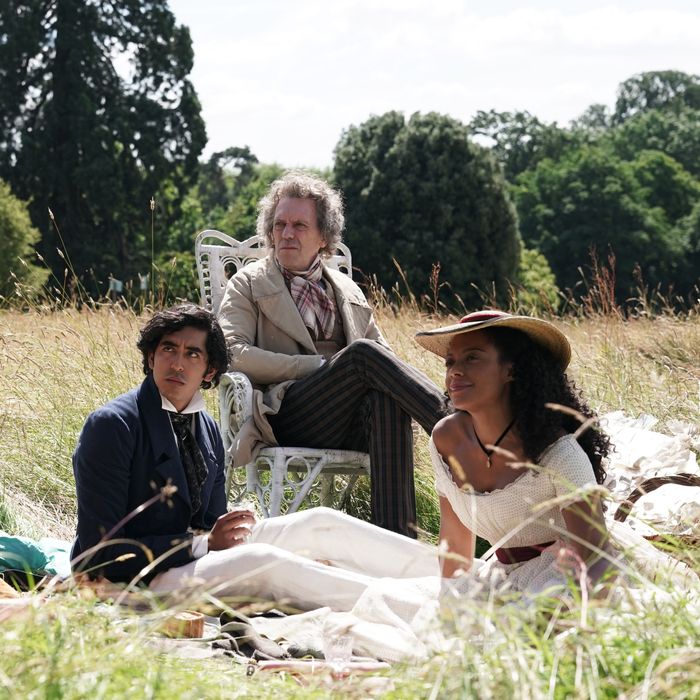 Tilda Swinton, Dev Patel, Hugh Laurie, and Rosalind Eleazar in
The Personal History of David Copperfield
Photo: Searchlight Pictures
In an alternate universe in which there was no pandemic, 2020 might have been a major year for Dev Patel, who was supposed to spend the summer being seen starring in two period pieces from hip directors. He plays Sir Gawain in The Green Knight, a seemingly horror-inflected take on the 14th-century legend from David Lowery that was slated to premiere at SXSW. And he's the title character in The Personal History of David Copperfield, Armando Iannucci's whimsical adaptation of the 1850 classic about a man whose formative years are marked by repeated reversals of fortune. It's not just that these films set up Patel as part of a race-bending vanguard, though together they did, positioning him as a face for how much more can still be done with well-trodden standards, in terms of style and approach as well as casting. They also presented him as a classic kind of movie star, resplendent in the marketing material in his period garb and flowing hair as he played Victorian heroes and Arthurian knights.
But there was a pandemic, and while The Green Knight got punted from the 2020 calendar, The Personal History of David Copperfield has been left to linger in the cul-de-sac of late August. A take on Charles Dickens from the creator of Veep wouldn't be the broadest of sells in regular times, much less times in which everyone is trying to figure out whether moviegoing makes any sense in terms of personal and worker safety. But for whatever it's worth, rewatching the film this week, I found myself liking it more than I did when I first saw it at the Toronto International Film Festival back in September. It's a sweeter, milder affair than Iannucci's last film, 2017's The Death of Stalin — that bitterly dark comedy that portrayed the power struggles of the Central Committee as a mundane but murderous dysfunctional workplace. But there's a resilient buoyancy running through The Personal History of David Copperfield that proves irresistibly moving by the end of its journey. Its protagonist weathers hardships and cruelties in addition to benefiting from acts of kindness, and yet he never loses his capacity to be fascinated by people, a quality that's comforting without feeling cloying.
The Personal History of David Copperfield doesn't make fun of its source material so much as it has fun with it — Morfydd Clark, for instance, plays both David's widowed mother and his mismatched first love Dora. It's still a story that touches on child labour, debtors' prisons, and other plights of poverty and class, but Iannucci leans into the text's humor while adding a touch of surreality, turning it into a 19th century bildungsroman by way of Alice in Wonderland. When the orphaned David is sent to stay with the forever-in-debt Micawbers, headed up by the garrulous patriarch played by Peter Capaldi, creditors reach through the windows of the family's London house to grab unwisely placed clocks and pull the rug out from under the door, nearly taking the baby with it. When he's cornered into tea with the oily would-be attorney Uriah Heep (Ben Whishaw) and his mother (Lynn Hunter), he's served enormous, dense baked goods — "I like a heavy cake," Uriah muses, weaponizing hospitality in addition to obsequiousness.
The film does some altering and condensing in shaping David's life into a series of episodes, but still makes room for a sprawling ensemble to fill out the roles of the outsize characters he encounters. Darren Boyd and Gwendoline Christie play the cadaverous Murdstone siblings, who take over David's childhood home like vampires who, once invited in, can't be expelled. Housekeeper Peggotty (Daisy May Cooper) provides a consistent counterbalance of warmth, especially when she takes young David for an idyllic visit to Yarmouth, where she and her fisherman brother and foundlings Emily (Aimée Kelly) and Ham (Anthony Welsh) live in an overturned barge. Tilda Swinton plays David's eccentric aunt Betsey Trotwood, who takes her nephew in and introduces him to her even more eccentric cousin, Mr. Dick (Hugh Laurie). Aneurin Barnard is Steerforth, a moody fellow student at David's school for gentlemen, while Nikki Amuka-Bird plays his brittle, status-conscious mother. Then there's Benedict Wong as lovable alcoholic Mr. Wickfield, and Rosalind Eleazar as his daughter, Agnes, whose rapport with David is unmistakable to everyone but David himself.
Coming from a filmmaker whose best work has been marked by its deadly precision, the humor in The Personal History of David Copperfield sometimes comparatively tends toward the fuzzy and overly gentle. But it's hard to begrudge it that when it's also capable of bright bursts of delight. The naïve David submits to being an observer for much of the story, with a recurring motif being the way he allows others to call him by whatever nickname they prefer — but it's clear that the film itself represents his subjective view beyond just his voiceover narration. The camera gazes up at the Murdstones, early on, from the level of a child. A second visit to Yarmouth as an adult finds the place far less bright and much more lacking in headroom. Like the Jo of Little Women, David eventually finds himself writing the movie that we're watching, and the film closes with a not dissimilar scene — albeit one that serves as an ode to chosen families as much as biological ones. There's a touch of wistfulness to those final sequences, too, especially given how, with the stroke of a pen, it spares one character their sad fate in the book. The Personal History of David Copperfield is a film about how the young man at its center becomes a writer — and what use is authorship if not to pick the ending you want?