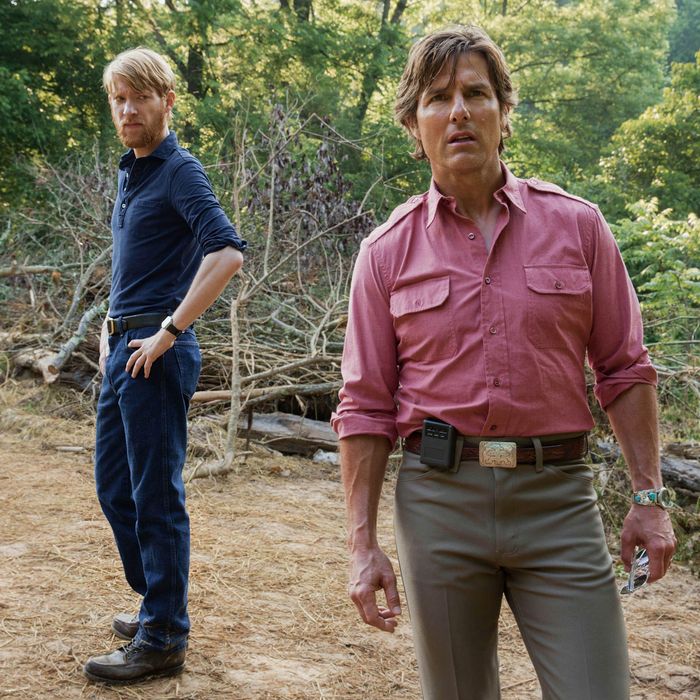 American
Made
.
Photo: Universal Pictures
If not for the pandemic, we'd be in the midst of Hollywood's epic summer season, enjoying the nearly weekly unveiling of major films, whether it's the latest Wes Anderson comedy-drama (The French Dispatch) or Scarlett Johansson's Marvel movie (Black Widow). Instead, you're cooped up trying to figure out what to watch while not going stir-crazy.
This is where we come in. On a regular basis, we'll be presenting "The Replacements": a list of five alternative choices for every big tentpole you'd been excited to see before COVID-19 changed our lives. We'll select movies that are thematically or narratively similar to the postponed blockbuster, offering picks that range from certifiable classics to forgotten gems. For the time being, event movies are on hold. But hopefully our alternatives will scratch that cinematic itch.
This week: Top Gun: Maverick, the long-awaited sequel to the 1986 movie that made Tom Cruise a superstar. Outside of Mission: Impossible, the ageless Hollywood A-lister has largely stayed away from franchises, but reunited with Oblivion filmmaker Joseph Kosinski, he's finally revisiting Maverick, a test pilot who's now training the next generation of aerial hot shots, including Rooster (Miles Teller), the son of Maverick's late partner, Goose.
The original Top Gun is one of the defining films of 1980s Hollywood — impersonal, impossibly cool, endlessly rewatchable — and as such it seems foolhardy to ever return to this hallowed ground. But at the same time … Tom Cruise is flying in fighter jets again. Who can deny the giddy thrill of seeing that? Top Gun: Maverick has been pushed back to Christmastime, but for now, here are five streamable replacements — including three underrated 2017 films from Maverick's lead actors and their director.
Firefox (1982)
The 1980s were rampant with red-blooded action movies in which the valiant American hero takes on the Soviets and/or rights the wrongs of the Vietnam War. The Rambo films are the most obvious example of these Reagan-era fantasies, but there's also Clint Eastwood's forgotten thriller, which David Denby described in the pages of New York as "a neo-conservative espionage drama that might have been commissioned, in a wild moment, by the armchair Cold Warriors over at Commentary magazine." That's fair, but it's nonetheless fun to watch Eastwood (who also directed) play a PTSD-suffering vet sent on a dangerous undercover mission to the USSR to steal their high-tech, super-secret new fighter plane. Firefox was the height of cutting-edge aerial combat before Top Gun came along, and while the film's politics might make it a bit of a relic, it's a grittier, tormented riff on the standard spy thriller — more John le Carré than 007.
Iron Eagle (1986)
The popular perception of this loner-rebel-fighter-pilot-bonds-with-mentor-to-protect-America-from-the-skies is that it was a Top Gun rip-off, but that perception is wrong: It came out five months before Top Gun, after all. And while it doesn't have Tom Cruise — poor Jason Gedrick was set up for failure on that one — it's not altogether terrible, and its fight scenes are just as well-done. (All told, we'll even take Louis Gossett Jr. over Tom Skerritt.) And it definitely had something that Top Gun doesn't: three sequels, rather than a mere one.
American Made (2017)
Tom Cruise is so reliably Tom Cruise that his career for the last decade or so has been the terrific Mission: Impossible movies and … a lot of junk. (He remains, even if you love the guy, a truly terrible Jack Reacher.) But the exceptions have been his two Doug Liman movies: 2014's Edge of Tomorrow and this, in which he plays a pilot who ends up running drugs for the Mexican cartel and becoming an informant for the DEA. Cruise's accent isn't great, but otherwise he's perfect as a bit of a nightmarish version of what might have happened to Maverick, a gone-to-seed huckster who keeps getting himself further and further into trouble … but still thinks he can smile and weasel his way out of it. It's an impressive reach for Cruise, and even seems to comment on his persona: Maybe, he seems to be implying, some of these Cruise characters were full of shit the whole time.
Only the Brave (2017)
Joseph Kosinski's first feature was the divisive Tron: Legacy, and then he teamed up with Cruise for another sci-fi film, Oblivion. But we're recommending his third feature, an underappreciated drama about wilderness firefighters. Based on actual events, Only the Brave doesn't have the futuristic worlds or showy effects of Kosinski's first two films, but it's his most involving and well-acted, starring Josh Brolin as the rugged captain who takes on a prickly new recruit, Miles Teller's perpetual screw-up, Brendan. This is less an action spectacle or disaster drama as much as it's a smartly observed character piece: Kosinski is interested in how these men operate and the risks they take on a daily basis. (Jennifer Connelly is great as Brolin's wife, fully aware that her husband might not come home if a particular blaze turns deadly.) Top Gun: Maverick will surely be more of a popcorn flick than Only the Brave, but this movie demonstrates what Kosinski can do with distinct, real-life worlds.
Thank You for Your Service (2017)
Miles Teller seemed destined for stardom after Whiplash but has never quite been able to get his career back on track after the Fantastic Four flop and some ill-considered interviews. If you're looking to give Teller the benefit of the doubt, seek out this story of an Iraq vet (Teller) and his struggles to return to "normal" life after the war. We've seen this kind of movie before, but Teller grounds it in something real and raw and a little bit dangerous; Thank You for Your Service is sad and unrelenting, but also deeply sympathetic, in large part because of Teller's performance. Maybe Esquire thinks he's a "dick." But this movie (and Only the Brave, which came out a week earlier) showed he definitely has the chops.
Grierson & Leitch write about the movies regularly and host a podcast on film. Follow them on Twitter or visit their site.