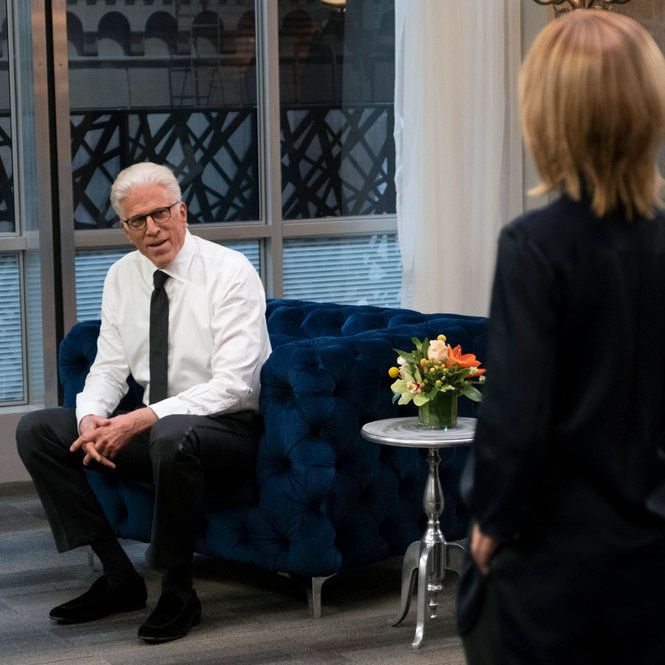 Ted Danson and the back of Holly Hunter's head in
Mr. Mayor
.
Photo: Courtesy of NBC
In the new NBC comedy Mr. Mayor, a retired businessman named Neil Bremer begins his term as mayor of Los Angeles with only a vague sense of what the job entails. That's sort of what it feels like to review Mr. Mayor. Having seen the first two episodes, which debut back-to-back on NBC Thursday night, one can get a sense of the show's sensibility and characters, but at this stage, only a general one. One thing that is certain: Unveiling a new political comedy the day after an insurrection at the nation's Capitol is a unique challenge, particularly since this political comedy is, while amusing, not exactly dialed into the current climate.
Co-created by Tina Fey and Robert Carlock, the duo responsible for 30 Rock and Unbreakable Kimmy Schmidt, Mr. Mayor has a strong cast, including Ted Danson in the role of the clueless but winning Neil, Holly Hunter as ambitious deputy mayor Arpi Meskimen, Bobby Moynihan as semi-bumbling communications director Jayden Kwapis, and Crazy Ex-Girlfriend standout Vella Lovell as Mikaela Shaw, the mayor's chief of staff who isn't entirely sure she wants to be the mayor's chief of staff. This is pretty close to a sitcom dream team.
But unlike 30 Rock or Kimmy Schmidt, which each emerged with a strong sense of identity from the jump, Mr. Mayor needs more time to find its footing. The pilot opens with Neil holding a press conference on his first day in office, which provides him with the opportunity to unload a bunch of exposition about how he got the job even though, presumably, the reporters present already know all that. Neil used to sell billboard advertising until he retired and, suddenly aware that his politically minded teenage daughter Orly (Kyla Kenedy) perceived him as lazy, decided to jump into politics. The perfect opportunity presented itself when the previous mayor suddenly retired, overwhelmed by the pandemic, earthquakes, hacked distance-learning apps, and murder hornets that turn out to be "tiny North Korean fighter jets." ("2020, you broke me!" he shouts before stepping down.)
Bremer takes over after a special election and, as he speedily explains, "Dolly Parton bought everybody a vaccine." Which means Mr. Mayor is taking place in a version of 2021 that has at least some relationship to actual 2021. But from a political standpoint — again, at least in the first couple of episodes — the series traffics in the kind of banal, everyday local affairs that feel out-of-step with the more urgent problems and partisan conflict that the head of a major city would have to confront at this moment. In the first two episodes, Mayor Bremer deals with backlash against a plastic straw ban and attends ribbon cuttings, which, sure, should still be part of the job. But from Fey and Carlock, you'd expect something a little more biting and zeitgeisty.
Part of the issue may stem from the genesis of Mr. Mayor, which was originally designed to be a 30 Rock spinoff focused on Jack Donaghy's attempt to serve as mayor of New York. (I think I speak for many people when I say that the last thing we need right now is to watch Alec Baldwin playing a New York businessman entering politics without a clue as to how politics works. Sorta been there, sorta seen that.) When Baldwin opted out, the show was retooled for Ted Danson and the setting was moved to L.A. Whether or not this is the consequence of that retrofitting, Mr. Mayor lacks some edge. It's less in the realm of Veep and more a hybrid of 30 Rock and Parks and Recreation. Which is not necessarily a bad thing! But you can feel Fey, Carlock, and the rest of the creative team still calibrating what sort of tone they want to strike.
All that said, there are certainly some laughs in these first installments, and a lot of them come from Moynihan's deadpan delivery. When Jayden informs the mayor that his schedule will include a visit to "ALF Junior High, which is named after ALF from the TV show ALF," he adds earnestly, "So much history in this city." When Neil complains about having to attend an animal funeral, Jayden corrects him: "Not just any animal: Dog With a Blog."
If anyone other than Danson were playing the mayor, it might be challenging to root for an old white man who won political office without doing any of the homework that was required. But Danson brings such ebullience to the role, just as he did to Michael on The Good Place, that it's a pleasure to watch him work here, especially when that work involves behaving as though he's taken cannabis gummies.
Also it's very possible that, despite being featured in the show's title, the mayor isn't the hero of this story in the long run. As a smart, politically savvy woman, Arpi tried to run for mayor, and because she's a smart, politically savvy woman, of course her bid failed. Neil hires her as deputy mayor in a "keep your enemies closer" move, but she may be a deeper force to be reckoned with than he imagines. As played by the brilliant Hunter, she's deliberately hard to read, a very liberal but also very canny power player. She's definitely intriguing. Even if it's unclear at this point what to think of Mr. Mayor — more episodes should clarify — you definitely want to keep an eye on her.
*A version of this article appears in the January 18, 2021, issue of New York Magazine. Subscribe Now!