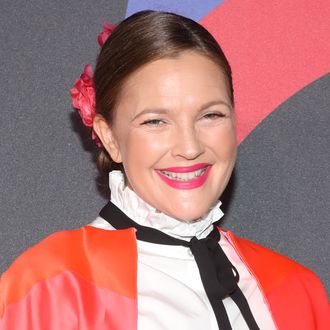 Photo: Udo Salters/Patrick McMullan via Getty Images
Update, May 5: The MTV Movie & TV Awards will now be pretaped. "As we carefully navigate how best to deliver the fan first awards' show we envisioned that our team has worked so hard to create, we're pivoting away from a live event that still enables us to produce a memorable night full of exclusive sneak peaks, irreverent categories our audience has come to expect, and countless moments that will both surprise and delight as we honor the best of film and TV over the past year," an executive producer of the ceremony said in a statement to Variety. The news comes after the WGA, which is on strike, announced that it would picket the ceremony.
Update, May 4: Drew Barrymore is no longer hosting the MTV Movie & TV Awards, standing in solidarity with striking WGA writers since awards shows also employ writers' rooms. "Everything we celebrate and honor about movies and television is born out of their creation," Barrymore told Variety. "And until a solution is reached, I am choosing to wait but I'll be watching from home and hope you will join me." Bruce Gillmer, an executive producer on the show, said the show would be hostless this year and that Barrymore would return next year. Barrymore later confirmed this in an Instagram post, writing, "I love the @mtvawards family and we will be back next year together. I hope you still watch the awards with me Sunday, as it has such wonderful moments to enjoy. I stand with the @wgaeast @wgawest." It's unclear whether M3gan will cross the picket line.
Original story follows.
Here's your "Drew's News" for the day: Drew Barrymore is hosting the MTV Movie & TV Awards for the first time. Because although she spends more of her time these days hosting a talk show, publishing a magazine, and having a fashion line, MTV hasn't forgotten that iconic filmography. In fact, need we remind you, Barrymore has three Golden Popcorns: Best Kiss for The Wedding Singer, Best On-Screen Team for Charlie's Angels, and Best On-Screen Team for 50 First Dates. In the words of her often love interest Adam Sandler (in another role), that's history right there. Barrymore announced the news in a characteristically kooky "Drew's News"–style clip, in which she as M3gan delivers the news to herself. There are also cameos from Ghostface and Cocaine Bear, because why not!
The awards air May 7 at 8 p.m. ET on, of course, MTV. Tune in to find out what cute bit Barrymore does with Sandler and whether Cameron Diaz and Lucy Liu come through for another Charlie's Angels reunion.