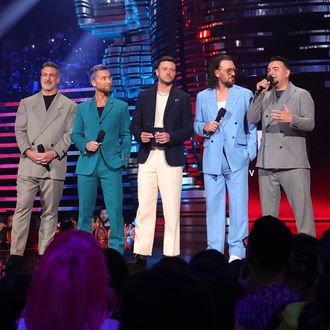 Photo: Kevin Mazur/Getty Images for MTV
'N Sync had to keep it mum on the VMAs stage (ty 2023 Hollywood double strike), but the band has officially gotten together and recorded new music. "Better Place," the first new song from 'N Sync since a remix to "Girlfriend" in 2002, will appear on the Trolls Band Together soundtrack. It will debut on September 29 but is available to presave now. Snippets of the song (as well as a new recording of the band's old standby "I Want You Back") appear in the new Trolls Band Together trailer.
Trolls Band Together will follow Branch (Justin Timberlake) as he, uh, tries to get the band together. Apparently young Branch was in a boy band that has since disbanded. He and Poppy (Anna Kendrick) try to reunite the members of BroZone. The other members of the band aren't voiced by 'N Sync (despite Chris Kirkpatrick's voice-over history. Hello? The Fairly Oddparents?) but rather by Troye Sivan, Eric André, Daveed Diggs, and Kid Cudi. Get ready for a lot of jokes about frosted tips, because Trolls Band Together premieres November 17.