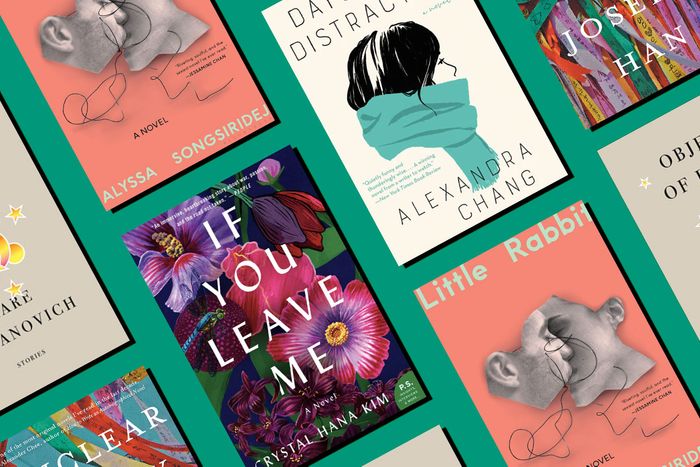 Photo-Illustration: Vulture; Photos by Publishers
It's been three years since the last time Vulture trumpeted out the list of authors chosen for the National Book Foundation's "5 Under 35" honor, which is given annually to a group of writers for their debut works. We had such a good time making the announcement in 2019 that we're back to do it again with the latest set of selections. The writers are still under 35. There are still 5 of them. And their work is as rich and compelling as ever.
This new group of authors — which was, as in years past, selected by prior National Book Award honorees — includes the writers of four novels and one short-story collection. Their tales are set in San Francisco and Busan, the Berkshires and the DMZ, and feature characters who grapple with tech-induced malaise, the cruel and disorienting effects of the Korean War, and basic human longing. The narratives range from historical fiction to ghost tales; some bat at convention with imaginative formal play and unexpected self-awareness, while others enliven traditional arcs. "We look forward to celebrating these writers, and reading their works, for years to come," says Ruth Dickey, executive director of the National Book Foundation. Here's the list of books, so you can get started on your own reading and celebrating of them.
Photo: Ecco
Description: A 20-something Chinese American tech reporter is having a quarter-life crisis when a cross-country move with her white boyfriend offers the chance to make a firm choice on her life's direction. "This is the time and place," Chang writes, "in which the most average person is average in their own special way, or learns to believe it." Pithy and sharp, Chang's fragmentary style intersperses her protagonist's leap of faith with tales of "forgotten" Asian American women.
Chang on diversity: "There's no monolith Asian American identity. There's no monolith 'person of color in a white space' experience. There is this multiplicity of experiences, not only across different people but even within a single person. There is a shifting of perspectives based off of context, based off of situation. In this book, it was important for me to show a particular character's way of navigating both external and internal challenges."
Selected by: Jason Mott, 2021 National Book Award winner for fiction.
Mott picked it because: "Alexandra Chang's Days of Distraction captured me from the beginning. There's a dreamlike quality to both the story and the way in which it is told that, in lesser hands, would have been a precarious experience. But Chang's masterful use of character, pacing, and the power of unsaid things denotes a unique literary voice that is bold, nuanced, and, most important, vital. Chang deserves to be read."
Photo: Counterpoint Press
Description: Jacob Cho leaves his Honolulu home in the months leading up to the 2018 false missile crisis in Hawaii to teach English in South Korea, where, unbeknownst to him, his grandfather's ghost waits to inhabit his body and cross the DMZ into the north. Back at his parents' plate-lunch restaurant, the Chos fret that their son may never return from their homeland. Han slides fierce humor into his delightfully outrageous narrative, including a two-page spread through the middle of the book that reads "DMZ" concrete-poetry style.
Han on playing with form: "I wanted to create disruptive moments in the book … I wanted to give the reader a sense of coming up against a block or coming up against the sense of feeling disoriented. Because I very much believe that that is the condition of the Korean diaspora. This sense that we are always tied to a feeling of disruption — the force to be reckoned with that is the DMZ and the continuing division of our peninsula. This is my way of creating unforgettable moments in the text. In the same way that the DMZ is assumed to be permanent and remains and continues to be a fixture in our imagination."
Selected by: Azareen Van der Vliet Oloomi, 2015 "5 Under 35" honoree.
Van der Vliet Oloomi picked it because: "Told in fervent, hilarious prose, Joseph Han's Nuclear Family is a sweeping and singular novel about the long shadows that war casts over migrants and about how, in its aftermath, life becomes forever touched by the uncanny logic of its violence. This is a novel for the living, the dead, the living-dead, and everyone in between."
Photo: William Morrow Paperbacks
Description: Sixteen-year-old Hamei is trapped between the ocean and war in 1950 Busan, Korea. She's also conflicted about whether to marry her childhood love, Kyunghwan, or his cousin Jisoo, a man with better prospects. A narrative spread over 18 years, If You Leave Me charts the course of one woman's life next to the dissection of her country. Moving, elegant, and immersive.
Kim on the lives of Korean refugees: "In many ways, I was raised through my grandmother's stories. Every time I went back to visit her in South Korea, I would learn a little bit more of how she was a young teenager during the war and how she fled to Busan and her years there with her mother and her younger brother. Even as they felt such a lack of control, even as they were living under the duress of this war and violence, daily life had to continue. And what struck me when speaking to my grandmother was how the only way that she had control, because she was uneducated and from a family without means, was through marriage. It was a source of great pain and regret for her because it's only the illusion of control, but really you're giving up so much."
Selected by: Min Jin Lee, 2017 National Book Award finalist for fiction.
Lee Picked It Because: "It is a privilege to read Crystal Hana Kim's fiction, which both edifies and enlightens. Her novel, If You Leave Me, is a beautiful and moving chronicle of individuals caught in the trials of history."
Photo: Knopf
Description: In one story, a young woman's widowhood charts an unexpected course for her life. In another, ex-stepsiblings tiptoe toward an unlikely relationship. All eleven stories in this meticulous, hypnotic collection hover around longing — and how it can grow like a weed or lie in wait. "To become truly happy," the protagonist of the title story tells a friend, "is to betray the unhappy person you used to be."
Sestanovich on lonely narrators: "When I was in the midst of writing the book, I often told people that it was a book about loneliness, which was mostly sort of a shorthand answer to have in my pocket when people asked the dreaded question. Since finishing it, I have thought, What did I mean by that? Is that exactly right? What is it about loneliness and its texture that seems interesting to me or a fruitful territory for fiction? I am very compelled by the way that aloneness can produce both an intense narrowness in perception and existence but also a real expansiveness. To feel that you're locked in your own life is so claustrophobic, and there is nothing more insular and terrible. And yet at the same time, self-consciousness furnishes us with an entire universe."
Selected by: Anthony Doerr, 2014 and 2021 National Book Award finalist for fiction.
Doerr picked it because: "These are deft, startling, and wonderfully strange stories full of the physicality of bodies and simultaneous ambivalence about being embodied. Sestanovich shows flashes of Amy Hempel's compression, glimmers of Lydia Davis's language play, Alice Munro's talent for velocity through time, and W.G. Sebald's talent for asking the reader to draw connections between seemingly incongruous events. The precision of her observations, the intense care taken with the language, and the generous intelligence pulsing behind the narratives make me believe this is a writer with immense promise."
Photo: Publisher
Description: After initially rejecting him, an unnamed 30-year-old woman leaps into an unbounded relationship with a choreographer decades her senior and follows him to New York for a push-pull, erotic tête-à-tête. As she falls deeper into his thrall, her friends worry that the imbalance of power will crush her: "All the things the choreographer contained — man and older and prestige — expanded his capacity for damage." Yes, this is about sex, but it's also about power, artistry, and the performances we put on just for ourselves.
Songsiridej on writing sex scenes: "I moonlighted anonymously as an erotica e-book editor, so I have a little bit of experience editing sex scenes. If you think about first-year creative-writing mantras, like how you describe someone, like, walking into a room and putting on a sweater, you're thinking about what in that scene is relevant to the entire narrative. You're not thinking, And then his right arm went into the right armhole and the left arm went into the left armhole. Clunkier sex writing gets stuck in the left armhole, right armhole level of detail."
Selected by: Julia Phillips, 2019 National Book Award finalist for fiction.
Phillips picked it because: "Alyssa Songsiridej's Little Rabbit shocked me. It tells truths about sex, the self, and art-making that I'd never seen on the page or even known the words to think before. It's bold, frightening, and magnificent, a work deserving of this honor and many more."