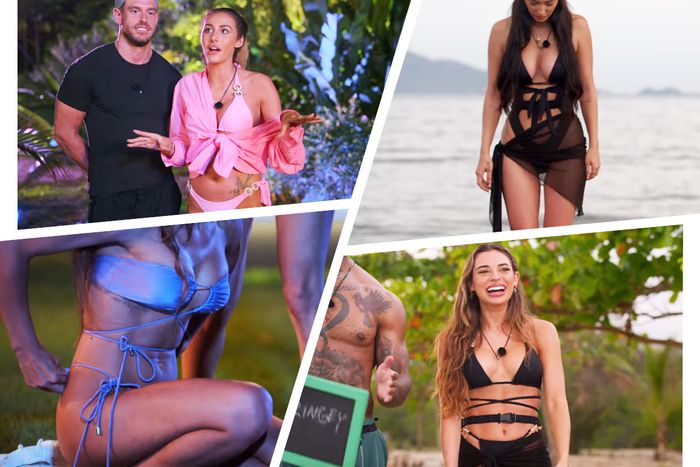 Not only is the drama constant on Perfect Match, Netflix's version of Bachelor in Paradise, but the swimsuits are … interesting. We suppose if you're wearing one every day, you have to mix it up somehow, but even so, these are some very mixed-up swimsuits and a lot of extraneous strings and bits that all need to be tied up.
Ideally, a swimsuit should keep everything in place so you can actually swim in it, and more ties directly correlates to greater risk. We just want to dive into a pool without having to hold onto our bottoms. Yet the women of Perfect Match seem to have different priorities, with their swimwear suited more to reality TV than the beach. It's no surprise contestants originally from Too Hot to Handle show up the most on this list; they've done the swimsuit-dating thing before. Cast members from other shows were generally less likely to take risks when it came to coverage.
There were far too many swimwear looks on the show to include them all in this ranking. (And don't even get us started on the hard-to-tie dresses, which could get an entire post of their own.) One could argue it's actually an honor to not be on the list, like the beloved Ines and her practical, timeless French fashion. Now, let's (cautiously) dive into it.
21. Kariselle's Episode-Four Patterned Top
We're starting off in normal territory. Kariselle gets it: She's on TV, so she's not taking any risks with her tops, which almost all have clasp backs. This one does too, but it has a little tie in the front, so she just makes it on the list.
20. (Tied) Bartisse's and Shayne's Episode-Five Challenge Looks
We had to throw one in for the guys. Did these Love Is Blind alums forget they're not in the pods so people can see them? Bartisse's tie is awkwardly poking out, and Shayne fully gave up on tying his in real time. This shouldn't be difficult!
18. (Tied) Savannah's Episode-Three and Georgia's Episode-Five White Circle Tops
These are basically the same top in different fonts. They're both perfect for when you want a slightly inconvenient tan line.
16. Francesca's Episode-Seven Jewelry Moment
You might start to look twice if you saw some of these outfits in the wild. Francesca wears this top in green and tan, too, but the jewelry (is it a necklace? a belt? who knows?!) makes this one the most perplexing. Factor in the mic pack and sarong, and this is more of a tough-to-assemble look than truly tough to tie.
15. Georgia's Episode-Three Shoelace One-Piece
A fairly straightforward shoelace-style one-piece situation with a single front tie. However, the difficulty is upped by what appears to be a lot of extra length on the "shoelace." Thankfully, that didn't stop Georgia from going paddleboarding in this suit.
14. Francesca's Episode-Three Halter Top
It's shocking we've made it this far without mentioning that Francesca owns a swimsuit company and is almost always wearing her own designs. Is she really on Perfect Match to find love or to sneakily promote Farago the Label? We'll never know. As far as this top goes, it's not too complicated, although according to her website, it can be worn eight-plus ways. It's challenging to tie a halter tight enough for support but not so tight you feel like you're being strangled.
13. Georgia's Episode-Four Challenge Top
The looks are getting riskier and require more trust. Strapless tops are always hard to tie just right so you're not stuck constantly pulling it back up. Once again, Georgia struggles with a too-long front tie.
12. Izzy's Episode-Five String Bikini
We see classic string bikinis worn throughout the series, so consider this one representative of the style, which is deceptively hard to tie well. Getting the bottoms even on both sides is harder than the SATs.
11. Izzy's Episode-Four Red Rope Suit
This one edges out other string bikinis because it has an extra tie in front for reasons unclear. In a cute coincidence, its thicker string matches the rope used in the partner challenge to untie knots the fastest. Despite this advantage, Izzy still lost. We wouldn't trust her near a sailboat.
10. Chloe's Episode-Nine Double-Tie Bottoms
If we were looking for the most ties, this would be a fierce competitor, with six total. Yet the bottoms actually seem sturdier than some of the competition, making this more time-consuming to get on rather than super-difficult.
9. Francesca's Episode-Four Unzipped Outfit
This look is controversial not for its ties but for its similarity to one of Savannah's outfits, and Francesca wears it while gloating about her rival going home. If pettiness and competitive swimsuit tying were sports, Francesca would be an Olympic athlete.
8. Chloe's Episode-Ten Pinkapalooza
We've got a standard four ties on the suit, plus a tied oversize button-down. There's a lot of fabric to work with. It may not be water, but Chloe's swimming in it.
6. (Tied) Georgia's Complex Crisscross Tops From Episodes Seven and Eight
With double crisscrosses, these feel like a two-person job. The beaded one might be slightly trickier than her others, but Georgia smartly opted for a simple knot over a less stable bow.
4. (Tied) Francesca's Upside-Down Suits From Episodes Eight and Ten
It's surprising there wasn't more of the upside-down look that's been sweeping dating shows. The ruching can easily get messed up, so this requires a perfect tie. And Francesca didn't stop there; she hit us with the crisscross. We're getting into elite-level tying here.
3. Chloe's Episode-Eight Snake-Print One-Piece
Finally, someone putting some extra string to good use as a way to hold her Nerf gun ammo. Chloe makes the tie look easy … until you see how long the string is in the back. You know that thing's getting accidentally dunked in the toilet.
2. Francesca's Episode-Five "One-Piece"
This look has two ties in the front, two in the back, a scarf tie, and a sarong tie. Add the mic pack on top and it's utter chaos. According to Francesca's brand's website, the bows on this "ultimate staple one-piece" can be tied in front or back. Capitalism's freedom of choice is overwhelming.
1. Georgia's Episode-Nine Purple Stress Factory
Strapless, crisscross, and tied bottoms?! This is a stressful suit. It gives us a shred of relief by clasping in the back, but even the cameraperson had to get a close-up of this contraption. Tying swimsuits should be listed under "special skills" on Georgia's résumé.