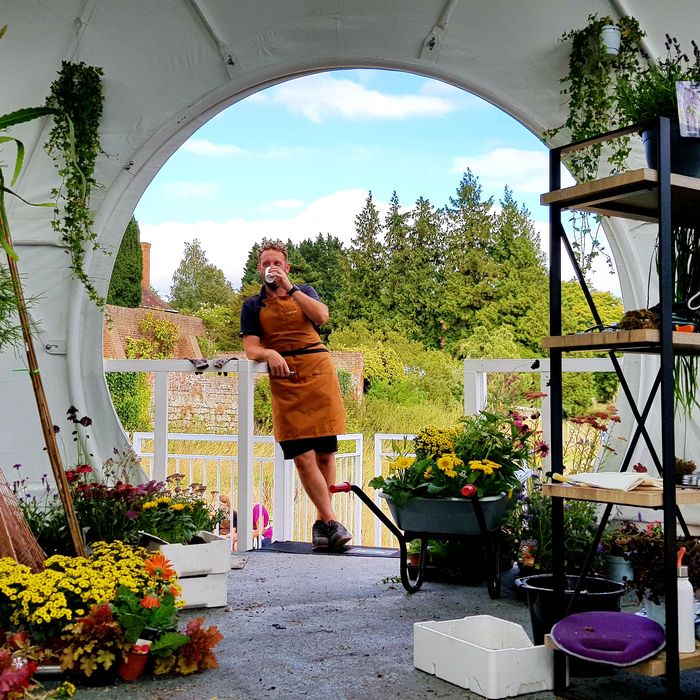 The Great British Flower Bake Off Fight.
Photo: Netflix
Netflix, always looking for the next big thing, has taken all the twee whimsy from The Great British Bake Off and applied it to the new competition show The Big Flower Fight. Yep, that's flower not flour. Despite being concerned with floral sculptures, not baked goods, The Big Flower Fight's production design, music, and narration, among other aspects, feel lifted directly from Bake Off — a similarity that has not gone unremarked upon as we collectively endure this current uncertain, GBBO-less reality.
However, The Big Flower Fight is also a timely reminder that, while cooking and baking shows dominate reality competitions, Netflix has a selection of shows based around more niche interests, applying the reality competition format to rap music, interior design, makeup, and more. For those looking for some easy-to-digest but still compelling shows to watch, we rounded up some of the special-interest competitions available on Netflix and ranked them by how much they compare to the gold standard of relaxation TV: The Great British Bake Off.
Instant Hotel
How it's like Great British Bake Off: In this show, contestants swap homes to judge each other to determine who has the best "instant hotel" (read: Airbnb)." So … it's actually nothing like GBBO.
How it's (especially) not: Since this is personal (literally — they're sleeping in each other's beds), it gets heated. The contestants are actively disdainful towards each other and, in a weird way, it's refreshing. Fans of TLC's Four Weddings might be interested in the swapping aspect, but fans of GBBO might not love the cutthroat attitudes.
Win the Wilderness
How it's like Great British Bake Off: Remember outside? These six British couples will never forget it after a season roughing it in the hopes of winning a three-story log cabin and the five acres around it in the wilderness of Alaska. It's no lush, flowering English countryside, but the up close look at nature will provide your brain with a sight for sore eyes.
How it's not: Truly, in most other ways. The couples actually have to fend for themselves at a nearby campground, making for a slightly more stressful watch.
Rhythm + Flow
How it's like Great British Bake Off: Judged by Cardi B, Chance the Rapper, and TIP, Netflix's rap competition series gets emotional as you learn more about the contestants and their motivations for becoming the next hit rapper.
How it's not: Rhythm + Flow's entire aesthetic is opposite to that of Great British Bake Off. There are flashing lights, dark rooms, a crowded audience, and, of course, a premise that takes contestants beyond the set's four walls.
Next In Fashion
How it's like Great British Bake Off: Next In Fashion provides the same kind of shock and awe that the croquembouche episodes of Great British Bake Off always elicit. The fact that humans can bring these things to life is just overwhelming sometimes!
How it's not: Next In Fashion has the same Netflix new-money gleam as Rhythm + Flow. You can just tell the production budget was booming. And while that's typically not a bad thing, it means the show lacks that GBBO homeyness we've come to know and long for.
Blown Away
How it's like Great British Bake Off: Blown Away brings together an eclectic cast of glassblowers, some with decades of experience and others with just a few years under their belt. It's really fun to see the diverse works of art they create and to get to know them over the course of the season.
How it's not: While you can come away from GBBO with a few tips under your belt, Blown Away barely attempts to explain the magic behind glassblowing. The show is also much more hardcore than Bake Off, which is probably due to the glowing vats of molten glass they deal with on the regular.
Interior Design Masters
How it's like Great British Bake Off: Originally airing on BBC 2, Interior Design Masters features a cast of everyday people chasing their dreams to become interior designers.
How it's not: The contestants get real-life design projects, sometimes working in teams or in pairs. While it's not exactly relaxing to watch them pull together overhauls in record time, it does sort of feel like you're watching all the Bobby Berk scenes that get cut out of Queer Eye. Release them, Netflix!
Glow Up
How it's like Great British Bake Off: This BBC Three makeup competition show is basically a long-form version of those Instagram makeup videos that you can never watch just one of. Watching the artists work is relaxing and inspiring, just like watching the bakers create their original desserts. (Similarly, when the challenge goes wrong, it tends to go very wrong.) Besides, smearing on makeup is just like frosting a cake!
How it's not: The tone of the show, the setting, plus the inclusion of celebrity guests, just doesn't feel like GBBO. We'd be lying if we said the accents didn't help, though.
The Big Flower Fight
How it's like Great British Bake Off: Everything from the violin music to the "botanical dome" it takes place in has a tinge of Great British Bake Off. Even the name feels like they consulted a thesaurus.
How it's not: Besides the fact that you would not want to eat one of the The Big Flower Fight's "living sculptures," the Netflix show doesn't have the same levity. Jokes don't land as regularly, contestants struggle, and teammates bicker — not exactly the same wholesome treat GBBO is. Try as Netflix may, you simply cannot recreate perfection.