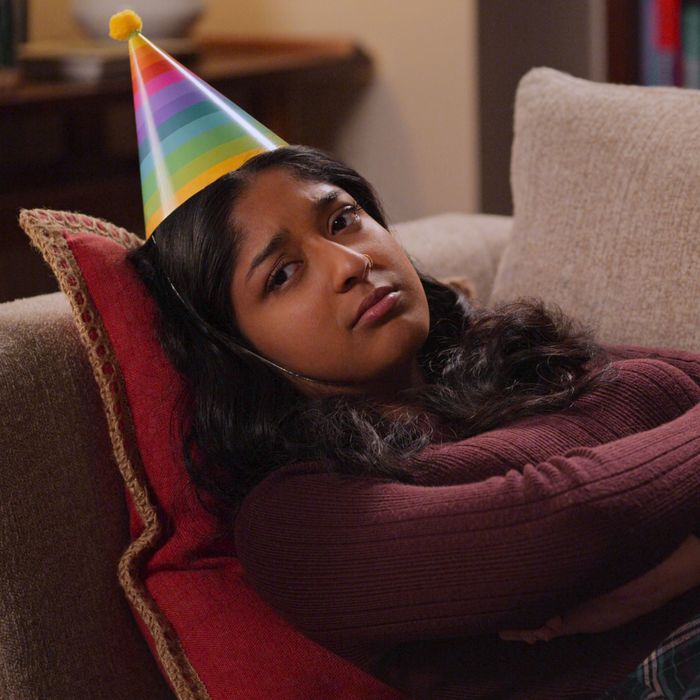 Seven months after season three of Never Have I Ever was confirmed, it was announced that Netflix had also renewed the series for a fourth and final season. "Four seasons for a high-school show felt like it made sense," Mindy Kaling told Entertainment Tonight in April. "They can't be in high school forever. We've seen those shows. Like, you've been in high school for 12 years. What is going on here?"
Kaling's push for plausibility is appreciated and relatively rare for the coming-of-age genre, but it does make this season feel bittersweet, knowing the show is finite and its end is near. Every episode suddenly feels more weighted than usual. Where is it ultimately leading to?
There's, of course, the juicy stuff that propels any teen show, especially one with a love triangle: Who will Devi end up with and will she have sex? (More on that in a bit.) But to be honest, I'm way more invested in where she'll land in her personal evolution. So far, the journey hasn't been smooth or linear. If anything, Devi seems to repeatedly dig herself into deeper holes. Devi's entertainingly imperfect, but last season saw her do some pretty egregious things: she simultaneously cheated on Paxton and Ben, crashed and ruined her mom's date with Common (… I mean, a character named Dr. Chris Jackson), and instigated the (inadvertently true) rumor that Aneesa was anorexic. Though she always (eventually) offers heartfelt apologies, Devi's been selfish, short-fused, and teeming with self-destructive tendencies. Will she keep doubling down on her worst habits or change for the better?
Another reason I'm bummed the countdown is on: As messy as Devi can be, it's hard to deny how insanely watchable she is. Maitreyi Ramakrishnan is charming as hell, and I want to give this Tamil princess the world while also keeping her trapped on my screen. Plus, the other Vishwakumar women (brilliantly played by Poorna Jagannathan, Ranjita Chakravarty, and Richa Moorjani) also lend themselves to such funny drama, heartfelt vulnerability, and complicated interpersonal dynamics; I'd argue that the show's portrayal of a multigenerational Indian American household means it could easily work as a family sitcom instead of a high-school show. But alas, no one ever listens to me. Time to stop screaming into the void: Let's get into season three!
In our first scene of the season, Devi and Paxton stroll down the hallways of Sherman Oaks High as the school's newest, hottest, and unlikeliest couple. (Sorry, #Bevi shippers, but Ben and Aneesa are still an item, at least for now!) Our girl's living her best life on cloud nine until she overhears Shira, Zoe, and Carley assuming that Paxton's only dating Devi because she puts out. The dig irks Devi. Is it that unbelievable that he'd date her? Not only that, but the insinuation is entirely inaccurate: She and Paxton haven't even done the deed! Every time they get close to clothes coming off, Devi cites her heavy meals as an excuse to postpone, and they watch TikToks together instead. This might seem confusing, considering how horny and excited Devi was when Paxton agreed to sleep with her back in the first season (ultimately to no avail). But I think it's become clear that (1) Devi overcompensates big time and simply talks a good game, and (2) her initial conquest to get laid was partly a diversion from processing her grief.
Despite Dr. Ryan's perfect-as-usual advice to ignore the gossip, Devi informs her detractors that she hasn't even had sex with Paxton, thank you very much, so he can't be dating her for her alleged promiscuity. This, of course, raises the laminated brows of Shira and her pals; they think that if Paxton and Devi aren't banging by now, Paxton will probably be single soon. Poor Devi. Not that she should ever care what these girls think, but first she's too slutty, and now she's not slutty enough? Damned if you do, etc.
Paxton asks Devi on a date to California Pizza Kitchen — the stuff of romance — with some post-dinner hangs, which Devi decides is the perfect opportunity to renounce her V-card. But when Mr. Shapiro, armed with military fatigues and a smoke machine, begins a chapter on the Vietnam War — an example of how a rash, ego-boosting decision led to devastating consequences, shame, and blood — it's clear Devi isn't as resolute as she wants to be. Are we likening young Devi's decision to lose her virginity to the Vietnam War? I guess so!
As Devi preps herself to save her relationship, Kamala attempts to do the same. After a pep talk from Nalini, not to mention some knife-brandishing from Nirmala, Kamala shows up at Prashant's doorstep, touting cashew brittle as an olive branch. Unfortunately, it turns out the hunky engineer has a deadly nut allergy (finally, a flaw!). Kamala apologizes for running away from dinner with his parents, only to learn that her fears weren't entirely unfounded; he was going to propose. Kamala admits she might not want to marry anyone, which is kind of a dealbreaker for Prashant, and he shuts the door on her and their future.
Back at the house, Devi realizes her South Park boyshorts might not be the sexiest thing to wear on her date (though honestly, would any teenage boy actively care?). She tries to steal some underwear from Kamala, who catches her rooting through her drawers. Kamala puts two and two together and then gives Devi some cousinly advice bolstered by her recent experience with Prashant: Abide by your own schedule, not someone else's.
Devi pops a Lactaid — no excuses this time — and stuffs herself with the most pizza Paxton has ever seen eaten, trying to delay what's to come. The lovebirds go inside and start to make out. Their shirts eventually come off — Devi's is stalled by her earring — and as Paxton kisses her neck and shoulder, Devi shuts her eyes out of fear, not ecstasy. "I'm ready. Just put it in and get over with," she says, bracing herself and clenching presumably every millimeter of her body.
Paxton, of course, doesn't take the bait and puts his shirt back on. Devi asks him why he stopped ("I'm so close," she says in a hilariously breathy voice). He points out how stressed she was, and she admits she isn't ready to have sex.
Devi says she understands if Paxton wants to end things. He tells her he can go slow (Devi asks if this translates to nonstop 69-ing, and, thankfully, doesn't). Even if you're not Team Paxton, it's pretty clear how he's been a good partner to Devi so far. (And sure, it's only been two weeks, but still!) In addition to defending her to Trent (who was initially — and understandably — concerned she'd hurt Paxton again) and acknowledging his romantic shortcomings (he realizes their pre-CPK dates have kind of sucked), Paxton is never seen pushing Devi for more physical action. The strain that Devi feels comes from people outside of the relationship or is self-imposed, which says a lot about the general nature of pressure; it can have a lot to do with what we allow and project rather than reality.
Also, while the show didn't harp on this per se, the idea that intercourse is seen singularly as the epitome of sexual intimacy feels really outdated and inaccurate, so it's nice to see Devi and Paxton decide their limits together. Devi's upfront about what she feels comfortable with (second base during horror flicks), Paxton's cool with it, and all is well.
But Devi's unbedded bliss is short-lived; she gets an anonymous DM claiming that Paxton is not who she thinks he is. Vague but ominous! And to be continued …
Extra Credit
• "My heart's not behind my abs."
• I appreciated Nalini talking about how her arranged marriage was a good one if only to dispel the myth that they are all sad, archaic, and bad.
• TIL what PTA is slang for!
• "No, Devi, like, emotionally."
• Fabiola attempts the long-distance thing with Eve, skipping sleep to adjust to Korea Standard Time. But Fab realizes they should call it quits once her grades start slipping (… to 82).
• After learning that Prashant's out of the picture for good, Nirmala effectively disowns Kamala as her granddaughter.
• In news out of left field, Eleanor and Trent have officially become a thing. I didn't foresee this pairing happening, but it is kind of cute. Best of luck to these two weirdos!