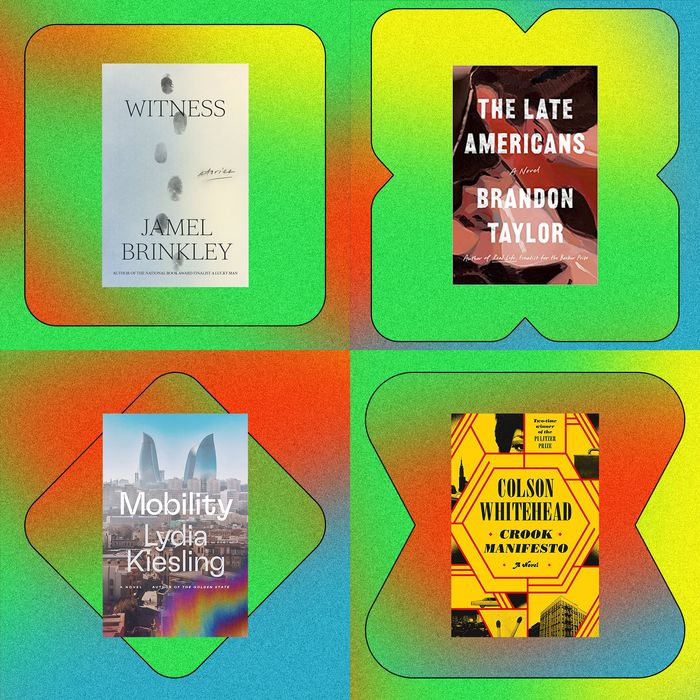 Photo-Illustration: Vulture; Photos: Catapult, Crooked Media Reads, Doubleday, Farrar, Straus and Giroux, Riverhead Books
At the beginning of every summer, the conversation around publishing inevitably turns to beach reads: those new titles that lure in both the most avid and the most casual of readers with promises of screen-free entertainment on the laziest of days. But while many of the exciting books featured here might feel right at home in a hammock or lying open on a towel, we looked beyond the expectations of the season's conventions to find the upcoming novels, memoirs, poetry collections, and more that are worth diving into any time of year.
May
Photo: Riverhead Books
Taylor's debut novel, Real Life, was a Booker Prize finalist and ended up on many best of 2020 lists for its precise, lyrical examinations of class, race, and power in academia. The Late Americans promises to be a strong follow-up, a provocative queer saga that follows a loosely intertwined group of adults in Iowa City on the precipice of life-altering changes. Their final, cacophonous convergence in a rented cabin promises to contain plenty of sparks. Through Taylor's signature intimacy, we see casual emotional devastation, prickly social interactions, and wry humor with keen clarity. —Celia Mattison
Art and sex, as conceptual artist Sophia Giovannitti writes in Working Girl, are "capital's stress points: two industries saturated in hyper-capitalist relations." Here, Giovannitti dances between memoir, art criticism, and political theory to unknot a provocative tension: how our supposedly "sacred" fields of erotic and aesthetic experience are born out of systems of commodification. Considering the art of Jeff Koons, Qualeasha Wood, and Tourmaline — and in conversation with seminal texts on sex work such as Charlotte Shane's Prostitute Laundry and Melissa Gira Grant's Playing the Whore — Giovannitti imagines a revolutionary world that isn't "an approximation of a life I've been taught to see, a life that I only think I see," but one true to what she actually lives, what she actually sees. —Jamie Hood
June
In Deborah Levy's ninth novel, August Blue, concert pianist Elsa Anderson faces a crisis of identity: In the middle of Rachmaninoff's Concerto No. 2, she is stunned when her fingers will not bend for the performance. She flees the stage, deciding instead to teach her instrument to rich children. Her quarter-life fumbling finds Elsa trekking across Europe against the destabilizing backdrop of COVID. "Everything that I was had started to unravel," she considers. "What I wanted for myself was a new composition." It's at this moment that Elsa comes upon her doppelgänger in Greece. The woman appears again in Paris, then London. In Levy's characteristically sharp, spare prose, the uncanny doubling of the women and their Continental journeys makes for a disorienting, propulsive read. —J.H.
Photo: Knopf
For decades Lorrie Moore has been a master of identifying the places in contemporary life (yes, I'm counting the 1980s as contemporary) where funny and sad meet and become an emotional power couple. Her latest novel, after 2013's A Gate at the Stairs, changes things up and finds her making a foray into historical fiction. Parts of I Am Homeless If This Is Not My Home are set in the 19th century and, according to marketing copy, concerns a mystery about "a therapy clown and an assassin, both presumed dead, but perhaps not dead at all." Intriguing! How exciting to see what she'll do in this new territory, especially given that her trademark wordplay transcends centuries and will likely be as snappy as ever.
—Maris Kreizman
In her third collection of poems, I Do Everything I'm Told, Megan Fernandes writes beautifully on the thorny relationship between grief, regret, and desire with verse that spans continents and beloveds and alternate timelines. In "Orlando," a woman imagines the life of a child she chose not to have, and in "Semiotics," the speaker wrestles with her admiration for a friend who has the "audacity / to be ill" in a world where "our Optimism is all that we have / Well, that and beauty." Fernandes's poems are loving and messy but always precise, her insights the kind that make you reevaluate your entire life. This book captures Fernandes at her most mature, exciting, and brave. I Do Everything I'm Told is a perfect entry point to Fernandes's captivating and irreverent style. —Isle McElroy
The Scottish writer K. Patrick invigorates a familiar story with gorgeous writing and fresh insights on gender and belonging. Their debut novel details a tentative, seductive relationship that unfolds between the insecure 22-year-old matron (yes, the job title is ironic) at a buttoned-up boarding school for girls and the wife of the headmaster. Mrs. S consists of mostly short, clipped sentences that still allow for the sumptuousness of a clandestine affair to sneak in, building in suspense of the will-they, won't-they variety. Spoiler alert: One of Mrs. S's Amazon subcategories is LGBTQ+ Erotica, so yeah — they will, and it will be sublime. But how they'll deal with the consequences is another matter. —M.K.
July
Photo: Penguin Random House
In her most recent book, 2021's To Write As If Already Dead, Kate Zambreno twinned two plagues —AIDS and COVID-19 — to reckon with questions of precarity, interpersonal and community responsibility, and authorial ethics in a melancholic meditation on the French writer Herve Guibert. With The Light Room, Zambreno — one of our most prolific and curious minds — chronicles what it's like to be a mother amidst the various crises of this chaotic moment in history, and how artists and writers like Yuko Tsushima, May Sarton, and Bernadette Mayer help her to ask what beauty we might leave to the generations that follow ours. —J.H.
Already an established poet and essayist, Ruth Madievsky makes her debut as a novelist with All-Night Pharmacy, a gripping, Surrealist portrait of a toxic sibling relationship. On the night of her high-school graduation, the narrator joins her elder sister, Debbie, at a raucous party full of misfits and mystics, where, after the two women share a bag of unmarked drugs, Debbie goes missing. All-Night Pharmacy captures the clutching obsequiousness we feel for those we admire and how the tendency to impress and entangle can unwittingly lead down a path of self-destruction and regret. Madievsky's lyrical-prose style and arresting imagery create a book that is far more than an everyday romp through the Los Angeles underbelly. This is a startling story of a young woman consumed by the urge to do right.  —I.M.
Through his career, Colson Whitehead has moved seamlessly from genre to genre with forays into horror, historical fiction, and satirical speculative fiction. But perhaps his most fun to read book is 2021's Harlem Shuffle, a clever crime novel that is as shrewd about race and class and power as it is propulsive. When we were first introduced to furniture-store salesman and small-time criminal Ray Carney, he was building a life uptown in the 1960s. This second book in Whitehead's proposed Harlem Trilogy finds Ray in New York City's volatile 1970s and all of the seaminess that comes with it. Having decided to give up his life of petty — and not-so-petty — crime to focus on his family, it appears that Ray is officially out of the game until, of course, he isn't. Who knows what lies in store for Ray and his associates (and enemies!) this time around, but it seems guaranteed that the schemes will be elaborate, the historical details meticulous, and the dialogue scintillating. —M.K.
Contradiction Days is a lyric, searching account of compulsion, dedication, and artistic solitude. Amid the physical and psychic transformations of pregnancy, JoAnna Novak finds herself again reckoning with patterns of disordered eating and suicidal ideation she thought she'd left behind her. After a doctor demands she take antidepressants and cease being "selfish," Novak instead travels to Taos, New Mexico, to live and work as the abstract painter Agnes Martin had: severed from devices, apart from her husband and dog, cultivating a quiet, deeper engagement with her art. Novak's writing is enchanting as she intermingles her own experience with Martin's long and storied career as well as Martin's difficulties with paranoid schizophrenia. —J.H.
August
One of the most galvanizing microgenres of today is the essay collection in which a writer combines personal experience with literary criticism, history, and analysis in order to capture a broader understanding of a cultural moment. Whiting Award–winning poet Roger Reeves's first foray into the genre, with a nod to James Baldwin's own 1980 essay collection of the same title, is a stunning addition to the category. In a variety of pieces exploring race and legacy and community, Reeves captures the sorrows inherent in the way we live today even while keeping a keen eye toward opportunity for joy. —M.K.
You might be surprised to learn that the first offering from the book imprint of the left-leaning media company Crooked is not a polemic or an irreverent collection of essays; it's a novel. But when you think about it, this makes perfect sense. Lydia Kiesling writes beautifully and rigorously about the rotten systems that ensnare her characters and the many imperfect ways in which they try to free themselves. Mobility's Bunny Glenn is a complicated heroine for the ages, a striver who values the comforts of her oil-industry job even as she must reckon with the fact that the world is quite literally on fire. —M.K.
Jamel Brinkley became established as one of the finest young writers working today when his first collection of stories, A Lucky Man, was named a finalist for the National Book Award, the PEN–Robert W. Bingham Prize for Debut Fiction, and the Story Prize, among other awards. Witness, his second collection, expands on the themes within A Lucky Man: family, intimacy, ambition, and home. Brinkley is a skilled, patient prose stylist and deft writer of character who isn't afraid to engage with the difficult moral complexity of contemporary life. Reading Witness will make you consider your place in the world as both a bystander and a participant. —I.M.
September
Sheena Patel's I'm a Fan is a queasy, ruthless novel of sexual obsession and self-destruction in the preening, perfectible age of social media. Patel's unnamed anti-heroine lives in South London and works in the arts. In her spare hours, she steps out on her sad-sack boyfriend with a famous married man, who, in turn, is cheating on his artist wife with a gaggle of women. Among his entanglements is an insufferable Instagram influencer, on whom the narrator becomes frighteningly fixated. Patel has said she was inspired to write the novel in the aftermath of the Capitol riots, finding a parallel between her volatile narrator's idolizing and the dangerous longing for an "unavailable love" on display in Trump's most rabid admirers. This simmering menace — which threatens to brim over into total chaos — makes I'm a Fan an unsettling, unmissable read. —J.H.
*A previous version of this article featured Tananarive Due's The Reformatory, which now has an October release date.
Every product is independently selected by our editors. Things you buy through our links may earn us a commission.