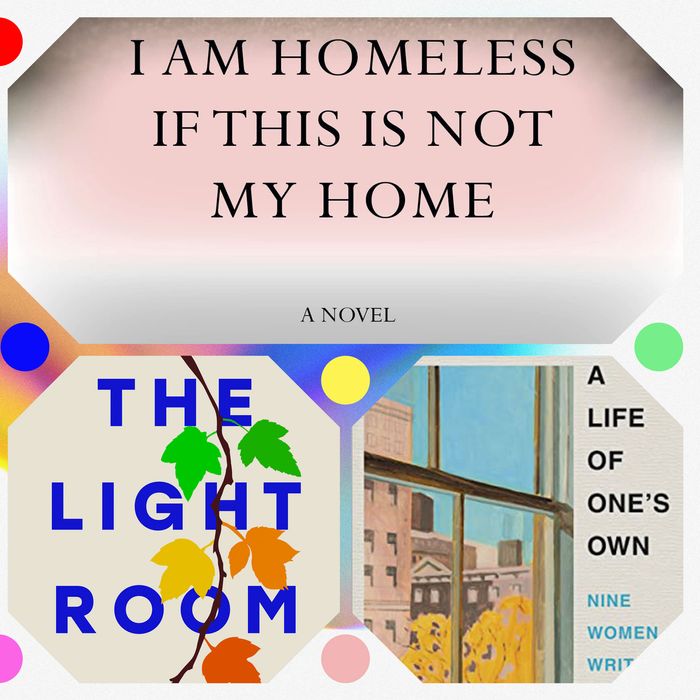 Photo-Illustration: Vulture; Photos courtesy the publishers.
If 2022 was a year of particular unrest in the publishing world, with blocked mergers and workers striking for better conditions and book bans on the rise, then how wonderful it is to start a new year full of anticipation for books themselves. No matter what else happens in 2023, we can guarantee that the books will be good. Here are a bunch that we're particularly excited about.
January
Following the success of Braised Pork, An Yu returns with her second novel, Ghost Music, the story of Song Yan, a piano teacher reckoning with her decision to leave her career as a concert pianist. Married to a man who refuses her pleas to have children, Song Yan must begin to confront whether she wants more than what can be found in marriage and teaching. As she explores these impulses, her journey grows increasingly surreal, resulting in a strange, atmospheric book populated by dreams of doorless rooms and odd orange mushrooms. This novel of grief, survival, and artistic ambitions captures the uncanny despair of loneliness and the liberating effort of beginning a new life. — I.M.
Debut memoirist Harry Windsor wants you to know that he's more than just the husband to famed actress and podcaster Meghan Markle. He's also a member — and recent defector — from one of England's most prominent families. Spare is the tale of one man's quest to tell his own story despite his family's protests, and it's already expected to be a best seller. You might not yet know the Windsors, but the publication of this highly anticipated debut is sure to put Harry and his drama-filled lineage on the map. — I.M.
Essayist, comedian, and antitrust lawyer Kashana Cauley's first novel The Survivalists is the story of a habitually single Black lawyer who upends her life after the death of her parents by moving in with her doomsday-prepper boyfriend. Once on the fast track to make partner at work, Aretha finds herself drawn deeper and deeper into the prepper lifestyle as she gets ready for a social collapse that appears dangerously imminent. Cauley is one of the smartest and funniest writers working today, and this novel is a chance for fans to spend even more time with her cutting critiques of the flaws in American culture. This novel asks uncomfortable questions about the lengths we must go to survive as everything around us is falling apart. — I.M.
A story of tech dystopia and ambivalent whistleblowing, Josh Riedel's Please Report Your Bug Here follows a heartbroken young man named Ethan who takes a gig at a dating app startup called DateDate. Shortly into his tenure, he stumbles on a coding error that transports users to a mysterious, airless field. But was his transport really an error? Or has Ethan uncovered a conspiracy at the center of DateDate? Please Report Your Bug Here is a gripping literary thriller that forces us to confront our complicity in the technologies reshaping human connections, and it asks how far we will go to maintain those connections. Dark, funny, and highly inventive, Riedel's debut is as addictive as the apps it criticizes. — I.M.
The Sense of Wonder is PEN/Faulker finalist Matthew Salesses's newest book after 2021's game-changing Craft in the Real World, a text that instantly became required reading across writing workshops. With his return to fiction, Salesses tells the intertwined stories of Won Lee, the first Asian American in the NBA; sportswriter Robert Sung; and film producer Carrie Kang. Salesses is a gifted scholar, and this novel further establishes him as one of today's smartest writers on the subject of race and relationships — and the narratives we tell about both. — I.M.
Photo: Tor Nightfire
Rumfitt's debut novel was published in late 2021 in the U.K. but is finally making it Stateside in 2023, and you're not ready. Daring, graphic, and actively engaged with the canon of women's horror (from Shirley Jackson to Toni Morrison to Charlotte Perkins Gilman), Tell Me I'm Worthless is a haunted-house novel where the malevolent spirit is … well, the concept of fascism. Years ago, Alice and Ila and Hannah spent a night in an abandoned house. Alice and Ila's lives were irrevocably altered, and Hannah never left at all — the house claimed her. Now, increasingly haunted, they've realized they have to go back to the house, find out what really happened that night, and finish what they started. Horrifying, provocative, and empathetic yet unflinching, Tell Me I'm Worthless is also the best novel you'll ever read featuring a haunted poster of the Smiths. –Emily Hughes
Gabrielle Bates is a poet, visual artist, and host of the podcast The Poetry Salon. Her debut book of poems, Judas Goat, charts the thorny and dangerous nature of desire. Originally from Alabama, the south haunts Bates's poetry, shaping her vision of intimacy, sacrifice, and fear. These poems are both generous and spare, full of unconventional portraits of longing — for safety, for love, for a motherhood one doesn't truly desire. Bates is a wise, tender witness to the parts of ourselves we rarely expose. — I.M.
This novel from Bachtyar Ali, one of Iraq's most celebrated authors, is a surreal father-son quest set in the aftermath of Saddam Hussein's rule. The Last Pomegranate Tree tells the story of Muzafar-i Subhdam, a peshmerga fighter who goes looking for his son after spending 21 years in prison. Muzafar has not seen his child since his birth, and his journey to track down the boy — now a man — after so many years away, soon turns into a phantasmagorical allegory about the lengths a father must go to rebuild his family in the aftermath of a massive trauma. This translation from Kareem Abdulrahman is an excellent introduction to Ali's masterful work. — I.M.
Delia Cai's debut, Central Places, might appear to be a departure from her work as a senior correspondent at Vanity Fair, but the novel contains the very wit and insight that makes Cai such a talented journalist. Central Places follows Audrey Zhou as she returns to her tiny hometown in Illinois to introduce her fiancé — and her new self — to the family and friends she left behind. The trip, however, proves far more than a formality, and the draw of past loves and old friends proves stronger than Audrey anticipated. Forced to accept that her new identity isn't as secure as she believed, Audrey must make a choice between the life she always aspired to in the city and the one she abandoned at home. — I.M.
February
Maggie Millner is already an established young poet, with work in The New Yorker, The Paris Review, and Poetry, but her genre-defying debut Couplets seems destined to join the canon of complicated queer love stories alongside books like Bluets, Memorial, and In the Dream House. This exhilarating romance in verse follows a woman who leaves her stable relationship with a man to begin an affair with a woman. Couplets is a ruthlessly honest and heartbreaking portrait of the pains and thrills that arise in the pursuit to become your true self. — I.M.
DK Nnuro's intelligent and wrenching debut novel, What Napoleon Could Not Do, centers on two siblings, Jacob and Belinda Nti, who grew up in Ghana fantasizing about moving to America. While Belinda succeeds, moving to the United States for college before obtaining a law degree, Jacob remains in his home country, still living with his father as his visa requests are repeatedly denied by the American government. Belinda has accomplished "What Napoleon could not do," according to their father. Over the course of the book, the love and shared ambitions that brought these two siblings together is tested under the pressure of dashed dreams and hopes set aside. — I.M.
In Kids These Days: The Making of Millennials, Malcolm Harris proved himself a brilliant thinker and writer capable of making the intricacies of economic conditions supremely readable. In Palo Alto, Harris aims even larger, with a 720-page "History of California, Capitalism, and the World," the first comprehensive biography of Silicon Valley and the ideologies that molded Northern California into the tech dystopia it is today. Harris's writing is astute and clear, accessible but never watered down. Like Silicon Valley, this book promises a lot, but unlike Silicon Valley, Harris is far more likely to deliver with this "radical proposition for how we might begin to change course" to escape from the wasteland of technological progress. — I.M.
Nazli Koca's debut The Applicant follows Leyla, a Turkish woman in her 20s living in Berlin after losing her student visa. Between scrubbing toilets at an Alice In Wonderland–themed hostel, Leyla ventures into Berlin's nightlife scene looking for solace and community on the dance floor. What she finds, instead, is a Swedish tourist who offers her the kind of comfort and financial support she isn't able to obtain as an aspiring writer. Told through tense, sardonic journal entries that are as cutting as they are tender, The Applicant sheds light on the grim reality of pursuing the life of an artist. — I.M.
Essayist and fiction writer Joseph Early Thomas's Sink pushes back against the expectations of coming-of-age memoirs. Eschewing the "I" to instead tell the story of Joey in third person, Thomas writes about his family's flawed attempts to show love and the hardship he faced overcoming his tumultuous childhood — and the community he later found in nerd culture, once he gave up on the urge to fit in. Thomas is a skilled prose stylist, and Sink is loaded with arresting imagery and insights into the eerie space between claustrophobia and freedom unique to childhood. — I.M.
Photo: Soft Skull
In this sly techno-thriller, Miles is a video-game designer who has built a virtual-reality world where anything is possible, only to be rewarded with constant death threats and a game overrun with sadistic violence. Consumed by paranoia, he throws himself into his work, ignoring his wife and daughters who have silently begun to retreat into their own mysterious worlds. In his attempts to restore his final vision — of his family, of his career, of his masterpiece — he devises a tool that promises to unite user and game. This crafty look at the (de-)generative powers of tech in the dawn of web3 is a shrewd investigation of power, desire, and manipulation. — Celia Mattison
"This is one of those stories that begins with a female body," starts Erica Berry's Wolfish, her wise and arresting debut about the wolves — real and symbolic — that haunt American life. Blending science writing with memoir and cultural criticism, Wolfish is a powerful exploration of predators and their prey delivered with an unflinching and vulnerable honesty. Berry is just as adept conveying the pangs of heartache and homesickness as she is the tightening walls of anxiety and the shadows of surveillance that follow women throughout their lives. As she slowly unravels humans' misplaced fear of wolves, she makes a compelling argument for coexistence between species, creating a necessary environmental memoir: that which acknowledges fear in its ongoing pursuit of hope. — I.M.
March
Rafael Frumkin follows up his critically acclaimed debut The Comedown with Confidence, a biting satire about a pair of friends who start a company that promises consumers instant enlightenment for the rest of their lives. When Ezra and Orson meet as teenagers at Last Chance Camp — the final stop before Juvie — they don't appear to have much in common. Ezra is awkward and addicted to the internet; Orson is a pristine physical specimen worthy of a Roman sculpture. But they discover a shared talent for scamming, which they enhance in each other, and over the course of the novel, as their hustles become increasingly complex, they veer closer and closer to a massive collapse from which they may never recover. — I.M.
Aurora Mattia's The Fifth Wound is a strange book in all the best ways. Baroque and mythical, inter-dimensional and grounded, this novel is an exploration of passion, beauty, violence, and loss. The story crosses multiple timelines in an effort to bear witness to both senseless acts of transphobic violence and to authentic, affirming love that arises between trans people. Chocked full of winding, brilliant sentences sure to turn readers' minds inside out, this is a tale of trans love and fantasy that engages with the full scope of the good, the frightening, and the profound. — I.M.
Alison Mills Newman's Francisco is the best kind of book to be published: the kind that has been out of print and impossible to track down for years. Known for being the first African American teenage actress on a television series (she starred in Julia in 1968-69), Mills Newman is also an accomplished musician, filmmaker, and novelist. Originally published in 1974, Francisco is a first-person account of a young Black woman increasingly disillusioned with her own Hollywood success. Fed up with films, she decides to travel up and down California, visiting friends and family and lovers, cataloging long conversations and parties while becoming more deeply involved in the Black Arts Movement of the 1970s. Featuring an essay from Sadiya Hartman, this stunning novel of ambition and friendship gets the long overdue return to print it deserves. — I.M.
Brother & Sister Enter the Forest is a strange and supremely queer coming-of-age story about a young man's relationship with a violent older boyfriend. Following years apart, Justin arrives on his sister Willa's doorstep, desperate for her help as his life is falling to pieces. Willa must decide whether the obligation she feels to her brother is worth inviting his chaos into her life. Mirabella writes about the strange land between fable and reality, and this novel deftly explores the surreal undertones of familiar themes like love and loyalty. Part fantastical horror, part road trip narrative, Brother & Sister Enter the Forest is an uncanny portrait of the lengths we go to protect the people we love. — I.M.
Idra Novey appears capable of doing it all. She is a poet, a translator, and with Take What You Need, her third book of fiction, she is firmly establishing herself as one of the finest and bravest novelists working today. Set in the Appalachian mountains, the story follows the parallel lives of Jean and her estranged stepdaughter Leah, who left her rural hometown and never looked back. But after Jean's death, Leah can't stay away any longer, and she must confront the life — and the people — she has been hiding from in the city where she currently lives. Novey is a master of the small and enormous mysteries that compose every person's life, and Take What You Need is her most skillful exploration of artistic dedication and the ruins that accrue over the course of a life. — I.M.
McKenzie Wark is one of today's finest critics on the subject of bodies, sex, gender, and, as of now, the venue that brings them all together: the rave. In Raving, Wark invites readers into New York's underground queer and trans night life scene. On its surface a treatise on the importance of techno music and raving more broadly, this is, at its core, a phenomenal exploration of the feeling of being alive on the dance floor. Few are better than Wark at capturing how it feels to be in a body with so much intelligence and humor. Here, she argues for raving as a vital trans aesthetic, a way to dance — literally — over the crumbling foundations of capitalism. — I.M.
Photo: One World
Fleeing California and the mysterious deaths of her parents, Adelaide Henry arrives in Montana in 1915 with a scant few dollars to her name and a steamer trunk that's always locked. She's trying to scrape out a life as a homesteader on the harsh, empty plains, far from people who might be harmed by the secret inside her trunk. But to her simultaneous dismay and delight, even as a Black woman on her own, she finds a (mostly) welcoming community — one she learns she needs, but one she's now put at deadly risk. LaValle's vivid, three-dimensional characters are always a draw, and this fascinating cast is a real treat, plus he introduces lesser-known pieces of American history in a way that never feels didactic (there's a scene where Adelaide accompanies a Chinese-American neighbor on a search for her father's grave that horrifies in ways both supernatural and mundane). Highly recommended for historical fiction readers just as much as die-hard horror fans. — E.H.
Photo: Astra House
A young Korean American copywriter in Berlin becomes obsessed with a K-pop idol known only as Moon in this engrossing and destabilizing riff on fandom and mass media. Through writing "Y/N," or "insert your name" fan fiction, the unnamed narrator elucidates what makes Moon so compelling, attracting a strange community of fellow fans and alienating former friends. When Moon suddenly retires and vanishes, she abandons her life to travel the world in hot pursuit. As she searches through lingering digital footprints to investigate his disappearance, she uncovers a secretive and threatening corner of the entertainment industry and a clue to finding Moon himself. —C.M.
April
Photo: New Directions
Mexican author Fernanda Melchor rocketed onto the international literary scene with the brutal,
mesmerizing novels Hurricane Season (2020) and Paradais (2022), but it was a nonfiction
collection, Aqui No Es Miami (This Is Not Miami, now in Sophie Hughes's translation) that
marked her 2013 debut as a Spanish-language author to watch. Here, Melchor operates in the tradition of the cronica — literary journalism blending interpretive storytelling with reportage — to dance deftly across a broad span of topics: UFOs to narcoviolence to haunted houses to a former Carnival queen's murder of her two sons. As in her novels, Melchor takes the communities in and around Veracruz as her focus, looking not only at the violence we all carry, but its circumstances, the things that "lead us toward or away from that violence." —Jamie Hood
May
Photo: Coffee House Press
This eerie psycho-noir opens with a biologist who has reluctantly returned to his Colombian hometown to live with his mother. Though he's found weed from a sociable drug dealer, and work as a substitute teacher at a boarding school, he remains haunted by reminders of his brother's still-unsolved murder ten years prior. As inexplicable events crop up around him — students who vanish, a girl from a powerful cult who gives birth to a baby covered in thick black hair— he becomes a begrudging detective exploring a web of conspiracy fueled by religious fanaticism and late capitalism. —C.M.
Photo: Riverhead Books
Taylor's debut novel, Real Life, was a Booker Prize finalist and ended up on many best of 2020 lists for its precise, lyrical examinations of class, race, and power in academia. The Late Americans promises to be a strong follow-up, a provocative queer saga that follows a loosely intertwined group of adults in Iowa City on the precipice of life-altering changes. Their final, cacophonous convergence in a rented cabin promises to contain plenty of sparks. Through Taylor's signature intimacy, we see casual emotional devastation, prickly social interactions, and wry humor with keen clarity. —C.M.
Photo: Ecco
Critic and Harper's editor Joanna Biggs has for years written radiantly about the lives and works of some of our greatest women artists — Sylvia Plath, Annie Ernaux, Dorothea Lange, Ottessa Moshfegh. In her second book, A Life of One's Own, Biggs intermingles criticism and biography with memoir to interrogate whether, for women, domesticity exiles us from artistic and experiential freedom. In the uncertain aftermath of leaving her own marriage, Biggs revisits the histories of some of these women —Plath, Simone de Beauvoir, Elena Ferrante, and Toni Morrison, among others — seeking solace and clarity on how we make our art, and what sorts of lives are possible for women on the artist's path. —J.H.
June
Photo: Knopf
For decades Lorrie Moore has been a master of identifying the places in contemporary life (yes, I'm counting the 1980s as contemporary) where funny and sad meet and become an emotional power couple. Her latest novel, after 2013's A Gate at the Stairs, changes things up and finds her making a foray into historical fiction. Parts of I Am Homeless If This Is Not My Home are set in the 19th century and, according to marketing copy, concerns a mystery about "a therapy clown and an assassin, both presumed dead, but perhaps not dead at all." Intriguing! How exciting to see what she'll do in this new territory, especially given that her trademark wordplay transcends centuries and will likely be as snappy as ever.
—Maris Kreizman
Tananarive Due has had a busy decade. She's taught classes on Black History and Afrofuturism at UCLA, produced and cowrote the documentary Horror Noire: A History of Black Horror, and has published an array of short stories and graphic novels. She even wrote an episode of Jordan Peele's The Twilight Zone reboot, so it's understandable both that horror fans tend to speak her name with reverence and that we had to wait over a decade between novels. Set in 1950 Florida, The Reformatory follows a Black teen sent to a segregated reform school for boys where abuse, torture, and even murder run rampant — as do the ghosts of boys who died there. The school in the novel is based on the real-life Dozier School for Boys, the same school that inspired Colson Whitehead's The Nickel Boys, where dozens of boys were killed and buried over the course of decades. Due has a family connection to the Dozier School — in 1937, her great uncle was one of the boys who died there. Her fiction is always powerful, and The Reformatory promises to be her most moving — and horrifying — tale yet. –E.H.
July
Photo: Penguin Random House
In her most recent book, 2021's To Write As If Already Dead, Kate Zambreno twinned two plagues —AIDS and COVID-19 — to reckon with questions of precarity, interpersonal and community responsibility, and authorial ethics in a melancholic meditation on the French writer Herve Guibert. With The Light Room, Zambreno — one of our most prolific and curious minds — chronicles what it's like to be a mother amidst the various crises of this chaotic moment in history, and how artists and writers like Yuko Tsushima, May Sarton, and Bernadette Mayer help her to ask what beauty we might leave to the generations that follow ours. —J.H.
Every product is independently selected by our editors. Things you buy through our links may earn us a commission.