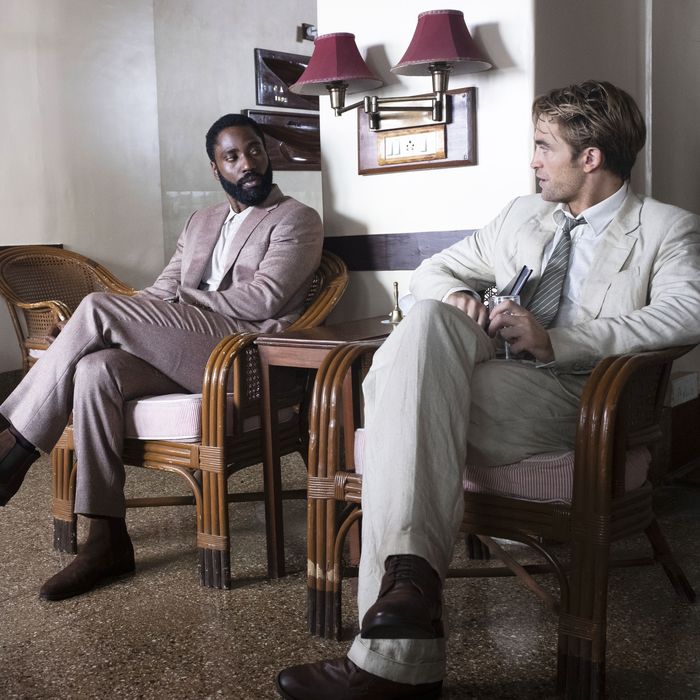 John David Washington and Robert Pattinson in
Tenet
, currently slated for a September release.
Photo: Melinda Sue Gordon/Warner Bros.
This article is updated frequently as movie release dates change.
You may have heard: Movie theaters are staging a comeback … or at least they're trying to.
In the age of COVID-19, the regular moviegoing experience has been suspended, but the big chains and studios, after months of relying on video-on-demand releases, are itching for normalcy. Will it happen? A lot remains to be seen, but the optimistic studios do have official release dates for this year's major titles, which we've compiled below for your convenience. Of course, read on with caution: All these dates are subject to change.
July 31
Directed by: Eli B. Despres, Josh Kriegman, & Elyse Steinberg
Genre: Documentary
A non-fiction film about the American Civil Liberties Union and the unexpected challenges they have faced during the Trump administration.
Directed by: Ron Howard
Genre: Documentary
In 2018, the town of Paradise, California, was one of the communities devastated by wildfires in the region. Director Ron Howard has made a personal documentary about the attempt to bring the city back from the ashes.
Directed by: Nick Rowland
Starring: Cosmo Jarvis, Anthony Welsh, Ned Dennehy, and Barry Keoghan
Genre: Thriller
This Irish thriller centers on man trying to start his own family as he sticks by the criminal one for which he has been a longtime enforcer.
Directed by: Amy Seimetz
Starring: Kate Lyn Sheil, Jane Adams, Kentucker Audley, Katie Aselton, Chris Messina, Tunde Adebimpe, and Jennifer Kim
Genre: Thriller
One of the most acclaimed films from the SXSW that never was is this phenomenal mindbender about a young woman who becomes convinced she's going to die tomorrow. Her certain dread ends up being contagious to those around her. A growing national anxiety that travels like a virus? It may be the best commentary on our times we'll see all year.
Directed by: Jessica Swale
Starring: Gemma Arterton, Gugu Mbatha-Raw, Penelope Wilto, and Lucas Bond
Genre: Drama
A World War II drama about a woman who opens her heart to an evacuee.
August 7
Directed by: James D'Arcy
Starring: Liam Neeson, Michael Richardson, and Valeria Bilello
Genre: Drama
A father and his estranged son reconnect as they reunite to sell the home that they both inherited from his late wife. One imagines this will have an extra layer of emotion due to the fact that Neeson and Richardson actually are father and son, and both were dealt the blow of losing Natasha Richardson at such a young age.
August 21
Directed by: RZA
Starring: Shameik Moore, Demetrious Shipp Jr., Denzel Whitaker, Keean Johnson, Rob Morgan, T.I., Terrence Howard, Joel David Moore, Eiza Gonzalez, Ethan Hawke, and Wesley Snipes
Genre: Action
The Wu-Tang mastermind directs this thriller about a group of young people caught up in a heist after Hurricane Katrina hits New Orleans, leaving them with too few opportunities to escape.
Directed by: Michael Almereyda
Starring: Ethan Hawke, Kyle MacLachlan, Hannah Gross, Eve Hewson, Lois Smith, and Jim Gaffigan
Genre: Drama
A divisive film from Sundance 2020 about the life of Nikola Tesla, told in an experimental style from the director of Marjorie Prime and Experimenter.
Directed by: Sang-ho Yeon
Starring: Dong-Won Gang and Jung-hyun Lee
Genre: Action Horror
Almost nothing is known about this sequel to the 2016 hit film, but anyone who has seen Train to Busan doesn't need to know more than this exists to want to see it.
Directed by: Derrick Borte
Starring: Russell Crowe, Jimmi Simpson, Gabriel Bateman, Caren Pistorius, Annie Leighton, and Michael Papajohn
Genre: Thriller
Reportedly about road rage gone out of control. And a movie trying to be the first "major" one out of the gate after the lockdown.
Directed by: Thor Freudenthal
Starring: AnnaSophia Robb, Charlie Plummer, Walton Goggins, Molly Parker, Andy Garcia, Taylor Russell, and Beth Grant
Genre: Drama
August 28
Directed by: Dean Parisot
Starring: Keanu Reeves, Alex Winter, Samara Weaving, Kristen Schaal, Brigette Lundy-Paine, Erinn Hayes, Wiliam Sadler, Holland Taylor, Jayma Mays, Jillian Bell, Anthony Carrigan, Beck Bennett, and Kid Cudi
Genre: Comedy
Wyld Stallyns Forever! Bill and Ted are finally back as middle-aged dads forced to save the universe again, dude.
Directed by: Marco Pontecorvo
Starring: Harvey Keitel, Goran Visjnic, and Sonia Braga
Genre: Drama
A 10-year-old and her two cousins in Portugal report visions of the Virgin Mary in this drama about faith and how institutions like church and government deal with actual miracles.
Directed by: Josh Boone
Starring: Anya Taylor-Joy, Maisie Williams, Henry Zaga, Charlie Heaton, Blu Hunt, and Alice Braga
Genre: Action
Long delayed since its initial release date a full two years ago, this is the story of five mutants who are held in a secret facility before their captors learn that it can be hard to hold young people with crazy powers.
Directed by: Armando Iannucci
Starring: Dev Patel, Hugh Laurie, Tilda Swinton, and Peter Capaldi
Genre: Dramedy
The writer-director of In the Loop and Veep adapts the famous novel by Charles Dickens.
September 3
Directed by: Christopher Nolan
Starring: John David Washington, Elizabeth Debicki, Robert Pattinson, Himesh Patel, and Clémence Poésy
Genre: Thriller
Nothing is certain when it comes to director Christopher Nolan's Tenet, not even a vague grasp of the plot. The cerebral thriller's much-analyzed trailer seems to suggest its main characters, John David Washington, Elizabeth Debicki, and Robert Pattinson, can exploit ruptures in the time-space continuum to commit some sort of corporate espionage and also, possibly, "prevent World War III."
September 11
Directed by: Natalie Krinsky
Starring: Geraldine Viswanathan, Dacre Montgomery, and Utkarsh Ambudkar
Genre: Romantic Comedy
A young woman opens a gallery where people with broken hearts can leave behind trinkets from their failed relationships. This rom-com has been shuffled a few times because of the pandemic but has finally settled into a date for markets with open theaters.
September 18
Directed by: John Hyams
Starring: Jules Willcox, Marc Menchaca, and Anthony Heald
Genre: Thriller
A survival story of a recently widowed woman who is kidnapped by a serial killer but escapes into the wilderness where she is forced to battle both her pursuer and the elements.
Directed by: Cyrus Nowrasteh
Starring: Jim Caviezel, Claudia Karvan, and Hal Ozsan
Genre: Drama
A friend invites an American man to come to Cairo to speak out about militant uprisings and the traveler ends up being kidnapped. Isn't that always the way?
September 25
Directed by: Tate Taylor
Starring: Jessica Chastain, Colin Farrell, Geena Davis, John Malkovich, Diana Silvers, Ioan Gruffudd, Common, Joan Chen, and Janelle Feigley
Genre: Action
The Oscar-nominated actress does the action thing, playing an assassin fighting for her survival after a job goes wrong. There's always a job that goes wrong.
Directed by: Ric Roman Waugh
Starring: Gerard Butler, Morena Baccarin, David Denman, and Scott Glenn
Genre: Action
Something about a natural disaster reunites the director and star of Angel Has Fallen. That's all we know, but what more do we need, really?
Directed by: Miranda July
Starring: Evan Rachel Wood, Debra Winger, Gina Rodriguez, Richard Jenkins, Diana Maria Riva, and Da'Vine Joy Randolph
Genre: Drama
A major critical darling from Sundance 2020, this is July's first film since 2011's The Future, and it tells the story of a family of con artists and someone who gets sucked into their world.
September 30
Directed by: Julie Taymor
Starring: Alicia Vikander, Janelle Monae, Lulu Wilson, Julianne Moore, Timothy Hutton, Bette Midler, and Lorraine Toussaint
Genre: Drama
An experimental look at the life and work of the legendary Gloria Steinem, a major figure on the fight for equal rights for women. Premiered at Sundance 2020.
October 2
Directed by: Brea Grant
Starring: Angela Bettis, Chloe Farnworth, and David Arquette
Genre: Thriller/Comedy
In this pitch-black comedy, Angela Bettis (May) plays a nurse who works the night shift at a hospital and sells organs from the recently deceased on the black market. When a shipment goes missing, it starts a sequence of events that leads to even more bloodshed than happens on an average shift.
Directed by: Roger Kumble
Starring: Josephine Langford, Hero Fiennes Tiffin, Dylan Sprouse, Selma Blair, Charlie Weber, and Louise Lombard
Genre: Drama
A sequel to the 2019 critically reviled drama After that continues the story of that film's genetically blessed leads. She questions their relationship after a revelation. Those damn revelations.
Directed by: Patty Jenkins
Starring: Gal Gadot, Chris Pine, Pedro Pascal, Connie Nielsen, Robin Wright, and Kristen Wiig
Genre: Action
She's back! That's all anyone really knows. Well, and it takes place in 1984. Probably.
October 9
Directed by: Mark Williams
Starring: Liam Neeson, Jai Courtney, Kate Walsh, Robert Patrick, Jeffrey Donovan, and Anthony Ramos
Genre: Action
Wasn't Liam Neeson done making action movies? Just when you think you're out, they pull you back in. And the irony is that this is the story of a bank robber who's trying to retire but is forced to clear his name first with some very special skills.
Directed by: Brandon Cronenberg
Starring: Andrea Riseborough, Christopher Abbott, Jennifer Jason Leigh, and Tuppence Middleton
Genre: Horror
In this grisly vision of the future, people can possess someone else's body and make them commit horrific crimes. From the son of David Cronenberg, this is a new kind of body horror that made waves when it premiered at Sundance 2020.
Directed by: Tim Hill
Starring: Robert De Niro, Uma Thurman, and Christopher Walken
Genre: Family
An adaptation of the book by Robert Kimmel Smith about a young man whose grandpa forces him into the creepy attic when he moves into the family home. He goes to war to get it back, forgetting the fact that his grandpa once played Travis Bickle.
October 16
Directed by: Nia DaCosta
Starring: Yahya Abdul-Mateen II, Teyonah Parris, Nathan Stewart-Jarrett, Colman Domingo, and Vanessa Williams.
Genre: Horror
Jordan Peele produced this remake of the 1992 classic. Say his name five times in the mirror if you dare.
Directed by: Dominic Cooke
Starring: Benedict Cumberbatch, Rachel Brosnahan, Jessie Buckley, and Angus Wright
Genre: Drama
Titled Ironbark at Sundance, this is the story of Greville Wynne, a spy during the Cold War who played a role in ending the Cuban Missile Crisis.  
October 23
Directed by: Michael Rianda
Starring: the voices of Danny McBride, Olivia Colman, Abbi Jacobson, Maya Rudolph, and Eric Andre
Genre: Animated
A father takes a final chance to connect with his daughter on a road trip to take her to film school.
Directed by: Kenneth Branagh
Starring: Gal Gadot, Armie Hammer, Emma Mackey, Rose Leslie, Annette Bening, Jennifer Saunders, Russell Brand, Dawn French, Letitia Wright, and Sophie Okonedo
Genre: Mystery
Branagh returns in the role of Hercule Poirot, adapting another Agatha Christie novel after the massive success of his take on Murder on the Orient Express.
October 30
Directed by: Jacob Chase
Starring: Gillian Jacobs, Winslow Fegley, Azhy Robertson, and John Gallagher Jr.
Genre: Horror
An adaptation of the 2017 short film about a monster that comes through a child's smartphone and tablet. You thought your kid's screen time was hard to manage?!
Directed by: Deon Taylor
Starring: Michael Ealy, Hilary Swank, and Mike Colter
Genre: Thriller
A female police detective lures a married man into a murder scheme in a plot description that sounds like it could be high-class noir or total B-movie. We're in either way.
November 6
Directed by: Cate Shortland
Starring: Scarlett Johansson, Florence Pugh, Rachel Weisz, David Harbour, and William Hurt
Genre: Action
Natasha Romanoff finally gets her own spinoff movie in an adventure that takes place between Captain America: Civil War and Avengers: Infinity War.
Directed by: Bryan Bertino
Starring: Marin Ireland, Michael Abbott Jr., and Xander Berkeley
Genre: Horror
A brother and sister return to their family home when their father falls ill, but they discover something truly sinister is haunting Mom and Dad in this festival hit from the director of The Strangers and The Monster. It is truly both dark and wicked.
Directed by: Thomas Bezucha
Starring: Kevin Costner, Diane Lane, Lesley Manville, Kayli Carter, Booboo Stewart, Jefrey Donovan, Will Brittain, and Ryan Bruce
Genre: Thriller
Two grandparents seek to keep their only grandson safe after the death of their son in an adaptation of the Larry Watson novel.
November 13
Directed by: Francis Lee
Starring: Kate Winslet, Saoirse Ronan, Fiona Shaw, and James McArdle
Genre: Drama
In 1840s England, two women form an intense relationship by the sea in this Neon-distributed film that's set to premiere at TIFF this year.
Clifford the Big Red Dog
Directed by: Walt Becker
Starring: Rosie Perez, Sienna Guillory, Russell Wong, John Cleese, Kenan Thompson, Jack Whitehall, and the voice of David Alan Grier
Genre: Family
Another adaptation of the hit children's books about a big red dog named Clifford. You get the idea.
The Comeback Trail
Directed by: George Gallo
Starring: Robert De Niro, Morgan Freeman, Tommy Lee Jones, Emile Hirsch, Zach Braff, Eddie Griffin, and Vincent Spano
Genre: Comedy
A pair of aging movie producers try to pull an insurance scam with an over-the-hill star but it backfires on them.
Directed by: Adrian Lyne
Starring: Ben Affleck, Ana de Armas, Kristen Connolly, Tracy Lets, Dash Mihok, and Lil Rel Howery
Genre: Thriller
The onetime king of the adult thriller returns to the genre for the first time since 2002's Unfaithful with the story of a man suspected in the disappearance of his wife's lovers.
November 20
Directed by: Cary Joji Fukunaga
Starring: Daniel Craig, Ana de Armas, Lea Seydoux, Ralph Fiennes, Rami Malek, Naomie Harris, Christoph Waltz, and Billy Magnussen
Genre: Action
One of the first victims of the pandemic was the long-awaited latest Daniel Craig 007 film. Still, we will hopefully see what Bond's been up to since Spectre before the end of 2020.
Directed by: Pete Doctor
Starring: The voices of Jamie Foxx, Tina Fey, Quest Love, Phylicia Rashad, and Daveed Diggs
Genre: Animated
The latest from Pixar charts the journey of a musician trying to find his passion for music again with the help of an infant soul learning about herself. From the director of Up and Inside Out.
November 25
Directed by: Clea DuVall
Starring: Alison Brie, Mackenzie Davis, Kristen Stewart, Dan Levy, Aubrey Plaza, Mary Steenburgen, Jack McDorman, Victor Garber, and Ana Gasteyer
Genre: Comedy
A woman plans to propose to her girlfriend at a family event but discovers that her partner is not yet out to her conservative parents.
Voyagers
Directed by: Neil Burger
Starring: Colin Farrell, Tye Sheridan, Isaac Hempstead Wright, and Lily-Rose Depp
Genre: Sci-fi
The story of 30 young men and women sent into space to find a new home and how they basically descend into madness and drive each other insane.
November 27
Directed by: Alex Winter
Genre: Documentary
The star of the Bill & Ted movies turns his skills to directing a documentary about the life and work of the irreplaceable Frank Zappa.
December 4
Directed by: David Prior
Starring: Stephen Root, Joel Courtney, Aaron Poole, Robert Aramayo, and James Badge Dale
Genre: Horror
An investigation into a missing girl leads to a group of people trying to summon a supernatural entity.
Directed by: Chloé Zhao
Starring: Frances McDormand, David Strathairn, and Bob Wells
Genre: Drama
The director of The Rider and the upcoming The Eternals writes and directs an adaptation of Jessica Bruder's book about a woman who loses everything in the Great Recession and decides to use the clean slate to become a van-dwelling wanderer across the American landscape. It's one of the biggest (virtual) festival films, playing Venice, Toronto, and the New York Film Festival.
December 11
Directed by: Daniel Woltosz, Walter Woltosz
Starring: Jason Rathbone, Amanda Arcuri, and Kerri Medders
Genre: Horror
A teenager is abducted through a social-media app in this year's cautionary Halloween-season horror film about technology that kills.
Directed by: Shawn Levy
Starring: Ryan Reynolds, Taika Waititi, Jodie Comer, Joe Kerry, Utkarsh Ambudkar, and Lil Rel Howery
Genre: Action
Have you ever wondered about the lives of the NPCs in violent video games? This one imagines one deciding he's had enough and fighting back against the world around him.
December 18
Directed by: Craig Brewer
Starring: Eddie Murphy, Wesley Snipes, Arsenio Hall, James Earl Jones, Leslie Jones, Louie Anderson, Tracy Morgan, and John Amos
Genre: Comedy
Testing the theory that it's never too late for a sequel, Eddie Murphy returns to his hit 1988 comedy about the Zamundan fish out of water.
Directed by: Denis Villeneuve
Starring: Rebecca Ferguson, Timothée Chalamet, Jason Momoa, Zendaya, Dave Bautista, Javier Bardem, Josh Brolin, Oscar Isaac, Stellan Skarsgard, Charlotte Rampling, David Dastmalchian, and Stephen McKinley Henderson
Genre: Sci-fi
Another high-budget adaptation of the Frank Herbert sci-fi masterpiece that David Lynch tried to bring to the screen in the '80s, this time by the visionary behind Blade Runner 2049 and Arrival.
Directed by: Florian Zeller
Starring: Anthony Hopkins, Olivia Colman, and Olivia Williams
Genre: Drama
Sir Anthony Hopkins is coming for that second Oscar in this highly acclaimed offering from Sony Pictures Classics. The living legend plays a man dealing with increasingly disruptive dementia in this heartfelt drama that premiered at Sundance 2020.
Directed by: Steven Spielberg
Starring: Ansel Elgort, Rita Moreno, Talia Ryder, Corey Stoll, Maddie Ziegler, and Brian d'Arcy James
Genre: Musical
The great Tony Kushner adapts the classic 1957 musical for Steven Spielberg about the love between two teens from different street gangs and different backgrounds. There will be singing and swooning in equal measure.
December 23
Directed by: Joel Crawford
Starring: the voices of Nicolas Cage, Ryan Reynolds, Emma Stone, Leslie Mann, Catherine Keener, Peter Dinklage, Clark Duke, Cloris Leachman, and Kelly Marie Tran
Genre: Animated
Seven years is a lifetime in the world of children's entertainment, but that's how long it's been since the first Croods. This one sees the titular family fighting against another group known as the Bettermans.
December 25
News of the World
Directed by: Paul Greengrass
Starring: Tom Hanks
Genre: Drama
An adaptation of the novel by Paulette Jiles about a man who brings news from town to town in the Wild West and gets caught up in the rescue of a kidnapped little girl.
Directed by: Liesl Tommy
Starring: Jennifer Hudson, Forest Whitaker, Tate Donovan, Marlon Wayans, Marc Maron, Audra McDonald, Tituss Burgess, Mary J. Blige, and Kimberly Scott
Genre: Biopic
The music biopic train that recently won Oscars for Rami Malek and Renee Zellweger arrives at Aretha Franklin, played by Jennifer Hudson.
2021
January 1
Directed by: Adam Robitel
Starring: Logan Miller, Isabelle Fuhrman, Thomas Cocquerel, Holland Roden, Carlito Olivero, Indya Moore, Jay Erving, and Avianah Abrahams
Genre: Horror
Nothing is known about the specifics yet, but expect more escape rooms with traps that are deadlier than your average Saturday-night fun fare.
January 15
355
Directed by: Simon Kinberg
Starring: Jessica Chastain, Penélope Cruz, Diane Kruger, Lupita Nyong'o, Edgar Ramirez, and Sebastian Stan
Genre: Thriller
Look at that cast! Almost nothing is known about this movie except that those women play international spies, but really, what more could you possibly need to know?
Mortal Kombat
Directed by: Simon McQuoid
Starring: Jessica McNamee, Hiroyuki Sanada, Mehcad Brooks, Ludi Lin, Josh Lawson, Chin Han, Sisi Stringer, and Tadanobu Asano
Genre: Action
Hard to believe it's been 26 years since the blockbuster film adaptation of the hit video game. Guess it's time to do it again. Finish him!
Directed by: Will Gluck
Starring: Rose Byrne, Domhnall Gleeson, and the voices of James Corden, Margot Robbie, Elizabeth Debicki, Damon Herriman, and Lennie James
Genre: Family
More wacky high jinks after Peter leaves home in a sequel to the hit film loosely based on the tales of Beatrix Potter.
Wrath of Man
Directed by: Guy Ritchie
Starring: Jason Statham, Josh Hartnett, Scott Eastwood, Jeffrey Donovan, Alex Ferns, Holt McCallany, and Laz Alonso
Genre: Action
Statham reunites with Ritchie for the story of a cash-truck driver that's based on a 2004 Jean Dujardin film called Le Convoyeur. Given who directed it, driving around L.A. with a truck full of cash probably won't go smoothly.
January 22
Chaos Walking
Directed by: Doug Liman
Starring: Tom Holland, Daisy Ridley, Mads Mikkelsen, Nick Jonas, Ray McKinnon, Cynthia Erivo, David Oyelowo, and Demián Bichir
Genre: Sci-fi
What happens when the action aesthetic of the director of The Bourne Legacy smashes up against the surreal style of Charlie Kaufman, who has a writing credit here? We'll find out in January when this story of a future in which people can literally hear one another's thoughts comes out.
January 29
Directed by: Shaka King
Starring: Daniel Kaluuya, LaKeith Stanfield, Jesse Plemons, Martin Sheen, Ashton Sanders, Lil Rel Howery, and Dominique Fishback
Genre: Drama
The story of Fred Hampton, one of the leaders of the Black Panther Party, and an FBI informant named William O'Neal, who infiltrates the organization. Kaluuya plays Hampton and Stanfield takes on O'Neal in this film with a killer preview.
The Little Things
Directed by: John Lee Hancock
Starring: Denzel Washington, Jared Leto, Rami Malek, Natalie Morales, Chris Bauer, and Terry Kinney
Genre: Action
Two cops are on the trail of a serial killer in the latest from the director of The Rookie and The Highwaymen.
Directed by: Hamish Grieve
Starring (the voices of): Terry Crews, Will Arnett, Ben Schwartz, Geraldine Viswantahan, Jimmy Tatro, Tony Danza, and Fred Melamed
Genre: Animated
A family film that takes place in a world where monsters are trained to wrestle and become superstar athletes. A teenager tries to coach an underdog into becoming a champion.
February 5
Cinderella
Directed by: Kay Cannon
Starring: Camila Cabello, Billy Porter, Nicholas Galitzine, Minnie Driver, John Mulaney, and James Corden
Genre: Musical
A musical take on the fairy-tale classic with pop star Cabello in the lead role.
February 12
The Eternals
Directed by: Chloé Zhao
Starring: Angelina Jolie, Richard Madden, Salma Hayek, Kumail Nanjiani, Gemma Chan, Kit Harrington, Barry Keoghan, Dong-seok Ma, Haaz Sleiman, and Brian Tyree Henry
Genre: Action
The latest entry in the MCU, this one about immortals who protect humanity.
What About Love
Directed by: Klaus Menzel
Starring: Sharon Stone, Andy Garcia, Iain Glen, Jose Coronado, Maia Morgenstern, and Marielle Jaffe
Genre: Romance
No specifics yet, but it's got something to do with love. We're just guessing.
February 19
Antlers
Directed by: Scott Cooper
Starring: Keri Russell, Jesse Plemons, Jeremy T. Thomas, Graham Greene, Scott Haze, Rory Cochrane, and Cody Davis
Genre: Horror
The director of Hostiles and Black Mass turns to horror in this windigo-inspired tale produced by Guillermo del Toro. Expect a lot of gnarly, gruesome carnage.
February 26
Directed by: Matthew Vaughn
Starring: Gemma Arterton, Matthew Goode, Aaron Taylor-Johnson, Ralph Fiennes, Stanley Tucci, Daniel Bruhl, Charles Dance, Djimon Hounsou, Harris Dickinson, Tom Hollander, and Rhys Ifans
Genre: Action
A prequel to Vaughn's 2014 action hit.
Nobody
Directed by: Ilya Naishuller
Starring: Bob Odenkirk, Connie Nielsen, and Christopher Lloyd
Genre: Thriller
A normal guy intervenes when a woman is being harassed, and he ends up the target of a violent drug lord.
Tom Clancy's Without Remorse
Directed by: Stefano Sollima
Starring: Michael B. Jordan, Jamie Bell, Cam Gigandet, Jodie Turner-Smith, Brett Gelman, and Colman Domingo
Genre: Action
Jordan heads an adaptation of a novel by Clancy, the king of government conspiracies and the righteous souls who will do anything to stop them.
March 5
Ghostbusters: Afterlife
Directed by: Jason Reitman
Starring: Paul Rudd, Mckenna Grace, Carrie Coon, Bokeem Woodbine, Annie Potts, Bill Murray, Finn Wolfhard, Sigourney Weaver, Ernie Hudson, and Dan Aykroyd
Genre: Action/Comedy
Reboot, take two! This one ties itself more directly to the beloved '80s original. A single mom discovers she has a connection to a legacy that involves hunting ghosts and something called a Slimer.
Tom and Jerry
Directed by: Tim Story
Starring: Chloë Grace Moretz, Michael Peña, Ken Jeong, Colin Jost, Rob Delaney, and Brian Stepanek
Genre: Family
The classic cartoon about the mouse and the cat gets a big-screen adaptation just in time for the holidays. It's not quite Itchy & Scratchy but it'll do.
March 12
The Many Saints of Newark
Directed by: Alan Taylor
Starring: Michael Gandolfini, Vera Farmiga, Jon Bernthal, Billy Magnussen, Ray Liotta, John Magaro, Corey Stoll, Alessandro Nivola, and Leslie Odom Jr.
Genre: Drama
David Chase co-wrote this prequel to his HBO show The Sopranos about the early days of Tony, played by James Gandolfini's son, Michael.
Raya and the Last Dragon
Directed by: Don Hall, Carlos López Estrada, Paul Briggs, and John Ripa
Starring: the voices of Awkwafina and Kelly Marie Tran
Genre: Animated
Little is known about this Disney animated adventure, other than it's a Disney animated adventure so it will make roughly a bajillion dollars.
March 19
Morbius
Directed by: Daniel Espinosa
Starring: Jared Leto, Adria Arjona, Michael Keaton, Jared Harris, Matt Smith, Tyrese Gibson, and Al Madrigal.
Genre: Action
A doctor does research on himself and ends up becoming a vampire in this adaptation of a Marvel comic. No word yet on how Method actor Leto got into this character, but we're worried too.
Tomb Raider 2
Directed by: Ben Wheatley
Starring: Alicia Vikander and Kristin Scott Thomas
Genre: Action
A sequel to the 2018 reboot, this one unexpectedly helmed by Wheatley, the director of High-Rise, Free Fire, and Netflix's remake of Rebecca.
The Unbearable Weight of Massive Talent
Directed by: Tom Gormican
Starring: Nicolas Cage and Pedro Pascal
Genre: Comedy
Cage, who plays a version of himself, is hired to appear at a superfan's birthday party, but it turns out the actor is really undercover as a CIA agent. Sounds meta-awesome.