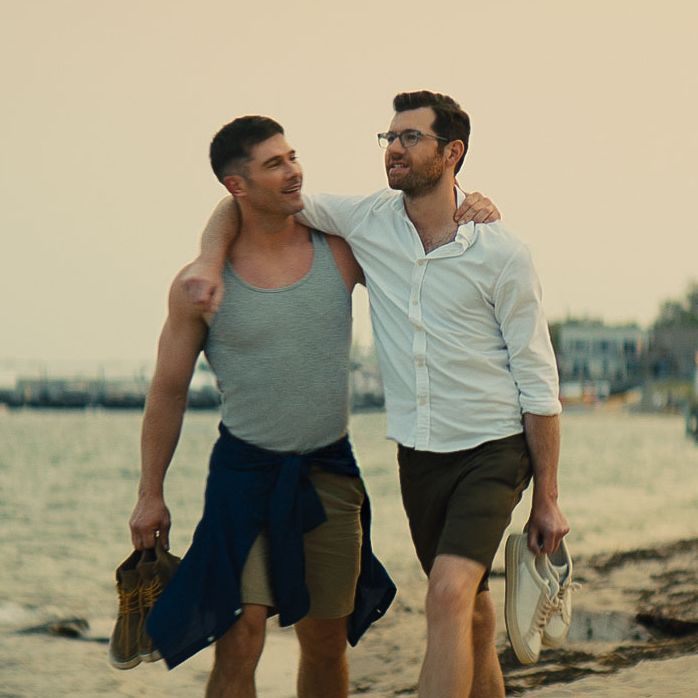 Bros.
Photo: Universal Pictures
This Week's Highlight
Bros
Bros have had a hard time finding its footing in theaters, but it's still pretty good! And pretty funny! Eichner and his co-star Luke Macfarlane are charming together, and the surrounding cast (Ts Madison, Guy Branum, Bowen Yang, and more) seem like they're having a great time. It's a joyous, cheesy rom-com. (Streaming April 4.)
Full List of What's New on Prime Video — April 2023
Noteworthy selections in bold.
Available April 1
American Gigolo
At the Gate of the Ghost
Bend It Like Beckham
Cloudy with a Chance of Meatballs
Cloudy with a Chance of Meatballs 2
Couples Retreat
Crouching Tiger, Hidden Dragon
Death Wish 2
Death Wish 3
Death Wish 4: The Crackdown
Dirty Pretty Things
Face/Off (1997)
Fast Times At Ridgemont High
Fighting with My Family
Forrest Gump
Jesse Stone: Benefit of the Doubt
Jesse Stone: Innocents Lost
Jesse Stone: Lost in Paradise
Jesse Stone: No Remorse
Jesse Stone: Thin Ice
Jet Li's Fearless
Jigsaw
Jumping the Broom
Keeping the Faith
Liar Liar
Life of Pi
Lifeguard
Mary and The Witch's Flower
Max Payne
McLintock
Moonlight and Valentino
Morning Glory
My Cousin Vinny
Ong Bak
Philomena
Racing with the Moon
Ray
School Ties
Shanghai Knights
Shanghai Noon
Shrek Forever After
Small Soldiers
Soul Surfer
Speed
Staying Alive
Tales From the Darkside: The Movie
Terminator Genisys
The Aviator
The Big Lebowski
The Breakfast Club
The Descendants
The Joy Luck Club
The Longest Yard
The Mechanic
The Medallion
The Sisters Brothers
The Two Faces of January
The Young Messiah
Tinker Tailor Soldier Spy
Titanic
To the Wonder
Top Gun
Vanilla Sky
We're No Angels
Whiplash
Young Sherlock Holmes
Available April 4
Redefined: J.R. Smith
Bros
Available April 6
Lizzy Hoo: Hoo Cares!?
Available April 7
On a Wing and a Prayer
Gangs of Lagos
Available April 11
Ticket to Paradise
Available April 12
Alter Ego
Big Bad Wolves
Herbie Hancock: Possibilites
Kill Me Three Times
Life Itself
The Quest of Alain Ducasse
Whose Streets?
Available April 14
Greek Salad
Available April 19
Bigger, Stronger, Faster
Chai Lai Angels: Dangerous Flowers
Demon Warriors
Happy Happy
I Melt With You
Magic Trip
Playback
Vanishing on 7th Street
Available April 21
Dead Ringers
Judy Blume Forever
Available April 26
Crazy Love
Syrup
Available April 28
Citadel
For more coverage of the best movies and TV shows available on Netflix, HBO, Amazon Prime, Hulu, and Showtime, check out Vulture's What to Stream Now hub, which is updated throughout the month.