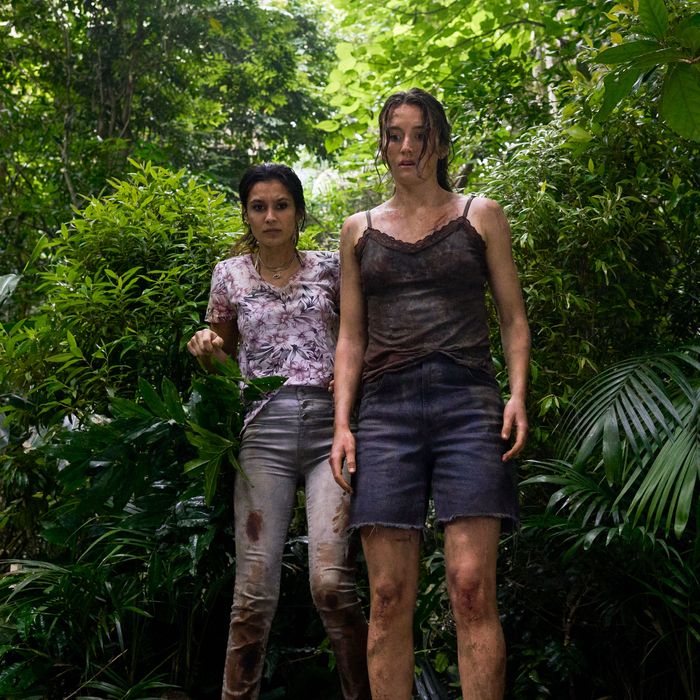 The Wilds.
Photo: Kane Skennar/Amazon Prime Video
This Month's Highlight
The Wilds season 2
If Yellowjackets left you hungry for more teens trapped in life-or-death situations, then try catching up with The Wilds. Set on a deserted island, it features a group of teenage girls — who don't know each other — who become stranded after their plane crashes, only to later find out they're (slight spoiler) part of a social experiment. Season two introduces a whole other island with a group of boys suffering the same twisted fate. (Streaming May 6.)
Full List of What's New on Amazon Prime Video — May 2022
Noteworthy selections in bold.
Available May 1
A League Of Their Own
Bad Influence 
Battleship
Blackfish
Bill & Ted's Bogus Journey
Bill & Ted's Excellent Adventure
Blue's Clues, season 1 
Courage Under Fire
Crank
Dodgeball: A True Underdog Story
Don't Be A Menace To South Central While
Drinking Your Juice In The Hood
Dude, Where's My Car?
Enemy Of The State 
Europa Report
Eye For An Eye
Fargo
Fat Albert
Field of Dreams
Hitman
Independence Day
Lucky Number Slevin
Mamma Mia!
Office Space
Open Range
Platoon
Pearl Harbor
The Rage: Carrie 2
Red Tails
Road To Perdition
Shrek
Shrek 2
Sideways
Taken
Tangerine
The Angriest Man In Brooklyn
The Guardian
The Namesake
The Ugly Truth
The Woods
Tooth Fairy 2
Tombstone
Valley Girl
Welcome Home Roscoe Jenkins
Zero Dark Thirty
Available May 6
The Wilds, season 2
The Unsolved Murder of Beverly Lynn Smith, season 1
Available May 13
The Kids in the Hall, season 1
Available May 18
Lovestruck High
Available May 19
Bang Bang Baby, season 1 part 2
Available May 20
Night Sky
LOL: Si te ríes, pierdes
Available May 27
Emergency
Kick Like Tayla
For more coverage of the best movies and TV shows available on Netflix, HBO, Amazon Prime, Hulu, and Showtime, check out Vulture's What to Stream Now hub, which is updated throughout the month.