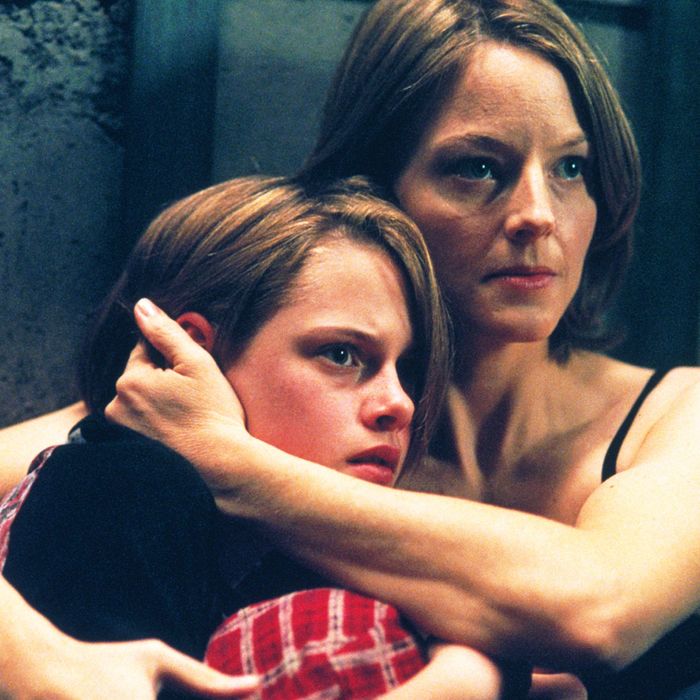 Panic Room.
Photo: Paramount.
This Month's Highlights
Panic Room
his David Fincher thriller almost feels like the masterful director upping the level of difficulty on himself just for a fun challenge: Put a mother and daughter (Jodie Foster and Kristen Stewart) in an Upper West Side loft with $3 million hidden in a panic room, and sic three home invaders (Forest Whitaker, Jared Leto and a magnetic Dwight Yoakam) on them. No one can leave, and there's only so much space: It's New York City, after all. That physical limitation actually brings out the best in Fincher: You can see his mind whirring with all the corners he has painted himself into, and all the ways he can get out. Jodie Foster is a physical marvel in the lead role: She's a protective mother, but she turns out to be so much more. —Tim Grierson and Will Leitch
Full List of What's New on Amazon Prime — July 2020
Noteworthy titles in bold.
Available July 1
MOVIES
52 Pick-Up (1986)
Ali (2001)
An Eye For An Eye (1966)
Anaconda (1997)
Big Fish (2003)
The Bounty (1984)
Bug (1975)
Buried (2010)
Cold War (2013)
The Devil's Rejects (2005)
Edge Of Darkness (2010)
The Eye (2008)
The Eye 2 (2004)
Flashback (1990)
The Forbidden Kingdom (2008)
Hitch (2005)
Hollowman (2000)
The Inevitable Defeat Of Mister & Pete (2013)
Iron Eagle IV - On The Attack (1999)
Megamind (2010)
Midnight In Paris (2011)
Nick And Norah's Infinite Playlist (2008)
Panic Room (2002)
Phase IV (1974)
Pineapple Express (2008)
Rabbit Hole (2010)
Sliver (1993)
Spanglish (2004)
Starting Out In The Evening (2007)
TV
Lego City Adventures: Season 1
Suits: Season 9
Available July 3
Hanna: Season 2
Available July 6
The Fosters: Seasons 1-5
Available July 7
The Tourist (2010)
Available July 11
Vivarium (2020)
Available July 15
Shakuntala Devi: The Human Computer (2020)
The Weekend (2019)
Available July 17
Absentia: Season 3
Available July 24
Jim Gaffigan: Pale Tourist
Radioactive (2019)
Available July 27
Good Deeds (2012)
Available July 29
Animal Kingdom: Season 4
For more coverage of the best movies and TV shows available on Netflix, HBO, Amazon Prime, Hulu, and Showtime, check out Vulture's What to Stream Now hub, which is updated throughout the month.