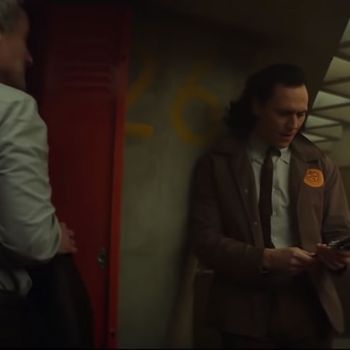 Loki.
Photo-Illustration: Disney.
This Month's Highlight
Loki season 2
Tom Hiddleston and Owen Wilson are back, and this season, Ke Huy Quan is joining the TVA — we demand that he gets ample screen time. Loki is one of the MCU's better Disney+ series (and the first to get a second season), so we're hoping this new season lives up to that reputation as Loki and Morbius try to find Sylvie (Sophia Di Martino) and keep the TVA together after they unleashed destruction on the multiverse in the last season. Just simple Marvel things! (Streaming October 5.)
Full List of What's New on Disney+ for October 2023
Noteworthy selections in bold.
Available October 1
Toy Story Funday Football (livestreaming at 9:30am ET)
Available October 2
Mickey and Friends Trick or Treats
Available October 4
Haunted Mansion
Hailey's On It!, season 1, 5 episodes
Kiff, season 1, 1 episode
SuperKitties, season 1, 3 episodes
The Villains of Valley View, season 2, 4 episodes
Available October 5
Loki, season 2 premiere
Available October 6
Bobi Wine: The People's President
Camping Out
Chips Ahoy
Fiddling Around
Inferior Decorator
Old MacDonald Duck
When the Cat's Away
Wyken, Blyken and Nod
Available October 11
Alice's Wonderland Bakery, season 2, 7 episodes
Broken Karaoke (Shorts), season 2, 3 episodes
The Simpsons, season 34, 22 episodes
Heartland Docs, Dvm, season 5, 12 episodes
4EVER, premiere (all episodes streaming)
Available October 13
Goosebumps, premiere (episodes 1-5 streaming)
Available October 18
PJ Masks: Power Heroes Music Videos (Shorts), season 1, 10 episodes
Available October 20
Werewolf by Night in Color
Available October 25
Big City Greens, season 4, 5 episodes
Running Wild with Bear Grylls: The Challenge, season 2, 7 episodes
Theme Song Takeover (Shorts), season 3, 7 episodes
Primal Survivor: Extreme African Safari, season 1, 6 episodes
Available October 27
Explorer: Lake of Fire, special
LEGO Marvel Avengers: Code Red, premiere
For more coverage of the best movies and TV shows available on Netflix, HBO, Amazon Prime, Hulu, Disney+, and Showtime, check out Vulture's What to Stream Now hub, which is updated throughout the month.
If you subscribe to a service through our links, Vulture may earn an affiliate commission.