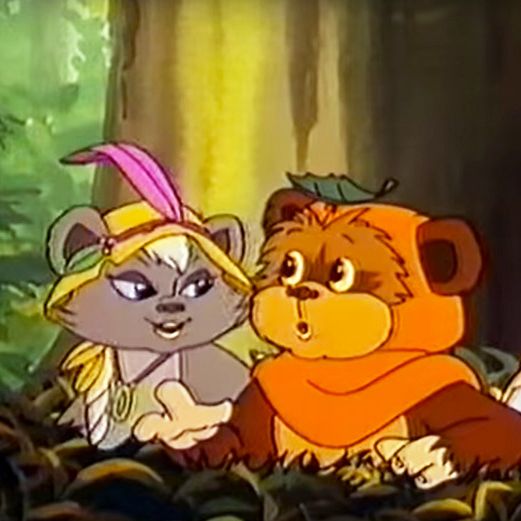 Prepare for Ewok cuteness overload.
Photo: Disney.
Don't have Disney+ yet? You can sign up here. 
This Month's Highlight
Star Wars: Ewoks
After dropping The Muppet Show, Disney+ is adding another beloved, quirky classic onto its service. This time, it's the technicolor animated show Star Wars: Ewoks. Yes, long before Star Wars: The Clone Wars or Rebels, George Lucas had always wanted to bring Star Wars stories into the animated space shortly after the conclusion of the original trilogy. The playful '80s comedy has rarely been available to stream until now. Follow a Star Wars favorite Wicket Warwick and his friends around the forest moon of Endor, and be prepared to get that Ewoks theme song (E-e-e-e-e-ewoks!) stuck in your head.
Full List of What's New on Disney+ for April 2021
Noteworthy selections in bold.
Available April 2
Disney Secrets of Sulphur Springs: No Time Like the Present, Season 1
Disney Walk the Prank, Seasons 1-3
Higglytown Heroes, Seasons 1-2
The Island at the Top of the World
Third Man on the Mountain
The Last Ice
Made in a Day, Season 1
Secrets of the Zoo, Season 4
Sharks of the Bermuda Triangle
The Big Year
Night at the Museum
Night at the Museum: Battle of the Smithsonian
Caravan of Courage
Ewoks: The Battle for Endor
Star Wars: Clone Wars - Volume I & II
Star Wars: Ewoks, Seasons 1-2
The Story of the Faithful Wookiee
Available April 9
Disney Future-Worm!
Disney Kick Buttowki: Suburban Daredevil, Seasons 1-2
Man of the House
Mark Twain and Me
Squanto: A Warrior's Tale
Cesar Millan: The Real Story
Available April 16
Big Shot
Treasure Buddies
White Fang 2: Myth of the White Wolf
National Geographic: Earth Moods Volume I
Primal Survivor, Season 5
The Kid Who Would Be King
Rio
Available April 22
Secrets of the Whales
Available April 23
Disney Junior Puppy Dog Pals, Season 3
Liv and Maddie, Seasons 1-3
Liv and Maddie : Cali Style, Season 4
My Music Story: Sukimaswitch
Being the Queen
Baby's Day Out
Available April 30
Adventures in Wonderland
Disney DuckTales, Season 3
Disney Junior Mira
Rodgers & Hammerstein's Oklahoma!
Marvel Studios: Assembled: The Making of Falcon and Winter Soldier
For more coverage of the best movies and TV shows available on Netflix, HBO, Amazon Prime, Hulu, Disney+, and Showtime, check out Vulture's What to Stream Now hub, which is updated throughout the month.
(If you subscribe to a service through our links, Vulture may earn an affiliate commission.)