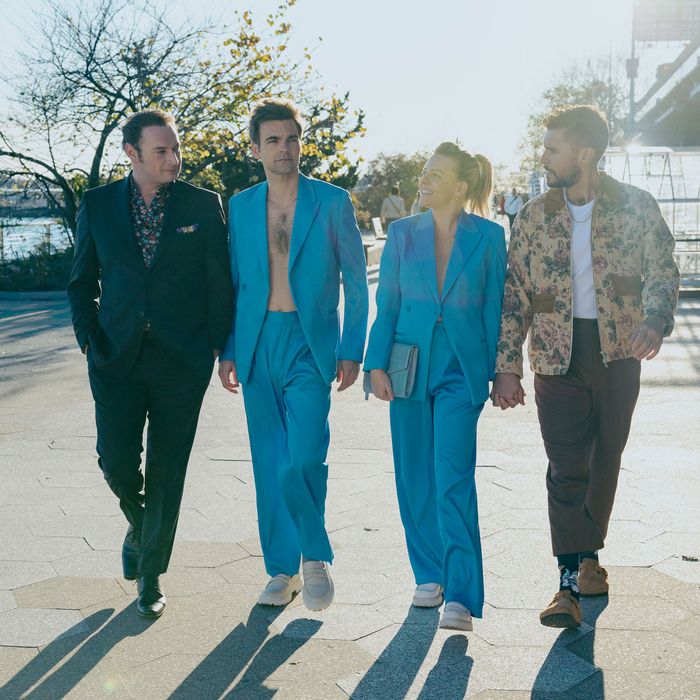 The Other Two
.
Photo: Greg Endries/HBO
This Month's Highlight
The Other Two
The Other Two is one of the strongest comedies out there right now. Starring Drew Tarver and Heléne Yorke as the other two siblings of pop star Chase Dreams (Case Walker), the third season sees the brother and sister at the top of their game. Tarver's Cary is acting with hopes to be the "gay Albert Einstein" and win an Oscar while Yorke's Brooke continues to manage Chase with her mom (the Molly Shannon). (Streaming May 4.)
Full List of What's New on Max — May 2023
Noteworthy selections in bold.
Available May 1
Absolute Power (HBO)
Alpha Dog (HBO)
American Honey (HBO)
As Tears Go By
Betrayed (HBO)
Black Mass (HBO)
Blue Valentine (HBO)
Calvary (HBO)
Coffee and Cigarettes
Daddy Day Care (HBO)
Dreamer: Inspired by a True Story (HBO)
Eat Pray Love
The Forbidden Kingdom (HBO)
Heartbreakers (HBO)
The Hole in the Ground (HBO)
Hustle & Flow (HBO)
I Now Pronounce You Chuck and Larry (HBO)
The Karate Kid, 2010
Kingsman: The Secret Service (HBO)
The Last Castle (HBO)
Lord of Illusions (HBO) (Director's Cut)
Lucky You (HBO)
Man of the House (HBO)
Mid90s (HBO)
Midnight Sun (HBO)
Mirror Mirror (HBO)
Mirrors (Extended Version) (HBO)
My Big Fat Greek Wedding 2 (HBO)
Paper Moon (HBO)
Paranoia (HBO)
Parasite (HBO)
The Rookie (HBO)
Shark Night 3D (HBO)
Soapdish (HBO)
Some Like It Hot (HBO)
Sorority Row (HBO)
Step Brothers
White House Plumbers, limited series premiere (HBO)
Windtalkers (HBO)
Available May 2
1000% Me: Growing Up Mixed, documentary premiere (HBO)
Batwheels, season 1E
Run All Night (HBO)
Available May 3
Fifty Shades of Grey (HBO) (Unrated Version)
Available May 4
The Other Two, Max Original season 3 premiere
Available May 5
Unicorn: Warriors Eternal, season 1
Available May 8
Dr. Seuss' Horton Hears a Who! (HBO)
Legion of Super-Heroes
Sky Captain and the World of Tomorrow (HBO)
The Conjuring (HBO)
Two Sides of the Abyss (Die zwei Seiten des Abgrunds), Max Original premiere
Available May 11
Rick and Morty, season 6
Available May 14
We Baby Bears: Little Falling Star, season 1G
Available May 15
Land of Gold
Unbreakable (HBO)
Available May 16
Angel City, three-part documentary series premiere (HBO)
Men in Black
Men in Black II
Men in Black III
Available May 19
The LEGO Batman Movie
Lord of the Rings: The Fellowship of the Ring (HBO)
Spy/Master, Max Original premiere
Available May 20
Love to Love You, Donna Summer, documentary premiere (HBO)
Available May 22
San Andreas
Available May 23
Bama Rush (Max Original)
Clone High, season 1 (Max Original)
German Genius (Max Original)
Godzilla: King of the Monsters
Gremlins: Secrets of the Mogwai, season 1 (Max Original)
Growing Floret (Magnolia Network)
How to Create a Sex Scandal (Max Original)
Maine Cabin Masters, season 8 (Magnolia Network)
Shazam! Fury of the Gods (2023)
SmartLess: On the Road (Max Original)
Villainous, season 1A (Cartoon Network)
What Am I Eating? With Zooey Deschanel (Max Original)
Windy City Rehab (HGTV)
Available May 24
Expedition Unknown (Discovery)
Available May 25
100 Years of Warner Bros. The Stuff That Dreams Are Made Of (Max Original)
Blippi Wonders, season 2C (Cartoon Network)
Lellobee City Farm, season 3 (Cartoon Network)
Teen Titans Go!, season 8A (Cartoon Network)
Total DramaRama: A Very Special Special, That's Quite Special (Cartoon Network, 2023)
Vlad and Niki, season 2A
Vgly (Max Original)
Available May 26
100 Day Dream Home (HGTV)
Being Mary Tyler Moore (HBO Original)
Kendra Sells Hollywood, seasons 1-2
Mark Rober's Revengineers (Discovery)
Unicorn: Warriors Eternal (Adult Swim)
Available May 27
Guy's Ranch Kitchen (Food Network)
Impractical Jokers, (Collection of 100 episodes from seasons 1-8)
Impractical Jokers, season 10A + Roadblock Special
Put a Ring on It (OWN)
Sarah Silverman: Someone You Love (HBO Original)
Available May 28
American Monster (ID)
Collateral Beauty
Married To Evil (ID)
Otter Dynasty (Animal Planet)
Silos Baking Competition (Magnolia Network)
Available May 29
90 Day Fiance: The Other Way: Pillow Talk (TLC)
Motel Rescue (Magnolia Network)
Reality (HBO Original)
The Curious Case of Natalia Grace (ID)
Available May 30
Angie Tribeca, seasons 1-3 (TBS)
Craig of the Creek, season 4F (Cartoon Network)
Eva Longoria: Searching for Mexico (CNN)
Available May 31
Ghost Adventures: Lake of Death (Discovery)
For more coverage of the best movies and TV shows available on Netflix, HBO, Amazon Prime, Hulu, and Showtime, check out Vulture's What to Stream Now hub, which is updated throughout the month.
If you subscribe to a service through our links, Vulture may earn an affiliate commission.