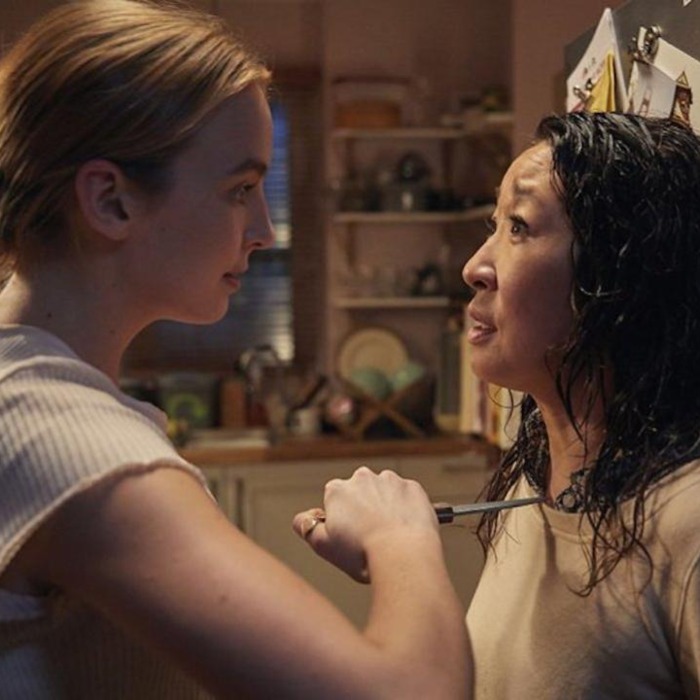 This Month's Highlights
Killing Eve
Killing Eve rips. Did we expect any less from Phoebe Waller-Bridge? The follow-up to her incisive and intimate black comedy Fleabag sees the acclaimed writer and actor step away from the camera into a purely creative role, as Waller-Bridge's sharp, pathos-fueled comedic eye is turned toward a serial killer cat-and-mouse drama. An adaptation of Luke Jennings's Codename: Villanelle novels, Killing Eve follows Eve Polastri (Sandra Oh as one of the best dramatic leads this year) as she picks up the trail of an assassin known only as Villanelle. A psychological thriller on the scale of The Silence of the Lambs (but with considerably more wit), Killing Eve finds new life in a tired genre by placing women front and center, moving them from the genre's favorite victims to its deeply troubled and in-over-their-heads leads. Available December 1.
Adventure Time
Adventure Time is, arguably, one of the most influential shows of the 2010s. A talent incubator for a generation of talent, and one that defined a whole era of animation, Pendleton Ward's opus about a boy named Finn and his shape-shifting dog-pal Jake navigating a postapocalyptic wonderland (full of quiet, understated notes of tragedy) is strange and endearing, a story of innocent goodness among the ruins of a world that lost it. After ten seasons — the last of which comes to Hulu this month, and don't worry, episodes are only 11 minutes long — it's finally over. Say good-bye, or watch it for the first time. Available December 3.
Full List of What's New on Hulu — December 2018
Noteworthy selections in bold.
TV Shows
Available December 1
24: Complete Series (FOX)
Behind Tasty: Complete Season 1 (BuzzFeed)
BuzzFeed Unsolved: Sports Conspiracies: Complete Season 1 (BuzzFeed)
Killing Eve: Complete Season 1 (AMC)
The Wonder Years: Complete Series (ABC)
UniKitty: Complete Season 1A (Cartoon Network)
Worth It: Complete Season 5 (BuzzFeed)
Available December 2
The Powerpuff Girls (Reboot): Complete Season 3A (Cartoon Network)
Available December 3
Adventure Time: Complete Season 10 (Cartoon Network)
Available December 5
F**K That's Delicious: Complete Season 3 (Viceland)
Available December 7
Into the Dark: Pooka!: Episode 3 Premiere (Hulu Original)
Available December 10
Graves: Complete Season 2 (Epix)
Available December 19
The Killing: Complete Seasons 1–4 (AMC)
The Real Housewives of Beverly Hills: Complete Season 8 (Bravo)
Available December 21
Marvel's Runaways: Complete Season 2 Premiere (Hulu Original)
Available December 23
The Detour: Complete Season 3 (TBS)
Available December 24
Mighty Magiswords: Complete Season 2A (Cartoon Network)
Available December 25
Mr. Pickles: Complete Season 3 (Adult Swim)
Available December 27
Cardcaptor Sakura: Clear Card (Dubs): Complete Season 1 (Crunchyroll)
Movies
Available December 1
12 Dates of Christmas
A Christmas Tree Miracle
A Dog for Christmas
A Fairly Odd Movie: Grow Up, Timmy Turner!
A Fish Called Wanda
A Fistful of Dollars
A Snow Globe Christmas
All Over the Guy
Angels & Demons
Apollo 13
Bad Girls From Mars
Barbie: A Perfect Christmas
Barbie and Her Sisters in the Great Puppy Adventure
Barbie in a Christmas Carol
Best Seller
Beverly Hills Vamp
The Black Stallion
Blue Hill Avenue
Blue Jasmine
Blue Velvet
Bride and Prejudice
Bright Lights, Big City
Christmas Cupid
The Da Vinci Code
Dr. Dolittle: Million Dollar Mutts
Escape From Mr. Lemoncello's Library
The Exorcist
Eve's Christmas
The Firm
The Forbidden Kingdom
Gangs of New York
Gargoyles: Wings of Darkness
Glory Road
The Godson
Half-Shell Heroes: Blast to the Past
Halloween VIII: Resurrection
Happily N'Ever After
Happily N'Ever After 2
Harry Brown
Hitman's Run
King of the Mountain
Krampus Unleashed
Lane 1974
Little Miss Sunshine
Living by the Gun
Lord of War
Love at the Christmas Table
Malena
Mansfield Park
The Massively Mixed-Up Middle School Mystery
The Mistle-Tones
Mission Park
The Naked Gun: From the Files of Police Squad!
The Naked Gun 2 1/2: The Smell of Fear
Naked Gun 33 1/3: The Final Insult
Nick & Norah's Infinite Playlist
Operation Condor
Operation Condor II: The Armour of the Gods
The Pallbearer
Pixi Saves Christmas
Priest
Promise Land
Rags
Requiem for a Dream
Ride
Righteous Kill
Santa Baby 2: Christmas Maybe
Serendipity
The Shawshank Redemption
Sideways
Silent Tongue
Sleepover
Snow
Snow 2: Brain Freeze
Snow Globe
Splitting Adam
Spy Game
Sweeney Todd: The Demon Barber of Fleet Street
Swindle
Switchback
Teresa's Tattoo
Tombstone
Touchback
Trucks
Ulee's Gold
Valkyrie
Windtalkers
With a Friend Like Harry
Wonderland
Available December 2
Second Chance Christmas
Tangerine
Available December 3
Urban Country
Available December 7
Killers
Why Did I Get Married Too?
Available December 11
Say You Will
Available December 12
Deck the Halls
Tyler Perry's I Can Do Bad All By Myself
Available December 13
I Am Not a Serial Killer
Let's Be Evil
NASA: Above and Beyond
Nico, 1988
Shelley
Available December 15
Along Came the Devil
Boys and Girls
Fortress
Life of Crime
Smoke Signals
Snow Queen: Fire and Ice
Available December 16
Amy Winehouse: A Final Goodbye
Michael Jackson: Life, Death and Legacy
Available December 17
Damsel
Available December 18
The Gardener
Winter Ridge
Available December 19
A Most Wanted Man
His and Her Christmas
Available December 20
Disorder
Food, Inc.
Skate Kitchen
Available December 22
The Devil's Doorway
Available December 25
An American in Texas
Iron Man 2
Available December 27
Breakfast at Tiffany's
Available December 29
Eating Animals
Far From the Tree
Available December 30
The Lovers
Available December 31
The Crooked Somebody
For more coverage of the best movies and TV shows available on Netflix, HBO, Amazon Prime, Hulu, and Showtime check out Vulture's What to Stream Now hub, which is updated throughout the month.