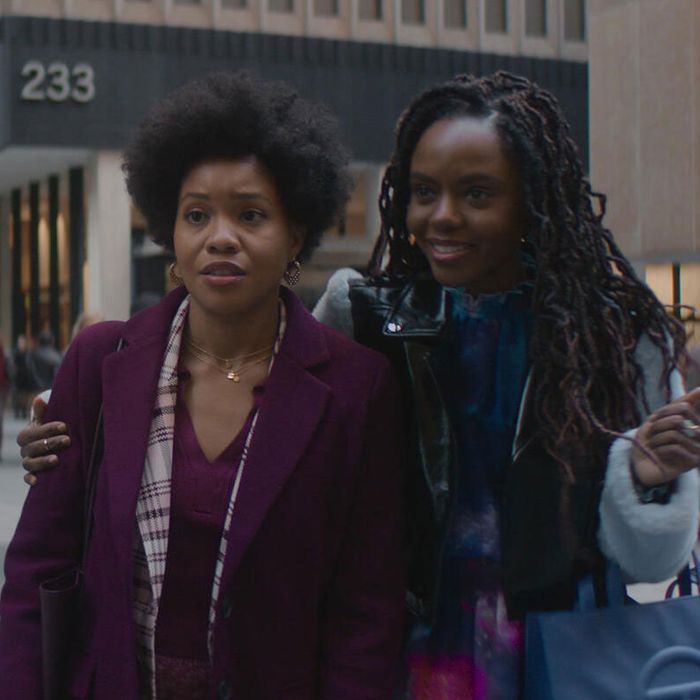 The Other Black Girl.
Photo: Hulu
This Month's Highlight
The Other Black Girl
Adapted from author Zakiya Dalila Harris's debut novel of the same name, The Other Black Girl is a sharp thriller about a young woman named Nella who after being the only Black employee at a popular publishing company encounters a new co-worker named Hazel. Though, things at work start unsettling Nella the closer she gets to Hazel. (Streaming September 13.)
Full List of What's New on Hulu — September 2023
Noteworthy selections in bold.
Available September 1
Once Upon a Time, complete series
One Piece, complete seasons 9-10 (DUBBED) (Toei)
27 Dresses
A Good Day to Die Hard
A Knight's Tale
An Education
Bend It Like Beckham
Breaking Up
Chronicle
Conan the Barbarian
The Deep End Of The Ocean
The Devils Wears Prada
Don't Be Afraid of the Dark
Double Platinum
Dragonball: Evolution
Easy Virtue
Evil Dead (2013)
The Experiment
The Good Son
The Grudge 2
Hail Caesar!
Ice Age: Dawn of the Dinosaurs
Johnson Family Vacation
Just Married
Killers
Larry Crowne
The Last King of Scotland
The Lego Movie
The Lego Movie 2: The Second Part
The Lego Ninjago Movie
Little Fockers
Meet the Fockers
Meet the Parents
Melancholia
Moving On
The Omen
The Possession
Raising Arizona
Robin Hood
Seven
Simulant
Sin City: A Dame to Kill For
Talladega Nights: The Ballad of Ricky Bobby
The Transporter
Transporter 2
Transporter 3
True Lies
We Bought a Zoo
Wedding Crashers
Wild Hogs
Available September 3
The Menu
Ready Player One
Available September 4
The Banshees of Inisherin
Available September 6
Never Let Him Go, complete docuseries (Hulu Original)
Available September 7
The 9/11 Conspiracies: Fact or Fiction
9/11: Escape From the Towers
9/11: Four Flights
9/11: I Was There
9/11: Inside Air Force One
9/11: The Final Minutes of Flight 93
Beyond the Headlines: Black Girl Missing
LA Rams Cheerleaders: Making the Squad 2023, complete season 1
My So Called Simple Life, complete season 1
Zombie House Flipping, complete seasons 3-4
Taurus
Available September 8
97 Minutes
The Friendship Game
Available September 9
Mad Max: Fury Road
Available September 10
Corsage
Available September 11
That's So Raven, complete series
Available September 13
The Other Black Girl, complete season 1 (Hulu Original)
FX's Welcome to Wrexham, season 2 premiere
The Magic Flute
Available September 14
Dragons: The Nine Realms, complete season 7 (Hulu Original)
Court Cam, complete season 5
Girl in the Closet
Montecito: Dance Wives of California, complete season 1
Phrogging: Hider in My House, complete season 1
Top Shot, complete seasons 1-2
Available September 15
The Burning Plain
Europa Report
Frontera
The Good Doctor
I Melt With You
Love, Simon
Maze Runner: The Death Cure
Robots
Two Lovers
The Wrecking Crew
World's Greatest Dad
Available September 16
Buffaloed
Available September 18
Bad Axe
Men in Black: International
Available September 20
I Can See Your Voice, season 3 premiere
Name That Tune, season 3 premiere
Sword Art Online: Alicization, complete season 2 (DUBBED)
Available September 21
FX's American Horror Story: Delicate, part 1 premiere
Forged in Fire, complete seasons 5 & 9
Sleeping with a Killer, complete season 1
The Real SVU, complete season 1
UFO Conspiracy: Hunt for the Truth
UFOs: The White House Files
UFOs: Top Secret Alien Files
Sanctuary
Available September 22
No One Will Save You, film premiere (Hulu Original)
iHeartRadio Musical Festival, livestream (Only on Hulu)
Law & Order: SVU, complete season 24
Available September 23
iHeartRadio Musical Festival, livestream (Only on Hulu)
The Almond and the Seahorse
What's Love Got to Do With It?
Available September 25
Krapoplis, series premiere
Available September 26
Kitchen Nightmares, season 8 premiere
Special Forces: World's Toughest Test, season 2 premiere
Available September 27
Love in Fairhope, complete season 1 (Hulu Original)
Available September 28
The Kardashians, season 4 premiere (Hulu Original)
The Masked Singer, season 10 premiere
Snake Oil, series premiere
Abducted: The Mary Stauffer Story
Rachael Ray's Italian Dream Home, complete season 1
Storage Wars, complete seasons 1-2
Surviving Marriage, complete season 1
They Took Our Child: We Got Her Back, complete season 1
The Accountant
Available September 29
Hell's Kitchen, season 22 premiere
Lego Masters, season 4 premiere
RuPaul's Drag Race, complete season 10
Sweetwater
For more coverage of the best movies and TV shows available on Netflix, HBO, Amazon Prime, Hulu, and Showtime, check out Vulture's What to Stream Now hub, which is updated throughout the month.
If you subscribe to a service through our links, Vulture may earn an affiliate commission.