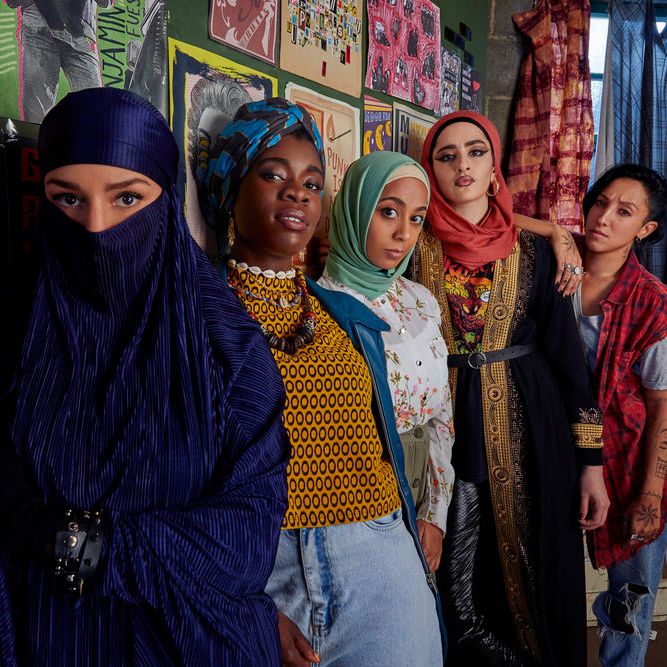 We Are Lady Parts
.
Photo: Laura Radford/Peacock
Don't have Peacock yet? You can sign up here.
This Month's Highlight
We Are Lady Parts
From one girl group (Girls5eva) to another, Peacock's new original series We Are Lady Parts is prepping to knock you off your feet. We Are Lady Parts follows PhD student Amina Hussain (Anjana Vasan) as she's offered a spot as the lead guitarist in the punk rock band Lady Parts. Or as Amina calls it in the trailer, "a confused mix of hash anthems and sour girl power." No lie, it sounds awesome.
A Sampling of What's New on Peacock — June 2021
Available June 1
Akeelah and the Bee
American Beauty
The Ant Bully
Beauty Shop
The Birdcage
Blue Crush 2
Blue Steak
The Bone Collector
Brokeback Mountain
Bruce Almighty
Career Opportunities
The Change-Up
Conan The Barbarian
Dr. Seuss' The Cat in the Hat
Dumb and Dumber To
Far From Heaven
Fast Five
Ghostbusters
Ghostbusters II
Hitch
Hollywoodland
The Hurt Locker
Jurassic Park
Jurassic Park III
Killing Escobar
Little Fockers
Jurassic Park: The Lost World
Love & Mercy
The Matrix Reloaded
The Matrix Revolutions
The Matrix
Meet the Fockers
Meet the Parents
Milk
Nanny McPhee
Nanny McPhee Returns
National Lampoon's Animal House
Neighbors
Patriot Games
Peter Pan ('03)
Phantasm II
Pitch Black
Rebellion! Stonewall!
Religulous
Snakes on a Plane
Spy Game
The Thing ('11)
Wild Card
American Ninja Warrior: Season 13 (NBC)
Small Fortune: Season 1 (NBC)
Drag Heals: Season 1
Escape to the Chateau DIY: Seasons 4-5
Mariposa de Barrio: Season 1
Pride: Season 1
Transcendent: Seasons 1-2
Available June 2
America's Got Talent: Season 16 (NBC)
WWE's 50 Greatest Tag Teams: Episode 1
Available June 3
We Are Lady Parts: Season 1 (Peacock Original)
WWE Miz & Mrs.: Season 2
Available June 4
Making It: Season 3 (NBC)
Available June 6
WWE The Day Of: The Mysterio's Make History
Available June 7
Magical Girl Friendship Squad: Season 1
Wild Life: Season 1
Devil May Care: Season 1
Hell Den: Season 2
The Pole: Season 1
The Summoner: Season 1
Available June 9
Vanderpump Dogs: Season 1 (Peacock Original)
Available June 10
TrollsTopia: Season 3 (Peacock Exclusive)
Available June 11
Real Housewives of Potomac: Season 5
Available June 13
WWE Untold: The Nexus
Available June 16
Paddington
Tower Heist
Available June 17
Intelligence: Season 2 (Peacock Original)
Available June 20
WWE The Ultimate Show: Ultimate Hell in a Cell
Available June 21
Dateline Collection: Twisted Motives
Superstars (WWE)
Available June 23
Capitol One College Bowl: Season 1 (NBC)
Challenge the Champ: Season 1
Olympic Dreamers: Season 1
Available June 27
Making WWE: Building The Spectacle
All recommendations are made independently by our editors. (If you subscribe to a service through our links, Vulture may earn an affiliate commission.)