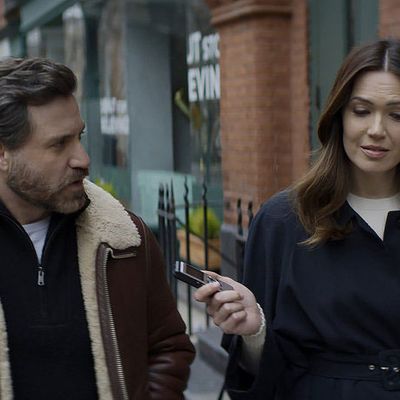 Dr. Death
season 2.
Photo: Peacock/Peacock
This Month's Highlight
Dr. Death season 2
Continuing Peacock's anthology series, and based on the Wondery podcast, Dr. Death season 2 focuses on "Miracle Man" Paolo Macchiarini. Edgar Ramirez stars as Macchiarini, a famous surgeon later uncovered as a fraud, who is investigated by a reporter (Mandy Moore) but the two's relationship begins to flirt past the professional line. (Streaming December 21.)
A Sampling of What's New on Peacock — December 2023
Noteworthy selections in bold.
Available December 1
Ace Ventura: Pet Detective
Ace Ventura: When Nature Calls
The Chronicles of Riddick
Riddick
Commitment to Life
Darrow & Darrow Pilot
Darrow & Darrow: Body Of Evidence
Darrow & Darrow: In The Key Of Murder
Witness to Murder: A Darrow Mystery
Dream Moms
Everest
Exorcist: The Beginning
The Exorcist: Believer
The Family Man
Frost/Nixon
Fun with Dick and Jane
Game of Love
Heart of the Matter
The Journey Ahead
Jumanji
Just Go with It
Kajillionaire
Kick–Ass 2
The Last Witch Hunter
Love in Zion National: A National Park Romance
Man on the Moon
North to Home
Perfect Harmony
Pitch Black
Pitch Perfect
Time for Her to Come Home for Christmas
A Winning Team
Zoey's Extraordinary Christmas
Fantasy Football Happy Hour with Matthew Berry
Available December 2
My Norwegian Holiday
Available December 3
Fantasy Football Pregame with Matthew Berry
Meet the Press
Meet the Press Reports
2023 NASCAR Awards Show
A Not So Royal Christmas
Available December 4
Botched, season 8, all episodes
Fantasy Football Happy Hour with Matthew Berry
Available December 7
Beast
Dino Pops, season 1, all episodes
Available December 8
Christmas at the Opry
Mr. Monk's Last Case: A Monk Movie (Peacock Original)
To All a Good Night
Available December 9
The Croods: A New Age
Magic in Mistletoe
Available December 10
Christmas on Cherry Lane
Available December 11
Round and Round
Available December 12
Barry Manilow's A Very Barry Christmas
Available December 13
Halloween Ends
Available December 14
Dragons: The Nine Realms, season 8, all episodes
Available December 15
When Calls the Heart, seasons 1-7, all episodes
Available December 16
The Secret Gift of Christmas
Available December 17
Sealed with a List
Available December 18
Friends & Family Christmas
Available December 20
Dr. Seuss' How the Grinch Stole Christmas (2000)
Santa Claus Is Comin' to Town
Available December 21
Dr. Death, season 2, all episodes (Peacock Original)
Dr. Death: Cutthroat Conman (Peacock Original Doc)
Available December 22
Miracle in Bethlehem, PA
All recommendations are made independently by our editors. If you subscribe to a service through our links, Vulture may earn an affiliate commission.