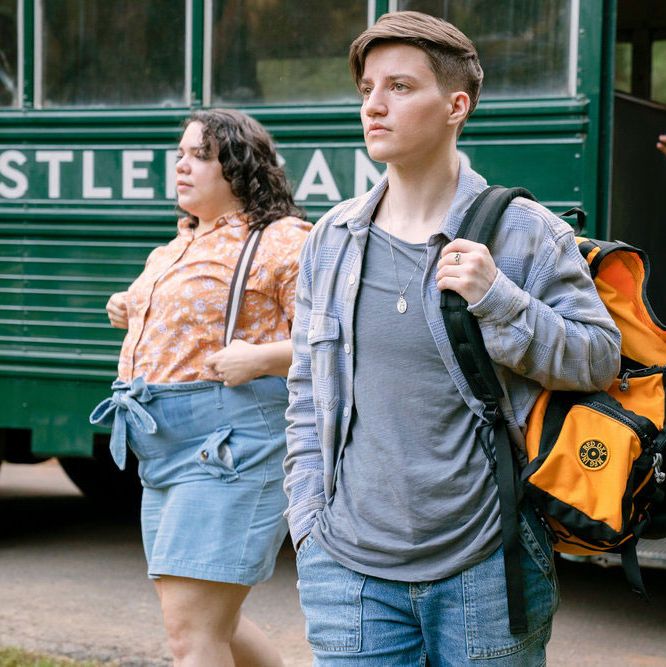 They/Them.
Photo: Josh Stringer/Blumhouse
This Month's Highlight
They/Them
The latest from Peacock and Blumhouse is a queer horror movie starring Kevin Bacon as a seemingly straight (and creepy) camp counselor. The creepy vibes become justified when you realize from the trailer that Bacon is hosting a conversion camp for LGBTQ young people. On top of all that, a mysterious killer is terrorizing the grounds. Honestly, if the killer isn't Bacon, what's the point? (Streaming August 4.)
A Sampling of What's New on Peacock — August 2022
Noteworthy selections in bold.
Available August 1
10 Things I Hate About You
27 Dresses
The 40 Year Old Virgin
The Adventures of Rocky and Bullwinkle
American Gangster
Backdraft
Barney's Great Adventure
The Beach
A Beautiful Mind
A Better Life
Billy Madison
The Book of Eli
The Boss
The Breakfast Club
Cape Fear
Casino
Cinderella Man
Cooties
Cop Car
Coyote Ugly
Crooklyn
Dead Presidents
Definitely, Maybe
Do the Right Thing
Eat Pray Love
Enemy of the State
Fast Times at Ridgemont High
Fever Pitch
The Five-Year Engagement
Flatliners
Frost/Nixon
Funny People
Gods of Egypt
The Good Shepherd
The Guardian
Happy Gilmore
Haywire
A Hologram for the King
Horrible Bosses
The Hulk
The Huntsman: Winter's War
Knocked Up
Leatherheads
Madea Goes to Jail
Man on Fire
The Man With the Iron Fists
Midnight Run
The Mummy
The Mummy Returns
The Mummy: Tomb of the Dragon Emperor
Mystic River
National Lampoon's Animal House
Now You See Me
Now You See Me 2
Nurse Betty
One True Thing
Paper Soldiers
Parker
Pride and Prejudice
The Proposal
The Punisher
Punisher: War Zone
The Purge: Anarchy
Quantum Leap, seasons one through five
Quicksilver
Reality Bites
Ride Along 2
Robin Hood (2010)
RV
Safe House
Salt
Scarface
The Scorpion King
Serenity
Shrek
Shrek 2
Smokin' Aces
Snow White and the Huntsman
State of Play
Stepmom
Stir of Echoes
Stir of Echoes: The Homecoming
Super Greed: The Fight for Football
Sweet Home Alabama
This Is 40
This Means War
Uncut Gems
Undercover Brother
Upgrade
Waterworld
Waves
You're Next
Zathura: A Space Adventure
Available August 2
The Hillside Strangler: Devil in Disguise (Peacock Original)
Mark of a Serial Killer, seasons one and two
Available August 3
Divine Divas
Jexi
Available August 4
They/Them (Peacock Original Film)
Available August 11
Becket
The Bradshaw Bunch, season two
George Carlin: Life Is Worth Losing
Mr. Peabody & Sherman
Trollstopia, season seven
Available August 12
Brooklyn Nine-Nine, season eight
Chrisley Knows Best, season nine
Miz & Mrs, season three (USA)
Alyssa Limperis: No Bad Days (Peacock Original)
Available August 16
Self/Less
Available August 17
The House
Available August 18
Dragons: The Nine Realms, season three
The Undeclared War, season one, episodes one through six (Peacock Original)
Available August 25
The End Is Nye, season one, episodes one through six (Peacock Original)
Everything I Know About Love, season one, episodes one through seven (Peacock Original)
Made in Chelsea, seasons 18–22
The Real Housewives of Dubai, season one (Bravo)
Available August 30
Murdered by Morning, seasons one and two
Available August 31
The Croods: Family Tree, season four
All recommendations are made independently by our editors. If you subscribe to a service through our links, Vulture may earn an affiliate commission.