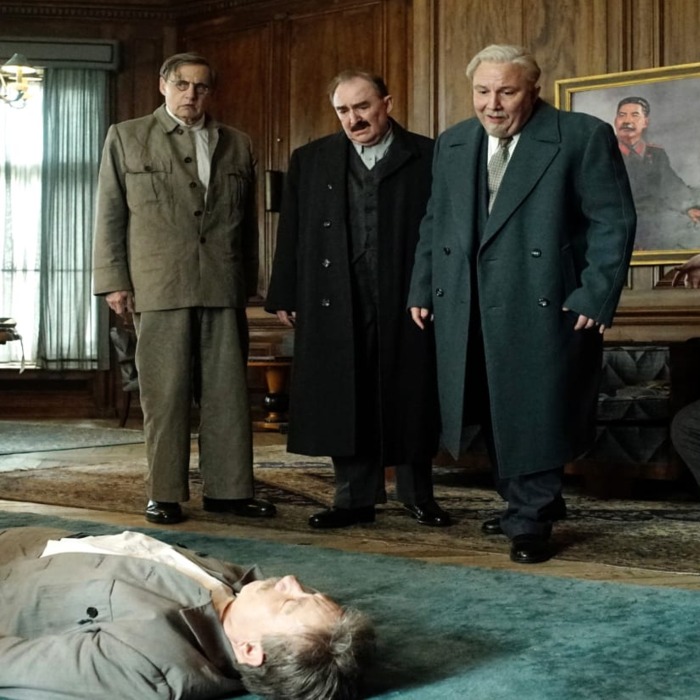 This Month's Highlights
The Death of Stalin
A dazzlingly sharp satire from Armando Iannucci, the creator of Veep, The Death of Stalin — much like the title implies — takes place immediately after the death of Soviet dictator Joseph Stalin, and chronicles the manic power struggle that took place as various bureaucrats and sycophants jockeyed to maintain their status in the leadership vacuum. Strangely relevant to our current political realities and darkly hilarious, The Death of Stalin is a whip-smart satire with a stacked cast, don't miss it. Arrives December 15.
When Harry Met Sally
The end of the year is the perfect time for an annual re-watch of When Harry Met Sally, a strong contender for one of the best romantic comedies ever made. Can men and women be friends? Can you have great sex with a Sheldon? Did the holidays even happen if you haven't watched this movie? Katz's Deli has never been the same, and neither have we. Arrives December 1.
Full List of What's New to Showtime — December 2018
Noteworthy selections in bold.
Available December 1
A Bad Moms Christmas
8 Mile
Airport
Airport 1975
The Amityville Horror
Anything
Back to School
Bloody Sunday
Braveheart
Breakin' 2: Electric Boogaloo
The Bridges of Madison County
Colors
Donnie Darko
Double Jeopardy
Extreme Ops
Far and Away
Friday the 13th
Friday the 13th — Part Ii
Goodland
High Plains Drifter
Jiminy Glick in Lalawood
Juice
La Mujer de Mi Hermano
Last Seen in Idaho
Mad Genius
Madea's Family Reunion
Major League
Moonstruck
My Life
Outrageous Fortune
Patriot Games
The Piano
The Spanish Prisoner
Splash
A Swinger's Weekend
Tombstone
Tootsie
The Untouchables
Vacancy
Vacancy 2: The First Cut
The Way Home
What's Eating Gilbert Grape
When Harry Met Sally
Witness
Available December 11
Jeff Beck: Still on the Run
Dead Night
Available December 12
Agnostic Front: The Godfathers of Hardcore
Available December 13
GG Allin: All in the Family
Available December 14
Korn's Brian "Head" Welch: Loud Krazy Love
Available December 15
The Death of Stalin
Beyond the Edge
The Wings of the Dove
Available December 16
Denial
Available December 22
Spotlight
Available December 26
City of Ghosts
Available December 28
Pimp
Available December 29
Blood Fest
For more coverage of the best movies and TV shows available on Netflix, HBO, Amazon Prime, Hulu, and Showtime check out Vulture's What to Stream Now hub, which is updated throughout the month.
For last month's guide, check out November's list.