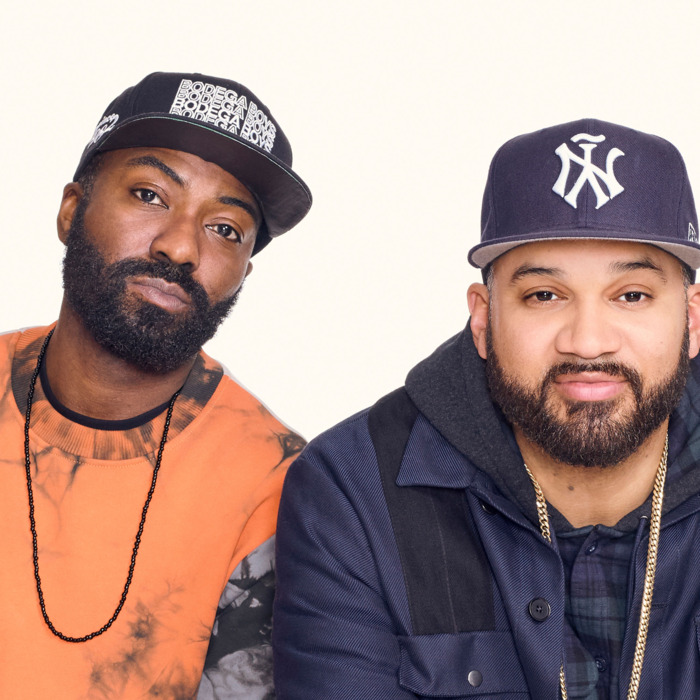 Photo: Micaiah Carter/Showtime
This Month's Highlights
Desus & Mero
Bronx legends Desus Nice and The Kid Mero continue their ascent from Twitter comedy to podcast geniuses to premium TV with Desus & Mero, their new Showtime late-night show. What that show will actually look like is anybody's guess — expect a few changes from what they did on Viceland — but there's a slew of writing talent there to bolster the already god-tier improv comic stylings of the show's stars. Whatever Desus & Mero ends up being is anybody's guess, but it'll definitely be very, very funny. Available February 21.
A Knight's Tale
My personal favorite adaptation of The Canterbury Tales — because it has Queen songs and also Paul Bettany as Chaucer and doesn't actually have anything in common with the Knight's Tale from that book — A Knight's Tale is an action-comedy about Heath Ledger overthrowing a wealthy and cruel count by just being handsome and good at jousting. Which, when you think about it, is probably why we don't have jousting anymore, lest rich people be removed from power left and right. Available February 1.
Full List of What's New to Showtime — February 2019
Noteworthy selections in bold.
Available February 1
21 Grams
About a Boy
Age of Summer
American Pie
American Pie 2
American Wedding
Black Hawk Down
The Boys Are Back
Bridget Jones: The Edge Of Reason
Carter & June
Cheri
Clerks
Danger One
A Demon Within
Get The Gringo
The Hours
How to Lose a Guy in 10 Days
Inhale
It's a Party
Jackie Brown
The Kite Runner
A Knight's Tale 
Mary Shelley
Midnight Run
The Naked Gun 2 1/2: The Smell of Fear
Naked Gun 33 1/3: The Final Insult
The Naked Gun: From the Files of Police Squad!
Narc
Painless
Pulp Fiction
The Road
Scary Movie
Scary Movie 2
Secondhand Hearts
The Shaggy Dog
Something's Gotta Give
Sorority Row
Available February 2
7 Days in Entebbe
Diary of a Mad Black Woman
Available February 6
Mail Order Monster
Open Range
Available February 8
Teddy Pendergrass: If You Don't Know Me
Available February 12
Better Start Running
Available February 15
A Kid Like Jake
Available February 16
Midnight Sun
Available February 21
Haunter
Desus & Mero
Available February 22
Tone Bell: Can't Cancel This
For more coverage of the best movies and TV shows available on Netflix, HBO, Amazon Prime, Hulu, and Showtime check out Vulture's What to Stream Now hub, which is updated throughout the month.