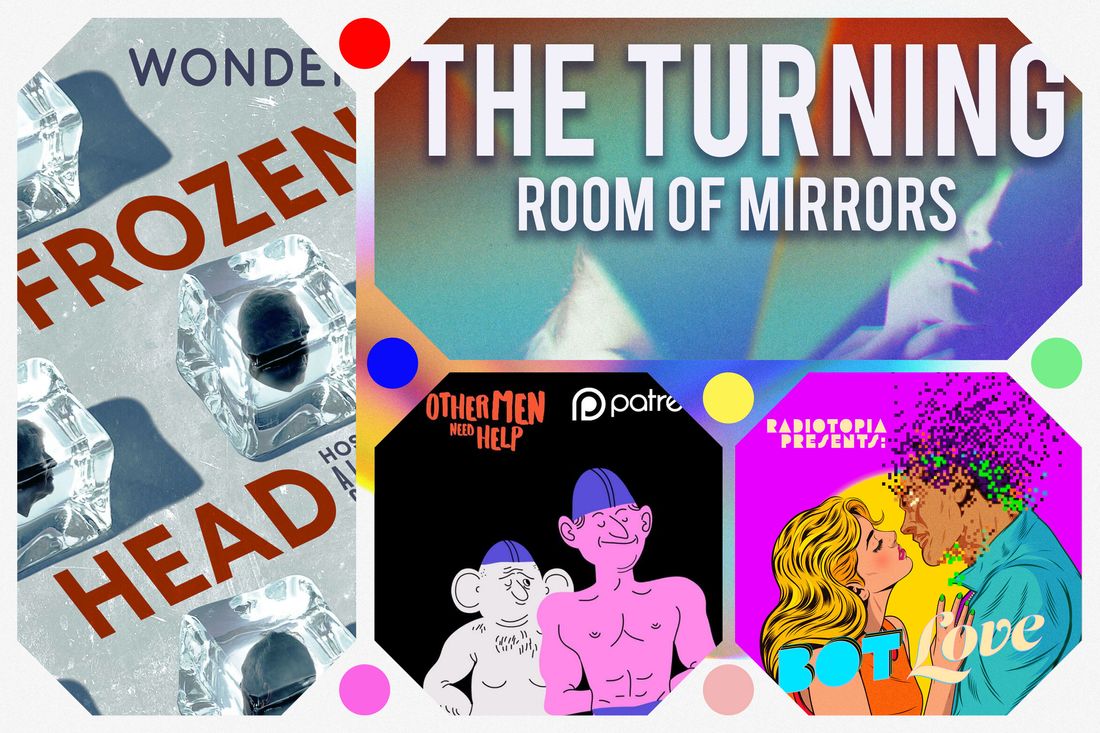 Photo-Illustration: Vulture; Photos courtesy the studios.
New Year, new you, and obviously, new pods. Well, new and newish. As we look out at the full calendar year before us, it's apparent that the upcoming slate of podcast offerings is particularly rich with returning shows (The Turning, Let's Make a Rom-Com) — and pleasantly stacked with more than a few long-missed returning faces (welcome back, The Dream!). Whether you're looking for another investigative deep dive or a cutting read of the latest fashion trend, there's bound to be something just for you. Here are more than a dozen that have caught our fancy.
January
Love, Janessa (CBC and BBC World Service, January 23)
You ever look at a stock photo on the internet and wonder, Who is that person? Take that strangeness, multiply it by a hundred, and you'll get the vibe driving Love, Janessa, in which host Hannah Ajala tumbles down a rabbit hole in search of an adult-entertainment star whose likeness is being used in a global catfishing scam.
It's Giving Fashion (Sony Music Entertainment and Somethin' Else, January 24)
Shea Couleé — musician, actor, winner of Drag Race All Stars, and host of the America's Next Top Model close-read podcast Wanna Be on Top? — leads this new fashion-centric weekly chatcast, just in time for the run-up to the Met Gala.
The Turning: Room of Mirrors (Rococo Punch and iHeartMedia, January 24)
The Turning's debut season traced the story of Mother Teresa's Catholic order, the Missionaries of Charity, through the perspective of several women who had left after running into the cold brick wall of its everyday reality. Host Erika Lantz returns with a look at the long shadow of another insular world — that of modern American ballet.
February
Grown (The Moth and PRX, February 8)
The Moth has been an institution for over 25 years, providing ordinary people and cultural figures alike with a platform to tell a good true story. The organization will soon welcome its first-ever podcast spinoff, all about the awkward space between being a teenager and an adult.
Let's Make a Rom-Com (CBC, February 14)
The first season of this Canadian podcast, Let's Make a Sci-Fi, was a pleasant surprise, with plenty of charm, fun, and wisdom to spare on the subject of Hollywood science fiction and creative collaboration more generally. The hosting comedic trio of Ryan Beil, Maddy Kelly, and Mark Chavez return this Valentine's Day to tackle another beloved genre: the romantic comedy.
Rivals with Delta Work and Kelsey Padgett (Somethin' Else & Sony Music Entertainment, February 21)
Ever had a rivalry so intense that you spent vast portions of your waking life stewing, scheming, and searching for ways to destroy the very person who dared become your nemesis? No? Well, good for you. But if that experience comes across as familiar, then boy, is this the show for you. Hosted by Radiolab alum Kelsey Padgett and Drag Race alum Delta Work, this weekly narrative show dedicates each episode to a different story of a rivalry gone awry, all to the end of illuminating just how an extreme competitive mind-set can … well, break you down.
Bot Love (Radiotopia, February TBA)
The latest project from the Radiotopia Presents banner, most recently responsible for My Mother Made Me and a hit dog will holler, features a collection of true stories about ordinary people developing very real relationships with artificially intelligent chatbots. The premise might sound Black Mirror–adjacent, but given the pedigree of this podcast feed, it will probably end up closer to Modern Love.
K-Pop Dreaming (LAist Studios, February TBA)
Being the global phenomenon that it is, K-pop has become a focal point for identity formation among the Asian diaspora. In this limited series, the writer and performer Vivian Yoon explores what the genre illuminates about her hometown of Los Angeles and the Korean American community she grew up in.
March
You Feeling This? (iHeartMedia, March TBA)
James Kim made a strong impression with the naturalistic 2019 indie audio drama Moonface, and again last year, when his short Vermont Ave, produced with Brooke Iskra, won the Best Fiction prize at the Tribeca Festival. He returns with a full series in the spring, which takes the form of a feelings-first fiction anthology show about heartbreak and yearning.
May
The Dream, season 3 (Little Everywhere and Pushkin Industries, May TBA)
It's been four years since we last heard from The Dream, the scam-focused investigative series that dove deep into some of the shadier corners of the consumer economy — namely, multi-level marketing schemes and the wellness world. Hosts Jane Marie and Dann Gallucci are finally returning with a new target: self-improvement and the life-coaching industry.
TBA
The Devil You Know (Cool Zone Media and iHeartMedia, TBA)
After swamping it out with the last of the American Spiritualists, gonzo genius Jamie Loftus is taking her talents up north to Anchorage, Alaska. Follow along as she digs into the story of a young woman who uses TikTok to chronicle how her mother started a rumor that she was an escort for the mayor … which results in a maelstrom of rage, discord, and lies.
Frozen Head (Wondery)
The true story of what happened when a father and son received a package containing the remains of the latter's recently deceased grandfather, along with the news that his head is being cryogenically preserved somewhere in Arizona. Yep, someone's trying to live forever, and this series will offer a deep dive into the kinds of people — and businesses — interested in that possibility.
Other Men Need Help (Independent)
For three seasons, Mark Pagán's breezy indie podcast has been delightfully unpacking the many strange ways that men — including, and perhaps especially, himself — present themselves to the world and what they illuminate about the modern state of … well, what's going on with men. The show returns later this winter with a season about male body image and its relationship to the social-media age.