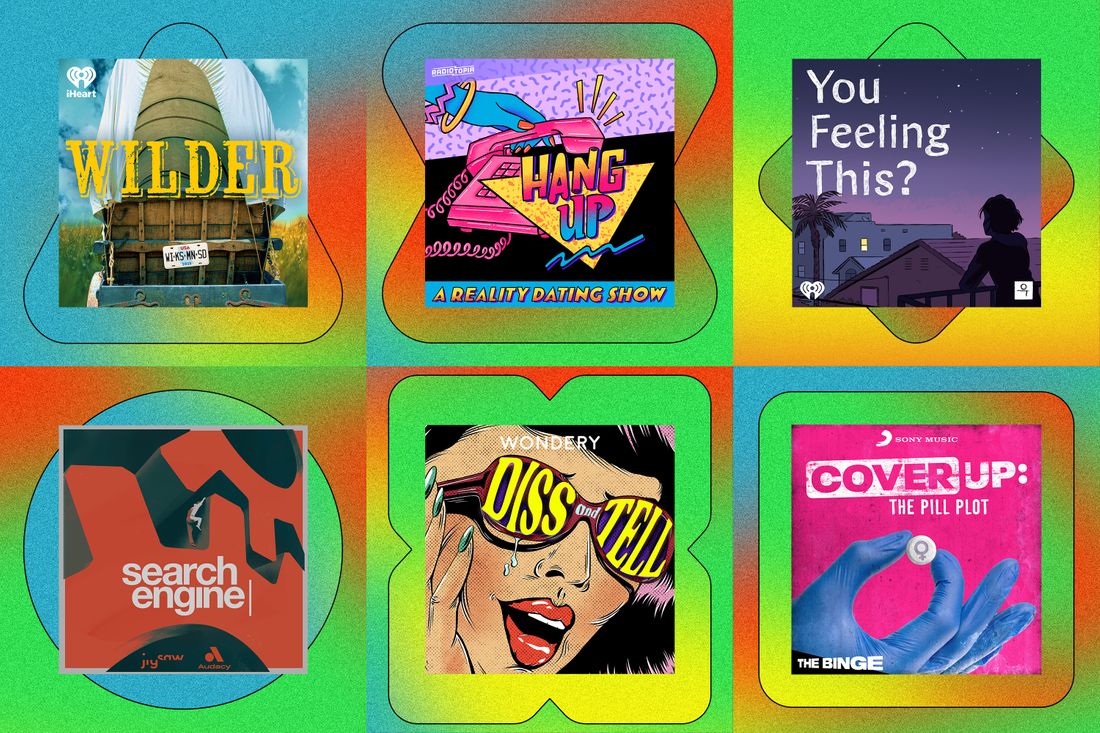 Photo-Illustration: Vulture; Photos: Audacy, iHeartMedia, Jigsaw Productions, Radiotopia, Sony Music Entertainment, Wondery
The long days of summer are upon us, and if you intend to wander the streets or embark on lengthy road trips, be sure to pack some podcasts for the journey. This year's batch runs the gamut, from a personal investigation of class expression to a new weekly primer on celebrity beefs to a dating show that culminates with a choice between potential romance… or cold hard cash.
June
Wilder (iHeartMedia, June 8)
The legacy of Laura Ingalls Wilder, the author of the much beloved Little House on the Prairie series, has gone through significant reevaluation over the past few years. In 2018, her eponymous book award, which recognizes achievements in children's literature, was renamed by the American Library Association due to "dated cultural attitudes toward Indigenous people and people of color," and to this day, there remains persistent beliefs that her daughter, Rose Wilder Lane, was actually responsible for writing the books.  The nature of history, historiography, and literary legacy lie at the center of this project, which will be hosted by the writer Glynnis McNicol.
Classy With Jonathan Menjivar (Pineapple Street, June 21)
Class remains a sticky subject to talk about in these United States, but hell, Jonathan Menjivar is going to try. In this eight-part series, Menjivar, a veteran public radio and podcast producer, explores the myriad ways that class expresses itself in the fabric of everyday life. To do so, he collaborates with a series of special guests — like Fresh Air's Terry Gross, the comedian Chris Gethard, and the designer Brenda Equihua — and by drawing on his own personal history as a working-class kid who grew up to become a member of the tote-bag slinging "media elite."
You Feeling This? (iHeartMedia, June 27)
You can always count on James Kim to be interesting. As displayed in Moonface, his independently produced 2019 series, and the short Vermont Ave, which won the inaugural Best Fiction Prize at the Tribeca Festival, Kim exhibits a distinct interest in injecting a sense of naturalism to audio fiction storytelling. His aesthetic project continues later this summer with this anthology series following the lives of several lonely souls in the greater Los Angeles area.
Diss and Tell (Wondery and Amazon Music, June TBD)
As divinely entertaining as they can be, celebrity beefs can be ornate and esoteric. Enter the writer-performer Sydney Battle and the comedian Matt Bellassai, who play rapid-fire pop culture historians in this new series that serves up origin stories behind some of the more interesting celebrity squabbles in modern history. Why are they fighting, what started it, and more importantly, how are they waging war? Topics from the inaugural season include the historical tensions among the Sex and the City cast plus whatever's going on with Hailey Bieber and Selena Gomez.
July
Search Engine (Audacy and Jigsaw Productions, July)
Emerging from the Test Kitchen scandal, former Reply All co-host PJ Vogt returned to podcast feeds last spring with Crypto Island, an audio docuseries that ushered listeners into the crypto world's heart of darkness, then still barreling toward its chaotically frothy peak. The independently produced project was one of the more remarkable pieces about the crypto world, but the production model wasn't particularly financially feasible. Hence the arrival of Search Engine, which stands as a successor to Crypto Island's experiments. Taking the form of a weekly show, each episode sees Vogt and his team tackling questions "too personal to ask anyone but an anonymous search engine."
Cover Up: The Pill Plot (Sony Music Entertainment, July 1)
The latest season from Somethin' Else and Sony Music Entertainment's investigative series looks back at an international drug-smuggling scheme that took shape in the '90s as part of an effort to bring abortion pills into the United States — where they wouldn't become legal until the turn of the millennium. Given the contemporary legal battle around mifepristone, this will be a tale worth revisiting.
Fiasco: Vigilante (Prologue Projects and Audible, July 27)
The sixth season of Leon Neyfakh's historical documentary series takes listeners back to a media circus from the eighties that erupted when a white man, Bernhard Goetz, shot four Black teenagers on a New York City subway. As one expects from the original creator of Slow Burn, Vigilante is meant to echo with the present, which shouldn't be too hard, given just how much the country is currently grappling with anxiety over crime and seems ever-willing to redraw moral lines in order to mitigate those fears.
Hang Up (Radiotopia, July TBD)
There has been a discernible push lately to re-create the reality-dating-show format within podcasts. The results so far have been interesting to mixed, but the prospect remains intoxicating because, really, the whole not seeing your prospective date thing — it's so Love Is Blind, you know? This summer sees Radiotopia taking its own stab at the genre. Hang Up's format sounds like a throwback to The Dating Game of yore. One seeker, six suitors, a series of phone dates where a suitor gets eliminated after every round. The twist comes at the end: The last suitor chooses between going on a vacation with the seeker sight unseen — or walking away with a bunch of cash.