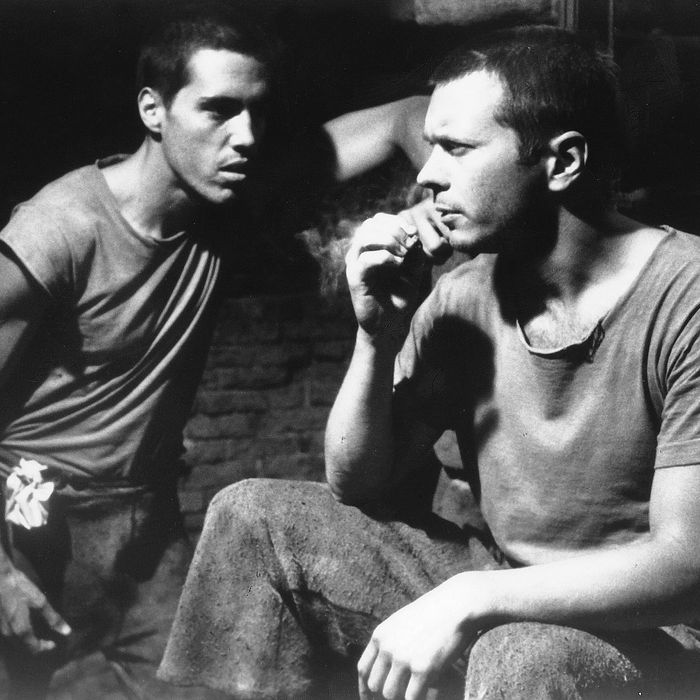 A scene from the "Homo" section of Todd Haynes's
Poison
.
Photo: Bronze Eye/Kobal/REX/Shutterstock
If you're wondering where the "queer" is in cinema these days, you're better off looking to the past. Writing in The Village Voice in 1992, the film critic B. Ruby Rich named the wild, provocative, sexy slate of films by queer filmmakers New Queer Cinema. The label stuck, and would eventually get expanded by film historians and queer theorists to describe a movement that was stylistically experimental, rich, and above all, defiant. Historically, New Queer Cinema was inextricably tied to the AIDS crisis and the activism and community that formed out of it; it's filmmaking made by and for people who were on the margins. But to say that these films are serious and somber would be a complete misunderstanding: They're often funny, sharp, and incredibly alive.
It's difficult to access some of these films now. Many of them are available on Kanopy, which you can stream for free (!) with a library card, or other subscription-based niche streaming sites like Fandor and FilmStruck. Some you can buy via iTunes, Amazon, and Google Play. (You can also do the tried-and-true method of "Googling it" and find some other streams.) This following list of NQC films is by no means comprehensive, but think of it as a starter guide into a wider world of queer cinema.
Born in Flames (1983), Lizzie Borden
Stream on Kanopy, Fandor
Before the queer cinema boom, there was Born in Flames by Lizzie Borden, a radical, independent film that imagined a revolution within a revolution when there's a feminist uprising a decade after the Social Democratic War of Liberation. The catalyst for the plot begins when a black feminist leader dies in police custody, galvanizing various feminist factions. Made on a budget of $70,000, the movie is a bit like bricolage, with a number of contemporary resonances, from radio agitprop to shades of Afrofuturism. (Fun fact: Kathryn Bigelow is in it!)
Mala Noche (1986), Gus Van Sant
Stream on Kanopy, FilmStruck
Gus Van Sant would later make big feature films like Milk, about the life and assassination of Harvey Milk, but his first feature, Mala Noche, was an exploration of desire through the eyes of a young white store clerk named Walt and his obsession with a young undocumented immigrant named Johnny. The film, shot in black and white on 16mm film, contains many of the early Van Sant fixations that viewers would later see get refined in My Own Private Idaho, including male hustlers, illegality, and class.
Chinese Characters (1986), Richard Fung
Richard Fung would go on to make a number of videos about gay desire and AIDS, including the lovely Sea in the Blood (2000) and a fascinating PSA for safe sex through the Gay Men's Health Crisis called Steam Clean (1990), but this early film asks still-pressing questions about the nature of gay desire when it's mediated via pornographic images of white men. The video defies genre, mixing documentary with performance art and archival footage to explore the tensions of being a gay Asian man looking at porn.
Looking for Langston (1989), Isaac Julien
Isaac Julien would make a more commercial film during the peak of NQC called Young Soul Rebels (1991), but this short film, a tribute to the life and work of Langston Hughes, is a beautiful and vibrant elegy. Julien creates a lineage of queer black ancestors for himself, starting with Hughes in the Harlem Renaissance through to James Baldwin and Essex Hemphill, Hilton Als, and his contemporaries. The film moves like the poetry it recites, playing with the gaze and how various eyes look upon the black male body.
Tongues Untied (1989), Marlon Riggs
Stream on Kanopy
The heart of Marlon Riggs's essayistic film is the question of whether desire is a political act. Guided by the writer Joseph Beam's statement, "Black men loving black men is the revolutionary act," Riggs goes through his own complicated journey of homophobia from other black people, and then racism in the gay community, to find a community of queer black people. There are playful interludes interspersed throughout the film, including a dating hotline where he searches for a BGA (Black Gay Activist).
Poison (1991), Todd Haynes
Stream on Fandor
Poison, which debuted at the Sundance Film Festival in 1991, is one of the marquee films that Rich pinpointed as a watershed of New Queer Cinema. Each of the film's three parts tell a story about ostracism, violence, and marginality: the bullied child who allegedly flies away after shooting his father in order to save his mother ("Hero"), a brilliant scientist who accidentally ingests his own serum to become the "leper sex killer" ("Horror"), and a sexual relationship between two men in a prison ("Homo"). While Haynes would go on to make prestige pictures like Far From Heaven and Carol, this is his work at its most explicitly political and experimental.
Paris Is Burning (1991), Jennie Livingston
Stream on Netflix
While Paris Is Burning has raised questions around narrative ownership (whether Jennie Livingston, a former Yale student, should be making a documentary about a group she isn't a part of), it's undoubtedly one of the most important (by virtue of being one of the few) historical documents of the New York City ball scene, and it's impossible not to become transfixed by the strength, elegance, and tragedy of the world where queer communities build kinship around art and identity. Dorian Corey, Venus Xtravaganza, Willi Ninja, and everyone else will always be remembered as legendary children.
The Living End (1992), Gregg Araki
Stream on Kanopy, Sundance Now
What a romp! Araki made this nihilistic road-trip movie on a shoestring budget of $20,000. The Living End follows Luke, a sexy homicidal drifter who (like Araki) has a distaste for T-shirts, and Jon, an uptight film critic in Los Angeles. Both are HIV-positive, and as their relationship unfolds, they tussle over Jon's instinct to be a respectable gay, and Luke's admittedly more alluring impulse to fuck the police and ride off to nowhere.
Swoon (1992), Tom Kalin
Shot beautifully like a black-and-white Calvin Klein ad, Tom Kalin fictionalizes the Leopold and Loeb murder case: The wealthy Chicago lovers kill a 14-year-old boy named Bobby Franks because they want to see if they are smart enough to do it. Unlike Alfred Hitchcock's retelling of the murder in Rope, Kalin's version is more interested in their relationship as lovers — he even has the two wed each other in an abandoned house before committing the crime. The murder is more a play of power between them, with Loeb weaponizing sex as a way to control Leopold.
Edward II (1992), Derek Jarman
There's a scene in Edward II where the king and his doomed lover, Piers Gaveston, dance together in pajamas as Annie Lennox sings "Ev'ry Time We Say Goodbye." That pretty much encapsulates the deliberately anachronistic sensibility of this Christopher Marlowe adaptation filmed in dark, lush colors. It builds a bridge of historical queerness to the then-present-day fight against the AIDS epidemic and an indifferent government. Oh, and there's Tilda Swinton in pearls.
Rock Hudson's Home Movies (1992), Mark Rappaport
Stream on YouTube (free), Amazon Prime
If Laura Mulvey taught us what the male gaze was, New Queer Cinema was about showing viewers what the queer gaze was. Rock Hudson's Home Movies is a documentary made up of glances and innuendos from Rock Hudson's oeuvre, showing us how this dashing, leading man of the Hollywood Golden Age was a closeted gay man.
Fast Trip, Long Drop (1993), Gregg Bordowitz
Gregg Bordowitz, a member of ACT UP, the radical AIDS advocacy organization, made this film, which, like many of the other NQC films, mixes genres: there are satirical news elements (Andrea Fraser plays a character named Charity Hope-Tolerance) with archival footage from protests, appropriated footage of Evel Knievel stunts, video diaries, and a fascinating conversation with his parents about why he decided to come out as gay, even though he has been in relationships with both men and women.
Zero Patience (1993), John Greyson
Stream on YouTube
This musical by John Greyson tells a reimagined history of Gaëtan Dugas, the real-life Canadian flight attendant who had been dubbed "patient zero" of the AIDS epidemic by the media and scientists. Zero Patience allows Dugas to clear his name while also resurrecting the ghost of Sir Richard Burton, who is on a quest to demonize him. And the movie has an excellent John Waters tribute, with singing anuses.
The Watermelon Woman (1996), Cheryl Dunye
Stream on Kanopy
The Watermelon Woman coalesced much of the video work Cheryl Dunye had been making earlier in the decade in the form of what she would call "Dunyementary," a self-reflexive style of documentary. The Watermelon Woman would continue to play with reality and fiction, with the protagonist, Cheryl (played by Dunye), tracking down the history of an early film star known as the Watermelon Woman, who she later learns is a lesbian actor by the name of Fae Richards.
MURDER and murder (1996), Yvonne Rainer
Known for her experimental filmmaking and choreography, Yvonne Rainer made a narrative film — one that's still formally challenging compared to commercial films of its time — of a late-in-life lesbian named Doris who suffers from neuroses and breast cancer. Her partner, Mildred, a queer academic, tells the story of their romance as older women. Rainer also makes appearances throughout the film in a tux, going on rants about smug homophobic parents while showing her bare chest with a mastectomy scar.