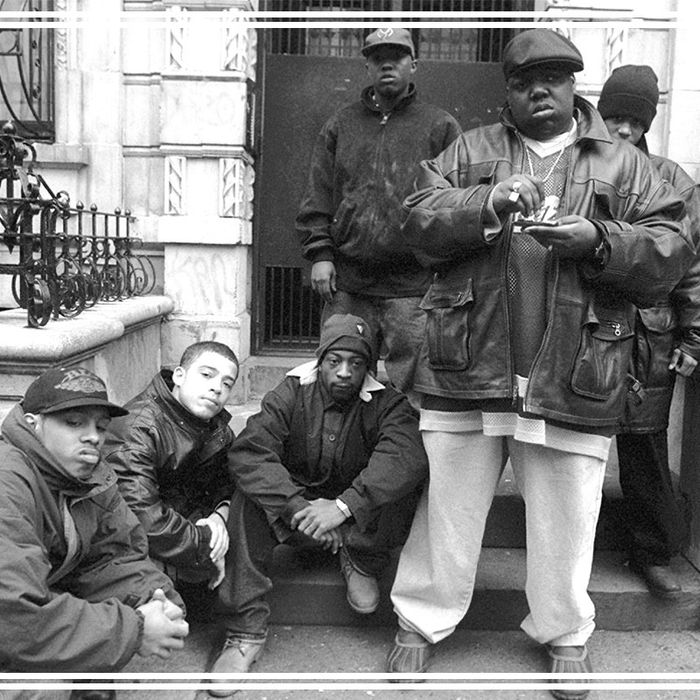 Here are 15 of the most important crews and collectives whose (often brief) histories you should know, dating back to the genesis of rap culture.
Photo-Illustration: Vulture and Clarence Davis/NY Daily News Archive via Getty Images
In a city that's as cutthroat as they come, New Yorkers are required to adopt a sense of resiliency from an early age. When nothing is given and everything has to be earned, or even taken, to ensure survival, self-sufficiency is paramount. But an equally tactical way to navigate the terrain is to find strength in numbers. The same mentality bleeds into the city's rap scene, as artists band together to create crews and collectives to collaborate with like-minded individuals while moving as a unit. Often, these connections are happenstance and occur organically; other times, they are calculated chess moves that are mutually beneficial and occur with the passage of time. Regardless of the reason, these alliances reflect the core values those who grew up here uphold, resulting in some of the greatest music and defining moments that hip-hop has to offer.
Few crews are truly great without a leader at the head, and many have benefited from having a capable leader willing to go to war alongside their teammates. However, when power struggles develop within a crew, it can ultimately become its undoing. Striking a balance that allows for a democracy and less of a dictatorship is key. The utility players are equally essential to the success and longevity of a rap crew as the stars who (often deservedly) get the majority of the hype and shine. The city has seen it time and time again: Everyone from the Juice Crew of the '80s to the GS9 of the '10s is a constant reminder of the importance of crew love and how quickly things can go south without it.
As our weeklong debate continues over the songs and artists that have helped define New York rap, we've highlighted 15 of the most important crews and collectives whose (often brief) histories you should know, dating back to the genesis of rap culture.
Native Tongues
Members: Jungle Brothers, De La Soul, A Tribe Called Quest, Monie Love, Queen Latifah, Black Sheep, Chi-Ali
Honorary Members: The Beatnuts, Brand Nubian, Shortie No Mass, J Dilla, Leaders of the New School, Mos Def, Truth Enola, DJ S.T.R.E.S.S., Da Bush Babees, Common, the Pharcyde, Vinia Mojica
Borough: Queens/Long Island
The Thing They're Known For: Waving the flag for abstract, socially conscious hip-hop, the Native Tongues are a collective that helped shift the sound and look of hip-hop during their run as one of rap's more popular collectives. Formed in 1988, after the Jungle Brothers and De La Soul met following a performance in Boston, by 1989, the Native Tongues were a fully formed movement, with A Tribe Called Quest, Queen Latifah, and Monie Love also joining the fold. Despite never recording an album as a unit, the Native Tongues' list of collaborative efforts runs deep, and with a number of affiliates and honorary members having added on to the legacy with their own creative contributions — most notably Busta Rhymes's appearance on A Tribe Called Quest's 2016 release We Got It from Here… Thank You 4 Your Service — they remain one of the most decorated crews in the history of the concept.
That One Song You Might Know: "Scenario"
That One Song You Gotta Know: "Buddy (Native Tongue Decision)"
Wu-Tang Clan
Members: RZA, GZA, Inspectah Deck, U-God, Ghostface Killah, Method Man, Raekwon, Masta Killa, Cappadonna
Borough: Staten Island
The Thing They're Known For: At a time when New York City was questioning its identity in the face of the West Coast's emergence as a dominant force in hip-hop, nine emcees based out of Staten Island came together as the Wu-Tang Clan to revolutionize and challenge all we had come to know and expect of rap music. Founded by RZA, with members GZA, Ol' Dirty Bastard, Method Man, Raekwon, Ghostface Killah, Inspectah Deck, U-God, and Masta Killa rounding out the crew, the Wu's 1993 debut album, Enter the Wu-Tang (36 Chambers), served as a rallying cry for the five boroughs, with songs harkening back to the days when kung fu flicks were the hot ticket for Black and brown kids on 42nd Street. Brokering a revolutionary deal with then-fledgling imprint and future rap-industry powerhouse Loud Records, which allowed each individual member to negotiate and sign solo deals with any other record label of their choice, the Wu dominated the mid-'90s with landmark solo releases from Method Man (Tical), GZA (Liquid Swords), Ol' Dirty Bastard (Return to the 36 Chambers: The Dirty Version), Raekwon (Only Built 4 Cuban Linx…), and Ghostface Killah (Ironman). Having released eight studio albums as a group, with upwards of 100 studio albums between its core members and literally countless affiliates, the Wu-Tang Clan are responsible for one of the most memorable dynasties in rap and remain not to be fucked with.
That One Song You Might Know: "Triumph"
That One Song You Gotta Know: "Protect Ya Neck"
Bad Boy
Members: The Notorious B.I.G., Craig Mack, Ma$e, Diddy, the LOX, Lil' Kim, Lil' Cease, Black Rob
Borough: Brooklyn
The Thing They're Known For: In 1993, after being jettisoned from his high-ranking position at Andre Harrell's Uptown Records, a 22-year-old Sean "Puffy" Combs from Harlem, by way of Mount Vernon, was forced to bet on himself. With little more than two fledgling rappers named Biggie Smalls and Craig Mack, and a dream, Combs launched Bad Boy Records, which took the game by storm in short order, largely off the strength of its flagship artists' solo debuts (Ready to Die and Project: Funk da World, respectively). Not one to rest on his laurels, Combs recruited additional talent, most notably uptown's Ma$e, the LOX, and Black Rob, while Lil' Kim and Lil' Cease, standouts from Biggie's own group, Junior M.A.F.I.A., were also closely linked and associated with the label. While the death of the Notorious B.I.G. in 1997 devastated Bad Boy's dominant run, the saga continued, with Ma$e and Puff taking control of the wheel with their own multiplatinum debuts, Harlem World and No Way Out, that same year, and the LOX building on that momentum with 1998's Money, Power & Respect. Known for their designer clothes, Champagne toasts, shiny suits, and penchant for sampling the oldies, Bad Boy was rap's equivalent to the Chicago Bulls during that time. With many of those same artists continuing to add to the fabric of their respective legacies in 2020, the love and nostalgia for that first incarnation of the Bad Boy family remains thick.
That One Song You Might Know: "It's All About the Benjamins"
That One Song You Gotta Know: "24 Hrs. to Live"
Ruff Ryders
Members: DMX, the LOX, Eve, Drag-On, Swizz Beatz, Fiend, Infa-Red & Cross
Hometown: Yonkers
The Thing They're Known For: As many of their peers were content with getting jiggy and basking in the glitz and glamour of stardom, the Ruff Ryders were dedicated to putting on for the streets, cultivating a moment that would put the final nail in the coffin for "the Shiny-Suit Era." Led by DMX, whose multiplatinum 1998 debut solo album, It's Dark and Hell Is Hot, and its follow-up just seven months later that same year, Flesh of My Flesh, Blood of My Blood, minted him as a megastar and helped put Yonkers on the map, the Ruff Ryders also included key members the LOX, Philly's Eve, super-producer Swizz Beatz, and scrappy spitter Drag-On, all of whom reached commercial success during the late '90s and early aughts. Releasing upwards of a dozen platinum- or gold-certified albums, the Ruff Ryders are a respected brand that embodies the heart and grit that comes with the territory of being a New Yorker.
That One Song You Might Know: "Ryde or Die"
That One Song You Gotta Know: "Scenario 2000"
G-Unit
Members: 50 Cent, Lloyd Banks, Tony Yayo, Young Buck, the Game
Borough: Queens
The Thing They're Known For: Formed by 50 Cent after surviving a murder attempt, G-Unit is a crew and a brand that was born in the streets of New York but transcended those humble beginnings to make an impact globally. Featuring Tony Yayo and Lloyd Banks, who'd been rapping with their friend Curtis Jackson since they were all teens growing up in South Jamaica, Queens, G-Unit placed its imprint on the mixtape game during the early aughts, monopolizing the market with classics like 50 Cent Is the Future, No Mercy, No Fear, and God's Plan, leading to a label deal for the crew with Interscope Records. (Fif and G-Unit are often credited as one of the first artists to release their own mixtape to help market and promote themselves, a model still popular today.) By featuring them prominently on his own debut album, Get Rich or Die Tryin', in 2003, 50 Cent positioned Tony Yayo, Lloyd Banks, and new recruit Young Buck as next to blow. Releasing their multiplatinum debut, Beg for Mercy, in 2003, and its follow-up, T.O.S. (Terminate on Sight), in 2008, as well as multiple solo albums between its core members, G-Unit has been a home to various unlikely household names — including the Game, Mobb Deep, M.O.P., and others — a testament to the crew's stature in the industry.
Also a testament to 50 Cent's polarizing personality, G-Unit experienced its share of internal turmoil over the years, including former member the Game's unceremonious dismissal live on Hot 97 after butting heads with Fif and Young Buck's recurring love-hate relationship with the crew. Recently, 50 aired out what he believes have been Banks and Yayo's shortcomings since the group dissolved. But at its peak, G-Unit was not just a collective or movement but a full-blown machine, one of rap's legacy brands.
That One Song You Might Know: "Poppin' Them Thangs"
That One Song You Gotta Know: "Bad News"
Boogie Down Productions
Members: KRS-One, Scott La Rock, D-Nice, Willie D, Kenny Parker, Jamal-ski, Harmony, Ms. Melodie, Scottie Morris
Borough: The Bronx
The Thing They're Known For: Given that hip-hop traces its roots back to the Bronx, when natives KRS-One and Boogie Down Productions misinterpreted a lyric from MC Shan's 1986 single "The Bridge" as implying that Queens created the culture, they and seemingly all of the Bronx took umbrage with that presumed history rewrite. Responding to MC Shan with the singles "South Bronx" and "The Bridge Is Over," BDP sparked the infamous "Bridge Wars" with MC Shan and Queensbridge's Juice Crew, which has gone down as arguably the most important rap battle of all time. But after BDP founding member Scott La Rock's murder following the release of the group's seminal 1987 debut, Criminal Minded, KRS-One changed course, launching the Stop the Violence Movement and pivoting to sociopolitical issues beginning with 1988's By All Means Necessary. Over the years, Boogie Down Productions' lineup was in constant flux, with D-Nice, Ms. Melodie, Willie D, Kenny Parker, Jamal-ski, Harmony, and Scottie Morris all identified as members at one point, but they produced five albums before disbanding in 1992.
That One Song You Might Know: "The Bridge Is Over"
That One Song You Gotta Know: "Remix for P IS Free"
Juice Crew
Members: Mr. Magic, Marley Marl, Roxanne Shanté, MC Shan, Biz Markie, Big Daddy Kane, Kool G Rap, Masta Ace, Craig G, Tragedy Khadafi, Grand Daddy I.U., DJ Polo, TJ Swan
Borough: Queens
The Thing They're Known For: As hip-hop's first star-studded collective of talent, the Juice Crew All-Stars loomed large out of Queens during the '80s, producing some of the biggest anthems and albums of their time. Founded by radio personality Mr. Magic, and cultivated by Marley Marl and Tyrone "Fly Ty" Williams, the Juice Crew included Roxanne Shanté, MC Shan, Biz Markie, Big Daddy Kane, and Kool G Rap, all of whom were signed to Williams's Cold Chillin' Records. Building a buzz on the back of singles like Shanté's "Roxanne's Revenge" and MC Shan's "The Bridge," the Juice Crew reached its peak during the latter half of the decade, with albums like Biz Markie's Goin' Off, DJ Polo & Kool G Rap's Road to the Riches, and Big Daddy Kane's Long Live the Kane and It's a Big Daddy Thing all hailed as instant classics. While the "Bridge Wars" between them, KRS-One, and Boogie Down Productions put them in the hot seat, the Juice Crew — which also introduced Masta Ace, Craig G, Tragedy Khadafi, and Grand Daddy I.U. in later years — are considered hip-hop royalty, with a lineage that stacks up with the best of them.
That One Song You Might Know: "The Symphony"
That One Song You Gotta Know: "The Symphony II"
Terror Squad
Members: Fat Joe, Big Pun, Cuban Link, Triple Seis, Prospect, Armageddon, Remy Ma, Tony Sunshine
Borough: The Bronx
The Thing They're Known For: Starting as a local street crew in the Bronx, Terror Squad's introduction to the music industry came via Fat Joe's ascension in the rap game with solo efforts like his 1993 debut, Represent, and 1995's Jealous One's Envy making considerable noise. However, it wasn't until the addition of future Bronx legend Big Pun, who broke ground and barriers with his own solo debut, 1998's Capital Punishment, that Terror Squad truly gained traction as a group with the potential to foster a movement. Featuring Cuban Link, Triple Seis, Prospect, Armageddon, and Tony Sunshine, the group, comprised solely of Latin Americans, brought a unique dynamic to the rap game, infusing their cultural roots into their music. But after releasing their debut, The Album, in 1999, tragedy struck when Big Pun died of a heart attack in 2000 at age 28, creating an air of uncertainty about the group's future. Rather than call it quits, Fat Joe put the crew on his back with a string of platinum releases that prominently featured all members of the Terror Squad. Later adding Castle Hill lyrical femme fatale Remy Ma to the crew, Terror Squad stamped themselves as hit-makers with their chart-topping 2004 single, "Lean Back," but have since disbanded, with Fat Joe and Remy Ma continuing to collaborate as a duo on songs like the 2016 hit "All the Way Up."
That One Song You Might Know: "Lean Back"
That One Song You Gotta Know: "Glamour Life"
QB's Finest
Members: Nas, Mobb Deep, Capone-N-Noreaga, Tragedy Khadafi
Borough: Queens
The Thing They're Known For: With a rap history as rich and storied as that of Queensbridge, for an artist coming from the area, the expectations for greatness can be stifling. But the second wave of stars from QB — Nas, Mobb Deep, Capone-N-Noreaga, Tragedy Khadafi, and others — helped carry on the tradition set by the Juice Crew in the '80s into the '90s with some of the best rap music not only of the era but of the genre's history. Beginning with the release of Nas's debut, Illmatic, in 1994, and followed by the arrival of Mobb Deep's The Infamous in 1995 and Capone-N-Noreaga's The War Report in 1997, Queensbridge was in full effect at a time when the competition for supremacy in NYC was thicker than ever. Known for rhyming about the harsh realities of street life over brooding beats, this starting lineup, along with other key contributors like Tragedy Khadafi and Cormega, banded together on various occasions, co-starring on each other's albums and appearing in each other's videos. The constant overlap gave QB's rap scene a familial feel.
In 1997, Nas, along with Dr. Dre and Trackmasters, did a slight change of course, forming the supergroup the Firm, which included frequent collaborator AZ, Brooklyn spitter Foxy Brown, and newcomer Nature (who replaced original member Cormega). The group only released one, critically panned, album and disbanded shortly after but continue to work together individually (most recently, the original lineup came "Full Circle" on Nas's 2020 album King's Disease). However, in 2000, Nas reverted back to business as usual, teaming up with Tha Mobb, C-N-N, Tragedy & Co. once again and unleashing the compilation Nas & Ill Will Records Presents QB's Finest, a celebration of the housing project's lineage that served as the apex of Queensbridge's run as a dominant faction.
That One Song You Might Know: "Da Bridge 2001"
That One Song You Gotta Know: "LA, LA"
Boot Camp Clik
Members: Buckshot, Smif-N-Wessun, Heltah Skeltah, O.G.C.
Borough: Brooklyn
The Thing They're Known For: Hailing from Brooklyn, the Boot Camp Clik's true-school values and spirit of independence have helped the crew maintain a cult following. Spearheaded by Brooklyn trio Black Moon's front man, Buckshot, during the making of Black Moon's 1993 debut album, Enta Da Stage, Boot Camp Clik consists of the groups Smif-N-Wessun, Heltah Skeltah, and O.G.C., all based out of the Brownsville section of Brooklyn. Accounting for classic albums like Smif-N-Wessun's Dah Shinin', as well as multiple hit singles — most notably the Heltah Skeltah and O.G.C. collaboration "Leflaur Leflah Eshkoshka" — whereas other crews out of Brooklyn aspired to emulate mafioso themes, Boot Camp Clik were unapologetically Brooklyn, from their Timberland boots to their army fatigues and Polo rugby shirts. With Buckshot and Dru Ha founding Duck Down Music in 1995, which has released the majority of Boot Camp Clik–related albums, and a track record for staying the course and sticking to their guns, the crew's standing in the hip-hop community is unquestioned.
That One Song You Might Know: "Leflaur Leflah Eshkoshka"
That One Song You Gotta Know: "Cession at Da Doghillee"
The Diplomats
Members: Cam'ron, Jim Jones, Juelz Santana, Freekey Zekey, Hell Rell, 40 Cal, J.R. Writer, Un Kasa, Jah Jah, S.A.S.
Borough: Manhattan
The Thing They're Known For: First introduced on Cam'ron's 2000 S.D.E. album, the Diplomats (also known as Dipset) gradually evolved from a Harlem street family and vehicle to introduce Jim Jones, Freekey Zekey, and Juelz Santana to the public into one of the most distinctive and influential brands in rap. Led by former Children of the Corn member Cam'ron, the Diplomats, which includes core members Jim Jones, Cam's longtime consigliere, Washington Heights–bred wunderkind Juelz Santana, and Freekey Zekey, Cam's first cousin and the wild card of the group, made a big splash in 2002 upon the release of Cam's third studio album and Roc-A-Fella Records debut, Come Home With Me, which featured the crew in a supporting role. Building their standing in the streets with mixtape releases, by the following year, the Diplomats were bona fide stars, individually and as a collective, with their double-disc debut, Diplomatic Immunity, cementing them as a force to be reckoned with. Continuously expanding the crew, with key additions like Hell Rell, 40 Cal, J.R. Writer, Un Kasa, and Jah Jah joining the roster, the braggadocious swagger that the Diplomats exuded, along with their incredible music and street credibility, set them apart from the more commercially successful G-Unit in the eyes of many, a debate which rages on today and keeps them held in high regard years later.
That One Song You Might Know: "I'm Ready"
That One Song You Gotta Know: "Ground Zero"
Rawkus
Members: Black Star, Company Flow, Mos Def, Reflection Eternal, Pharoahe Monch, Shabaam Sahdeeq, Sir Menelik, Kool G Rap, R.A. the Rugged Man, Punchline & Wordsworth, DJ Evil Dee
Borough: Brooklyn
The Thing They're Known For: Launched in 1995 by then–Brown University students and avid hip-hop fans Brian Brater and Jarret Myer, with financial backing from James Murdoch, Rawkus Records waved the banner for grassroots, independent hip-hop during the late '90s and early aughts. Inspired by the burgeoning underground scene in New York City at the time, Rawkus was headlined by some of the premier talent from the local circuit, including Mos Def, Talib Kweli, Company Flow, and Organized Konfusion member Pharoahe Monch. Running with the mantra "Independent as Fuck," Rawkus proved to be the antithesis of the brand of commercially driven rap that was being pumped out by the major labels, including Bad Boy, Def Jam, No Limit, and Cash Money, providing an alternative with classics like Company Flow's Funcrusher Plus, Black Star's Mos Def & Talib Kweli Are Black Star, Mos Def 's Black on Both Sides, Pharoahe Monch's Internal Affairs, and the Soundbombing and Lyricist Lounge compilation series. Serving as a home and breeding ground for a number of talented lyricists and producers, Rawkus laid a blueprint that has been adopted and refined by other indie labels, most notably Def Jux, Nature Sounds, Babygrande, and Mello Music Group, but was among the first to really champion DIY hip-hop.
That One Song You Might Know: "Simon Says"
That One Song You Gotta Know: "Fortified Live"
Roc-A-Fella
Members: Jay-Z, Memphis Bleek, Beanie Sigel, Sauce Money, Amil, Da Ranjahz, Jaz-O
Borough: Brooklyn
The Thing They're Known For: After failing to secure a record deal with a major label, Jay-Z, his then-manager Damon Dash, and Kareem "Biggs" Burke took matters into their own hands, launching Roc-A-Fella Records in 1995. Releasing Jay-Z's debut album, Reasonable Doubt, the following year, Roc-A-Fella earned distribution from Def Jam in a joint-venture deal, allowing the label to acquire and sign new talent. With Jay-Z cast as a Brooklyn-bred wholesale cocaine merchant turned rap star, and Dash and Biggs hailing from Harlem, the home of the hustler, the label took on the persona of its entrepreneurial founders, as did a number of Roc-A-Fella's signees and affiliates, including Memphis Bleek, Sauce Money, and others. Unfortunately, in 2004, at the height of the crew's success, Jay-Z's fallout with Dash over creative and personal differences caused Roc-A-Fella and its various moving parts to splinter, resulting in the end of a dynasty prematurely. While many of Roc-A-Fella's artists were originally from Philly, with Hov front and center, the crew was always identified as the pinnacle of a certain New York success and was considered one of the strongest crews that the city had to offer for quite some time.
That One Song You Might Know: "My Mind Right"
That One Song You Gotta Know: "4 Da Fam"
A$AP Mob
Members: A$AP Rocky, A$AP Yams, A$AP Twelvyy, A$AP Ant, A$AP Ferg, A$AP Nast, Dash, A$AP Ty Beats, A$AP TyY, A$AP Bari, A$AP Illz
Borough: Manhattan
The Thing They're Known For: The millennial generation's answer to Wu-Tang Clan, A$AP Mob was formed in the mid-aughts by uptown's A$AP Yams, A$AP Bari, A$AP Kham, and A$AP Illz. Based out of Harlem, with a number of members also hailing from the Bronx, A$AP Mob gained traction in 2011 with the release of A$AP Rocky's Live. Love. A$AP mixtape. Known for their usage of the moniker "A$AP" and their proximity to the worlds of streetwear and high-end fashion, A$AP Mob is a diverse crew with various sounds, styles, and personalities. While A$AP Rocky and A$AP Ferg are the most popular members of the crew, multiple members of A$AP Mob have cultivated their own following, including A$AP Twelvyy, A$AP Ant, A$AP Nast, A$AP TyY, and producer A$AP Ty Beats. They released Lords Never Worry, their first project as a unit, in 2012, and have since released two volumes of their Cozy Tapes series. While dissension in the crew regarding breakout star A$AP Ferg's status as a member recently made headlines and has yet to publicly be resolved, the Mob continue to collaborate on and support each other's projects while cultivating and maintaining their own individuality.
That One Song You Might Know: "Hella Hoes"
That One Song You Gotta Know: "Full Metal Jacket"
GS9
Members: Bobby Shmurda, Rowdy Rebel, Corey Finesse, Ty Real, Abillyon
Borough: Brooklyn
The Thing They're Known For: In 2014, Brooklyn rapper Bobby Shmurda became an overnight celebrity after the music video for his single "Hot Nigga" went viral, leading Epic Records to sign him to a record deal shortly after. Shmurda, a member of the East Flatbush–based collective GS9, also helped secure rapper and fellow GS9 member Rowdy Rebel a record deal off the strength of his performance on the mixtape Shmoney Shmurda. While Rebel found success with his own single, "Computers," and GS9 rapper Corey Finesse also gained traction, a 2014 indictment against Shmurda, Rebel, and other GS9 affiliates on charges including murder, attempted murder, conspiracy to commit murder, assault, reckless endangerment, and drug and gun possession abruptly halted the crew's momentum. However, Shmurda and Rebel, who both received five-year prison sentences, are set to be released in December 2020, and, with their credibility and popularity at unprecedented heights, look to be on the precipice of returning to unfinished business.
That One Song You Might Know: "Hot Nigga"
That One Song You Gotta Know: "Computers"