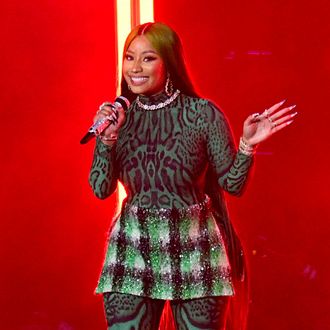 Nicki Minaj.
Photo: Roy Rochlin/Getty Images for iHeartRadio
Nicki Minaj said playtime is over. The rapper will release her first studio album in five years, the third installment in the Pink Friday trilogy. And she's dropping the cover of the album to give her fans something to keke about over the Labor Day weekend — there are no days off for Minaj. Pink Friday 2 officially comes out on November 17 but Minaj has given us a couple of Pink Summer Fridays by releasing three singles — "Super Freaky Girl," "Red Ruby Da Sleeze," and "Last Time I Saw You" — before the season's over. The album was originally scheduled for October but the rapper promised the delay would be worth the wait.
Just because she hasn't been an albums artist of late doesn't mean the rapper hasn't had a presence on the charts or in pop culture. She scored a top-ten hit by featuring on Ice Spice's "Princess Diana" in April, while last year's "Super Freaky Girl" debuted at No. 1 on the Billboard Hot 100, her first solo hit to rise to the top of the charts. Albums wise, 2018's Queen peaked at No. 2 on the Billboard 200 and the first two entries of her Pink trilogy — Pink Friday (2010) and Pink Friday: Roman Reloaded (2012) — landed at No. 1. All the while, questions continued to swirl around the rapper's personal life — namely, her controversial marriage to Kenneth Petty, who was sentenced to three years probation after failing to register as a sex offender in 2022, and why a docuseries promising her "raw" story was shelved by HBO Max and will move forward without a distributor. None of the mess has stopped Nick the Boss from closing deals, though. The self-described Harajuku Barbie said a concert tour will follow the release of the album. Like, why do the other girls even bother at this point?