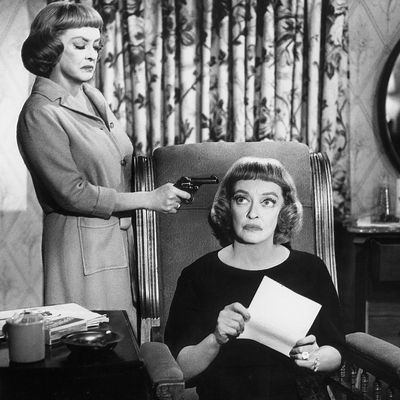 Bette Davis and Bette Davis in
Dead Ringer.
Photo: George Rinhart/Corbis via Getty Images
Widows is an endlessly entertaining, razor-sharp noir that marries the austere stylings of director Steve McQueen and the pulp sensibilities of screenwriter Gillian Flynn. Based on the 1980s British series of the same name, this fresh reimagining transposes the action to modern-day Chicago, allowing the city's dynamics of race, gentrification, and politics to infuse the film with an energy that is all its own. Led by a blunt, starkly vulnerable performance by Viola Davis as Veronica Rawlings, Widows follows her as she reels from the death of her renowned-thief husband (Liam Neeson). She forms a tense partnership with the other widows of Harry's deceased partners, played by Michelle Rodriguez and Elizabeth Debicki, in order to complete the final job he had planned and get out from under the oppressive force of a local crime boss trying to go legit (Brian Tyree Henry).
Much of the pleasure comes from watching this great cast — which also includes Colin Farrell, Daniel Kaluuya, and Carrie Coon — clash with one another as they each hope money will cure all that ails them. Widows' casting and its interest in the life-shaping forces of class and race makes it stand out within modern noir. But it isn't exactly an outlier in film history. Here is a list of ten propulsive crime flicks and darkly entertaining noirs with female leads to watch if you enjoyed Widows.
The Locket (1946)
The Locket is an unsung work of genius. This 1946 noir astounded me when I watched it for the first time recently, due to the ingenuity of its structure and its offbeat visual flourishes. The Locket focuses on Nancy (Laraine Day), a bright-eyed, alluring bride-to-be whose future is threatened when a doctor, Harry Blair (Brian Aherne), claims to be her husband and spins a complex story about her past on the eve of her wedding to her fiancé, John Willis (Gene Raymond). Noir is known for its labyrinthine approach to storytelling. But The Locket rivals Inception in its dedication to delving deeper into the layers of its characters' psyches with flashbacks-within-flashbacks-within-flashbacks structure, which is spectacularly pulled off. It's the first film I have watched in a long time in which I had no idea where it was going to go. Day carefully recalibrates her performance with each flashback. At times, she's a saccharine, doll-faced paramour; at others, she's a scheming femme fatale driven by a pathological need to steal. This gives the film an intriguing dimension, leading audiences to wonder who is telling the truth and which version of Nancy is the real one. Is she the threat these various men (including her ex, played by Robert Mitchum) imagine her to be, or is the truth more complicated? The film is bolstered by the impressive cinematography of Nicholas Musuraca — known for such classics as the Val Newton-produced horror film Cat People and the iconic noir Out of the Past — who makes a series of clever visual choices. Two of my favorite aesthetic aspects of the film include an early transition using plumes of smoke and a flirtatious conversation between Mitchum and Day that feels like a tennis match due to its rapid-fire cutting during an exchange of one-liners. It's a standout in a genre known for its visual ingenuity.
Available to buy on DVD at Amazon.
The Strange Loves of Martha Ivers (1946)
Typically, when we meet a femme fatale, she's already fully formed and hardened to the world. The Strange Love of Martha Ivers finds its power by choosing to illuminate the past and bring psychological depth to the present of its titular character, played by Barbara Stanwyck with venomous sensuality and raw-nerved vulnerability. After an opening that details a traumatic moment in Martha's youth, we meet her as a brassy, cunning adult who has inherited her aunt's considerable wealth and is now the most powerful figure in the small Pennsylvania town of Iverson. Her life spins in a new direction when an old would-be paramour, Sam Masterson (Van Heflin), returns to town, setting off a story of yearning and terror that threatens her outwardly perfect life. The film is also memorable for featuring Kirk Douglas's first screen performance as Walter Jr., Martha's meek husband (uncharacteristic in Douglas's career, which is defined by hotheaded machismo more than anything else) who remains utterly in love and devoted to her even though she gives less than a damn about him. The film's ending perfectly encapsulates the way noir marries lust and the existential dread of mortality in order to communicate the darkest corners of the human condition.
Streaming on Amazon Prime. Also available to buy or rent Google Play, YouTube, and iTunes.
Lured (1947)
Lucille Ball had one of the most fascinating careers in Hollywood history. She started out as a contract player at RKO, where she never found the right fit for her talents, before becoming a major power player with her own production company and the iconic sitcom I Love Lucy. Even though her particular blend of comedic ingenuity and bawdy charm didn't often make its way to the big screen, there is one film from her career in the 1940s that deserves to be highlighted: the enrapturing noir confection that is Lured. Douglas Sirk (!) directs Ball as Sandra Carpenter — the fast-talking, gimlet-eyed American taxi dancer working in London. Sandra begins investigating the notorious "Poet Killer"(who earns his name because he was influenced by Charles Baudelaire) after a friend and fellow dancer goes missing. The film boasts supporting turns by Boris Karloff as a formerly prominent, mentally unstable fashion designer, and the mischievous, always watchable George Sanders as a dashing producer who grows fond of Sandra (and may or may not be the killer). Lured isn't one of Sirk's typical Technicolor fantasias, but his understanding and interest in the internal lives of women is evident here. What makes the film work is how deliciously entertaining Sirk and Ball's sensibilities make it. I don't think I've ever found a noir to be so much fun to watch.
Available to buy or rent on Amazon.
Black Widow (1987)
Earlier this year, the BBC's bracing and richly humorous series Killing Eve was praised for subverting our expectations by making both its dogged-detective and elusive-killer characters women. But it wasn't the first time filmmakers had recognized that a new dimension could be gained within crime and noir by placing women front and center. In 1987, Black Widow made a similar decision. It centers on a shape-shifting, highly intelligent femme fatale, Catherine (Theresa Russell) who seduces wealthy older men, marries them, then poisons them before moving onto another identity and mark. A rough-hewn Justice Department agent (Debra Winger) uncovers Catherine's pattern, setting off a narrative powered by lust and obsession. Black Widow is at its best when it focuses on the tangled obsession that forms between these women. The film, which sizzles with desire and intrigue, stands out among the various hothouse noir works of the 1980s and early 1990s, such as Body Heat and Basic Instinct.
Available to buy or rent on Amazon, Vudu, and iTunes.
Gun Crazy (1950)
Gun Crazy may begin by focusing on the psychological underpinnings of the gun-obsessed Bart Tare (John Dall), but the most entrancing and dynamic figure is undoubtedly co-lead Peggy Cummins as carnival sharpshooter Annie Laurie Starr, who ignites a fire in Bart. Written by blacklisted screenwriter Dalton Trumbo and directed by Joseph H. Lewis, Gun Crazy is a predecessor to Bonnie and Clyde that focuses on the lustful relationship between this couple, who embark on a series of increasingly dangerous robberies soon after their honeymoon. While Dall gives his character a wounded sincerity, Cummins makes Annie into a bold, lascivious dynamo who craves the finer things in life and will do almost anything to stave off poverty.
Available to buy or rent on Amazon, Google Play, YouTube, and iTunes
Phantom Lady (1944)
Noir has often been erroneously defined as a genre made by and for men, in which the thorny particulars of mid-century American masculinity is the primary focus. But noir often pulsates due to the women behind and in front of the camera, including Joan Harrison, who produced this film and worked with Alfred Hitchcock as a writer on Suspicion and Rebecca. Directed by Richard Siodmak, Phantom Lady centers on Carol Richman (Ella Raines), who launches an investigation after her charming, attractive boss, Scott Henderson (Alan Curtis), is convicted of the murder of his wife, despite steadfastly proclaiming his innocence. Carol eschews the strictures women are often subject to in noir. She is neither the simplistically rendered good girl nor the malevolent femme fatale. Instead, she is defined by the intensity of her focus and her ingenuity. There are many things to love about Phantom Lady — its propulsive energy, the captivating closeups of the decadently beautiful Raines. But what I'm most drawn to is its subversive quality. Carol is the kind of character who would normally be on the margins of noir — which is full of charismatic shopgirls and whip-smart secretaries. By making her the center of the narrative, Phantom Lady becomes an engrossing, carefully spun tale that stands out in the history of the genre.
Available to buy or rent on Amazon, Google Play, iTunes, and more.
Clash by Night (1952)
What happens when the woman people view you as isn't who you really are, nor who you want to be? Clash by Night poses this question by beginning where most noir ends. Mae Doyle (Stanwyck) has grown accustomed to a decadent life, but is forced to return to her hometown of Monterey, California, after that life falls apart. Soon, Mae settles into a life in which she's uncomfortable, navigating marrying a gruff fisherman (Paul Douglas) and having a daughter quickly after. She finds herself drawn to the far more exciting, equally restless Earl (noir stalwart Robert Ryan). Clash by Night is a domestic noir bolstered by its rich insight into the ways women feel confined by society, as well as by its amazing direction by the legendary Fritz Lang and its performances, including a magnetic supporting turn by Marilyn Monroe. But it's Stanwyck's performance as a woman of temerity who is far too bold and yearning for the prosaic existence she finds herself trapped within that earns it a spot on this list.
Available to buy or rent on Amazon, Vudu, YouTube, and more
Sudden Fear (1952)
In many ways, Joan Crawford set the template for Hollywood acting and what it means to be a star. No stranger to noir, she led such films as Mildred Pierce (1945) and Possessed (1947). Sudden Fear, the 1952 film based on a novel by Edna Sherry, joins this list thanks to its striking consideration of how marriage often fails women. Crawford plays Myra Hudson, a successful playwright, who falls in love with and marries Lester Blaine (Jack Palance) in short order. This proves to be a grave mistake. Lester begins scheming with an ex, Irene Neves (Gloria Grahame) to kill Myra and take her money. Sudden Fear is a claustrophobic hothouse gem, mainly for Crawford's dynamic performance, which earned her her last Academy Award nomination for Best Actress. But I am especially fond of Grahame, who brings her trademark elegant vulgarity to the film.
Available to buy or rent on Amazon, iTunes, Google Play, and more
Dead Ringer (1964)
If there is a single face I feel is perfectly suited for noir, it is that of Bette Davis. Those large, luminescent eyes are like roving searchlight beams, and her lips are often pursed on the edge of a poison-laced admonishment. Davis made a career out of playing women defined by their darkness — angry and always intelligent. There are several noir films and rich melodramas she starred in that could be recommended, including her second collaboration with director William Wyler, 1940's The Letter, which has one of the boldest openings in film history. But I wanted to highlight Dead Ringer, which was directed by her previous co-star and longtime friend Paul Henreid. Dead Ringer forsakes any subtlety in telling the story of two estranged twin sisters, the wealthy Margaret and the struggling Edith (both played by Davis). The crime at the center of the film is Edith's murder of Margaret and her subsequent decision to assume her sister's identity in order to live the life she felt was meant for her. Each scene is marked by rising tension as Edith's lies accumulate, leading to a devastating finale. It's an imperfect, highly entertaining film, and its allure is largely thanks to Davis's arch performance. If you're able to track it down, I'd also highly recommend the Mexican film that Dead Ringer is based on — 1946's La Otra, starring Dolores Del Río.
Available to buy or rent on Amazon, iTunes, Google Play, and more.
Set It Off (1996)
There is something seductive about watching a good heist unfold on film. Each minute that goes by is defined by how close its thieves are to either success or abject failure. Directed by F. Gary Gray, with a screenplay by Takashi Bufford and Kate Lanier, Set It Off begins with one such heist. Francesca "Frankie" Sutton (Vivica A. Fox) is a dedicated bank teller whose life unravels when a man she recognizes from her neighborhood tries to rob the bank she works at with his crew. The robbery is a bloody, cataclysmic failure that leaves her traumatized after a woman is killed in front of her, leaving her face and suit splattered with blood. Perhaps even more nerve-wracking is watching Frankie be cruelly condescended to by LAPD detective Strode (John C. McGinley) and by her superior, who unceremoniously fires her as they both wrongly suspect she was involved in the crime. The beginning of the film tracks the reasons why Frankie and her longtime friends — Lida "Stony" Newsom (Jada Pinkett-Smith), Cleopatra "Cleo" Sims (a gruff, utterly magnetic Queen Latifah as the butch mastermind who has had many run-ins with the law), and T.T. Williams (the tender Kimberly Elise, here in her first role) — ultimately decide to undertake a series of bank robberies.
Each woman has her back against the wall and sees the money as a matter of survival. Their identities as black women and the Los Angeles milieu they navigate lends the film a striking energy that sets it apart from other heist films of its ilk. Bolstered by an engaging script and finely tuned performances, Set It Off demonstrates how crime films can provide scintillating entertainment and sociopolitical commentary in equal measure.
Available to buy or rent on Amazon, iTunes, YouTube, and more