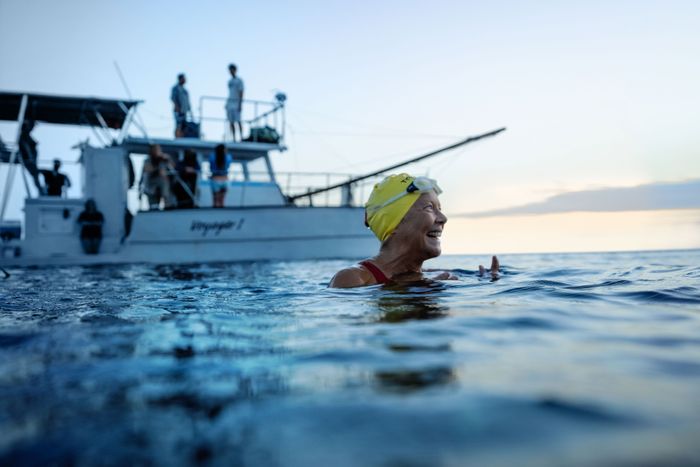 Nyad
may be a frustrating biopic, but at least it doesn't soften the self-mythologizing long-distance swimmer's rougher edges.
Photo: Liz Parkinson/Netflix
Most biopics pretty up their subjects or at least sand off their roughest edges, so let's give credit where credit's due: Nyad makes Diana Nyad look like a real asshole. Nyad is the first long-distance swimmer to complete the 110-mile crossing from Havana to Key West without a shark cage, a swim she first attempted in 1978, at the age of 28, and finally succeeded at in 2013, when she was 64. It's an incredible feat, though Nyad's ease in the spotlight was what helped her become a household name. Confident in self-promotion (and prone to self-mythologizing), Nyad made the media rounds as a young athlete, competed on Dancing With the Stars after she returned to the sport, and established a career in between as a sports broadcaster and commentator with outlets ranging from ABC's Wide World of Sports to NPR's All Things Considered. Nyad isn't afraid to talk about herself or to talk herself up, a quality that becomes a running joke in Nyad, in which she's played by Annette Bening. Diana's best friend and eventual coach, Bonnie Stoll (Jodie Foster), often intercedes to stop her pal from monologuing about destiny, mediocrity, and how her last name is also the name of the water nymphs in Greek mythology (her favorite refrain). When Bonnie points her in the direction of an attractive woman at a party, she has to remind her pal to ask questions and not just talk about herself.
Diana sees herself as the main character of her life, which works out well when she also happens to be the main character of a movie but creates a tension that Nyad, written by Julia Cox and directed by Jimmy Chin and Elizabeth Chai Vasarhelyi, struggles with. Marathon swimming celebrates the work of individual athletes but requires a significant support staff — Diana is accompanied on her swim by a boat containing not just Bonnie but a whole team of volunteers, including Rhys Ifans as navigator John Bartlett. Diana may consider it an honor for them all to be invited to donate their time and expertise to help her achieve her goals, but the film itself has a tougher time delineating their motivations. For all that her attempts — Diana makes four between 2011 and 2013 — are described as "a great adventure," it looks like a grind to be one of the people tootling along in a small vessel next to someone doing freestyle for 53 hours with occasional breaks to squirt food or hydration into her mouth. Constantly riveting it is not.
Chin and Vasarhelyi are known for brawny doc spectacles like Free Solo and The Rescue, but in their scripted debut (which cuts in news footage and audio of the real Nyad as though they couldn't entirely let go of nonfiction), they labor to make this aquatic endurance sport look engaging. Bening, who was filmed in both open water and a tank, is shot from below, and from the side, and from above, but ultimately her character's ability to keep going, rather than something noteworthy about her physical technique, is what sets her apart. Frustratingly, the film, based on Nyad's memoir, never figures out how to give us a good sense of what it's like inside Diana's head when she's in the water. Swimming for two days and nights is obviously a bodily feat, but even more than that, it's a mental one that involves ignoring pain, exhaustion, and boredom. Nyad counts and sings songs in her head as she takes each stroke, and while this is referenced onscreen, her mental track list mostly just feeds the film's soundtrack. The dissociating that Nyad has spoken about as part of her technique remains as elusive onscreen as it is fascinating to consider — what's it really like to separate yourself from thoughts about how much time and distance remain as well as from the feedback of the body that's propelling you forward?
There's an amusing touch of the Trumpy to Diana that has nothing to do with politics — it's in her bluster, her shock of straw-colored hair, and her ability to bulldoze people into believing her personal success is a shared reward. Bening transformed herself physically for the role, projecting the unshowy strength of someone whose muscles are meant for work rather than display (though the movie takes in Foster's own impressively jacked bod with glee). Despite that dedication, there's a hollowness to the way the film characterizes its protagonist, which means Bening's performance never fully resonates. Diana insists that trying to do the swim in her 60s after three decades away from the sport is a response to a world that "wants me to shut my mouth and sit down and wait to die," but we never see any of that or much of what her life is like outside of training at all. The tightness of this focus would feel warranted if Diana's process were better rendered — instead, to unlock its title character, the film dives into a few childhood flashbacks (which are given a needless prism effect) and surfaces to present an incident of sexual abuse at the hands of swim coach Jack Nelson (Eric T. Miller) as though it's a key. It's reductive and clumsily done, an origin story for someone who seems more complicated. For all that Nyad is happy to show its subject's personality flaws, it has trouble finding her humanity,